10 Days Chongqing Tibet with Mt.Everest Train Tour
Chongqing Tibet with Mt.Everest Train Tour
Duration:

10 Days

Price:

From

USD1690

Route:

Chongqin-Lhasa-Shigatse-EBC-Shigatse-Lhasa

Season:

Spring
Summer
Autumn
Winter

Tour Type:

Private Tour
Add

to Favorites
Overview
This route is highly recommended if you choose Chongqing as your last stop to Tibet. This 10-day tour offers you the chance to experience the Qinghai Tibet Railway - the world's highest train ride, the splendid Potala Palace, the majestic Jokhang Temple, mysterious Buddhist culture, the turquoise Yamdroktso, the awe-inspiring beauty of Mt.Everest, as well as the highest Rongbuk Monastery. All will be an unforgettable memory for your lifetime!
| Day | Route | Attractions & Activities |
| --- | --- | --- |
| 1 | Train Chongqing-Lhasa | Get on the train in West Railway Station |
| 2 | On the train | Enjoy the spectacular views through the window on the train |
| 3 | Arrival in Lhasa (3650m) | Pick up and transfer to the hotel |
| 4 | Lhasa Sightseeing | Drak Yerpa, Sera Monastery |
| 5 | Lhasa City | Potala Palace, Jokhang Temple, Barkhor Street |
| 6 | Lhasa- Gyantse- Shigatse, 360km, Approx 7hrs | Yamdroktso Lake, Karola Glacier, Pelkor Chöde Monastery |
| 7 | Shigatse- Tingri- EBC(5100m), 350km, Approx. 7hrs | Tashilhunpo Monastery, Sunset of Golden Everest Peak |
| 8 | EBC - Shigatse, 350km, Approx. 7hrs | Sunrise of Golden Everest Peak, Everest Base Camp |
| 9 | Shigatse- Lhasa, 300km, Approx. 6hrs | Yungdrungling Monastery |
| 10 | Depart from Lhasa | Send off to the airport/railway station |
Go to the West Railway Station on your own. Exchange e-Ticket to the actual paper ticket at the ticket booth by showing them the e-Ticket & your original passport. To arrive at the railway station 2hrs in advance is suggested.
The train from Chongqing to Lhasa will run through Xian and Lanzhou where you can also see the Gobi desert landscapes of western China. When the train passes through Xining - the start point of Qinghai Tibet Railway, the breathtaking sceneries will appear one after another. Be sure to capture the memorable scenes with your camera. Major attractions are Qinghai Salt Lake, Yuzhu Peak, Kekexili Nature Reserve, Tuotuo River, Tangula pass, Tsonag Lake, Qiangtang Prairie, and Namtso Lake, etc.
Stay overnight on the train
Welcome to Lhasa! Our local Tibetan guide and driver will wait for you at Lhasa Railway Station by holding your name sign. You will be greeted with a warm Tashidelek (meaning hello with blessing), and be presented with a white Hada (traditional Tibetan ceremonial). Then transfer you to the hotel in Lhasa city. On the way, you can enjoy the stunning views of the Yarlung Tsangpo River. After checking in your hotel, you will be free for the rest of the day to have a good rest and acclimatize to the high altitude at the top of the world. If you physically feel good, you can visit the Potala Palace Square, have a far view of the Yaowang Mountain, and take a panoramic view of the Potala Palace. Remember to drink lots of water, eat lighter and have high carbohydrate food, which will be helpful for you to adapt to the high altitude better.
Stay overnight in Lhasa
In the morning, you are heading to Drak Yerpa, the most famous meditation retreat near Lhasa. It's a monastery embedded in the cliff wall. Drak Yerpa is described as the "life tree" or spiritual axis of Lhasa. The site had strong spiritual power, having been visited by almost all great Tibetan masters. You can feel the power of the meditation caves here.
In the afternoon, you will pay a visit to Sera Monastery, which is one of the "great three" Gelug monasteries of Tibet. Monks debate from 3 pm to 5 pm. If the debate is not your type, you can also enjoy the three sand Mandalas and colorful Rock paintings of Buddha. The sight here is splendid because you can see wild roses around. That's why people also call it "the court of wild rose."
Stay overnight in Lhasa
In the morning your guide will meet you in the hotel lobby and first take you to visit the famous Potala Palace, the cardinal landmark of Tibet and the masterpiece of Tibetan architecture. It was first built by the 33rd King - Songtsen Gangpo in the 7th century and rebuilt later by the 5th Dalai Lama in the 17th century. Now it is a museum and world heritage site.
In the afternoon, we will go to visit Jokhang Temple in the center of the Lhasa old town. Jokhang Temple is the most sacred temple in Tibet and it is always bustling with earnest local pilgrims since the early days. After that, you will take a walk around the Barkhor Street which is one of the most devotional circuits as well as a crowded central market of Lhasa. Barkhor Street is a very ancient round street surrounding the Jokhang Temple and the locals are always proud of it. As a symbol of Lhasa, it is also a must-see place for visitors.
Stay overnight in Lhasa
Today you are going to Shigatse. After passing Kampala pass(4790m), you will be amazed by the breathtaking glimpse of the holy Yamdroktso Lake with its turquoise color and snow-capped Mt. Nyenchen Khangsar. Yamdroktso Lake is known as one of the "Three Holiest Lakes" in Tibet. Peaceful Tibetan villages surround the lakeshore in the neighboring flat valleys. Looking in the distance, you can see yaks and sheep grazing on the grassland. Next, you will see the grand and vast Karola Glacier. It isn't a big glacier, but the white glacier looks spectacular from the highway, and it's close enough(about 300 yards) from the highway.
In Gyantse, you will pay a visit to the key landmark Pelkor Chöde Monastery. Gyantse Kumbum is the symbol of the monastery, famous for its 100000 Buddhist figures, paintings, statues in the chapels, and wall niches.
Stay overnight in Shigatse
In the morning, you will visit the home of Panchen Lama - Tashilunpo Monastery. Tashilunpo Monastery was founded by the 1st Dalai Lama in 1447 and is a historic and culturally important monastery in Shigatse and also the second-largest city in Tibet. Then you will leave Shigatse for Lhatse for lunch. After a short break, you will continue to Tingri via Tsola Pass(4,600m), and Gyatsola Pass(5,248m). In the late afternoon, you enter Mt. Everest National Nature Reserve, with countless prayer flags flying in the wind. After ascending to Gawula Pass(5,198m), you can enjoy the panorama of the Himalayas. Then you will drive along the zigzag road to Rongbuk Monastery .
During summer(usually May~Oct), you will stay overnight at Everest Tent Camp; During winter(usually Nov~Apr), you will stay at Rongbuk Monastery's guesthouse. In both places, you can see the glorious sunset of Golden Everest Peak if weather is good.
You are highly suggested to get up early to catch watching the sunrise of Everest Peak at lodging area if the weather is good. And then, we can drive you to the Everest Base Camp. After sightseeing, we will drive back to Shigatse and enjoy the fabulous view along the way back.
Stay overnight in Shigatse
Today we will visit Yungdrungling Monastery on our way back to Lhasa, Yungdrungling is a typical Buddhist monastery with many friendly monks here and some of them can even speak English. If you are lucky to meet the key holder, he can show you the large dukhang. Inside the house are the impressive thrones of the monastery's two resident Shiromo along the walls-look for the deity's characteristic swastika mace. There are also a couple of more behind the main hall that you can pay a visit to. Those chapels' include the Namjya Lhakhang. Keep in mind that you should visit those chapels in an anticlockwise direction.
Stay overnight in Lhasa
Today your guide and driver will escort you to the Lhasa Airport or Railway Station for your next destination. Before your departure, we will appreciate it if you can spend a few minutes evaluating our services either by filling out the feedback form or simply sending us an email when you get back home. Your tour is officially ended.
Tour Price and Service
From US$1690 p/p
Based on 3-star hotels for 2 people in low seasons. Price varies according to travel season, number of people and level of accommodation.
INCLUSIONS
Tibet Tourism Bureau Permit and all other necessary permits to Tibet;
Soft-sleepers from Chongqing to Lhasa;
All entrance tickets fee for tourist attractions listed in the itinerary;
Experienced local English-speaking tour guide;
Travel-licensed vehicle according to group size & season as itinerary needed including gas and parking fee;
All lodging listed in the itinerary; it's your decision about the accommodation class: luxury 5-star international hotel, comfortable 4-star hotel, economic 3-star hotel, or guesthouse. Please tell us your preference;
Breakfasts provided by hotels;
Pick-up & Drop-off service from Airport/railway station;
Travel Agency Liability insurance;
Government tax;
Express delivery fee of Permit (eg. SF. Express);
Food & lodgings for guide & driver;
Oxygen tank for emergency use;
Sleeping bags;
Two bottles of mineral water per person per day.
---
EXCLUSIONS
International flight to and out of China;
Chinese Visa/China Group Visa; (Note: we could help you by providing the hotel or domestic flight reservation copies for your Chinese Visa or the invitation letter for your China Group Visa)
Other domestic flights/trains to and out of Lhasa; (We can help you book the domestic flight/train ticket at the BEST price. Please contact us for details.)
Meals are not included but we will recommend some good ones for you according to your requirements. Usually, it takes 3-10 USD per person for each meal.
While the gratuity for guide and driver is NOT mandatory, it is expected. Based on their service, you can tip them on the last day of the tour. Each of you is suggested to tip them 5-10 USD/day in total;
All the commission and tax charged by PayPal, Bank, and government when making payment. (e.g. PayPal --- 4.4%. Wire transfer --- 2%);
Personal expenses, like laundry, phone call, snacks, soft drinks, optional tour activities, etc.
Anything not mentioned in the Inclusions.
What Our Customers Say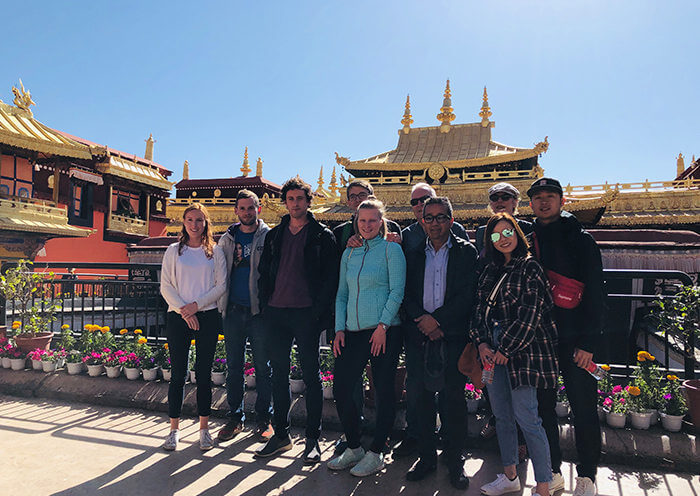 The initial itinerary that was sent to me called for Drepung/Sera on first full day, then Potala/Jokhang the next day. We ended up doing Potala first day and were grouped with 3 other tourists. Not a huge problem and we are used to having to be flexible when we travel, but would have been nice to ha ....
Read more testimonials...
INQUIRY ABOUT THE TRIP
Email response within 0.5~24 hours.