by Meo
Last Updated: 2018-03-27
To immerse in Tibetan culture and gain deep knowledge about Tibetan Buddhism, the best way is to visit Tibetan monasteries. With unique religious background, Tibet is home to more than 1, 700 monasteries and temples, most of which stand on the mountaintops. We've listed 10 of the most visited Tibetan monasteries, their marvelous structural styles and precious collections of religious artworks will feast your eye.
Jokhang Temple is recognized as the religious center of Tibet as well as the most sacred temple in Tibet. Became a member of the UNESCO World Heritage List in 2000 and ranked as a 4A-level scenic site of China, it's a must-see destination in Lhasa. Its history can be traced back to 647 AD, originally built by the King Songtsan Gambo, who married the princess of Tang Dynasty, Princess Wengcheng. During flowing years, Jokhang Temple was rebuilt and renovated for several times and reached today's scale in Ming Dynasty.
The first floor of the Buddha hall was built in Tang Dynasty, you can find bricks, carvings, frames, and columns which was made during the 7th century. This temple houses a precious statue of Sakyamuni at the age of 12, which is recognized as the holiest item in Tibet. This holy statue was brought by Princess Wencheng from Tang Dynasty, and no it's enshrined in the main hall of Jokhang Temple.
The most attractive feature of Jokhang Temple is its golden roof. For photographers, the best time to shoot this temple is in the morning, when the golden roof will shine under sunlight.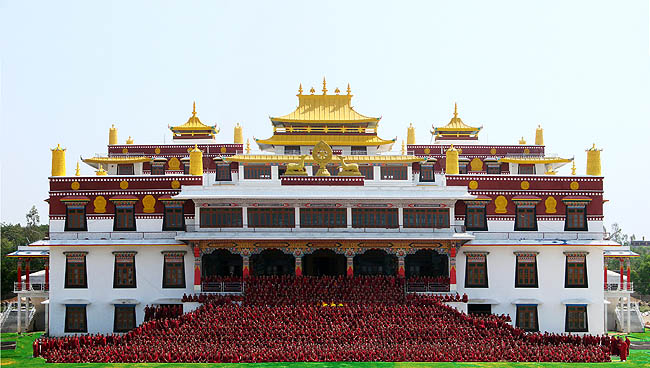 Stands in the western suburb of Lhasa, Drepung Monastery is the largest monastery in Tibet. Along with "Sera Monastery" and "Ganden Monastery", they are also famous as the "three greatest Gelug monasteries of Tibet".
This large monastery covers an area of about 200,000 square meters and houses 10,000 monks during its peak period. It was built in 1416 by the founder of Gelug Sect, Jamyang Choje, and plays a role as not only a monastery but also a college.
During Shoton Festival, which will be celebrated on July 1st of Tibetan calendar, thousands of people come to Drepung Monastery to worship a giant thangka of Buddha. It's also the best time for travelers to visit Drepung Monastery.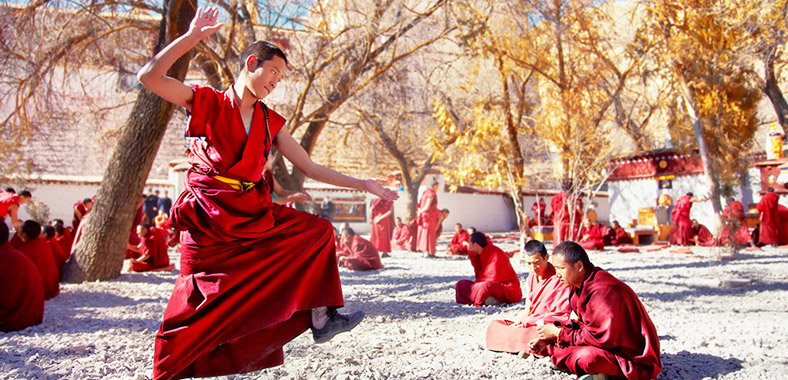 Sera Monastery is a famous monastery located in the northern suburb of Lhasa. Its name, "Sera", means "wild rose" in Tibetan literally. The legend goes that when this monastery was built, wild roses were blooming on the hill behind it. Also been founded by Jamchen Chojey, it's another famous Gelug monastery and houses precious collection of relics. In this monastery, you can enjoy sutras, Thangkas, paintings, and statues.
Sera Monastery is also famous for Buddhism debate. You're suggested to visit it in the afternoon from Monday to Friday since monks in traditional red robes will debate about Buddhism in the courtyard during that period. Don't miss it.
Ganden Monastery is the first and most important monastery of Gelug in Tibetan Buddhism. Founded by Tsongkhapa with 500 monks in February 1410, a grand ceremony was held to enshrine this monastery, and it became a tradition.
During hundreds of years, Ganden Monastery witnessed 97 generations of Ganden Khripas and was renovated. In this white structure with golden roofs, you can visit the tomb of Tsongkhapa, and enjoy some artworks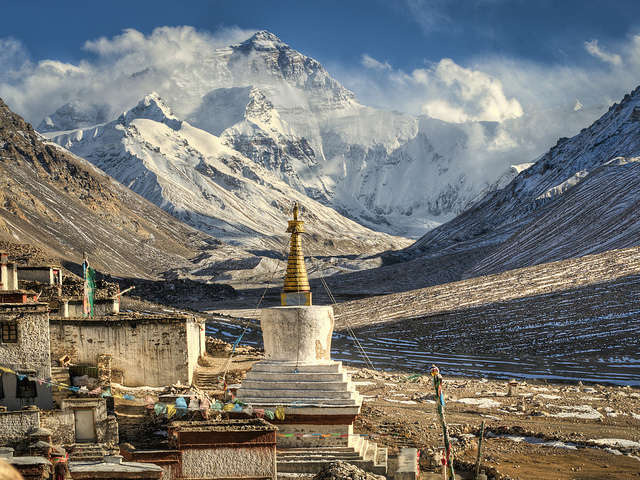 Rongbuk Monastery is famous as the highest monastery in the world, near the north side of Mount Everest. It was an area for meditation, and a Lama founded this monastery in 1902. Rongbuk Monastery was destroyed during the 1960s and was renovated since 1983. Travelers to Everest Base Camp will pass this monastery, a view of the famous Rongbuk Glacier will also attract you.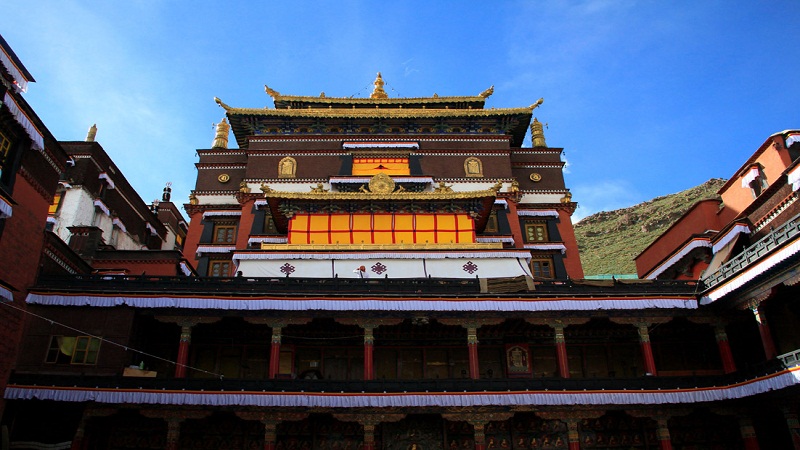 Tashilhunpo Monastery is a Gelug monastery located in Shigatse. It's built along the mountains and covers an area of 300,000 square meters, containing several halls. Founded in 1447 by the 1st Dalai Lama, it's the place where Panchen Lama holds important events.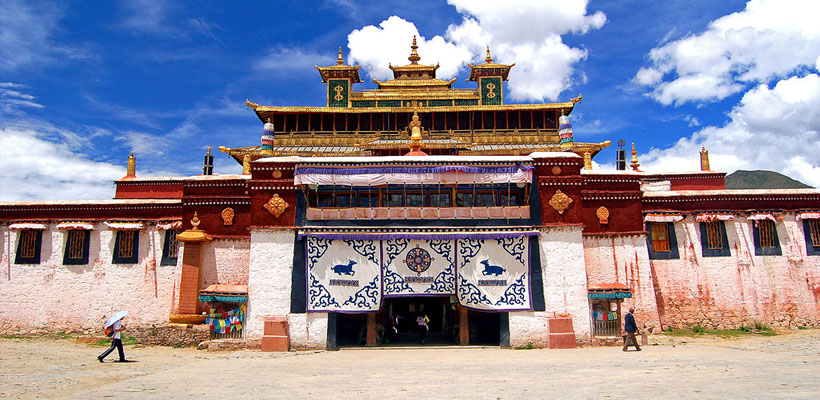 Samye Monastery was built by King Trisong Detsen in the 8th century and suffered from destroying and rebuilding for several times. This monastery was built according to the Buddhist cosmology, as the shape of a giant mandala. Been recognized as an important monastery as well as the first university in Tibet, you can step into this 3-story monastery, visit its chapels and enjoy ancient murals.
Ramoche Temple is recognized as the sister temple of Jokhang Temple, and it was built around the same time of Jokhang Temple. It's built in Chinese Style to house the statue of Jowo Rinpoche, which was brought by Princess Wencheng from Tang Dynasty.
The temple has 3 stories now, as an important cultural relic, you can see statues, masks, and puppet in it.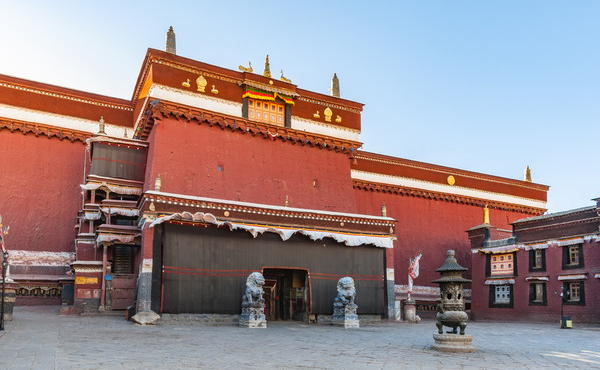 Sakya Monastery, whose name means "white earth" in Tibetan, is the most important monastery of Sakya Sect of Tibetan Buddhism.
Sakya Monastery is famous for its artworks, and been honored as the "second Dunhuang". If houses ancient books and scriptures, containing history, philosophy, geology, poetry, etc. The dry climate protected precious Buddhist scriptures so that we can admire them nowadays, it's absolutely a miracle.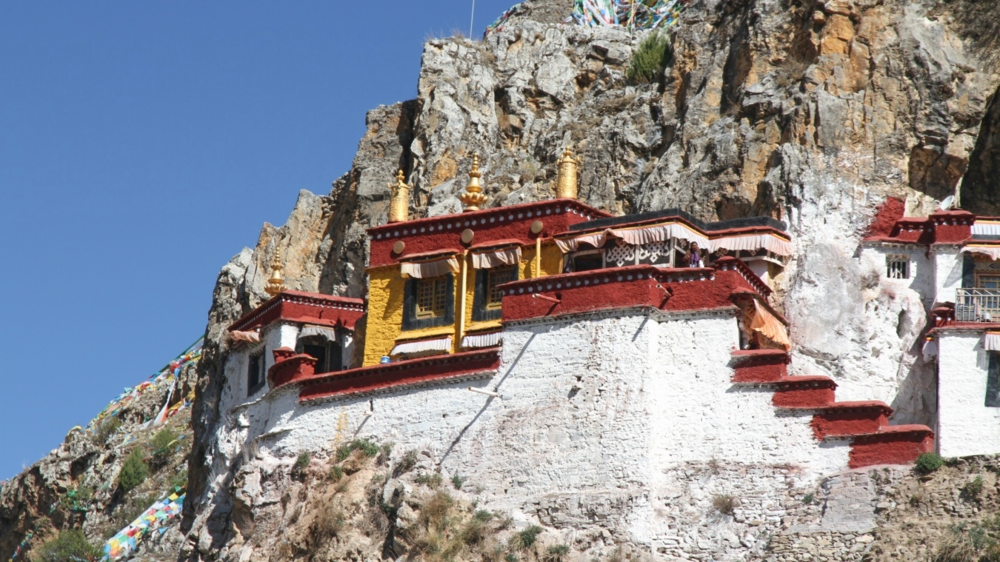 Drak Yerpa located in the northeast of Lhasa, it's a combination of meditation caves and a monastery. The cliff is dotted with caves, you can find the famous one which King Songtsen Gampo meditated in. Drak Yerpa is a holy retreat, and also the summer residence of the Gyuto Lhasa Tantric College. 
Related Articles & Posts
Ask a Quick Question? Ask below or call 0086-891-6873166