Tibetan Buddhist Monastic Robe - Kasaya
Tibetan Buddhist Monastic Robe - Kasaya
by Eric
Last Updated: 2023-03-19
When we mention Tibet Buddhism, the deep red Tibetan kasaya or robe will come into mind. Tibet is a culturally rich region where you can find authentic traditions of Buddhists in every element of the place. If you come here, you will find that monks and nuns are wearing deep red robes. Whenever such a red kasaya passes by, the Buddha's presence can always be felt around.
It was almost 2500 years back when Lord Buddha himself wore monastic robes. These monastic robes are commonly referred to as Kasaya, and the origin of their name is from the name of saffron dye. During the times of Lord Buddha, the Buddha himself and the other Buddhist monks, along with him, used to put on these monastic robes. These were patched together using rags. In the Pali or Sanskrit language, these Buddhist robes are known as 'civara.' A civara is a simple robe without a specific color. Till date, Tibet has kept this culture alive, and the Buddhist monks as well as nuns, follow the tradition and dress up in these monastic robes, popularly known as Kasaya, or Sanghati.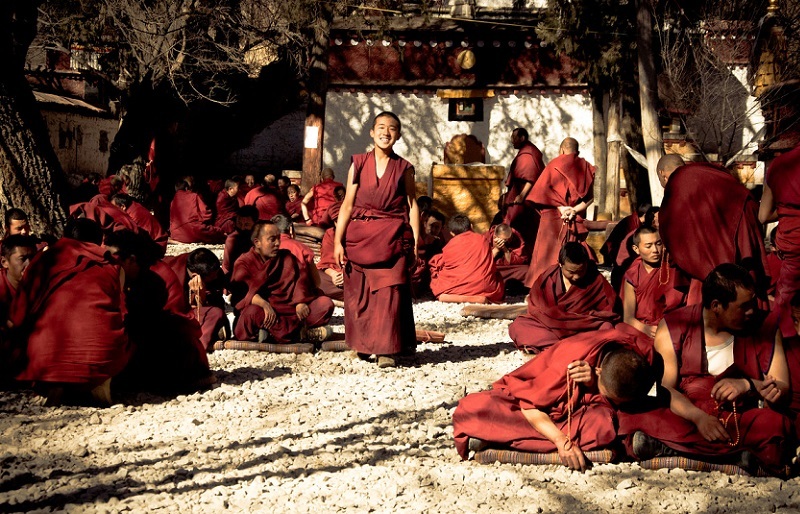 Kasaya During Lord Buddha's Time
You might see several Buddhist arts in both India as well as China. These arts show Lord Buddha dressed in dark orange or red monastic robe. The disciples of Buddha were all a part of the Sangha community. Therefore, it was Buddha who then decided to make it a discipline to wear monastic robes as costumes at all times.
There are beliefs that the authentic Kasaya worn by Buddhists has its origin in the Indian lands. As per the historical and cultural writings, Lord buddha encouraged the use of Kasaya that was made of pure cloth only. Moreover, the origin of monastic robes was made of cloth or fabric that was discarded.
The Literal Meaning of Kasaya
Kasaya is actually a transliteration of Sanskrit. The original connotation of the word is an impure color or a bad color. Therefore, many also refer to Kasya as a variegated color.
In the early days, the color of the Kasaya was yellow. Yellow had a noble position in Buddhism and related to the Buddha Sakyamuni directly. After he gave up his throne, he adhered to the idea of simplicity and no longer accepted good clothes or food. So he went to the sky burial platform to collect the discarded white shroud that had been exposed to the sun and rain for a long time, washed it, and lapped it around himself. Over time, this yellowish-brown color had been followed, as well as this dressing way. So the original color of Kasaya was yellow.
Once there was a transfer of Buddhism to Tibet, the color of the Buddhist robes was changed. Tibetan robes originated in the seventh century when Buddhism was first transmitted to Tibet. At that time, the monks who came to Tibet to promote the Dharma came from India. As the economic and cultural exchange between Tibet and Han(the regime in China at that time) became more and more frequent, to avoid the yellow color used in the royal family of Han, Kasaya changed to red, which is the adored color of Bon - the primitive religion of Tibet.
Dressing Ways
Today, Tibetan Buddhist monks wear five-piece suits outdoors: sleeveless garments, large shawls, pleated skirts, a monk shoe made of Menyog and felt under the skirt. On formal occasions, monks need to wear Cho-go and Nam-jar, which are yellow in appearance.
Once you wear Kasaya, you put it on the upper body and exposing the right shoulder. In fact, it is available in various ranks and positions, and it reaches the instep. There are also various colors and different qualities of cloth available. Usually, Tibetan robes were hand-stitched from yark wool like fabric. Some people wear yellow silks and satins for normal occasions or put on sleeveless clothes with yellow brocade. These people are eminent monks or living Buddhas. The style of wearing Kasaya and Kasaya itself is the same for all the four Denominations of Tibetan Buddhism. These are Gelu, Nyingma, Kagyu, and Sakya. Only the hats differ in these.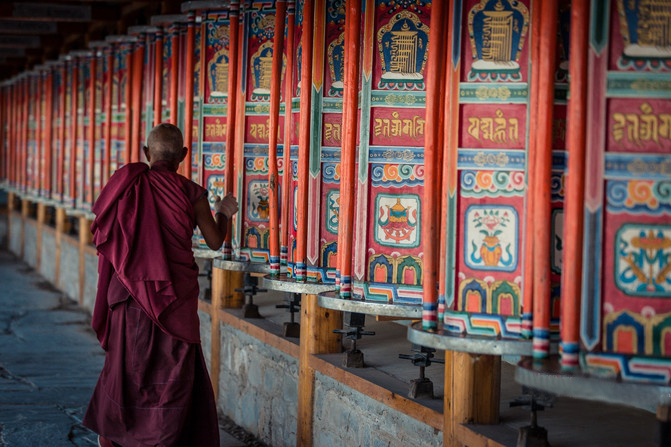 Various Types of Monastic Robes
In Tibetan Buddhism, people follow the Mulasarvastivada Vinaya. Tibetan Buddhism has its characteristics, where people wear a red robe. There are various types of robes, capes, and hats that Lamas, Tibetan nuns, and mons wear. Some of the basic pieces are:
Shemdap: It is a maroon skirt that is made using a patched piece of cloth.
Dhonka: Dhonka is this wrap shirt that has cape sleeves.
Chogyu: It is yellow, and it is just like sanghati as it is worn on the outer body.
Namjar: It is larger when compared with chogyu. Namjar is made for a formal ceremonial occasion, and it has more patches.
Zhen: It is used for daily wear and just like chogyu. Also, it is maroon in color.
Kasaya holds great importance in the culture of Tibet. The Buddhist monks consider it to be a mandatory part of their culture. This is the reason that even today, you can still spot them wearing these monastic robes during all the important religious activities. The way it is made and worn might have changed over the years. However, the tradition of wearing these robes has been there for 2500 years and continues to be the same.
Related Articles
Ask a Quick Question Below?
Email response within 0.5~24 hours.