Travel from Lhasa to Kathmandu, by Land or by Flight?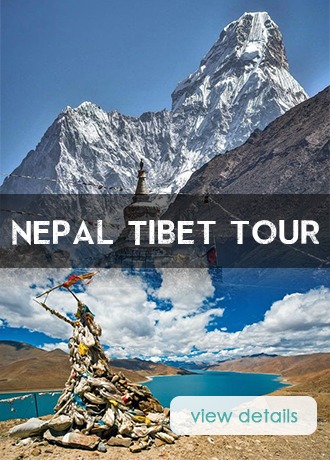 Travel from Lhasa to Kathmandu, by Land or by Flight?
You have two viable options to travel from Lhasa to Kathmandu. You can either make an overland tour from Lhasa to Kathmandu or book a flight from Lhasa's Gonggar Airport to that of Tribhuvan International Airport of Nepal. Each option brings in different scenic highlights and itineraries. For travelers who can't decide to choose which one of the transportation modes, this guide will show you the details of these options.
Overland Tour from Lhasa to Kathmandu
The Friendship Highway from Lhasa to Kathmandu curves around the Yarlung Tsangpo on the highest plateau in the world to the valley plain. The holy city of Lhasa at an altitude of 3700 meters, is the starting point of this highway. Along the road, you can pass the holy Yamdrok Lake, the ancient Gyantse Dzong with the legend of heroes, Tashilhunpo Monastery in Shigatse, the unique Sakya Temples, and Mount Everest, the highest peak in the world. It extends via Gyirong port out of Tibet and finally gets to Kathmandu, at an altitude of 1000 meters.
Why Travel Overland from Lhasa to Kathmandu?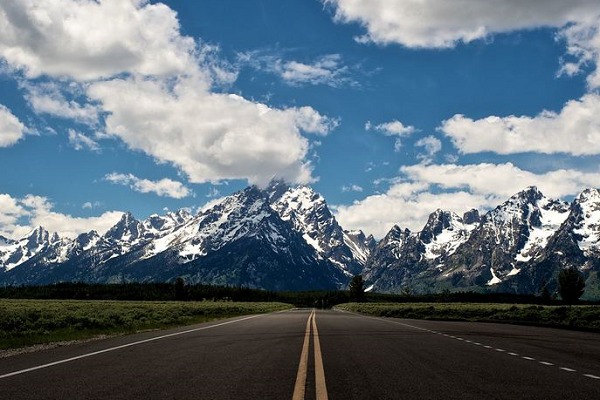 Lhasa to Kathmandu overland tour is the recommended itinerary by most travel agencies, not just because it allows you to adopt the altitude in Lhasa city first before ascending to higher elevation gradually till Everest Base Camp at 5200m, but also it can help you avoid the detour. As there's only a 160km linear distance from Everest Base Camp to Kathmandu.
There's a 900 kilometers distance between Lhasa and Gyirong Port. After crossing it, there are another 168 kilometers to Kathmandu, which takes 6 to 8 hours due to the road condition. By taking this route, you will have the opportunity to witness the beautiful friendship highway, as well as the profound Buddhism culture and scenery along the way.
Highlights of the Tour
Tour of Lhasa including  Potala Palace, Jokhang Temple, Sera Monastery, Drepung Monastery, etc.
Visit the marvelous Yamdrok Lake.
Tour of the other great cities of Tibet such as Gyantse, Shigatse, Shegar, etc.
Behold the majestic Northern Face of Mount Everest.
Day by Day Itinerary
Before starting this tour, please carry your Travel documents including your China Visa, Tibet Travel Permit, and Alien's Travel Permit. Travel with us, we can arrange everything for you for your overland trip from Lhasa to Kathmandu.
Day 1: Arrival at Lhasa's Gonggar Airport
Upon arrival at Gonggar Airport, you will be greeted by your local guide at the airport. You can have your group photo at the airport before boarding the coach that will transfer you to your hotel. Once in your hotel, you can take a rest to acclimate yourself to the city's high-altitude weather. You'll stay overnight in Lhasa.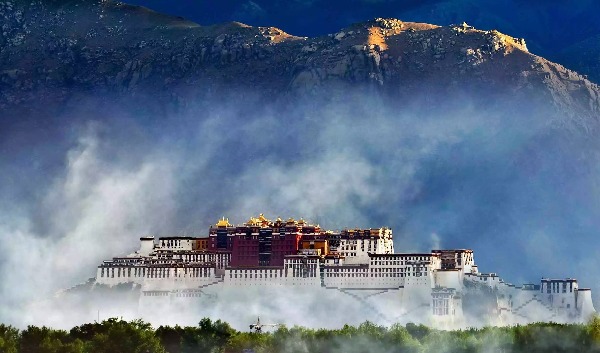 Day 2: Sightseeing at Lhasa!
Lhasa is a large city. Hence, you will need at least two days to explore it. After breakfast, your guide will lead you to the most iconic building of Lhasa - Potala Palace.
You'll also get to the famous Jokhang Temple, which was called "Temple of the Lord",derived from Jowo Shakyamuni Buddha, its primary image. You will know why it's regarded as the spiritual heart of Tibet and have a better understanding of Tibetan Buddhism culture.
Day 3: Sightseeing at Lhasa!
On your third day, you will visit the Sera Monastery and Drepung Monastery.
At Sera Monastery, you can take a short hike uphill to behold the lovely valley scenery. Sera Monastery is called the "Court of Wild Rose" because roses are everywhere in that monastery. There, you may get the chance to listen to the famous debates of monks. Drepung Monastery is the largest of the Tibetan monastery for housing more than 10,000 monks.
Tips: Besides the scenic spots above, you also can also visit Ramoche Temple, Norbulinka, and Ani Sangkhung Nunnery, Ganden Monastery, etc. But it takes one or two more days.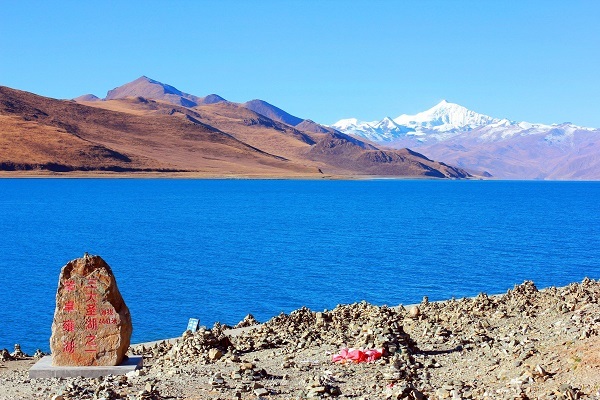 Day 4: Lhasa - Yamdrok - Shigatse!
The Lhasa to Shigatse trip covers a distance of around 340 kilometers. After passing by Kamba La Pass(4,700m), you will first have a fantastic glimpse of Lake Yamdrok(4,447m). It's one of the top three holy lakes in Tibet, with an amazing turquoise color. For Tibetans, Yamdrok Lake is regarded as "The turquoise earrings scattered by the goddess".
Then you will continue to Karo La Pass (5,000m). From there, you'll get to view the magnificent glaciers exposed on the roadside. You'll also see a stupa along with thousands of fluttering prayer flags.
Later, you get to descend to the city of Gyantse (4,025m), which is known for a massive hilltop military fort called "Gyantse Dzong." You will also get to visit the Pelkor Chode Monastery in Gyantse, and its stunning 32-meter stupa, known as the Gyantse Kumbum, the only one of its kind in Tibet.
After all the visiting, you will continue your trip to Shigatse in the late afternoon. You will stay overnight at Shigatse(3,845m).
Day 5: Shigatse to Everest Base Camp!
In the morning, you will visit Tashilhunpo Monastery which is the home of the Panchen Lamas. You will also get to visit the nearby Shigatse Dzong that was originally built in the 17th century.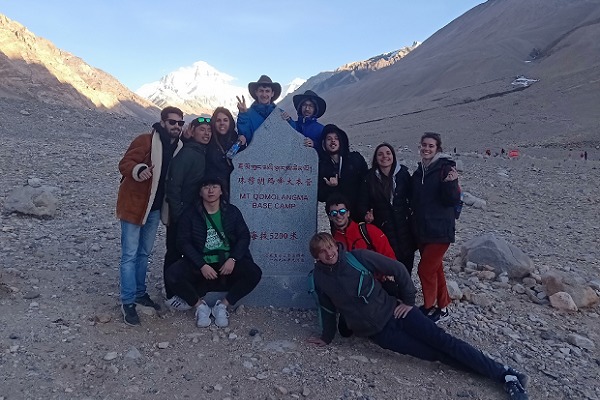 After lunch, you will then continue to Everest Base Camp along with the friendship highway which covers a distance of around 340 kilometers, about 7 hours drive. At Gawula Pass(5,200m), you'll get an amazing view of the Himalayan Mountains like Mt. Everest and Mt. Lhotse. Mt. Makalu, and Mt. Shishapangma.
In the later afternoon, you will reach the Rongphu Monastery which is considered the highest monastery in the world. From here, you can see clearly the northern face of Mt. Everest. If the weather is good, you can also see the golden summit of Mt.Everest in the sunset.
Tonight, you will stay at the base camp. If you are not able to sleep because of the high elevation of the place, you can get up to see the starry sky.
Day 6 Everest Base Camp to Gyirong!
In the early morning, you will see the golden sunrise at EBC. After breakfast, your group will now move towards Gyirong which is around 350 kilometers away and takes 6 hours 30mins. You could see along the way the lovely Lake Pelku with the majestic Shisha Pangma as backdraft. Shisha Pangma is the 14th highest mountain in the world and the only eight-thousand meters mountain that is totally located in Tibet.
Upon arrival at Gyirong, you will stay overnight there. Gyirong isn't a huge town and doesn't have plenty of spectacular sites to offer. Yet, it is a good stopover before going to Nepal.
Day 7 Gyirong to Kathmandu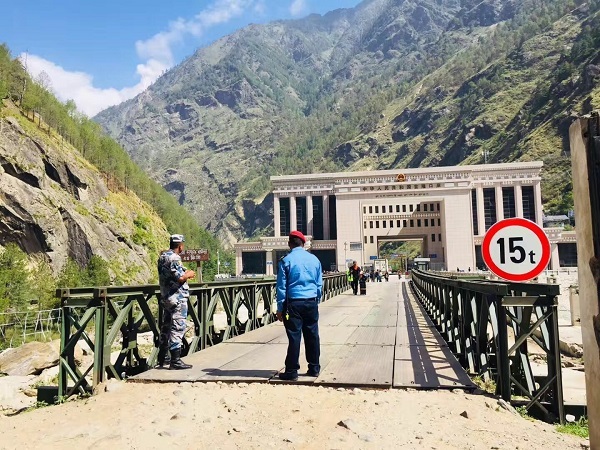 Since the earthquake destroyed the Zhangmu Port in 2015, Gyirong Port is the only border crossing between Nepal and Tibet. In the morning, you will transfer to Gyirong Port, where you will exit China through their immigration desk, before crossing Resuo Bridge into Nepal. There, you need to secure your visa-on-arrival which may cost you around $25.
The drive from Gyirong to Kathmandu takes around 6 to 8 hours covering 160 kilometers. You will cross the Himalayas so it's rough and may be dangerous. Along the way, you will pass through the Langtang National Park, one of the most beautiful foothill forest areas in northern Nepal.
Tips:
Better book the car in advance
The road from the Nepal port to Kathmandu may collapse during the rainy season. Ensure safety before setting off
Bring thick clothes, even in summer, if it is other seasons, it is recommended to bring thicker clothes
Prepare motion sickness medicine and mosquito repellent, and apply for a phone card in advance
√   7 Days Lhasa Mt. Everest Kathmandu Overland Group Tour
Lhasa to Kathmandu Flight
The travel distance from Lhasa to Kathmandu is around 609 kilometers. It usually takes around 1 hour and 30 minutes. It is the most convenient and comfortable way of traveling from Lhasa to Kathmandu. From Lhasa's Gonggar International Airport, you can board a plane that goes to Kathmandu's Tribhuvan International Airport. 
Why Take Flight Travel from Lhasa to Kathmandu?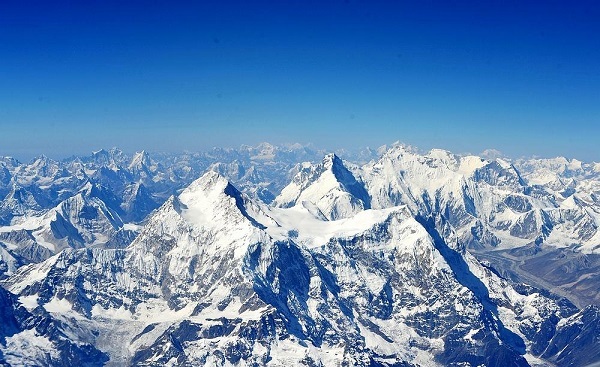 If you are unwilling to experience long-lasting land travel, if you will not spend too much time on the road, or if you just want to visit Lhasa and nearby areas, then taking a flight will be a good choice for you. Although a bit expensive, it only takes 1 hour and 30 minutes to reach Lhasa Gonggar Airport from Kathmandu. In addition, if the weather is fine, when the plane flies over the Himalayas, you will be lucky to see the top view of Mount Everest.
Travel Highlights:
The highlight of this flight is the birds-eye-view of the majestic Himalayas. You'll get to see Mount Everest's top from your plane.
There are currently two airlines operating this route, namely: Sichuan Airlines and Air China.
>> See more about Lhasa to Kathmandu Flights
How to Purchase Cheaper Flight Tickets from Lhasa to Kathmandu?
Although the flight distance between Kathmandu and Lhasa is short, the airfare is not as cheap as many people think. The cost of a flight ranges from $267 to $515. If you want to buy cheap flights, the best option is to avoid the tourist season. The high season is usually from July to October when the range of ticket prices is from $432 to $721, while the low season is from November to February and tickets range during this season from $216 to $284. In addition, it would be good to book your flight 60 days or less in advance so that you can get a discount.
Conclusion
You can choose how to travel between Lhasa and Kathmandu based on your travel duration, budget and physical condition. The land trip takes 7 days, but it covers the famous sights and cultural heritage of several major cities in Tibet. Following the same route, along the Sino-Nepal Friendship Highway, you can also travel by bicycle or motorcycle. If the speed of traveling is of the utmost importance, taking a plane is your best choice, and at the same time, the comfort level will be higher.
If you intend to take this once-in-a-lifetime journey, you should never hesitate to contact us and we will be more than willing to facilitate everything for you.
Related Articles
Ask a Quick Question Below?
Email response within 0.5~24 hours.