Tibet Tours & Vacation Packages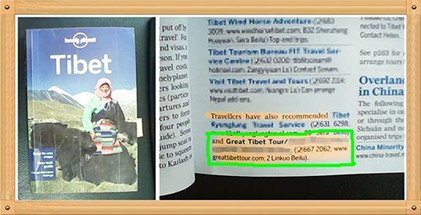 Great Tibet Tour is recommended by
Lonely Planet Tibet
,
the 8th edition, 2011
Tibet is truly the roof of the world. It is the source of famous rivers like the Yangtze, Yellow, Mekong, and Indus; it is a Buddhist holy land, where you can see Tibetan Buddhist prayer flags hanging all around; it is a sacred place, where magnificent monasteries are sitting halfway down the snow-capped mountains, under the blue sky, or close to the pure lakes. More than 2 million foreign travelers visit Tibet every year. They come to this land and visit the iconic images like the prominent historical architectures - Potala Palace, mystical Jokhang Temple; go for adventure by bike riding on the way to Namtso or suburb of Lhasa City; go to see Mt. Everest – a trip to Everest Base Camp could be an unforgettable memory of your life.
As the Top Tibet tour operator, Great Tibet Tour was recommended by Lonely Planet as one of the best reputed local Tibet travel agencies. We specialize in providing perfect service for worldwide travelers with many well-designed Tibet tour packages. With great responsibility, professional know-how and passion for innovation, Great Tibet Tour endeavors to provide clients an experience beyond their expectations by enjoyable, thoughtful service, and authentic culture discovery.
All our English-speaking Tibetan guides are professional and enthusiastic. They make every effort to your excellent Tibet trip. Meanwhile, ensuring a safe and joyful Tibet vacation is our top priority. Send an inquiry to our travel consultants for suggestions and help to make your dream Tibet trip come true.
Your Tibet tour which may be one of your dreams is at your click away.
For your reference: Small Group Tour | Private Tour | Tibet Themed Tours | Tour by Region | First Time Trip to Tibet