A Quick Guide to Tibet Currency and Money
A Quick Guide to Tibet Currency and Money
Travelers to Tibet are often confused by how to refer to Tibet money. The answer is no doubt to be Chinese Currency, as Tibet is an autonomous region of China. Also, there're many frequently asked questions, such as how to use credit cards to pay my bill? Where to exchange money? How about the exchange ratio? Here you will find detailed info about money, currency exchange, credit card, debit card as well as international transfers in Tibet.
Tibet Currency
The official name of the currency in Tibet is Renminbi, which literally translates to People's Currency and is abbreviated to RMB. People also call it Chinese yuan, which is abbreviated to CNY. You can write either CNY 1,000 or RMB 1,000. 
At present, banknotes in denominations of 1, 5, 10, 20, 50, and 100 yuan are in circulation. One yuan coins are also widely used. Due to inflation, banknotes or coins with a value of less than one yuan, including one jiao and five jiao, are rarely used in China. 100 RMB is the highest currency.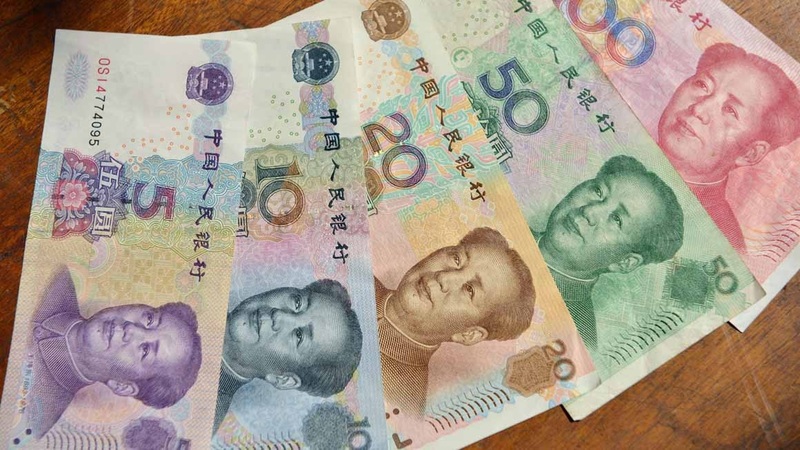 Here only refers to the paper money; the coin RMB is not acceptable in Tibet as there is no Tibetan language on it. As the world currency, USD is acceptable in Lhasa and Shigatse at many hotels or restaurants.
Exchange Money in Tibet
If you start your Tibet tours from another city in China, like Beijing, Shanghai, Chengdu, etc., you can exchange money in any one branch of the four state-owned banks. Namely, Bank of China (BC), Industrial and Commercial Bank of China (ICBC), Agriculture Bank of China (ABC), and Construction Bank of China (CBC). But if you come to Tibet from Nepal directly, you can do this in Lhasa, Shigatse, Gyirong, and Purang as well. For a small amount, you can exchange it with our tour guide. For the big one, the guide will lead you to Bank of China, the only bank in Tibet that provides the exchange service of foreign currency and travelers' checks. Of course, the receptions of some four or five-star hotels also offer money exchange only for the hotel guests. But they need to charge a handling fee, and the rate will be a little bit higher than the current cash buying rate that published by Bank of China.
The current exchange rate of the Yuan is about 7.1 for 1 US Dollar. However, the exchange rate keeps changing and it is better to recheck again before you exchange. We suggest you change all your foreign currencies in Lhasa, the capital city of Tibet, as it's the most convenient place compared with the other three mentioned before. Here is the information of The Bank of China in Lhasa, 
| | | | |
| --- | --- | --- | --- |
|   | City | Address | Opening time |
| The Bank of China's main office | Lhasa | Lingkhor Bei Lu 28, north of the Yak Statue | 9:30 am -1pm and 3:30 - 6:00pm, Monday to Friday. |
| The Bank of China's sub-branch office | Lhasa | Beijing Dong Lu, between the Kirey Hotel and the Banak Shol Hotel | 9:30 am-6:00 pm, Monday to Friday, and 11 am-3 pm, Saturday and Sunday. |
And please keep some change, like 10, 20, or 50 CNY, which you can use in some remote rural area, such as Shannan, Ngari, Nyingchi, Nagqu; and the smaller one, like 1, 2, or 5 CNY (Yuan in Chinese), which can be donated to monasteries or those beggars you meet on the street. 
Debit Card & ATM
If you have worked or studied in China before, you must have at least one debit card from any Chinese bank. So, it's easy to take money from ATMs in Lhasa, Shigatse, Tsedang, Baiyi, Lhatse, Zhangmu, and Saga. But please be noted that the ATMs are not widely distributed in Tibet, especially in some small places, for example, there is only one ATM in Lhatse. So, you'd better prepare enough cash in advance.
Several ATMs in Lhasa and Shigatse, even in remote Nagri, accept foreign cards. The Bank of China accepts Visa, MasterCard, Diners Club, American Express, Maestro, Cirrus, and Plus. The Agricultural Bank accepts Visa, Plus, and Electron. But most ATMs just accept the domestic cards, so please confirm with your tour guide before you try.
A maximum of about 2,000 yuan can be withdrawn from each transaction. Occasionally the card would be eaten. It's recommended to make your transaction during bank working hours, so you can take back your card timely.
Credit Cards
With the development of tourism, credit cards are accepted for more and more hotels, shops in Lhasa. After all, it's the capital city of Tibet. But in other cities, it may not work well. Besides, it usually charges an extra 3-4% as a service fee when you use credit cards to pay the bill.
The Lhasa Central branch of the Bank of China is the only place in Tibet that provides cash advances on a credit card, a 3% commission is deducted.   
In general, it is more convenient to use cash than credit cards in Tibet as credit card usage is limited in Tibet.  It's better to take enough cash with you. About the daily cost, here is some information for your reference:
Budget: Less than US$75
Midrange: US$75–150
Top End: More than US$150
Tip: we suggest you take less than 5000 USD cash to China. If you bring more than this amount (5000 USD - 10000 USD), you need to fill in a form for custom declaration. If you take your bank card, then there is no limit.
International Transfers
In case you run out of money during the trip, it's possible to get money by International transfer in Lhasa. There's only one way of making the international transfer now since the Western Union has been turned off in Tibet.
Use the Bank of China's central office in Lhasa. Money should be wired to the Bank of China, Tibet / Lhasa branch, 28 Linkuo Xilu, bank account No. 90600668341, SWIFT code BKCHCNBJ900. Double-check wiring instructions with the bank beforehand.
Related Articles
Ask a Quick Question Below?
Email response within 0.5~24 hours.