The Way to Choose the Suitable Tibet Tour
The Way to Choose the Suitable Tibet Tour
Tibet is vast and it's impossible to see everything in only one trip. So once you want to have a journey to Tibet, you must identify which aspect of Tibet draws you a lot and then you can plan your trip revolved around it. But sometimes it's not just that simple even you are clear of what you desire.
Reading the various travel options may get you dizzy like facing altitude sickness. Each of them depends on different travel limits, weather, and physical conditions.
That's why we wrote this article for those who are planning their first Tibet tour. It certainly will help you to make the right choice for your adventure.
So, are you ready? Take a deep breath and let's get it started!
Mt. Everest
For this tallest mountain in the world, ask yourself, what the most attractive part are you looking for? If you just want to catch a glimpse of its spectacularity and experience more authentic Tibetan culture, our 8 DAYS LHASA GYANTSE SHIGATSE MT. EVEREST GROUP TOUR is a wonderful choice. It contains many symbolic attractions of Tibet, such as the Potala Palace, Johkang Temple, and Barkhor Street, etc. And you can also spend a night at an Everest Base Camp guesthouse.
But if you want more about the mountain and Himalayans, you may consider our 12 DAYS TINGRI TO EVEREST BASE CAMP TREKING TOUR. After three days of rest in Lhasa, you will start to go to Everest and spend 6 days thereby climbing in the daytime and sleeping in the tent at night. Therefore you could see the beauty of the mountain at close range.
It doesn't matter if you don't like any of the above two options. There is a third choice for you, 10 DAYS LHASA SHIGATSE MT. EVEREST NAMTSO TOUR.  Choosing this one means you choose a romantic way because you can get close to the natural nomadic grasslands. Except for Mt. Everest, you can also see the most sacred lake in Tibet--Namtso Lake, and the highest monastery in the world--Rongbuk Monastery.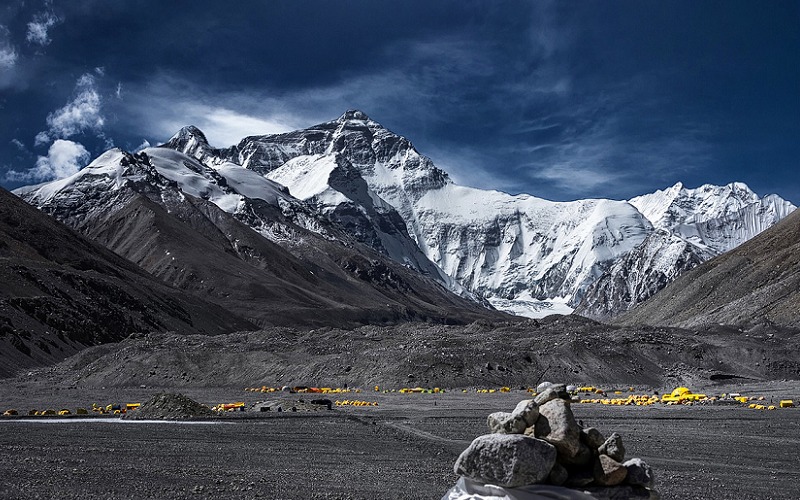 Mt. Kailash Pilgrimages
As everyone knows that Tibet is a mysterious place. But why? Because it's the pilgrimage center of Tibetan Buddhism, Hinduism, and primitive Bon religion. There are four holy lakes and one sacred mountain here. 
In the far west of Tibet, Mt. Kailash, the most sacred mountain, is watching its people silently. Every pilgrim takes it as their destination. They believe they can finally get peace and happiness after kora around Kailash.
So if you are interested in feeling the pilgrimages, you can choose our 14 Day MT KAILASH KORA WITH MT EVEREST TOUR.
If you want to see more dry plains, sandstone valleys, an abundance of wildlife and the ancient relics of the Guge Kingdom, 19 Day NGARI LOOP WITH MT KAILASH KORA TOUR would be great for you.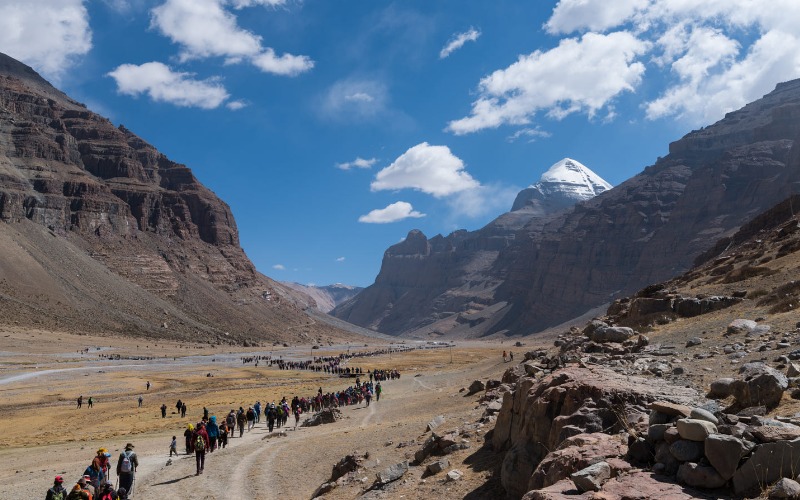 Plateau Trekking
Imagine yourself as a nomad, trekking across the remote wide place, enjoying the freedom of the soul. What a scarce experience in your life! This is what you can get in our 9 DAYS TSURPHU TO YANGPACHEN TIBET HIKING TOUR. During this trip, you will be hiking across several high valleys. Combining alpine tundra and sweeping mountain panoramas with visits to monasteries. This trek nicely balances cultural and wilderness activities.
Compared with this primary route, there is another harder one. 9 DAYS GANDEN TO SAMYE TIBET TREKKING TOUR. you have to hike nearly 80km from Ganden Monastery to Samye monastery. But don't worry, your hard days would be paid off by fabulous scenery and adorable yaks.
Winter Tours
Winter is a kind of slack season of Tibet tour as too many people are scared by the imaginary cold. But the truth is, the average temperature of Tibet in winter is about 12℃ and even higher in the daytime because of intensive sunlight. Winter is also a good season for travelers to start a Tibet tour, especially traveling in Lhasa, Shigatse, Lokha and Nyingchi areas.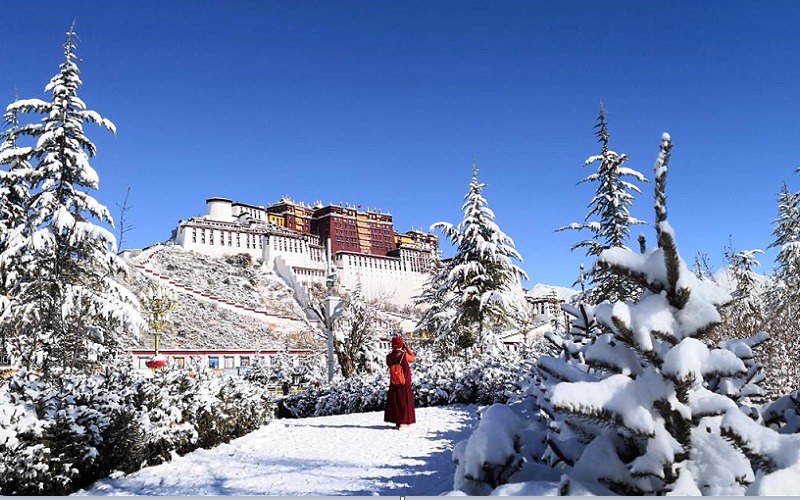 So that's why we designed this route---5 Day LHASA CITY CULTURE TOUR. if you don't have enough time but still want to see the attractions in Tibet and experience Tibetans' local life, this option couldn't be better. What you need to do is just to get your camera ready!
To sum up, in conclusion, making a suitable plan before coming to Tibet is very important. But the more important thing is to find a reputed travel agency which can help you with an unforgettable journey. GTT is no doubt the one. Send us your inquiry, we will always be here for you!
Related Articles
Tibet Tours and Travels
To have tours and travels in Tibet, international travelers will enjoy a unique experience of Buddhist culture as well as be shocked by lofty snow-capped mountains. We offer various tour packages to meet different requirements.

Tibet Tour Package from Malaysia
Tibet is a holy land in West Asia, while Malaysia is a federal constitutional monarchy in Southeast Asia. We offer various tour packages to Tibet from Malaysia, which will give travelers forgettable travel experience.
Ask a Quick Question Below?
Email response within 0.5~24 hours.