How to Get to Shigatse?
by Liffity
Last Updated: 2021-12-09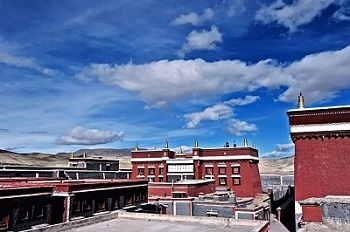 Shigatse is Tibet's second largest city and the traditional center of Tsang. It lies Northwest of Gyantse and Southwest of Lhasa. Every year, many tourists visit the tourist attractions in Shigatse such as Mount Everest (the highest peak in the world) and the magnificent Tashilhunpo Monastery. Shigatse has many good highways, making it easy to go around the city. The construction of Shigatse Railway Station and Shigatse Peace Airport has made the transportation system in Shigatse even more developed.
By Flight
Presently, the only city connected with Shigatse by flight is Chengdu. The city of Chengdu offers flights to different cities in Tibet and it remains the most popular gateway to Tibet. Some tourists take a flight directly from Chengdu Shuangliu International Airport to Shigatse Peace Airport, and after that begin their tour from Shigatse to Lhase via Gyantse. Also, other tourists may choose to take a flight from other cities like Shanghai, Beijing, Kunming, Xian, etc, to Lhasa and then travel to Shigatse or Mount Everest.
Tibet Airlines operate two daily flights between Chengdu and Shigatse. TV9844 takes off from Shigatse at 9.15 am and arrives at Chengdu at 11.30 am. The second flight takes off from Chengdu at 6.00 am and arrives at Shigatse at 8.35 am. The number of flights may reduce during the off seasons.
Shigatse Peace Airport
Shigatse Peace Airport is Tibet's fifth civil airport and the only airport in Shigatse. The airport occupies a total land area of about 4,502 square meters and the runway is about 5,000 meters long.
Shigatse Peace Airport is located in Sangzhutze District, which is about 45 km away from the city center. The airport is just an hour drive from the city center. It costs about 100 CNY (15 USD) to go to the airport by taxi. The airport is regarded as the fifth highest airport in China with an elevation of 3,782 km. Many tourists usually have high altitude sickness when flying from Chengdu to Shigatse. So, it is recommended that you drink plenty of water if you are traveling to the high plateau and avoid strenuous activities when you land.
By Train
The Lhasa-Shigatse Railway is the only railway that connects Shigatse with Lhasa. The construction of this railway ended on August 16th, 2014 and it is an extension line of the Qinghai-Tibet Railway. The altitude of Qinghai-Tibet Railway is very high and it is dubbed the Closest Railway to the Sky. This railway makes the journey easier for tourists traveling between Shigatse and Lhasa. Traveling by Lhasa-Shigatse Railway also gives tourists the opportunity to see the beautiful landscapes of Shigatse and Lhasa.
There are two daily trains traveling from Lhasa Railway Station to Shigatse Railway Station, which only takes 3 hours.
Shigatse Railway Station
Shigatse Railway Station is located in Zhandui Village which is about 7 km away from the city center. The railway station is just about 20 minutes drive from the city center. The railway station began operation in 2014 and has helped thousands of local and foreign travelers traveling between Shigatse and Lhasa. The building of the railway station can accommodate 300 people. There is also a huge rotational prayer wheel at the square of the railway station making it an attraction in Shigatse.
By Road
Travelers usually travel to Lhasa by air or train, and then head to Shigatse by road. Two routes connect Lhasa and Shigatse. One of the routes is by driving from Lhasa to Shigatse via Gyantse. You can visit Yamdrok Lake, Palcho Monastery, and Karola Glacier along this route. It takes about 9 hours to travel from Lhasa to Shigatse on this route. It takes about 6 hours to travel from Lhasa to Shigatse directly on the second route. The distance of the journey via the second route is about 250 km. The road is made up of G318 National Highway and Lhasa Airport Expressway. You will enjoy great views of the green trees on the riversides and the Lhasa River. After driving for an hour on this road, you will get to the G318 National Highway which is dubbed the most beautiful road in China.
How to Travel around Shigatse?
Transfer in Shigatse City- Taxi
The best way to move around in the city area is by boarding a taxi and it's cheap. According to the pricing scale, the first 3 km will cost you 10 CNY(1.5 USD) and 2 CNY(0.3 USD) for every additional 1 km. You also have the option to use Didi Chuxing app or Uber for a taxi service.
Shigatse – Gyantse
Many tourists always list Gyantse in their Shigatse tour because of its historical Gyantse Dzong and Palcho Monastery with Kumbum Stupa. For foreign tourists traveling from Shigatse to Gyantse, driving is the only way of getting to Gyantse. The journey only takes about 2 hours.
Shigatse – Everest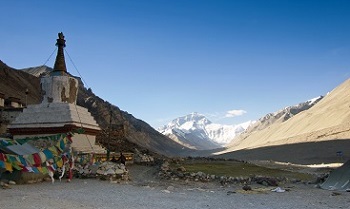 Traveling to Mount Everest is the most adventurous and fascinating journey for most tourists. The landscape of Mount Everest is truly a beauty to behold. Tourists always look forward to seeing Mount Everest and its beautiful landscape during their tour. The view along the way as you travel from Shigatse to Mount Everest is also amazing. Tourists always drive from Shigatse to Everest via Tingri and Lhatse because there are no direct trains or flights to Everest. The bus or car will climb over three huge mountains before getting to Everest, and the switchbacks roads will amaze you. The journey will take about 9 hours, so make sure you go with some food and drinks. There are restaurants that offer Sichuan and Tibet food along the way but you may not like them.
Transportation Tips
The majority of the roads to and around Shigatse are in good condition. Pot holes are rarely seen on these roads and are very wide, but some sections of the roads might be bumpy. The roads may be windy so the driver needs to control the car speed and keep to the rate-limiting regulation.
Wind is very strong in this area and it brings sands on the road. This condition might cause altitude stress, so it is recommended that you eat vegetables, fruits and drink a lot of water. Make sure you wear your sunglasses and respirator when you're out for sight-seeing.
Make sure you get all your things such as clothes, passport, permits, basic drugs, permits, and other useful items ready before you travel. Also, it is a good idea to know some info about the weather and climate so that you protect yourself with protective materials against harsh weather conditions such as sunburn.
Related Articles
Ask a Quick Question Below? Or Call 0086-891-6679450
Email response within 0.5~24 hours.