Tibet Spiritual Vacations
Tibet Spiritual Vacations
by Meo
Last Updated: 2019-12-13
Tibetans are said to be the most religious people in the world. Every tourist back from Tibet admits that he's no longer the same person as the one before the journey. For the soul and the heart, have a spiritual vacation in the holy land will change your life definitely.
It's an ideal way to explore the spirit of Tibet by visiting famous monasteries and holy sites. You will gain much knowledge about Tibetan Buddhism, culture, structure, and history.
Potala Palace is a splendid architecture which was built by Songtsen Gampo, the king of Tibet, to marry his queen, Princess Wencheng. You can have a view of the meditation Cave of the 33rd great king of Tibet and the precious gilded burial stupas of former Dalai Lamas.
Jokhang Temple, the holiest temple in Lhasa, was built by the 33rd great king of Tibet in the 7th century. There houses a statue of Buddha Sakyamuni at the age of twelve, which is precious and sacred. Pilgrims often make prostrating in front of the temple, and you will be affected by their pure spirits.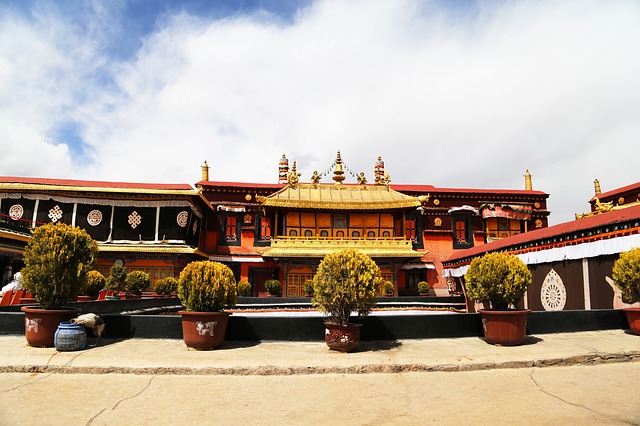 Jokhang Temple, the holiest temple in Lhasa, was built by the 33rd great king of Tibet in the 7th century.
Barkhor Street is a busy market around Jokhang Temple. You can do a kora, which is also known as devotional circumambulation, with pilgrims and locals there. After contenting your spiritual needs, you can also buy some traditional Tibetan handicrafts and taste some Tibetan foods.
Drepung Monastery plays a role as the most important monastery of Gelugpa in Tibetan Buddhism and it's praised as one of the "Three Great Monasteries". Sera Monastery locates at 6 kilometers north of Jokhang Monastery. It's famous for Buddhist debating which is held at the Debate Courtyard every afternoon. Sera Monastery is the last Buddhist monastery to be built and has been listed as one of China's National Cultural Relics. You can enjoy splendid Buddha statues, three sand Mandalas and delicate murals of Buddha in the monastery.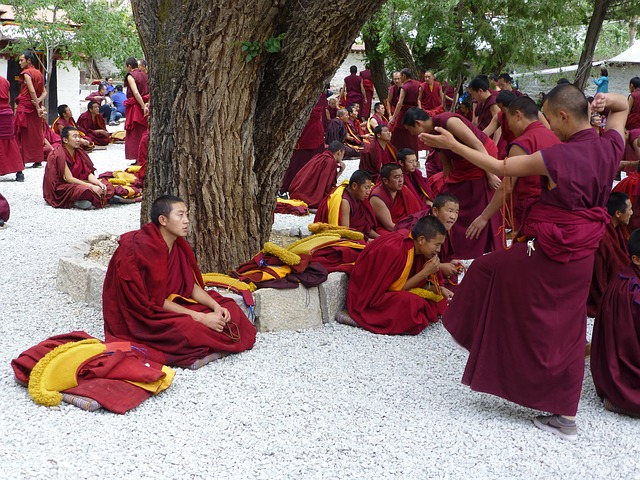 Sera Monastery is the last Buddhist monastery to be built in Tibet. It's famous for debating monks.
Drak Yerpa located on a hillside 30 kilometers east of Lhasa, and it's one of the most sacred sites in Tibetan Buddhism. There are and many monasteries that used to house about 300 monks, and you can see a number of ancient meditation caves.
Ganden Monastery stands about 60 kilometers east of Lhasa and is founded by the Great Tsongkhapa in 1409. You can have a view of his meditation cave, where has a beautiful scenic of Lhasa valley. Like Drepung Monastery, it also is one of the "Three Great Monasteries" of Gelugpa in Tibet. Along the road, you can have a perfect view of Kyichu River and a beautiful far view of the splendid monastery complex.
As an explorer, you can extend your journey to more remote areas. Have a visit to the holy lake, Lake Manasarovar, and finally, to Mt. Kailash. Once you at the foot of the most sacred mountain on the planet, you will be moved by nature. You can spend some days trekking the Mt. Kailash with devoted pilgrims from all over Tibet, and even all around the world. To have a remarkable spiritual vacation at Mt. Kailash, you're recommended to have your tour in April, May, June, September or October.
This vacation is specialized for those who are seeking a spiritual experience, for a Buddhist or an independent individual who want to explore and have a close encounter with this mysterious land. After this once-in-a-lifetime journey, you may not believe in gods, but you'll doubtlessly believe in hope.
Related Articles
Ask a Quick Question Below? Or Call 0086-891-6679450
Email response within 0.5~24 hours.