Tibet Altitude
by Apple
Last Updated: 2020-06-29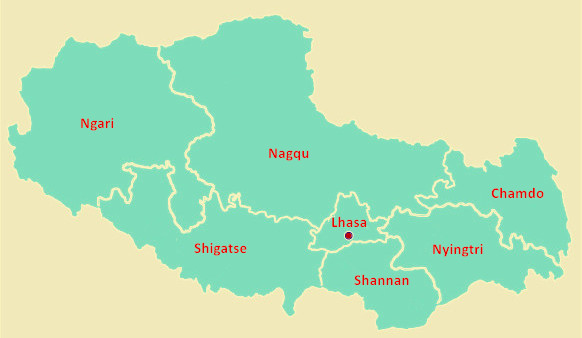 Tibetan Plateau is the world's highest plateau, with an average altitude of 4,500 meters/ 14,750 ft. It's known as the "roof of the world" and "Third Pole" due to high elevation. It is highly suggested to spend about 3 nights in Lhasa or Tsetang, the relatively lower altitude places of Tibet first before moving further to other higher altitude places.
Actually the lowest place in Tibet is Nyingchi with an elevation of 3,000 meters/ 9,843 ft, and the highest place in Tibet is Ngari, with an elevation of 4,500 meters/ 14,764 ft.
Here Great Tibet Tour provides you with the altitude of Tibet's towns & attractions, both in meter and feet, in order to give you a rough idea of what you will be dealing with, also to help you select sights suits you best. 
The Altitude of Prefectures/Cities/Towns
Prefecture

Altitude by Meter

Altitude by Feet

City/Town

Altitude by Meter

Altitude by Feet

Lhasa Prefecture

3,650 m

12,100 ft

Lhasa

3,650 m

12,000 ft

Shigatse Prefecture

3,800 m

12,500 ft

Gyantse

4,000 m

13,123 ft

Shigatse

3,800 m

12,467 ft

Tingri

4,300 m

14,108 ft

Zhangmu

2,800 m

9,186 ft

Ngari Prefecture

4,500 m

14,800 ft

Shiquanhe (Ali/Ngari)

4,280 m

13,960 ft

Nagqu Prefecture

4,500 m

14,800 ft

Nagqu

4,500 m

14,764 ft

Damxung

4,200 m

13,780 ft

Amdo

4,800 m

15,748 ft

Shannan Prefecture

3,700 m

12,100 ft

Tsetang

3,580 m

11,745 ft

Nyingchi Prefecture

3,100 m

10,200 ft

Nyingchi

3,100 m

10,171 ft

Pomi

2,750 m

9,022 ft

Chamdo Prefecture

3,200 m

10,500 ft

Chamdo

3,200 m

10,499 ft
Altitude of Attractions
| | | |
| --- | --- | --- |
| Attraction | Altitude by Meter | Altitude by Feet |
| Lake Namtso | 4,700 m | 15,420 ft |
| Yamdroktso Lake | 4,500 m | 14,764 ft |
| Tashilunpo Monastery | 4,800 m | 15,748 ft |
| Sakya Monastery | 4,300 m | 14,108 ft |
| Rongbuk Monastery | 5,100 m | 16,732 ft |
| Mt. Everest Base Camp | 5,200 m | 17,060 ft |
| Samye Monastery | 3,556 m | 11,667 ft |
| Yumbulagang Palace | 3,700 m | 12,139 ft |
| Lake Manasarovar | 4,588 m | 15,052 ft |
| Draksumtso Lake | 3,700 m | 12,139 ft |
Related Articles & Posts
Ask a Quick Question Below? Or Call 0086-891-6679450