Xian to Lhasa Train
by Eric
Last Updated: 2020-10-21
Travel to Lhasa by train is a recommended choice after the opening of the Qinghai-Tibet Railway. If you choose to start your tour from Xian, you're lucky enough to experience ancient Chinese culture. Before you set out to the mysterious Tibet, you will have a chance to visit the world-known Terracotta Army, the gorgeous Mausoleum of the First Qin Emperor, and the unique landscapes of western China.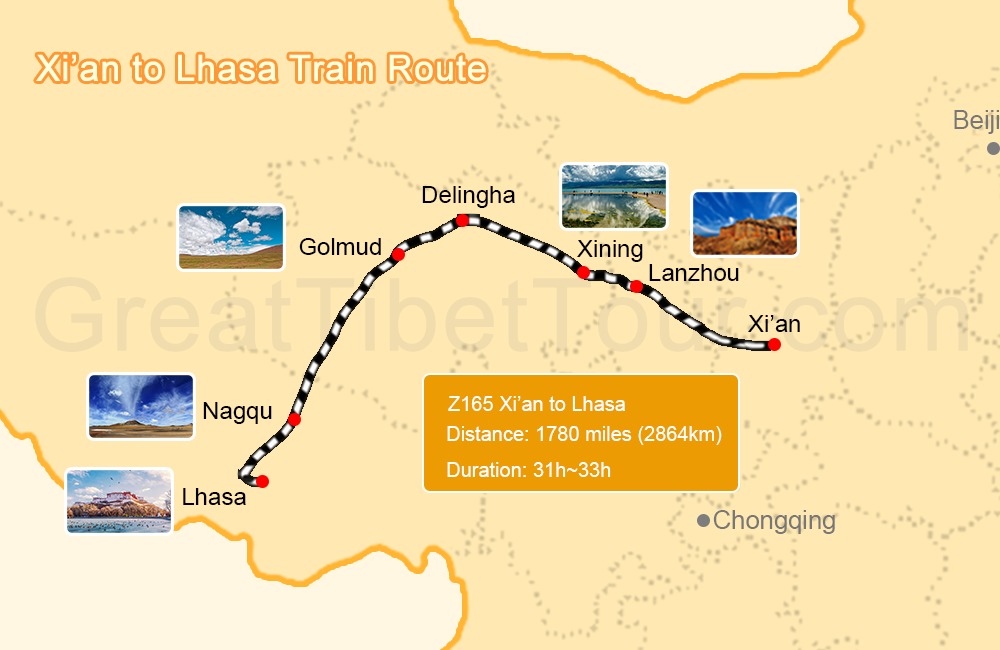 The train route from Xián to Lhasa, Tibet.
Although Xian is an important city in west China which was the capital of many ancient dynasties, the Xian to Lhasa train is not an independent railway route. There are two routes to Tibet via Xian, the Z265 originates from Guangzhou Railway Station and Z165 originates from Shanghai Railway Station. Currently, bullet trains are not available and the journey takes about 31 hours in total with a distance of 2,864 kilometers. However, as you can see, Xian is not the beginning station of the Tibet Railway. But it's also convenient to enter Tibet from Xian by train because the train departs every day. Moreover, there're two train stations in Xián, one is in the North and another is in the West. Please remember to go to the West one, normally we call it Xián Train Station, where is the only place you can take the Tibet train. The North train station is the high-speed train station, where you can't catch the train to Tibet. If you go to the wrong station, you may miss your train as there's a one-hour driving distance between the 2 train stations.
There are two classes of cabins which you can choose. The soft-sleeper cabin is the first-class cabin and the most comfortable one, where you will share a compartment with 3 other travelers. The second class cabin is the hard-sleeper cabin, with 6 berths in a compartment.
Xian to Lhasa Train Ticket Price and Schedule

| | | | | | | |
| --- | --- | --- | --- | --- | --- | --- |
| Train No. | From / To | Dep. / Arr. | Duration | Frequency | Hard sleeper Ticket | Soft Sleeper Ticket |
| Z265 | Xi'an/Lhasa | 09:45/16:45 | 31:00 | Daily | CNY611.5/USD99 | CNY969.5/USD156 |
| Z165 | Xi'an/Lhasa | 11:22/19:35 | 32:13 | Daily | CNY611.5/USD99 | CNY969.5/USD156 |
| Z166 | Lhasa/Xi'an | 11:30/20:34 | 33:04 | Daily | CNY647.5/USD104 | CNY1005.5/USD161 |
| Z266 | Lhasa/Xi'an | 12:55/21:49 | 32:54 | Daily | CNY647.5/USD104 | CNY1005.5/USD161 |
There's one dining car on each train where you can get food and drinks. You can also find toilets and washing basins at the end of each coach. Boiled water is available 24 hours every day. Don't worry about the effect of altitude, there are oxygen supply systems onboard on the train to Tibet. Oxygen can relieve you from altitude sickness. In fact, there are two kinds of systems which can supply you oxygen, therefore no need to worry about your health.
The last but least, you need to use your passport and original Tibet Travel Permit to board the train from Xián to Lhasa.
Please kindly note: All the train ticket prices listed on our website are the NET price. Now traveling to Tibet by train is so popular that the demand for train tickets far exceeds the supply. Although the tickets are started to sell online 30 days before departure, you are hard to get one as they will be sold out in a short time, especially from April to October, the peak season of Tibet tourism. No matter inbound or outbound tourists have to pay more than the net price to buy the tickets. Sometimes, even the travel agencies have to buy the tickets from the scalpers. So, we could help you book the train tickets in and out of Lhasa by adding a little service fee (subject to different seasons and cities) on the net price to guarantee the tickets for you. Please trust us that we don't have any profit on this matter. What we do is trying to provide the biggest convenience for our clients.
Upon arrival, you can enjoy your remarkable journey on the holy land. In Lhasa, don't miss Potala Palaces, Jokhang Temple, and Barkhor Street. You can also extend your travel to Shigatse, Yamdrok Lack, Everest Base Camp and even Ngari area for Mt. Kailash.
Related Articles
Recommended Tour Packages
Ask a Quick Question Below? Or Call 0086-891-6679450
Email response within 0.5~24 hours.