The Highest Altitude Luxury Tangula Tourist Train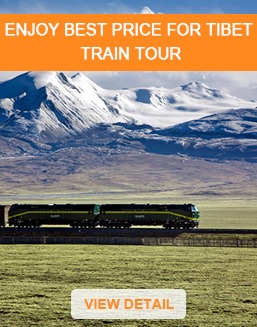 The Highest Altitude Luxury Tangula Tourist Train
The Tangula customized trains are genuine luxury trains in China, with a cost of 150 million US dollars each, mainly for high-end people around the world. The Tangula fancy trains depart from Beijing and run in two routes: the northern train travels across the Qinghai-Tibet Plateau to Lhasa; the southern train travels through colorful Yunnan to Lijiang. While enjoying world-class comfort, travelers will also embark on an unprecedented journey to experience the magnificent culture and natural beauty along the way.
Accommodation
The Tangula luxury train tour can take up to 96 passengers at a time, with a total of 12 suite cars and 1 sightseeing car. There are 4 private rooms and a butler's room in each suite carriage, and each private room can accommodate two passengers. The train cars are all designed by senior designers, including the provision of oversized windows and the design of independent suites in accordance with the standards of five-star hotels. Each suite is equipped with a double bed or two twin beds, a separate bathroom with a shower, a full-screen TV, an entertainment system, a free mini wine cabinet, and safety box, etc.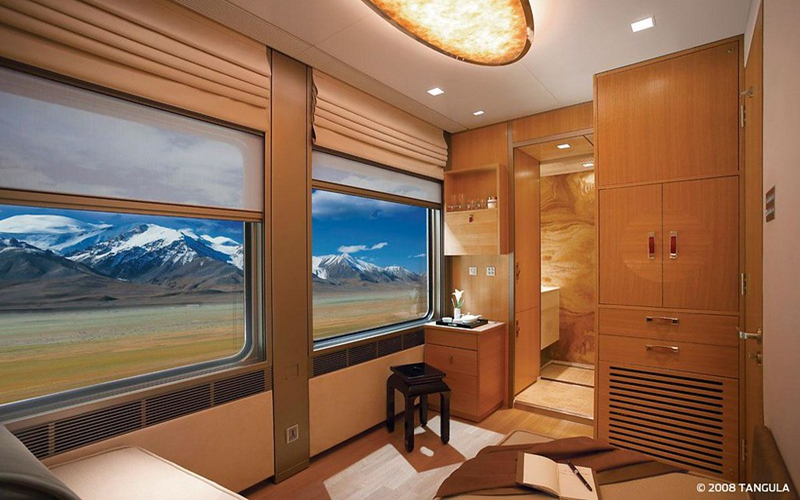 24-hour Personal Butler Service
Tangula Tourist Train is managed by Kempinski Hotel to ensure you enjoy world-class hospitality. Each suite is equipped with a 24-hour standby butler, who is well-trained, always at the command, and can provide the most rapid and efficient service. The in-room conditioning and soothing items provided by professional physicians add more comfort. All employees can speak Chinese and English, as well as other languages.
Dining Car
Food is the characteristic of the Tangula Train. They always insist on choosing the freshest ingredients so that guests can enjoy carefully cooked delicacies. The fully equipped kitchen in the car can provide Western and Chinese local cuisine, with exquisite dishes, as well as high-quality wines, cocktails and soft drinks to choose from.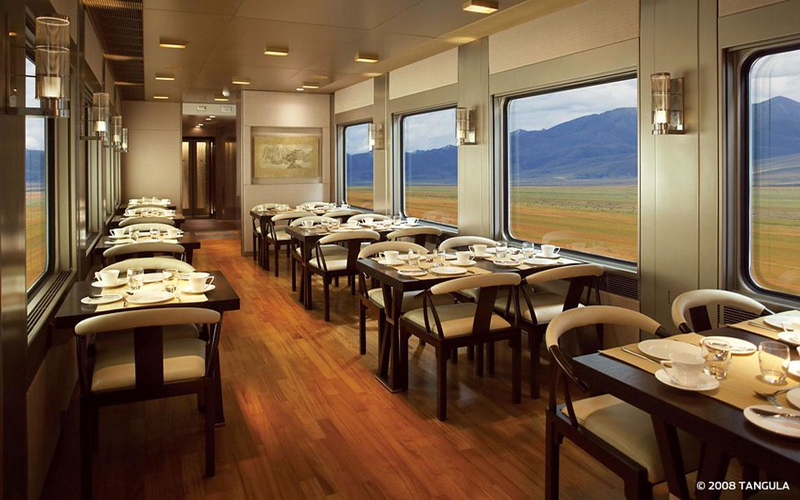 Beijing ⇋ Lhasa Train and Quotation
Beijing to Lhasa route is a 5 days/4 nights journey departing from Beijing to Lhasa, and Lhasa to Beijing route is 4 days/3 nights departing from Lhasa to Beijing. On the route, the VIPs will take the Tanggula tourist train across the Qinghai-Tibet Plateau, pass through Qinghai Jade Peral Peak, and drive side by side with the natural beauty of Cuona Lake. The fancy train will stop at every important scenic spot for tourists to explore. The off-car excursions open up customized routes for guests, and local guides are arranged to accompany guests. In addition, the rich in-car activities will also enlighten you on the history and customs of various places along the way.
Beijing-Lhasa journey is USD 5,500 per person, the return trip costs USD 4,125 per person. Tangula Train Company stated that the price has included out-of-car tours entrance fees, in-car activities, meals, alcohol, beverages, and service fees, while premium wine, spirits, and health care services need to be charged separately. Tangula rail tour package price is far more expensive than the current price of luxury in-depth tours in Europe or Australia.
Tip: Tangula train southern route - Beijing to Lijiang route takes 5-day/4-night (5,000 USD p.p.); Lijiang back to Beijing route is 4-day/ 3-night (3750 USD p.p.).
Preparations
Tourist visas and permits
Non-Chinese citizens need to apply for a China visa in advance to enter China and obtain a Tibet Travel Permit. Travelers can contact a travel agency to consult.
Prevent High altitude sickness
When the Beijing-Lhasa train runs across the Qinghai-Tibet Plateau, the highest point can reach an altitude of 5,072 meters. Travelers are advised to consult their doctor before departure. In order to overcome the influence of high altitude, the oxygen supply system of the Tangula train provides a continuous oxygen-rich environment for the entire train. Between Golmud and Lhasa, there will be a specially trained professional doctor on board. All passengers must sign a health declaration form before traveling.
Booking Notices
According to the Tangula Train Company representative, the special train accepts bookings by adults over 18 years old, and tourists over 16 years old need to be accompanied by an adult. Because the Tibet line is affected by conditions such as altitude and climate, there are still certain requirements for physical conditions. Tourists need to sign a relevant agreement with the company.
At present, the Tangula rail tour package is not sold through travel agencies, but only through the company's sales phones and website.
Related Articles
Ask a Quick Question Below?
Email response within 0.5~24 hours.