Tibet Train Schedule and Price 2022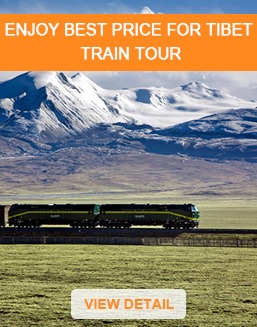 Tibet Train Schedule and Price 2022
by Mark
Last Updated: 2021-12-26
Train Tickets in China start to sell 30-day in advance. Train tickets to Lhasa are always in high demand, so make a booking 60-day in advance is highly recommended, or it's difficult to guarantee the train tickets, but leave it to fate and luck.
Tibet trains run daily between Lhasa and Beijing/ Shanghai/ Guangzhou/ Lanzhou/ Xining/ Xian, and every other day between Chengdu/ Chongqing.
All agencies charge service fees besides the official ticket price between CNY 200~1000 depends on the season and different cities. In general, the train to Lhasa is in higher demand, harder to purchase, thus the service fee is higher than the train from Lhasa.
Time Schedule and Official Prices of Tibet Train
Route
Train No.
Departure -  Arrival Time
Frequency
Duration
CNY/USD
Soft-Sleeper
Hard-Sleeper
Train: Chengdu-Lhasa
Z322
21:37 - 09:55
Every other day
36hrs
from 997.5CNY / 161USD
from 627.5CNY / 101USD
Train: Lhasa-Chengdu
Z324
18:40 - 06:26
Every other day
36hrs
Train: Beijing-Lhasa
Z21
20:00 - 12:40
Daily
41hrs
from 1144CNY / 185USD
from 720CNY / 116USD
Train: Lhasa-Beijing
Z22
15:50 - 08:28
Daily
41hrs
Train: Shanghai-Lhasa
Z164
20:08 - 19:35
Daily
48hrs
from 1262.5CNY / 204USD
from 793.5CNY / 128USD
Train: Lhasa-Shanghai
Z166
11:30 - 11:51
Daily
49hrs
Train: Xining-Lhasa
Z223
12:26 - 09:55
Daily
22hrs
from 781CNY / 126USD
from 495CNY / 80USD
Train: Lhasa-Xining
Z166
11:30 - 09:10
Daily
22hrs
Train: Xian-Lhasa
Z265 Z165
09:54 - 16:45
11:22 - 19:35
Daily Daily
31hrs 32hrs
from 970CNY / 156USD
from 611.5CNY / 99USD
Train: Lhasa-Xian
Z166 Z266
11:30 - 20:34
12:55 - 21:46
Daily Daily
33hrs 33hrs
Train: Chongqing-Lhasa
Z223
22:25 - 09:55
Every other day
36hrs
from 997.5CNY / 161USD
from 627.5CNY / 101USD
Train: Lhasa-Chongqing
Z224
18:40 - 06:42
Every other day
43hrs
Train: Guangzhou-Lhasa
Z264
11:40 - 16:45
Every other day
53hrs
from 1468CNY / 237USD
from 865CNY / 140USD
Train: Lhasa-Guangzhou
Z266
12:55 - 20:17
Every other day
56hrs
Train: Lanzhou-Lhasa
Z323
09:26 - 09:55
Daily
25hrs
from 823CNY / 133USD
from 522CNY / 84USD
Train: Lhasa-Lanzhou
Z166
11:30 - 12:08
Daily
25hrs
The train between Lhasa and Chengdu/Chongqing departs every other day. Check the table below to see the ODD & EVEN-number date in 2022 that has the train from/to Chengdu and Chongqing. Eg. in Jan 2022, train Chengdu to Lhasa, only available on ODD-number days. Like on 01 Jan, 03 Jan., etc.
| | | | | | | | | | | | | |
| --- | --- | --- | --- | --- | --- | --- | --- | --- | --- | --- | --- | --- |
| 2022 | Jan | Feb | Mar | Apr | May | Jun | Jul | Aug | Sep | Oct | Nov | Dec |
| Train: Chengdu → Lhasa | EVEN | EVEN | ODD | EVEN | EVEN | ODD | ODD | EVEN | ODD | ODD | EVEN | EVEN |
| Train: Lhasa → Chengdu | EVEN | EVEN | ODD | EVEN | EVEN | ODD | ODD | EVEN | ODD | ODD | EVEN | EVEN |
| Train: Chongqing → Lhasa | ODD | ODD | EVEN | ODD | ODD | EVEN | EVEN | ODD | EVEN | EVEN | ODD | ODD |
| Train: Lhasa → Chongqing | ODD | ODD | EVEN | ODD | ODD | EVEN | EVEN | ODD | EVEN | EVEN | ODD | ODD |
Note: We will update this schedule once the new ones are issued.
How to Buy Tibet Train Ticket
Since 2015, Tibet train tickets can be purchased on the official site of the state-owned China Railway(www.12306.cn) 60 days in advance. The Tibet train tickets sell out quickly all year long. It is almost impossible for foreigners to purchase it on their own. Hence it is highly suggested that you book the train ticket with the same agency which arranges your Tibet tour. Usually, CNY 200~1000 will be added as a service fee depending on the season.
Don't keep any hope to buy Tibet train tickets at the railway station on the spot after your arrival in China. It is almost impossible.
Usually, after your agency book your Tibet Train ticket, they will forward you an ETicket with an order number on it. With this order number & your original passport, you can exchange the actual paper ticket at the ticket hall of any railway station in China.
Children's Tibet Train Ticket
Children discounted prices of Tibet trains are based on their height. No children can take the Tibet train alone without the company of an adult. The height of the children will be checked at the railway station.
Children under 1.2m: free of charge, if one of such child sharing one sleeper with one adult; 
Children between 1.2~1.5M: half price, if one of such child sharing one sleeper with one adult;
Children over 1.5M: full price, sleeper of his/her own;
What to Pack for 2-day Tibet Train Journey
You should realize that you will spend 2 nights on the train. The Qinghai-Tibet train is considered as a 3-star facility train in China, but it is not a hotel, no disposable provided. You need to prepare your own slippers, towel, cup, teeth brush, teeth paste, soap, even toilet paper. 
Another problem you have to think about is the food, although there is a restaurant car in the middle of the train which provides Chinese food. At least you need to think about buying some milk, bread, fruit, instant noodle. etc. for the train journey. 
Luggage Limitation & Prohibited Items on Tibet Train
Unlike traveling by air, Tibet train does not provide luggage check-in service. All of your luggage has to be carried along by yourself. There's a shelf available in the carriage for you to put your luggage with. 
Luggage Limitation on Tibet Train: 20kg/ Adult Passenger
The width, height, and length of one luggage is limited to 160cm; 
The length of luggage in the shape of the pole is limited to 200cm;
The weight of a wheelchair for the disabled does not include in luggage limitation;
 
Prohibited Items on Tibet Train
*Archery equipment
*Canisters, tanks or other devices containing propellants
*Corrosive or dangerous chemicals or materials, including but not limited to liquid bleach, tear gas, electronic control devices (stun guns, TASER guns), radioactive and harmful bacteriological materials
*Firearms or ammunition. Black powder, percussion caps or any ammunition used with a matchlock, flintlock, percussion-cap ignition system or similar type are never permitted; this includes self-loaded, gunpowder-based modern ammunition
*Incendiaries, including but not limited to flammable gasses, liquids, fuels, fireworks, and other explosive devices
*Martial-arts and self-defense items, including but not limited to knives, guns. etc
*Oversized and/or overweight items
*Perishables
*Animals or any objects impeding public health including extremely odorous objects
Related Articles
Ask a Quick Question Below? Or Call 0086-891-6679450
Email response within 0.5~24 hours.