by Apple
Last Updated: 2019-08-01
Train to Tibet is listed as one of the "The world's top 25 iconic rail adventures". Riding a Tibet train to Lhasa has become a rather good choice of traveling to Tibet with the completion of the world's highest railway, the Qinghai-Tibet Railway which is also the only railway to Lhasa at present. Taking a train to Tibet is even the top choice for many foreign tourists to Tibet for a Tibet train tour is really so impressive both because of the breathtaking scenery along the Qinghai-Tibet Railway and the railway itself, the blue sky and white clouds, Desert landscape, Snow-capped mountains, Snowing on the desert landscape, Green pasture of farmlands, Goats and yaks grazing the grassland, Sacred lake of Tibet, source of Yangtze River, Hohxil Natural Reserve, etc. Of course, enjoying the high-quality services on the best train in China is also a wonderful experience of traveling to Tibet by train.
Here are the main threads you may interest in this post
The Qinghai-Tibet Railway, as the only railway that links Lhasa railway station to the existing rail network of mainland China, is always busy throughout the year. On one hand, the scenery along the railway deserves our time. On the other hand, the Qinghai-Tibet Railway itself is a man-made world wonder. The Tibet Railway creates many worlds' firsts: the world's highest railway, the world's highest railway station, the world's longest track on frozen earth, etc.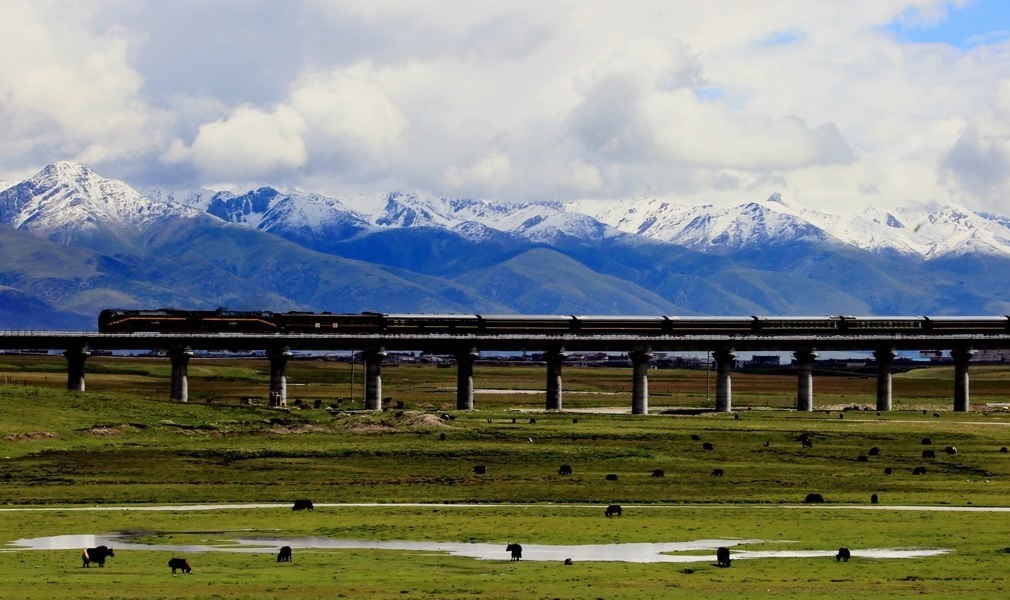 Far view of Qinghai-Tibet Railway.
Trains to Tibet from Cities of China Mainland
It is relatively cheap and convenient to take a train to Lhasa from other inland cities of China. At present, there are direct trains to Tibet from Xining, Beijing, Shanghai, Guangzhou, Chengdu, Chongqing, Xi'an, and Lanzhou. Many trains to Tibet beginning from other cities will pass by Xining, Xian, Lanzhou or Golmud. Therefore, not surprisingly, Qinghai-Tibet Railway is so attractive for both domestic and foreign tourists to Tibet. The popularity of Tibet train tour results in a huge demand for Tibet train tickets among tourists. It is very hard for individual travelers to obtain a train ticket to Tibet in the peak season of Tibet tourism. GreatTibetTour.com can help travelers book Tibet train tickets easier. Still, it is quite difficult to guarantee the first-class soft sleeper berth ticket from Beijing, Shanghai, and Chengdu. As Beijing, Shanghai and Chengdu are usually the first stop of many foreigners to China and also popular gateway city to Tibet, it might be difficult to get a Tibet train ticket in these cities.
At the beginning, only three trains ran: Beijing–Lhasa (every day), Chengdu/Chongqing–Lhasa (every other day), and Lanzhou/Xining–Lhasa. Shanghai/Guangzhou–Lhasa service was added in October 2006. In July 2010 the Shanghai–Lhasa service became daily, and a daily service between Xining and Lhasa was added, but the service then suspended for the winter low season. 
Since October 2006, five pairs of passenger trains run between Golmud and Lhasa, and one more pair between Xining and Golmud. The line has a capacity of eight pairs of passenger trains.
Tibet Train: Views along the Way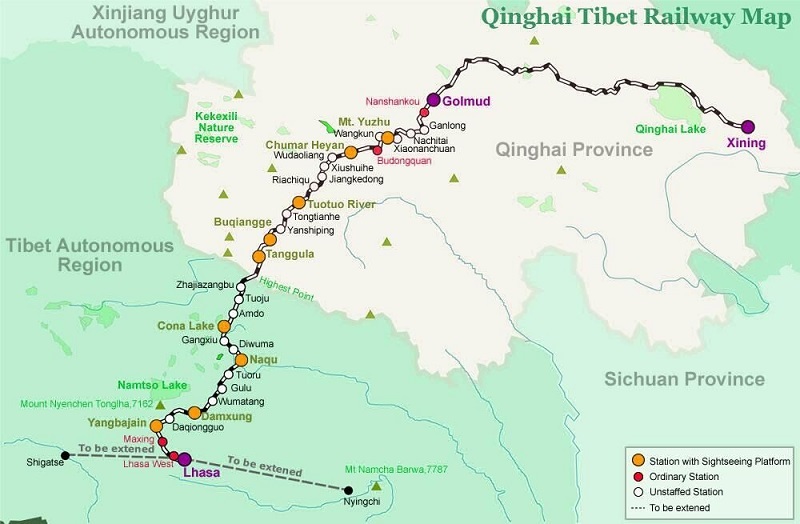 The spots distribution map of Qinghai-Tibet Railway.
While the Tibet region is called the roof of the world, the Qinghai- Tibet railway system is called the sky road itself. The beauty of nature alongside the rail track is heavenly and breathtaking. Along with the Qinghai Tibet railway, the line enters the Tibet section. All trains across the Tibetan plateau during daylight, guaranteeing you great views. From Golmud the train climbs through the desert into the jagged caramel-coloured mountains of Nanshankou(Southern Pass), passing what feels like a stone's throw from the impressive glaciers beside Yuzhu Feng(Jade Pearl Peak, 6178m). Continuing journey to the south, you will observe the beauty of slow flowing, 800km broad- Tongtian River, then experience the beauty of underlying chain of Tanggula Mountains. Running deeper into the Tanggula Mountains, the train stops at Tanggula station. The Tanggula Mountain is divided into eastern and western parts; western part allows you to experience cold and desert vista, and the eastern part has the beautiful view of shrubs and savanna.
Departing from Tangulla mountain stop, the train enters another breathtaking destination, Tibet Autonomous Region. When passing by the 4776m Kunlun Pass, where you can see the prayer flags at the top of the pass, and Cona Lake, 9.5hrs from Golmud near Amdo, claimed to be the highest freshwater lake in the world at 4608m. The train crosses into Tibet over the 5072m Tangula Pass, the line's high point. Keep your eyes peeled throughout the journey for antelope, fox and wild asses, plus the occasional nomad.You will experience the beauty of Nagqu district of the northern part of Tibet, and then you move to Northern Grassland. You can't stop yourself to experience the natural scenery here which has a painting of blue sky, white clouds, colorful rainbow, and grazing cattle like cows, sheep, and the green grass.
After Nagqu, train heads toward another charming area of moorland marsh. You will experience the beautiful scattered herdsmen huts, surrounded with greenery and grazing cattle. From here, you enter Dangxiong, a town in the east of Namtso Lake. It gives you a feel of rush place same like Lhasa.
Your train journey will reach the last mountain chain, Nyainqentanglha Mountains, running along the railway. At west direction, you will experience the charm of 7000meters high, four peaks on the Dangxiong grasslands. Then you reach the eight station of line, Yangbajing Town; where passing through the beautiful area of gorges, you approach toward Duilongdeqing County. You will see beautiful trees; most of them are Tibet Willow.
After enjoying all the beautiful sceneries, you will experience the beauty of Lhasa Rivers, and finally, you reach your destination-Lhasa.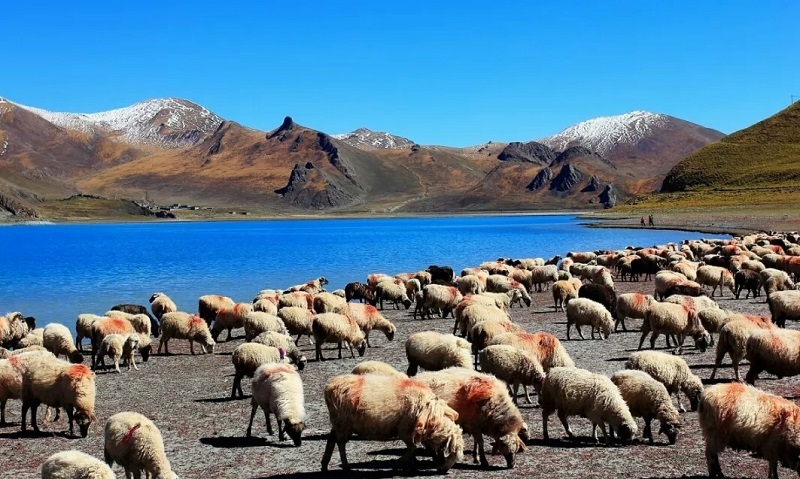 On the train, you still can see crystal-alike lakes.
What about Oxygen and Health?
The trains on the Qinghai- Tibet railway are built to have an oxygen supply for all the passengers. Each train contains two oxygen provision system. The first system ensures the oxygen provision in the entire train through temperature and air pressure control. The other system helps people individually by providing them with oxygen through individual ports. Moreover, there are oxygen masks in each cabinet in case of emergency. Adding to this, to ensure the passengers' safety, each train has a doctor on board along with necessary medical equipment and medicines. These arrangements are necessary because of the high-altitude region with lack of oxygen.
At the time of ticket purchasing, one must acquire a passenger health registration card which includes notices about the high-altitude region, and the dangers related to oxygen. Each individual must sign an agreement to acquire this health registration card.
FAQs about Tibet Train
All the frequently asked questions about Tibet train. eg. Is Tibet Train Punctual; Is There Private Bathroom In Tibet Train; Can I Take Shower on Tibet Train; Is There Internet Access on Tibet Train. etc
Q: Is Tibet Train Punctual?

A: The departure of Tibet train is usually very punctual;
The arrival of Tibet train is not as punctual. Give it 00mins or so of delay.

Q: Do Train Attendants on Tibet Train Speak English?

A: No attendant on Tibet train speak fluent English, though some of them speak some simple English. If you encounter some trouble of communication, please seek the help of other passengers. Young people in China more or less speak a little English. Or to call your travel consultant of Great Tibet Tour, who would be happy to help at all time.

Q: Is There Private Bathroom In Tibet Train?

A: There is no private bathroom available on Tibet Train, but public bathrooms with sink area at the each end of the carriage. You will be sharing the bathroom with the rest of the passengers in Tibet train. They were constantly cleaned by train attendants. Not that there's no toilet paper available in the bathroom.

Q: Can I Take Shower on Tibet Train?

A: There is no shower available in Tibet train.

Q: Is There Internet Access on Tibet Train?

A: There is no internet access on Tibet Train.

Q: Is Mobile Phone Accessible on Tibet Train?

A: There's signal for mobile phone most of the time on Tibet Train.

Q: Are There Electric Outlets on Tibet Train?

A: There's no electric outlet on Tibet Train for a passenger to use.

Q: Is There Any Entertainment Facilities on Tibet Train?

A: Almost no other entertainment except Railway TV in soft sleeper berth car. View along the way is your main entertainment.

Q: Is There Hot Water Supply on Tibet Train?

A: Each car of Tibet train is equipped with a 24 hours hot water supplier, which you can get boiled hot water.
There's also hot water at the sink area of the bathroom on Tibet Train which you can wash your face with.
Is It Safe for Foreigners in Tibet Train?
It is quite safe for foreigners in Tibet train, especially most of the foreign travelers choose the sleeper coaches which are closed separately at night. Every night before the lights out, the train attendants will check your train tickets. Those of no sleeper coach tickets will be asked to leave the coach to return to their seats according to their tickets before attendants close the sleeper coach.
Soft-Sleeper Berth Compartments have doors of their own which can be closed and locked; Hard-Sleeper Berth Compartments has no doors of their own. Either way, please be careful of your valuables.
Related Articles & Posts
Ask a Quick Question? Ask below or call 0086-891-6873166