Best Tibet Hotels
Traveling to Tibet, there are many hotels for tourists to choose from, especially in large and well-developed tourism cities in Tibet, such as Lhasa, Shigatse, Nyingchi. Tourists get a wide selection from stylish family inns to international brand five-star hotels. Here Great Tibet Tour recommends the best Tibet hotels for your consultation and booking.
Five-Star Luxury Hotels
Lhasa is the first destination for most tourists on trips to Tibet. There are currently three world-class five-star hotels in Lhasa: The St. Regis Lhasa, the Holy Land Paradise Intercontinental Hotel in Lhasa, and the Shangri-La Hotel in Lhasa. If you have an ample travel budget on accommodation, you are recommended to experience high-altitude five-star luxury.
St. Regis Lhasa Resort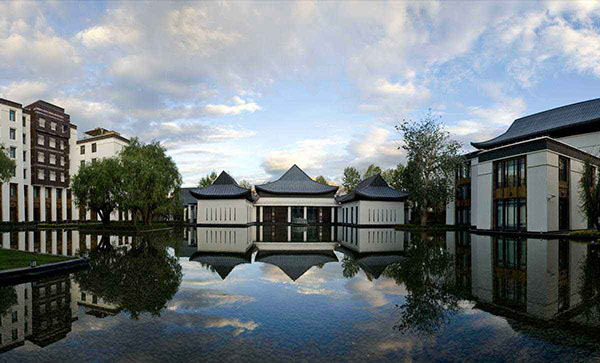 The St. Regis Lhasa Resort is located on Jiangsu Avenue, the main road in Lhasa. It takes about 15 minutes to walk to the Jokhang Temple and Barkhor Street, an area filled with classic neighborhoods, from where tourists can get a glimpse into the traditional Tibetan lifestyle. It's about 3 kilometers west of the Potala Palace, where tourists can immerse themselves in the delicate taste of Tibetan cuisine in its surrounding restaurants. Take a taxi further west for about 15 minutes from the hotel, you can enjoy the unique woodlands of Norbulingka on the snowy plateau. You can also drive about 20-30 minutes from the hotel to Sera Monastery or Drepung Monastery, which are renowned as two of the "Top Three Monasteries in Lhasa". Pay your respects to the Buddha and then immerse yourself in the majesty and grandeur of the Tibetan Buddhist monasteries.
The hotel is located on a hillside. The traditional architecture of the hotel reflects the elegant and rustic style of Tibet. Its exterior light gray brick walls and black tower roof are designed to pay tribute to the ancient culture. Its lounge on the sixth floor offers a better view of the Potala Palace than the lobby on the second floor. It is especially recommended to tourists who like enjoying the night view of the Potala Palace. Yet this hotel only offers the rental service of oxygen tanks, compared with the diffuse oxygen supply amenity in Intercontinental. >>See more about St. Regis Lhasa Resort
InterContinental Lhasa Paradise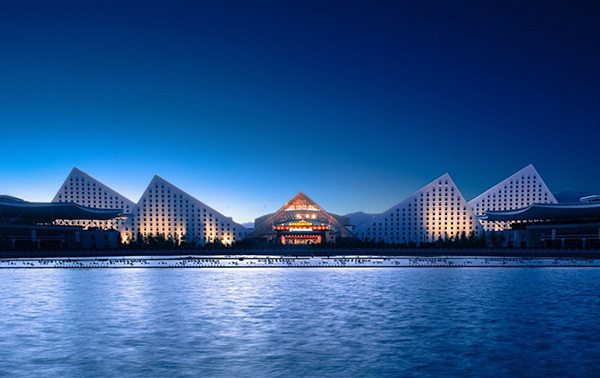 InterContinental Lhasa Paradise is located on Jiangsu Avenue, 7 km away from the Potala Palace and about 15 minutes car ride from Lhasa city center.
With the highest altitude, this InterContinental hotel lies at the foot of Najin Mountain and by the Lhasa River, looking just like the magnificent palace complex on the plateau. Its exterior wall shaped like a triangle, which makes the complex looking like rolling snow-capped mountains in the distance.
InterContinental is the only hotel in Lhasa that provides central oxygen supply facilities in the guest rooms from 10 p.m. to 6 p.m. the next day, which is helpful for first-time visitors dealing with altitude sickness. After having a good rest on the first night, the discomfort caused by altitude sickness would probably be eliminated. If you were still listless the next day, there's an oxygen bar in the hotel, where you can work and rest. Having a comfortable sleep and plenty of physical energy will really benefit the rest of the trip. No wonder many people choose here for their first night in Lhasa. >>See more about InterContinental Lhasa Paradise
Shangri-La Hotel Lhasa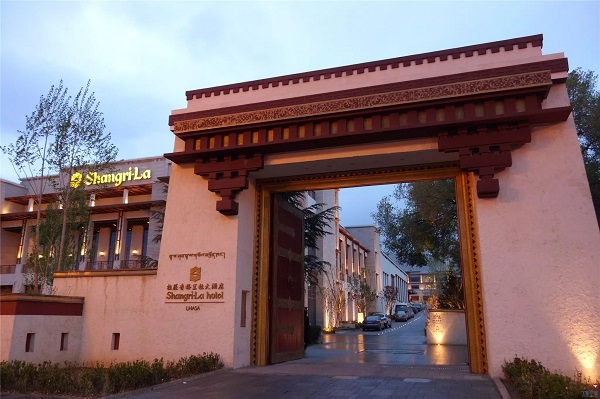 Shangri-La Hotel Lhasa is located on Norbulingka Road, about an 8-minute walk from the world-famous Potala Palace, adjacent to the Norbulingka Summer Palace and Tibet Museum. This hotel is a traditional Tibetan-style building with a variety of modern guest rooms, as well as a respectable Horizon Pavilion and a private VIP lounge.
The biggest feature is that there is an "oxygen bar". In this huge public area, you can sit or lie down. It would be a great relief for guests who were prone to be altitude sickness. >>See more about Shangri-La Hotel Lhasa
Songtsam Choskyi Linka Lhasa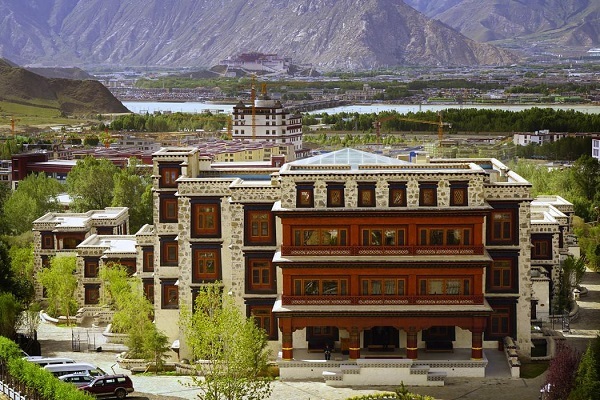 Songtsam Choskyi Linka Hotel Lhasa is located on a hillside to the southeast of the Potala Palace. The relatively high terrain brings a wider view of the Potala Palace and beyond. The hotel is composed of 10 Tibetan fortress-style buildings, slowly rising from north to south, passing through it, as if crossing back to the ancient Barkhor Street. The interior is decorated in the Lhasa style, hanging with a large number of exquisite thangkas and tapestries. It feels like being in a noble's house a hundred years ago.
In the lobby, restaurant, book bar, and every room, you can see the majestic Potala Palace, especially the night view. The guest room equips an oxygen supply facility, which can alleviate high-altitude reactions well. The breakfast is sumptuous, delicate and delicious. All in all, it's a fantastic Tibet hotel, which brings you a great experience. >>See more about Songtsam Choskyi Linka Hotel
Hilton Shigatse
This hotel is located in the city center of Shigatse, on the only way to the Everest Base Camp, adjacent to Tashilhunpo Monastery.
Hilton Shigatse is inspired by the Five Skandhas of Tibet and cleverly integrates them into its modern design to present guests with an artistic atmosphere of Tibetan culture, creating a romantic manor atmosphere. The hotel lobby has a ceiling height of 6 meters, and the dome makes the room bright with natural lighting. The floor-to-ceiling windows are designed to directly face the snow-capped mountains and Tashilhunpo Monastery.  Animal elements such as Tibetan sheep and black-necked cranes, which have beautiful meanings in Tibet, are also present in hotel sculptures, paintings and other artworks.
The hotel has 301 unique guest rooms and suites, all equipped with diffuse and nasal suction oxygen supply facilities. The hotel also provides extensive dining, conference and leisure facilities.  >>See more about Hilton Shigatse Hotel
Hilton Linzhi Resort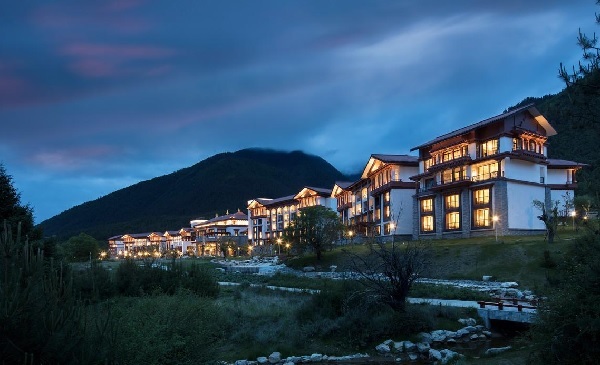 Hilton Linzhi Resort is located in Milin County, Nyingchi, which is known as the "Jiangnan in Tibet". Backed by the Himalayas, this hotel is adjacent to Nyingchi Airport and two famous attractions in Nyingchi - Nanyigou and Yarlung Zangbo Grand Canyon. In addition to facing the Yarlung Zangbo River and watching the spring flowers bloom, you can also see the fantastic sea of ​​clouds in summer, colorful forests in autumn, and warm sun in winter.
The hotel has more than two hundred high-quality guest rooms with modern design and Tibetan cultural elements as well as complete facilities. The "Rega" all-day dining restaurant and the "hunting taste" Chinese restaurant bring you an authentic Nyingchi food experience. The lounge of the hotel lobby is an ideal place for business appointments and friends gatherings. Other facilities include a banquet hall, meeting room, cinema, gym, heated swimming pool, and starry sky bar that can meet your diverse needs.
As a luxury resort hotel built by international standards in Nyingchi City, it shows guests the local area's unique natural beauty and humanities features. It is the best choice for business trips and family trips.
Four-Star Comfortable Hotels
In addition to five-star hotels, there are of course a number of four-star standard hotels in Tibet that are qualified to receive foreign guests. They have popular amenities like spacious rooms, private bathrooms, flush toilets, air-conditioning, and WIFI.
Susheng Guizang Manor Hotel
Susheng Guizang Manor Hotel is only 1 km from Jokhang Temple and Barkhor Street, less than 2km away from Sera Temple and Potala Palace, and 10 km away from Drepung Monastery. Lhasa Gonggar Airport is a 1-hour, 7-minute drive away.
It offers modernly decorated rooms with air-conditioning, a 24-hour front desk, a restaurant serving international cuisines, and free WiFi-covered public areas. Especially the warm room service staff make this hotel a comfortable hotel to stay. Breakfast is of various kinds. >>See more about Susheng Guizang Manor Hotel
Lincang Boutique Hotel Lasa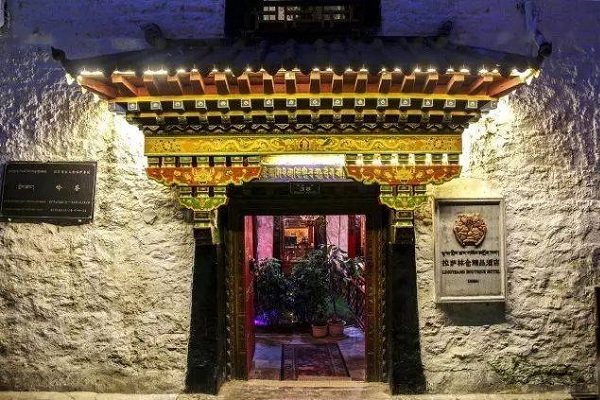 Housed in the 300-year-old residence of the seventh Ganden Tripa Ling Rinpoche, Lincang Boutique Hotel Lhasa a "living cultural relic" that has witnessed the great changes in Lhasa over a century, and it is a "new symbol" that embodies the inheritance of Tibetan culture. When you come here, you can not only see an ancient building but also feel the Tibetan culture that has been flourishing for hundreds of years.
Each room in the hotel has a diffuse oxygen supply, and the rooms are equipped with independent safes, refrigerators, and other facilities. This hotel features activities of Tibetan culture and folk customs, such as DIY hand-made butter tea, taking pictures in Tibetan clothes, Tibetan calligraphy, and leaving family names on blessed prayer flags to pray for good luck, peace, and health.
Three-Star Economical Hotels
The recommended 3-star hotels are Gang-Gyan Hotel and Yak hotel because both are good choices for their hotel location and great value.
Tibet Gang-Gyan Hotel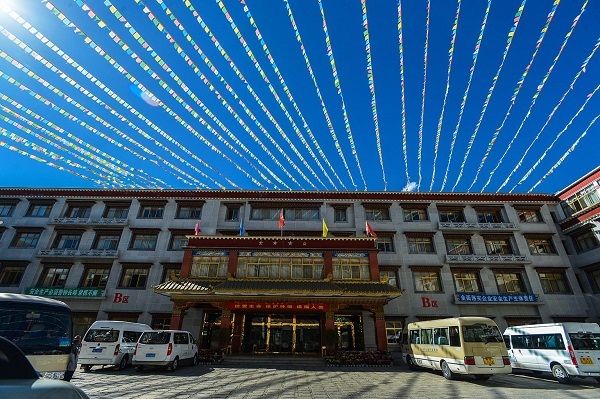 Tibet Gang-Gyan Hotel is located in the center of Lhasa, close to famous tourist attractions such as Jokhang Temple, Ramoche Temple, and Barkhor Street. It's about 2km from Potala Palace. Its superior central location makes the transport very convenient.
Gang-Gyan Hotel has elegantly furnished suites in both European-style and Tibetan-style. The hotel has a special viewing room on the west side, where you can overlook the Potala Palace and the Jokhang Temple, and sleep with the Sanskrit song. If you choose other room types, the rooftop restaurant of the hotel is a good place for you, which offers a nice view of the Potala Palace as well. >>See more about Gang-Gyan Hotel
Yak Hotel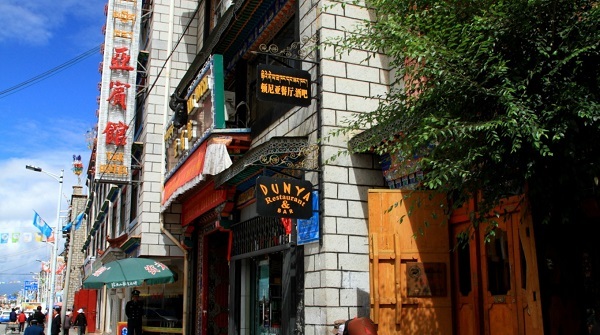 Lhasa Yak Hotel is located on Beijing East Road, in the prosperous center of Lhasa's old downtown. It is 250 meters away from the world-famous Jokhang Temple and Barkhor Street, and 1,000 meters away from the majestic Potala Palace. The geographical position is excellent.
There're more than 100 comfortable guest rooms(suites), which are equipped with air-conditioning, direct-dial call and 24-hour hot water. As the earliest foreign-related designated hotel in Tibet, Yak Hotel is reputable for its facilities and services in the region and abroad, and even internationally. You can easily find an introduction about Yak Hotel in popular travel guide books and magazines today. >>See more about Lhasa Yak Hotel
Explore Tibet from Comfortable Hotels
If you are planning a trip to Tibet and concerning accommodation, we can provide reservation service of the hotels above. We also can help you arrange a hotel that best suits your interests and requirements. Especially in peak tourist season, you are highly recommended to book a hotel in advance. We also can arrange your tours in Tibet and your Tibet Travel Permit.
Related Articles
Ask a Quick Question Below?
Email response within 0.5~24 hours.