How to travel to Lhasa from Beijing?
How to travel to Lhasa from Beijing?
by Nance
Last Updated: 2021-03-25
Lhasa is often a good place for foreign tourists from all over the world, and Beijing is one of the most popular portals to get to Lhasa. Many travelers who are desired to Lhasa always take Beijing as the first stop, because covering Beijing in your trip, your Tibet tour is becoming more perfect. You can understand the history and culture of China's empire in Beijing, and then take a train or plane from Beijing to Lhasa. What's more, train or flight ticket from Beijing to Lhasa is supplying enough. There are multiple flights and daily train you can take to Lhasa from Beijing, but trains to Lhasa from other major large cities such as Chengdu, Chongqing, Lanzhou, and Xining would depart every other day.
How to get to Lhasa from Beijing
Tibet entry permit
If you want to Lhasa, you need to apply for Tibet entry permit before arriving in Lhasa. When you get on a train or a flight to Lhasa, you need this permit and your ticket.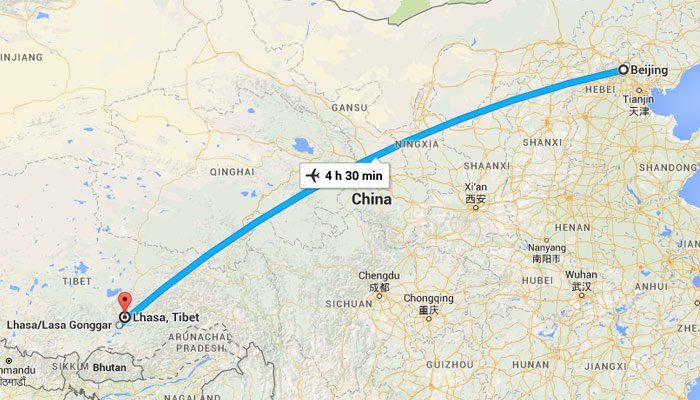 Option 1 Take a train to Lhasa from Beijing
There are several good reasons to go to Lhasa by train. First, this is a journey along the roof of the world, and the challenges seem to be insurmountable in a few years ago. Besides, take a slow train to Lhasa will give your body a good chance to adapt to high altitude.
The total length of a railway from Beijing to Lhasa is about 3757 km, of which the new Qinghai-Tibet railway is 1110 km. The highlight of this train is from Xining to Lhasa area, where you can enjoy the Gobi desert, snow-capped mountains, Tanggula Mountain, vast grasslands and other magnificent scenery outside the window. There are 10 stops in total from the Beijing West Railway Station to the Lhasa railway station. The train stops at each station for about 10 to 15 minutes. Departure from Beijing West Railway Station at 20:10, you will stay on the train from Beijing to Lhasa (Z21) within 41:45 hours to complete a 3757-kilometer journey. The about 42 hours train tour to Lhasa from Beijing is a zen-like way for those travelers who want to slow their busy minds before reaching to Lhasa.
Different seats in Train from Beijing to Lhasa
There are three kinds of seats on the train from Beijing to Lhasa such as hard seat, hard sleeper, and soft sleeper. In general, travelers will choose soft sleeper or hard sleeper rather than the hard seat, because it is difficult to cope with the long train journey with a hard seat. If you want to provide the best service for your family's privacy and comfort, then choose a soft sleeper which has four berths, air conditioning, oxygen exit and other facilities. There are six berths in hard sleeper room, and there is less privacy because the cabin is no door. However, travelers may choose a hard sleeper because it's cheaper than a soft sleeper.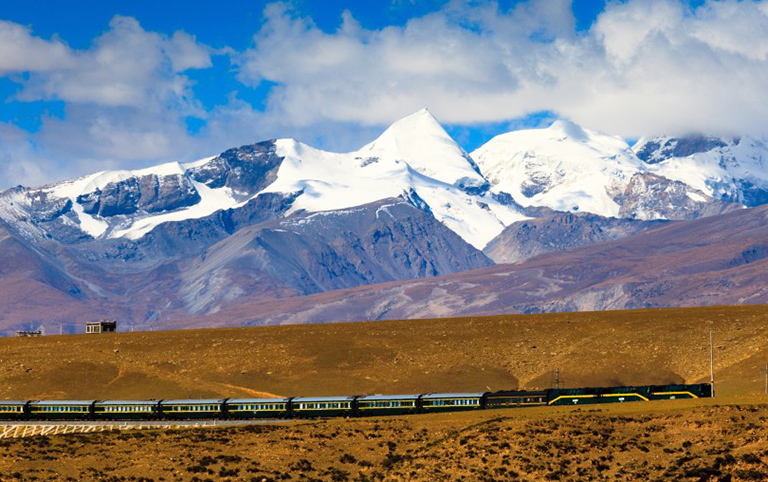 Deal with altitude sickness on the train trip
Trains from Beijing to Lhasa will pass high mountain roads at a high altitude. When the train rises to a higher level, you may face altitude sickness. Don't worry, trains from Beijing to Lhasa are sealed and pressurized like aircraft to adapt to changing heights. In the train, it also provides oxygen supply. However, it is suggested that you carry some drugs to relieve altitude sickness in emergency situations.
Beijing-Lhasa Train Cost
| Train No. | Dep./Arr. | Stops | Duration | Hard seat | Hard sleeper | Soft sleeper |
| --- | --- | --- | --- | --- | --- | --- |
| Z21 Beijing-Lhasa | 20:10/13:55 | 10 | 41hrs,  45min(3,757km) | RMB360 | RMB720 | RMB1,144 |
| Z22 Lhasa to Bejing | 15:30 / 08:20 | 10 | 40hrs, 50min (3,757km) | RMB360 | RMB720 | RMB1,144 |
Note: The ticket prices above are a net price. Since the high demand for Beijing-Lhasa train tickets in peak season, you have to pay more than a net price to buy tickets.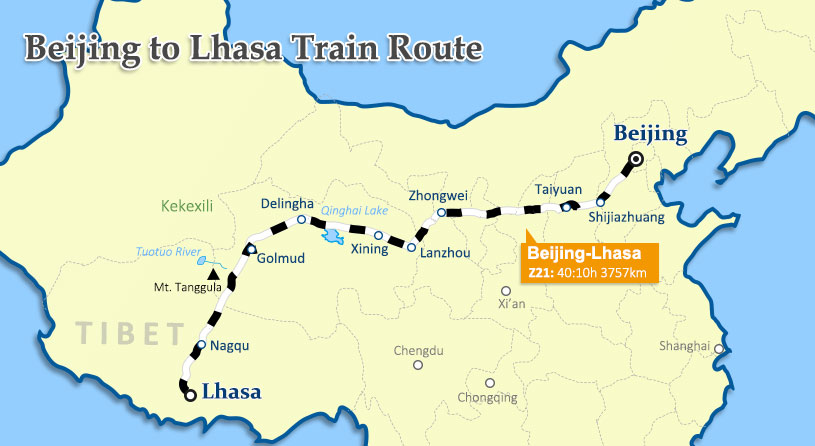 Option 2 Flying to Lhasa from Beijing
There are ten direct flights from Beijing to Lhasa, which operated by Tibet Airlines, Air China, Shandong Airlines and Shenzhen Airlines. The flight will start at Beijing Capital International Airport (BCIA) and will arrive at noon or evening at Lhasa Gongga Airport.
There are five connecting flights from Beijing to Lhasa will stop over at these cities such as Xining, Chengdu, or Xi'an and it will take you nearly seven hours. The other five direct flights from Beijing to Lhasa shortened two hours flight time.
Related Articles
Ask a Quick Question Below? Or Call 0086-891-6679450
Email response within 0.5~24 hours.