Best Time to Visit/Trek Mt Everest
Best Time to Visit/Trek Mt Everest
by Apple
Last Updated: 2019-11-05
Mt.Everest is for sure the most popular destination of Tibet. To gaze on the magnificent north face of the world's tallest peak, Mt Everest (8848m) has been a dream of many. While planning such a trip of a lifetime, most would struggle with the question – when is the best time of the year to do it? First and above all, please understand that visiting & trekking Mt.Everest are two quite different things. 
| | | | | |
| --- | --- | --- | --- | --- |
| Month | Highest Temperature | Lowest Temperature | To Visit Mt Everest | To Trek Mt Everest |
| Jan | 4°C (39.2℉) | -17°C (1.4℉) | ★★ |   |
| Feb | 4°C (39.2℉) | -15°C (5℉) | ★ |   |
| Mar | 7°C (44.6℉) | -12°C (10.4℉) |   |   |
| Apr | 10°C (50℉) | -5°C (23℉) | ★★★★★ | ★★★★★ |
| May | 15°C (59℉) | 0°C (32℉) | ★★★★★ | ★★★★★ |
| Jun | 17°C (62.6℉) | 5°C (41℉) | ★★★★ | ★★★★ |
| Jul | 16°C (60.8℉) | 8°C (46.4℉) | ★★★★ | ★★★★ |
| Aug | 16°C (60.8℉) | 6°C (42.8℉) | ★★★★ | ★★★★ |
| Sep | 19°C (66.2℉) | 5°C (41℉) | ★★★★★ | ★★★★★ |
| Oct | 12°C (53.6℉) | 4°C (39.2℉) | ★★★★★ | ★★★★★ |
| Nov | 10°C (50℉) | -10°C (14℉) | ★★★ |   |
| Dec | 4°C (39.2℉) | -15°C (5℉) | ★★★ |   |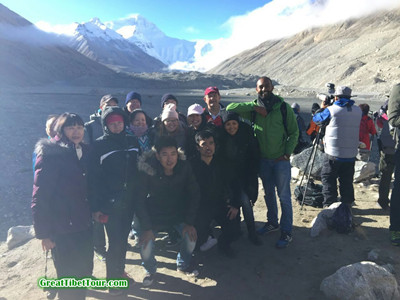 To Visit Mt.Everest
To visit Mt.Everest, refers to the regular sightseeing tour, requiring the minimum amount of walk. The local eco bus will take you right down to Everest Base Camp, where you can clamber up the small hill festooned with prayer flags for great views of Mt Everest.
LHASA GYANTSE SHIGATSE MT. EVEREST GROUP TOUR      
LHASA GYANTSE SHIGATSE MT.EVEREST TOUR              
To visit Mt.Everest, technically available from Apr ~ next Jan. 
Apr/May/Sep/Oct, are the best of choices, for the weather is not too cold and clear view of Mt.Everest usually available;
Jun/Jul/Aug, is summer of the monsoon season, with lots of rainfall. Thus Mt.Everest is more likely to be hidden away by clouds. But on the other hand, the higher temperature in summer makes coping with altitude much easier;
Nov/Dec/Jan is the earlier winter of Tibet. It's cold but not yet unbearable, and you can see Mt.Everest clearly. And at daylight when the sun is out, it's rather warm;

Feb is the winter of Tibet. Mt.Everest is still technically open, but it may be closed up if there is a heavy snowfall the day before. And you may reach as far as Rongbuk Monastery, and to Everest Base Camp. And, the Tibetan people would celebrate their New Year this month, during which Tibet keeps closed. So it's likely your trip may get canceled if you plan to go there in Feb.
Mar, is usually closed for foreigners to Tibet. Tibet Tourism Bureau doesn't accept Tibet Permit application at this time of the year;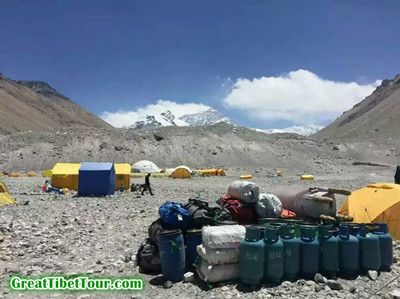 To Trek to Mt.Everest
Mt.Everest trek, refers to the trekking route from Tingri to Everest Base Camp, with takes usually abt 4 days to complete. And it's certainly more demanding of physical strength. Of which can only be operated as PRIVATE TOUR, thus more expensive too. 
TINGRI TO EVEREST BASE CAMP TREKKING TOUR            
In general, Mt.Everest trek is available from Apr~Oct. This is a difficult high-elevation region with altitudes ranging between 4400m to 5300m. 
From Apr to May is the best time of year for Mt.Everest trek, because of the warm sunny days just appearing after winter. There may be occasionally, winter rain but most days will be dry with clear views. As this is the best time of the year for Everest base camp trek, there will be more crowds on the trails. It is also the Everest expedition season, so, you get an opportunity to meet the mountaineers who will be attempting to climb Everest. This spring season also gives you an opportunity to trek through blossoming rhododendron trees that adds as a major highlight of the trip.
From Aug to Oct is also an ideal time of the year for Mt.Everest trek as days are clear that offers great views of Mt. Everest, you will have an excellent opportunity to capture the stunning panorama of great Himalayas during both day and night. Even though it is not the warmest season, these times offer splendid temperatures and surroundings with a great time even during the night which wouldn't be freezing like in winter. 
Related Articles
Ask a Quick Question Below? Or Call 0086-891-6679450
Email response within 0.5~24 hours.