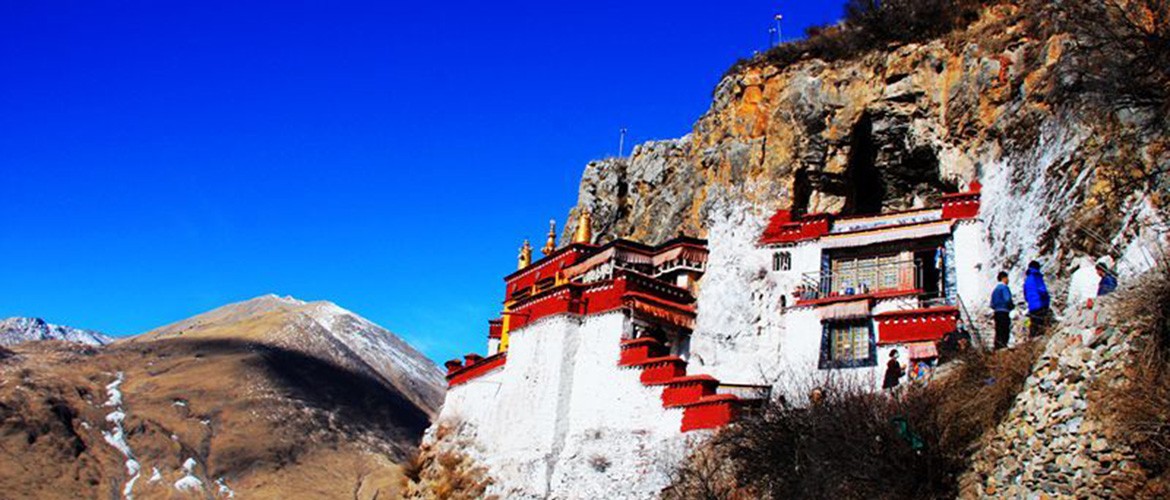 Drak Yerpa is only a short drive to the east of Lhasa, Tibet, and consists of a monastery and a number of ancient meditation caves that used to house about 300 monks. It's located on a hillside in Dagzê County. The entrance to the Yerpa Valley is about 16 kilometers (9.9 mi) northeast of Lhasa on the northern bank of the Kyichu. From there, it is another 10 kilometers (6.2 mi) to the famous ancient meditation caves in the spectacular limestone cliffs of the Yerpa Valley. There is an ancient sky burial site opposite the main caves.
The famous legendary hero Gesar of Ling is said to have visited the valley. The holes his arrows left in the cliffs are believed to be evidence of his presence.
There are a number of small temples shrines and hermitages and the cliffs contain some of the earliest known meditation sites in Tibet, some dating back to pre-Buddhist times. Among the more famous are those traditionally connected with Songtsen Gampo (604–650 CE), (traditionally the 33rd king of the Yarlung Dynasty and first emperor of a united Tibet). His Tibetan queen, Monza Triucham, founded the Dra Yerpa temple here.
He and his two foreign-born queens are said to have meditated in the 'Peu Marsergyi Temple' and in the 'Chogyel Puk', and to have discovered 'self-originated' symbols of the Buddha-body, speech and mind. Padmasambhava, or Guru Rinpoche (late 8th to early 9th century), meditated and practiced tantric yoga with his yogini Yeshe Tsogyal here, and to have spent 7 months in meditation in the 'Dawa Puk', which is considered to be one of his three most important places of attainment. After Lhalung Pelgyi Dorje assassinated the anti-Buddhist Bon Emperor Langdarma in 842 CE he is said to have hidden in a cave and meditated for 22 years. His hat was kept there until 1959.
Yerpa became one of the three most important centers of meditation and retreat in Central Tibet. Several of Guru Rinpoche's disciples are also said to have meditated here. Atisha (982 – 1054 CE) preached extensively in the valley. Atisha's hermitage is in ruins but had 300 monks in the 19th century and was the summer quarters for the Ramoche Monastery (the Upper Tantric College).
Later histories record that both Songtsen Gampo and Trisong Detsen (756–797) founded temples at Yerpa, and Klu-mes Tshul-khrims did some refurbishing in the 11th century. Tradition says that after Songtsen Gampo's only son, Gungri Gungsten, was born to Mangza Tricham, Princess of Mang, one of his wives: "A shrine and a stupa dedicated to the tutelary deity of mother and son were built upon the lap of a rocky mountain that resembled a seated image of the Holy Tara in the region of Yerpa."
Recommended Tours Including Drak Yerpa
This tour package has much to offer, spectacular monasteries, beautiful alpine landscapes, and charming villages. The most attractive scenery is Lhamo Latso Lake, one of the most famous pilgrimage destinations. Many pilgrims believe that if they keep fasts for three days with sincerity, they will obtain a revelation of their future in the skull-shaped mirror of the lake.
In this Tibet tour package, you will visit the best sceneries of Lhasa city. Beyond that, you will have an extra day to visit the fascinating Namtso Lake, one of the most beautiful lakes in Tibet.  
Taking a train from Xining to Lhasa is a good idea to get a better view of the ultimate beauty of the Qinghai-Tibetan Plateau with a more comfortable experience and fewer reactions to high altitude. After spending a whole day on the train, you will arrive Lhasa to start an excellent trip around this holy land of Tibetan Buddhism.
Get More Itineraries Including Drak Yerpa
Ask a Quick Question Below? Or Call 0086-891-6679450