8 Days Lhasa Yarlung Valley Shigatse Tour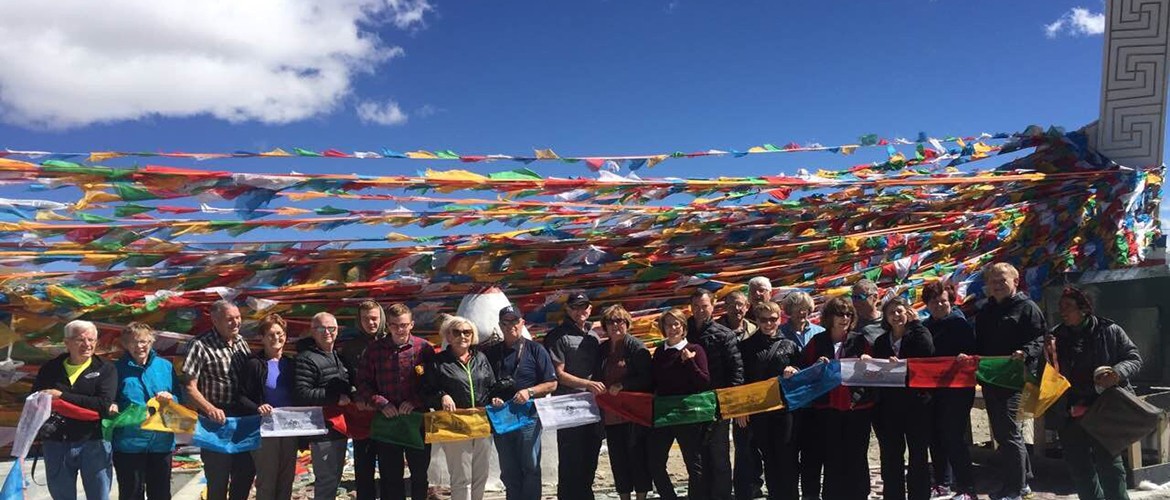 Lhasa Yarlung Valley Shigatse Tour
Duration:

8 Days

Price:

From

USD1306

Route:

Lhasa - Tsetang - Gyantse - Shigatse - Lhasa

Season:

Spring
Summer
Autumn
Winter

Tour Type:

Private Tour
Add

to Favorites
Overview
The Yarlung Valley is located in the middle of the Yarlung Tsangpo River valley. As the "cradle of Tibetan civilization", it contains numerous important castles, monasteries, temples, meditation caves, peaks, and stupas. The first palace in Tibet, the first temple in Tibet, the mausoleum of Srongtsen Gampo, you can find them all there. Lhasa, Tsetang, Gyantse, Shigatse, this trip will lead you to main cities of Tibet Autonomous Region. The world-known attractions, like the Potala Palace, Jokhang Temple, Sera Monastery, and the holy lake Yamdrotso, are all included in this itinerary. Besides, tourists can visit the Tibetan Incense and Engraving workshops in Nyemo county, and you will learn the Tibetan culture more deeply.
| Day | Route | Attractions & Activities |
| --- | --- | --- |
| 1 | Arrival in Lhasa (3650m) | Pick up and transfer to the hotel. |
| 2 | Lhasa Sightseeing | The Potala Palace, Jokhang Temple, Barkhor Street |
| 3 | Lhasa Sightseeing | Drak Yerpa, Sera monastery |
| 4 | Lhasa – Samye(3556m) - Trandruk (4400)- Yumbulagang(3700) – Tsetang(3560), 280km, Approx 6hrs | Samye Monastery, Trandruk Monastery, Yumbulakang Palace |
| 5 | Tsetang – Chongye(3800) – Gyantse(4040m), 300km, Approx 6hrs | Yamdroktso Lake, Chongye Burial Mounds, Karola Glacier |
| 6 | Gyantse-Shigatse(3840m), 96km, Approx 2hrs | Pelkor Chöde Monastery with Gyantse Kumbum, Gyantse Dzong, Shalu Monastery |
| 7 | Shigatse – Lhasa, 280km, Approx. 6hrs | Tashilhunpo Monastery, Yungdrungling Monastery, Tibetan Incense Workshop in Nyemo |
| 8 | Lhasa departure | Send off to the airport/railway station |
This is the first day in Tibet. Your guide will greet you at Lhasa Gonggar Airport/Railway Station and transfer you to your hotel. It usually takes around 1.5 hours to drive from Lhasa Airport to downtown Lhasa and takes about 20mins from Lhasa Railway Station. Tourists could have a look at the Yarlung Tsangpo River, the largest and longest river in Tibet on their way to the hotel. After check-in, you can have a good rest first. And if you feel like going out, you can wander around the city. But just remember that don't take too much stuff, try to go with a light pack. Meanwhile, drink some more water, do not move strenuously. It's really useful to get acclimatized to the high altitude.
Stay overnight in Lhasa
After rest one night, today you will recover sufficiently to launch your Lhasa city tour, with close contact with Lhasa, which is the political, economic, cultural, communication and tourism center of Tibet with a history over 1300 years.
At first, you will go to the Potala Palace, which is the symbolic place of Lhasa and also the winter palace of the Dalai Lama. It was built by the 33rd great king of Tibet - Songtsen Gangpo in the 7th century. The gilded burial stupas of former Dalai Lamas and meditation Cave of the 33rd great king are the most worth seeing in Potala Palace.
After lunch, you are going to Jokhang Temple, which was founded at the same time and by the same king as Potala Palace. From outside, you can see many pilgrims making prostrating in front of the temple. From inside, you can see the statue of Buddha Sakyamuni at his age of 12.
Barkhor street is the next destination that women love a lot. Because it's a famous busy walking street where they can go shopping. There are many distinctive shops and stalls that sell different Tibetan stuff, like handicrafts, Thangka, and so on. Except for shopping, tourists can also join the Kora with pilgrims and locals, to explore Tibetan religious culture more deeply.
Optional:
You can go to visit the Tibetan handicraft art or Tibetan Traditional Medicine center if time is enough. You can also watch the Tibetan Culture Show in the evening for USD60 per person at your own expense.
Stay overnight in Lhasa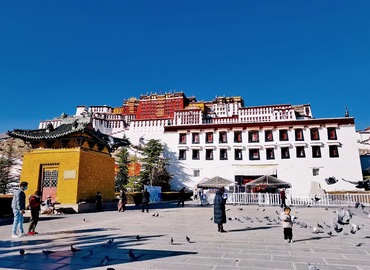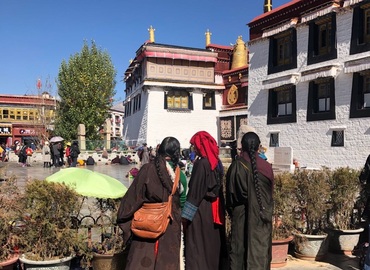 In the morning, you are heading to Drak Yerpa, a place maybe not that famous but with its advantage. It consists of a monastery and several ancient meditation caves. Some arrow holes on the cliffs are believed to prove that the legendary hero Ling Gesar had visited this valley.
In the afternoon, you will pay a visit to Sera Monastery, which is one of the "great three" Gelug monasteries of Tibet. Monks debate from 3pm to 5pm. It's exciting, even if you don't understand what they are talking about at all. If the debate is not your type, you can also see the three sand Mandalas and colorful Rock Painting of Buddha inside the monastery. Besides, the sight in the Sera monastery is splendid because you can see roses around. That's why people also call it "the court of wild rose."
Stay overnight in Lhasa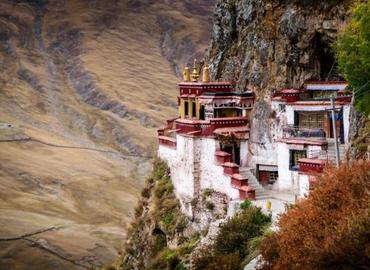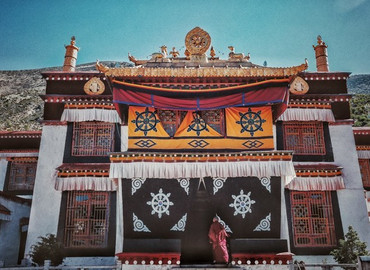 Today you will leave Lhasa and head to the next city. After Samye, Trandruk, and Yumbulakang, finally, you will arrive Tsetang and spend one night there.
Samye Monastery was founded in the 8th century. That time was called "the Tubo Dynasty" in Tibet. And it's the first monastery that tonsured monks lived in.
Trandruk Monastery, the first Buddhist monastery in Tibetan history, was founded by Srongtsen Gampo and Wen Cheng princess. There is one priceless treasure in this monastery. It's a Tangka that made of pearls and gems, attracts Buddhists come to worship.
Yumbulakang Palace, with a history more than 2100 years, is the first palace in Tibet. It stands on the slope of a hill and was reputed to be the palace of Tibetan first king, Nyatri Tsanpo.
Stay overnight in Tsetang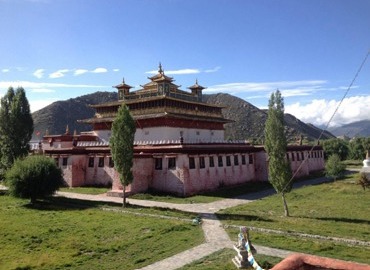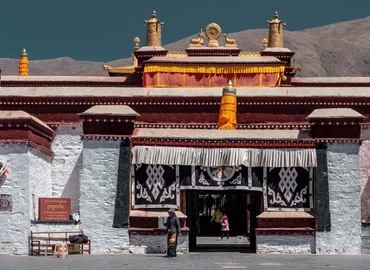 Today you will go to Gyantse via Chongye.
Chongye Burial Mounds is located in Chongye county, there are only 9 mausoleums you can see now. The most famous one is the mausoleum of Srongtsen Gampo. Chongye county has a moderate climate and good scenery, and it was Srongtse Gampo's hometown. People believed that's why Srongtsen Gampo chose here to sleep forever.
On the way to Gyantse, you can have a glimpse of Yamdroktso Lake. This is the holy lake surrounded by plenty of snow-capped mountains. And special views of Holy Mount Nyenchen Khangsar ( 7191m)---the highest mountain near Lhasa, comes out later soon.
You will see the Karola Glacier when we pass it on the roadside. After hanging pray flag at Simila Mountain pass, we will arrive at Gyantse, the third largest city in Tibet after Lhasa and Shigatse.
Stay overnight in Gyantse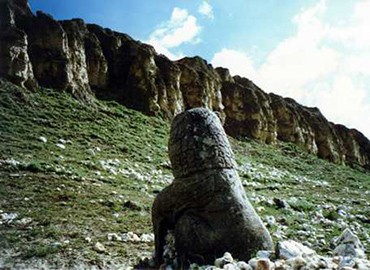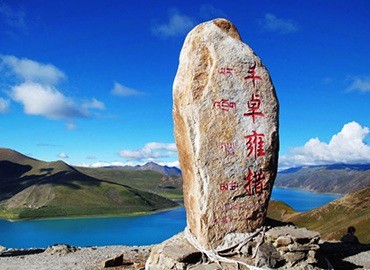 After breakfast, we shall visit Pelkor Monastery with Gyantse Kumbum and then see the Gyantse Fortress from a distance.
Gyantse Dzong, the hero city that witnesses the history of the fierce fighting. It was 1904, British troops started to attack China here, and Tibetan people defended for their homeland with simple weapons. The bloody war lasted for more than three months. This is also the basic story of the famous movie named "Red River Valley".
The last spot of the day is Shalu monastery, the only monastery in Tibet that combines Tibetan and Chinese styles in its design.
Then we will start to go to Shigatse. It normally takes one and a half hours to drive from Gyantse to Shigatse, where we may visit the traditional barley mill and have the unique sights of barley field (in summer).
Stay overnight in Shigatse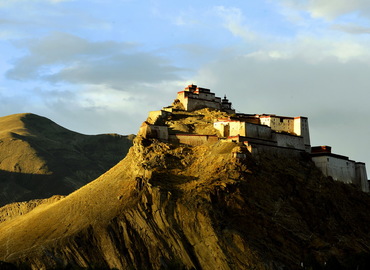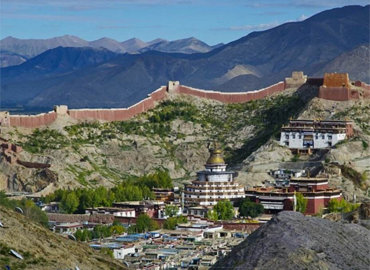 In the morning, drive to visit the Tashilhunpo Monastery which is founded by the First Dalai Lama in 1447, the monastery's structure was expanded by the Fourth and successive Panchen Lamas. Tashilhunpo is the seat of the Panchen Lama since the Fourth Panchen Lama took charge in the monastery, and there are now nearly 800 lamas.
After that, we transfer to Yungdrungling Monastery. It is one of the few remaining Bon Monasteries in Tibet. Often referred to as the original religion of Tibet, Bon came about during the 11th century. The Monastery is rather small but in a wonderful setting with only a few monks to maintain the many valuable Bon writings. This is a great side trip when traveling between Lhasa and Shigatse.
Today's sightseeing will end on visiting the Tibetan Incense Workshop in Nyemo. There still keeps a natural way to make incense and this intact craftsmanship can trace back to 1300 years ago, which is listed as state-level intangible cultural heritage. Walking along streams and bridges, there are many spots for visitors to experience its procedures.
Stay overnight in Lhasa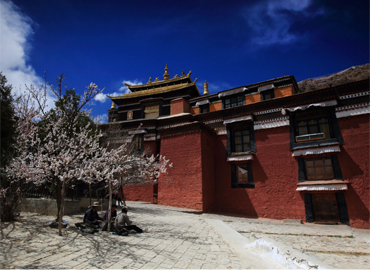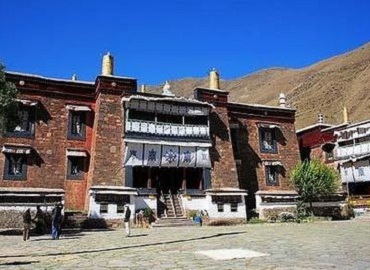 Your tour ends today. Our guide and driver will collect you from your hotel and transfer you to Lhasa Airport/Railway Station for your next destination.
Tour Price and Service
From US$1306 p/p
Based on 3-star hotels for 2 people. Price varies according to travel season, number of people and level of accommodation.
INCLUSIONS
Tibet Tourism Bureau Permit (TTB) and all other necessary permits to Tibet;
All entrance tickets fee for tourist attractions listed in the itinerary;
Experienced local English-speaking tour guide;
Travel-licensed vehicle according to group size & season as itinerary needed including gas and parking fee;
All lodging listed in the itinerary; it's your decision about the accommodation class: luxury 5-star international hotel, comfortable 4-star hotel, economic 3-star hotel, or guesthouse. Please tell us your preference;
All meals listed in the above itinerary;
Pick-up & Drop-off service from Airport/railway station;
Travel Agency Liability insurance;
Government tax;
Express delivery fee of Permit (eg. SF. Express);
Food & lodgings for guide & driver;
Oxygen tank for emergency use;
Sleeping bags;
Two bottles of mineral water per person per day.
---
EXCLUSIONS
International flight to and out of China;
Chinese Visa/China Group Visa; (Note: we could help you by providing the hotel or domestic flight reservation copies for your Chinese Visa or the invitation letter for your China Group Visa)
Domestic flight/train to and out of Lhasa; (We can help you book the domestic flight/train ticket at the BEST price. Please contact us for details.)
Meals are not included but we will recommend some good ones for you according to your requirements. Usually, it takes 3-10 USD per person for each meal.
While the gratuity for guide and driver is NOT mandatory, it is expected. Based on their service, you can tip them on the last day of the tour. Each of you is suggested to tip them 5-10 USD/day in total;
All the commission and tax charged by PayPal, Bank, and government when making payment. (e.g. PayPal --- 4.2%. Wire transfer --- 2%);
Personal expenses, like laundry, phone call, snacks, soft drinks, optional tour activities, etc.
Anything not mentioned in the Inclusions.
What Our Customers Say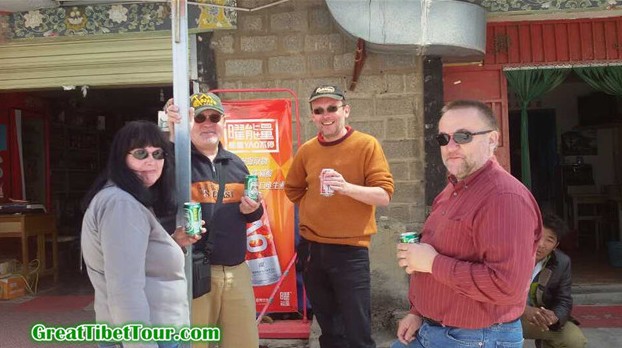 Our Tibetan guide Lobsang really made the experience for us. He did everything possible to make us comfortable during our tour. He was friendly and flexible showing us great locations for photos and answering all our crazy questions. He was also very knowledgeable. He knew so much history and inform ....
Read more testimonials...
INQUIRY ABOUT THE TRIP
Email response within 0.5~24 hours.