Top 10 Grand Festivals in Bhutan
Top 10 Grand Festivals in Bhutan
Festivals in Bhutan can be divided into three categories: traditional festivals, non-religious festivals and religious festivals. Except for National Day, the King's Birthday, and the ascension of the throne, most festivals of Bhutan are calculated according to the Bhutanese calendar. Therefore, festivals in Bhutan have different dates on the Gregorian calendar every year.
Bhutan festivals are colorful and mainly celebrate religious events. Bhutan Tshechu festival is the most distinctive and solemn Buddhist festival. Celebrations are held in various Bhutan places such as Paro, Punakha and Thimphu, etc. to commemorate Guru Padmasambhava. Tsechu Festival has spiritual connotations, and the perception of spiritual power can be evoked by mask dances. Through it, you can gain insight into Tibetan Buddhism and Bhutan traditions.
Here we introduce the top 10 grand Bhutan festivals and arrange them in the order of the Gregorian calendar. With this information, you can add relevant festivals to your Bhutan tour.
Punakha Tshechu Festival
Festival Date 2023: 1st - 3rd March
Location: Punakha Dzong, Punakha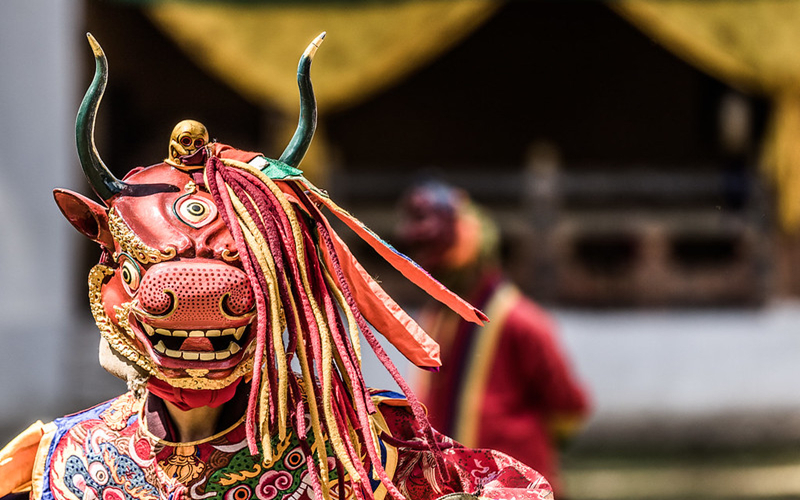 Tsechu Festival's main feature is Cham dance(religious ceremonial dance), which means a lively masked and costumed dance in Buddhist festivals. Dancers usually wear wooden masks representing animals, terrifying gods, and various manifestations of Padmasambhava. The most distinctive mask represents the expression of anger shown by Padmasambhava in order to tame harmful gods.
Mask dances are performed by monks and ordinary believers. They wear Bhutan traditional masks and costumes. They use dances to depict events in the life of the Buddhist monk Padmasambhava, mainly describing the victory of good over evil. Bhutanese believe that by watching the dance, they can be blessed, enlightened, and purified.
This unique event is held in February when it's warm in Punakha Valley. The highlight is the grand performance of a 17th-century battle, where hundreds of warriors led by Zhabdrung Ngawang Namgyal defeated the Tibetan invasion. That's also the origin of Punakha Drubchen. Bhutan festival is organized according to the Bhutanese calendar, so it may start in March.
Paro Tshechu Festival
Festival Date 2023:  2nd - 6th April
Location: Paro Dzong, Paro
This extremely popular festival includes a four-day Cham dance performance. The ceremony on the first day was held in Paro Dzong Fort, and the subsequent activities were moved outside the temple. On the last day, a huge silk tangka (religious paintings) with the theme of "Eight Manifestations of Guru Rinpoche" will be displayed for a few hours at dawn to make people blessed.
The highlight of the Paro Tsechu Festival is the display of the giant tangka painting, which is called "Thongdroel" in Bhutanese. It's large enough to cover the entire temple's outer wall and is considered one of the most sacred blessings in Bhutan.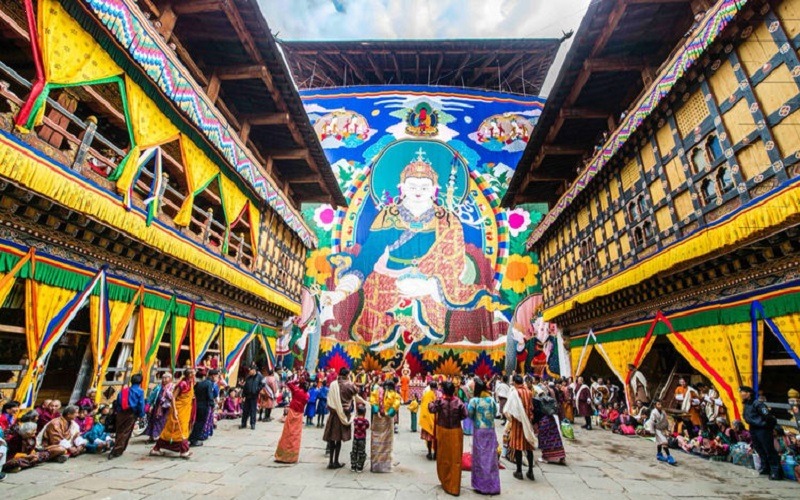 Taking advantage of this beautiful springtime, visitors can take a trek to Phobjikha to view the mountainous rhododendron forest, and witness the Lamperi rhododendron festival near the Dochula Pass.
Bumthang Ura Yakchoe Festival
Festival Date 2023: 2nd - 6th May
Location: Gayden Lhakhang, Ura village, Bumthang
The Ura Valley of Bumthangzong attracts visitors from far and near with its famous Ura Yakchoe dance, which is performed throughout the festival. According to legend, a lama asked an old woman sitting outside for a glass of water. When she came out with water, the lama was gone, leaving only a sackcloth bag. Out of curiosity, the old woman opened the burlap bag and found a statue. From this old woman, the statue has been passed down from generation to generation, and it still remains in the hands of her descendants. They show the statues to people during the festival and bring blessings to people.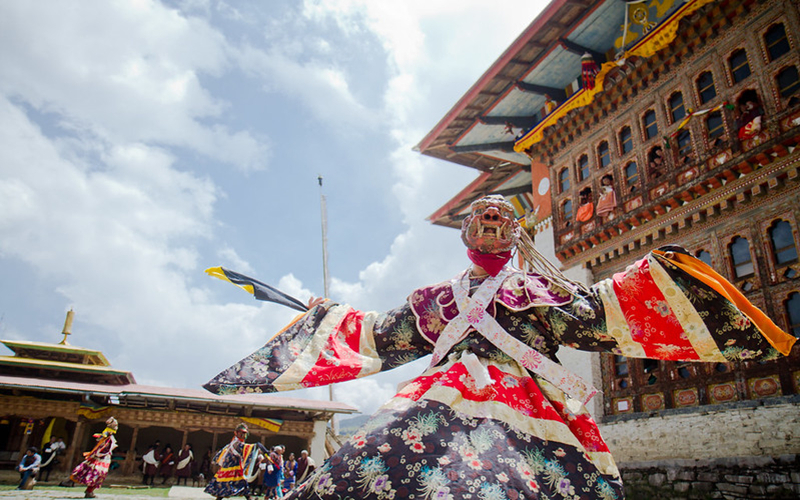 The three-day event creates an atmosphere of enthusiasm, which is a unique experience that will remember forever.
Nimalung Tshechu Festival
Festival Date 2023: 26th- 28th June
Location: Bumthang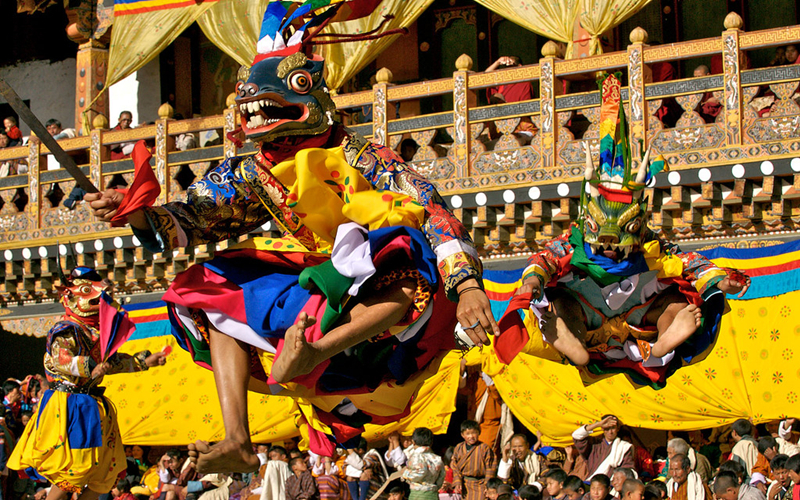 This Nimalung Tshechu festival is held every year in the May of the Bhutan calendar, during which a huge tangka of the awesome Guru Padmasambhava is shown to the audience. The tangka is 9 meters long and 12 meters wide. It is said to be used to wash away the sins of all those who pay homage to the portrait. In addition, a series of colorful and fascinating mask dances are performed.
Haa Summer Festival
Festival Date 2023: 8th - 9th July
Location: Haa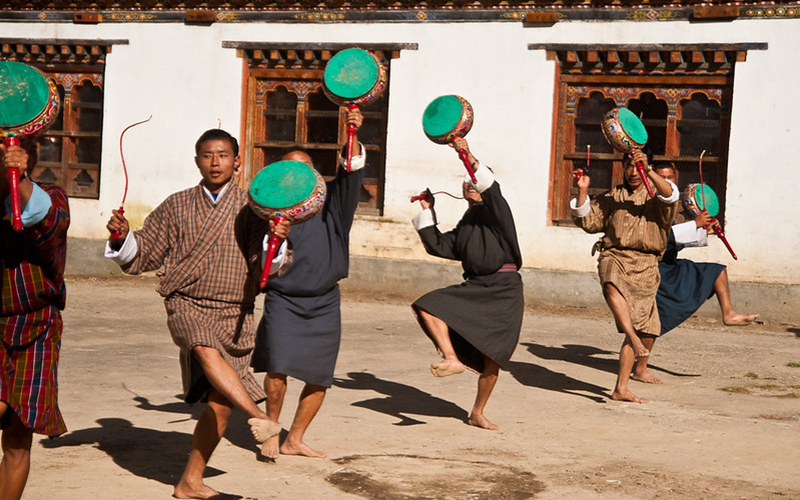 Haa Summer Festival lasts two days and it has a unique meaning. This festival showcases the traditional living culture of Haa people, nomadic lifestyles, unique Haa cuisine, local sports competitions, and religious performances, attracting tourists from far and near to come and appreciate. In addition, elementary school students and locals perform various traditional songs and dances. The two-day festival displays a dazzling array of local crafts.
Matsutake Mushroom Festival
Festival Date 2023: 15th - 17th August
Location: Ura village, Bumthang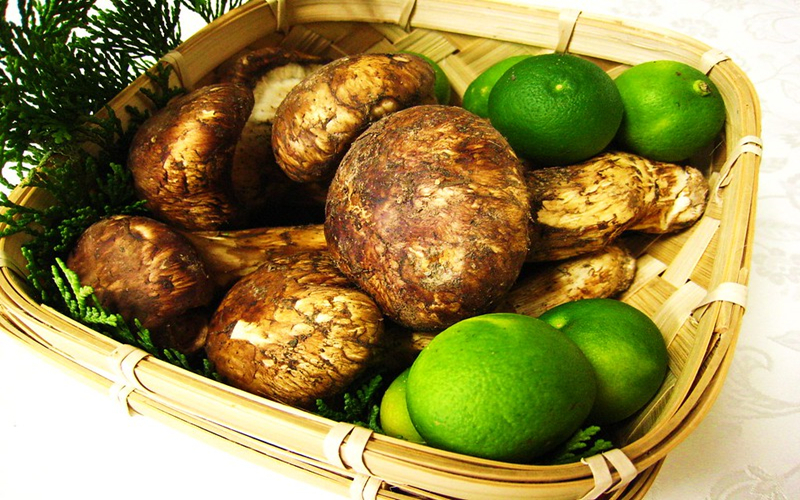 Matsutake mushrooms (also known as "Sangay Shamoo" in Bhutan) belong to pine mushrooms and mycorrhizal mushrooms, which grow in Asia, Europe and North America, and people are coveted and eager for them. In Bhutan, these mushrooms can be found in the wild in the Ula Valley of the Bumthangzong Region. August is another season for collecting Matsutake mushrooms. In order to celebrate this special mushroom, the local "Matsutake Mushroom Festival" festival is held for it not only to allow tourists to taste this delicious mushroom but also to show how locals can sustainably Harvest them.
Thimphu Tshechu Festival
Festival Date 2023: 24th - 26th September
Location: Tashichho Dzong, Thimphu
Thimphu Tsechu is one of the biggest festivals of Bhutan. It is held in Bhutan capital and attracts thousands of locals and tourists. Traditionally, before the beginning of the Tsechu festival, people would recite the scriptures day and night, hold various ceremonies, and pray for the blessings of the gods; during this period, there are also various mask dances, such as "Eight Manifestations of Guru Padmasambhava" dance and Stag dance. For farmers, the Thimphu Autumn Festival is also regarded as a leisure day. This is an occasion to celebrate, bless, and pray for health and happiness.
Jambay Lhakhang Drup Festival
Festival Date 2023: 28th October - 1st November
Location: Jambay Lhakhang, Jakar, Bumthang
Jambay Lhakhang was built in the seventh century by King Songtsan Gambo of Tibet to spread Buddhism.  During the Jambay Lhakhang Drup, you can enjoy many ceremonial dances in the courtyard of the Jambay Temple. There are many types of these dances, divided into three categories: moral education, exorcising evil spirits, and celebrating Buddhist beliefs in different costumes. People commemorate the establishment of this 7th-century temple through passionate cham dances and bonfires. The famous midnight "Naked Fire Dance" will be held the night before the festival. This festival lasts from the 15th to the 18th of the ninth month of the Bhutan lunar calendar and maybe in November in the Gregorian calendar.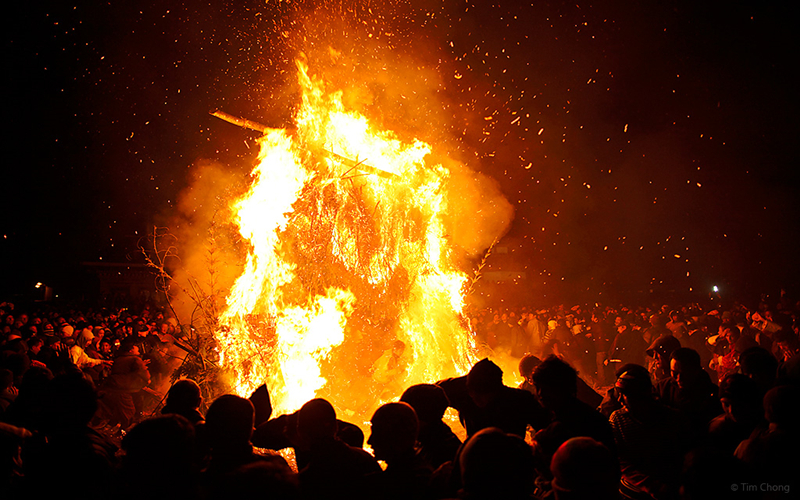 The Annual Black-Necked Crane Festival
Festival Date 2023: 11th November
Location: Phobjikha Valley, Wangdue Phodrang
Phobjikha Valley is one of the few glacial valleys in Bhutan. It's where the black-necked cranes migrate from the Tibetan Plateau to spend the winter. The valley is one of the most beautiful valleys in Bhutan. The locals hold the "Black-necked Crane Festival" to deepen people's understanding of the importance of protecting the endangered black-necked cranes, and to show the locals' cultural heritage and excellence.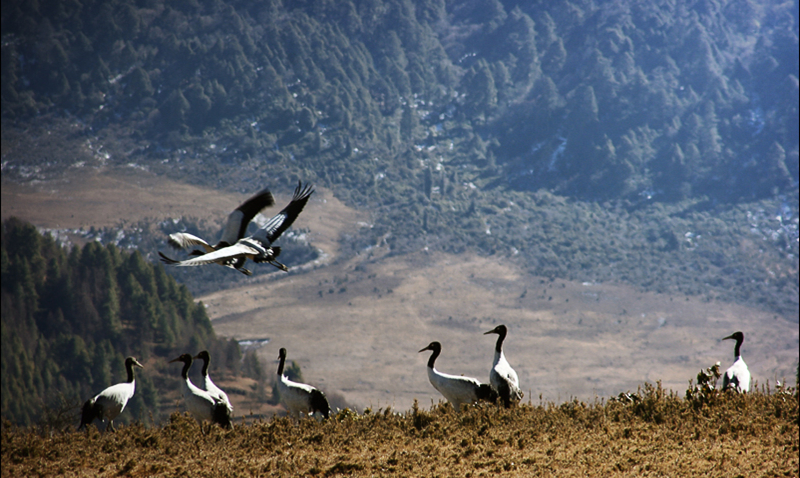 This festival was held in the courtyard of Gangtey Gompa in Phobjikha Valley on November 11, 2022. During this fascinating festival, local children dressed in crane costumes danced to celebrate the winter return of more than 300 black-necked cranes.
Trongsa Tshechu Festival
Festival Date 2023:  20th - 23rd December
Location: Trongsa Dzong, Trongsa
Trongsa Tshechu is an annual festival. It lasts for three days and is one of the most impressive festivals in Bhutan. The festival attracts people from all walks of life to admire the traditional mask dance, Tongzhuo ("religious picture scroll") while displaying sacred religious treasures to send blessings to visitors.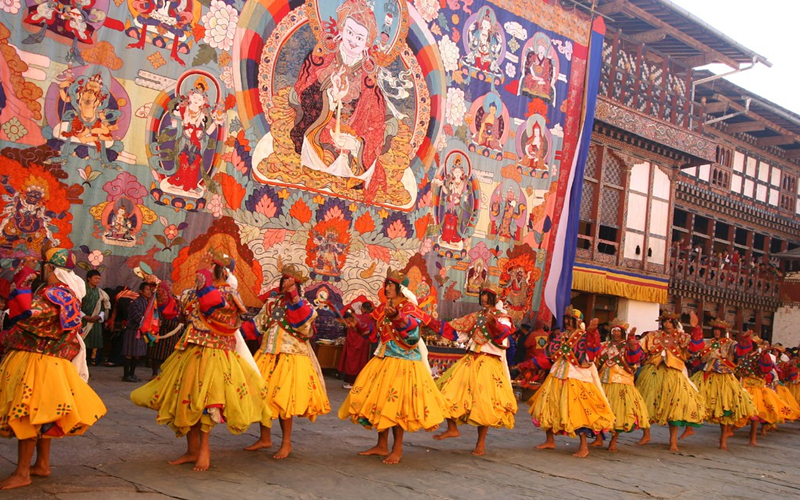 Related Articles
Ask a Quick Question Below?
Email response within 0.5~24 hours.