Tibet Monastery Vacation
by Meo
Last Updated: 2020-04-14
Tibet is a holy land dotted with sacred monasteries and temples. Unique religious culture attracts travelers all over the world to explore this mysterious and beautiful land. It is said that there are about 1700 monasteries and temples in Tibet, so you can have a Tibet monastery vacation to get a close encounter with Tibetan Buddhism and feel pilgrims' devoted spirits.
Surrounded by snow-capped mountains or built on lofty mountains, Tibetan monasteries and temples have a unique beauty. You may have heard of the famous Jokhang Temple, Drepung Monastery, and Sera Monastery, which attract numerous pilgrims to worship every year. What's more, there are many other monasteries with special features that are worth a visit equally.
Jokhang Temple
Jokhang Temple located in Lhasa, the capital of Tibet, and is recognized as the holiest temple in Tibet. Became a member of the UNESCO World Heritage List in 2000 and appraised as a 4A-grade tourism site in 2001, Jokhang Temple attracts countless travelers to feel its unique atmosphere. Famous as the oldest architecture in Lhasa, Jokhang Temple is as old as this ancient city, with a history of about 1, 400 years. Built by the King Songtsan Gambo for his bride Princess Wencheng from the Tang Dynasty, its architectural design is a mixture of Chinese, Tibetan, Indian and Nepalese style. When you walk to this temple, you will be attracted by its golden roof, and be immersed in the murmur of mantras. Pilgrims show their devotion in front of the temple and kora around it with prayer wheels in their hands.

Drepung Monastery
5 kilometers away from Lhasa, the Drepung Monastery is located in the suburb of this ancient city. It's famous as one of the "three greatest Gelug monasteries" in Tibet and is the largest monastery in Tibet. It housed more than 10, 000 monks in the past, now there are about 700 monks in this huge monastery. Built along the mountains and has white constructions, its name "Drepung" means "Collecting Rice" in Tibetan, since it looks like a heap of rice. It's a masterpiece with precious artworks and sutras, and also a Buddhist education base where monks are imparted Buddhism.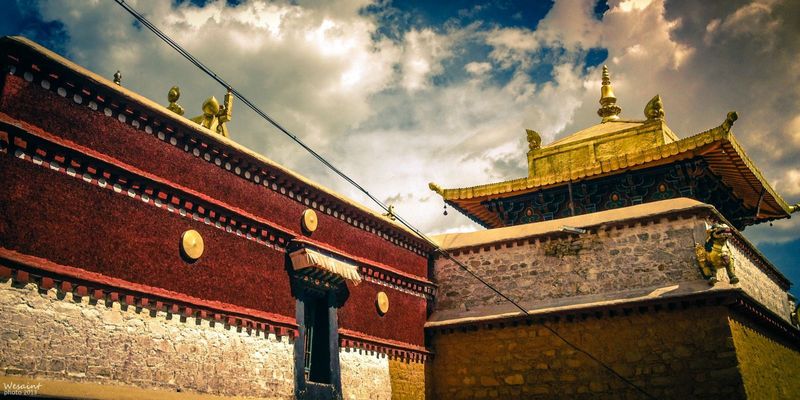 Sera Monastery
Sera Monastery located in the northern suburb of Lhasa, and is one of the three famous monasteries along with the Drepung Monastery and the Ganden Monastery. This monastery is famous for debates. Every afternoon, from Monday to Friday, monks in traditional red rob will debate on Buddhism in the courtyard. This is an important way to learn sutras, and monks will slap their hands, jump up and make interesting gestures during the debate. Besides the famous debate, Sera Monastery has many precious cultural relics, such as sutras, silk Thangkas, and Buddha statues.
Ganden Monastery
Located at an altitude of 4, 300 meters above the sea level, Ganden Monastery was built in the 15th century and is also one of the three greatest monasteries. However, it is the farthest one from Lhasa. In 1410, Zongkapa built this monastery with other 500 Lamas, and this ceremony to enshrine this monastery became an annual tradition. It stands on the Wangbori Mountain and the major construction includes the Lagyi Hall, Yangbagyain Hall, Chitokang, Angyiukang, Xaze and Jamze Zhacang Buddhist colleges.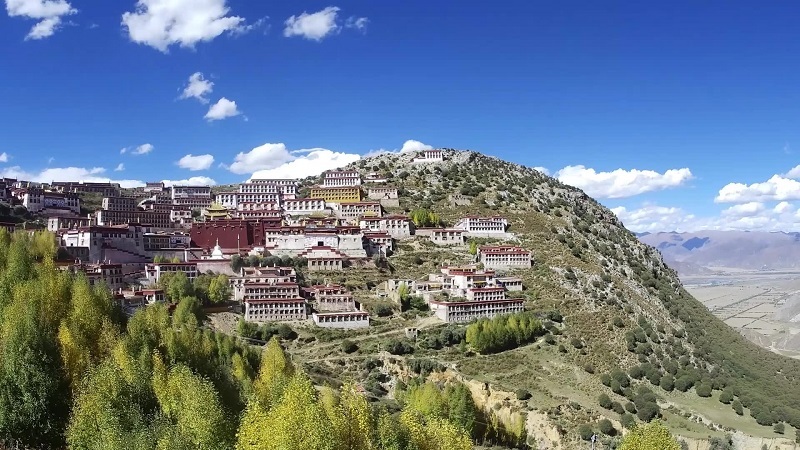 Tashilhunpo Monastery
Tashilhunpo Monastery is located in the mount Niseri of Shigatse, which is the largest monastery in Shigatse region. The fourth Panchen Lamas was the first Panchen lama to be canonized. Since then, Tashilumbo Monastery has become the station of Panchen Lamas in the past ages and has been extended by them. In addition to its amazing size, it looked as gorgeous as a palace on the outside. Together with the "three major monasteries" in Lhasa, Ganden monastery, Sera monastery, and Drepung monastery, it is known as the "Top four major monasteries" of the Gelug sect of Tibetan Buddhism.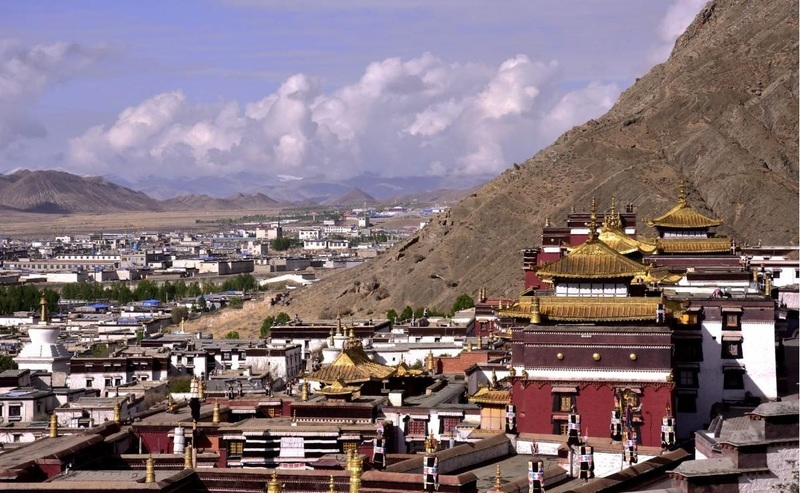 Rongbuk Monastery
Rongbuk Monastery is the highest monastery in the world, and it was built in the 20th century. In Rongbuk Valley, you can see many birds and wild animals. It's interesting that monks and nuns live together in Rongbuk Monastery, and the grand Buddhist dancing ceremony will be held in it during the Saka Dawa Festival. Travel to Rongbuk Monastery, you can have a view of the famous Rongbuk Glacier.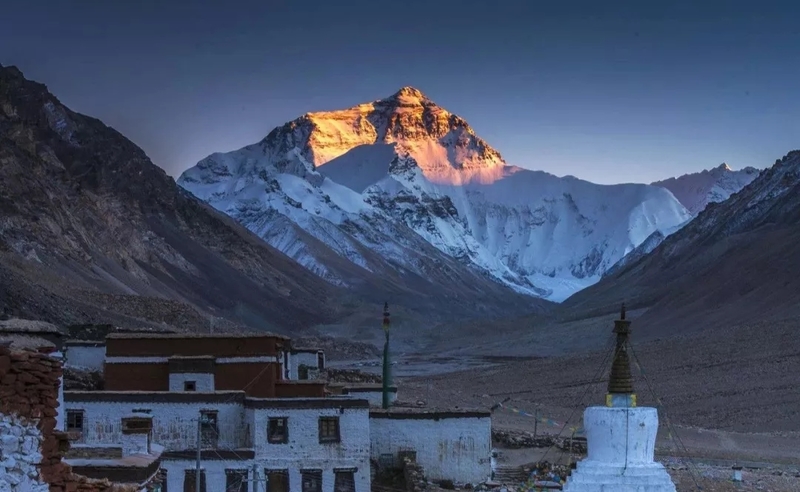 Sakya Monastery
Sakya monastery is located in Sakya County, Shigatse region. "Sa-skya" means "gray and white earth" in the Tibetan language. Sakya Monastery has an important position in Chinese history and Tibetan Buddhist history. It is the first monastery of the Sakya school of Tibetan Buddhism and the central temple of the Sakya school. There are rich historical, religious, architectural and artistic relics in the monastery, especially a large number of precious books and murals, comparable to Dunhuang literature art, so Sakya monastery is also known as "the second Dunhuang".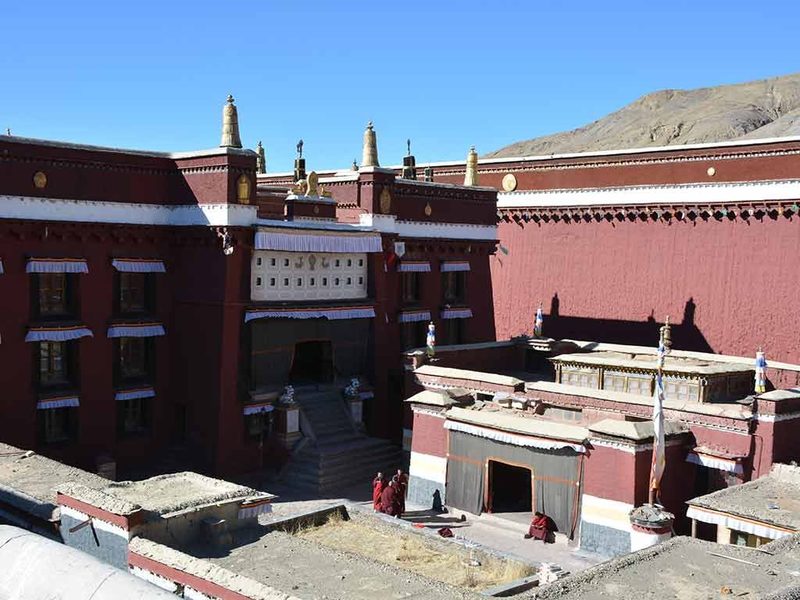 Drak Yerpa
Drak Yerpa is a cave retreat 16 kilometers northeast of Lhasa. It's a peaceful place with beautiful scenery, and the King Songtsen Gampo meditated in a cave there. A statue of Songtsen Gampo can be seen in the Cave of Songtsen Gampo.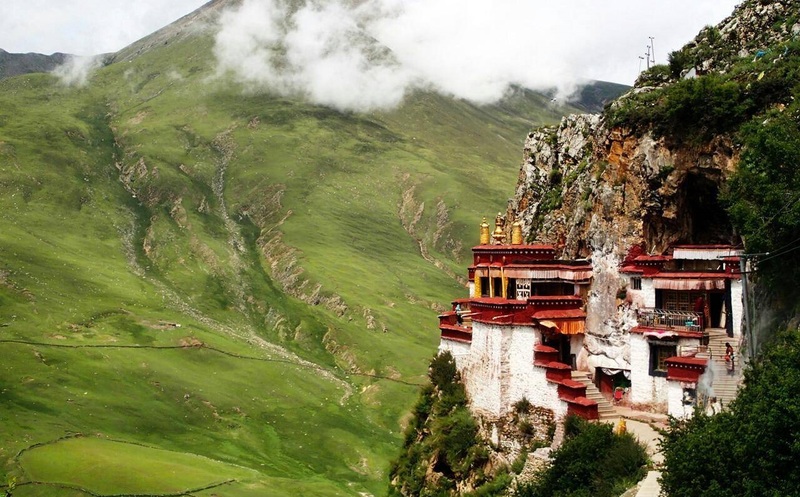 Ramoche Temple
Ramoche Temple was built in the Tang dynasty (641 in the middle of the 7th century AD), to enshrine and worship the 8-year-old life-size statue of Shakyamuni Buddha and many other statues of Buddha and thangka, as well as many precious cultural relics. It was listed as a national key cultural relic protection unit in 2001. It is said that the Jokhang Temple and the Ramoche Temple were started at the same time and completed at the same time.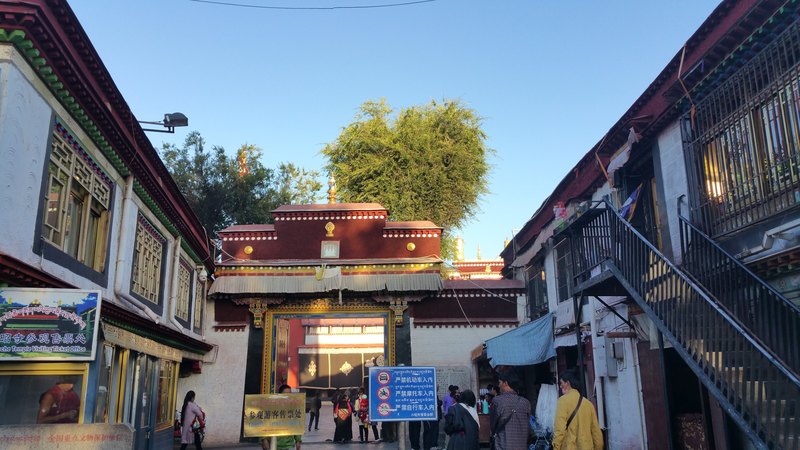 Related Articles & Posts
Ask a Quick Question Below? Or Call 0086-891-6679450
Email response within 0.5~24 hours.