How to Get to Ngari?
Ngari, is a remote region in western Tibet and the southwest Tibetan Plateau. It is bordered by Shigatse to the Southeast, Nagqu to the East, Xinjiang to the North, India and Nepal to the Southwest. Ngari has a total land area of 345,000 square kilometers, spanning 680km from south to north and 700km from east to west. The landscape of Ngari is full of gorges, peaks, lakes, forests, and volcanoes, making it difficult to develop a good transportation system in this region. However, tourists are able to get to Ngari and see Lake Manasarovar, Mount Kailash and Guge Kingdom through the constructed roads and airport. 
Flight to Ngari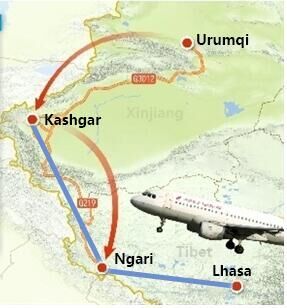 Presently, three cities are linked with Ngari by flight. These cities are Lhasa, Kashgar, and Urumqi. There are two daily flights between Lhasa and Ngari, TV9807 from Lhasa Gonggar Airport to Ngari Gunsa Airport and TV9808 in the other direction. It only takes about 2 hours to travel between these two cities by flight and more than 20 hours by road. If you are traveling from mainland China to Ngari, you can also travel via Lhasa by flight because there are flights to Lhasa from Chengdu, Beijing, Xian, Chongqing, Kathmandu, etc, and many trains from Shanghai, Beijing, Chengdu, Guangzhou, and Chongqing to Lhasa. You can also take a flight from Urumqi Diwopu Airport to Lhasa with a stopover at Kashgar Airport. It takes about 4 hours between Urumqi and Ngari by flight.
Ngari Gunsa Airport
Ngari Gunsa Airport is a dual-purpose airport because it is used by the civilians and military. This airport is 4,274 meters above sea level, which makes it the world's fourth-highest airport. Its runway is 4,500 meters long and its terminal covers 3,900 square meters area of land.  It takes about 5 hours to drive from Gunsa Airport to Mount Kailash.
Note: Ngari Gunsa Airport is 4,274 meters above sea level, so it is advisable not to fly to Ngari directly if you don't have any plateau-traveling experience. Most people traveling to Tibet for the first time always have high altitude sickness symptoms.
Driving to Ngari
Traveling by road is the most popular way of getting to Ngari. It not only gives travelers the opportunity to enjoy the amazing views from Lhasa to Ngari such as the gorges, peaks, forests, lakes, desert, etc. but also lowers the risk of altitude sickness greatly.
Classic Driving Route: Lhasa – Gyantse – Shigatse – Saga – Darchen
It takes about 3 days to travel from Lhasa to Ngari by following National Highway G318. Start your journey on the first day by driving to Shigatse to cover a distance of 350km – this journey takes about 8 hours. On this day, you won't miss the natural beauty of Yamdork Lake and Karola Glacier as well as the Buddhist sites of Palcho Monastery and Tashilhunpo Monastery. On the second day, travel to Saga where you will enjoy beautiful landscape views such as the high snow peaks, wild plains and pure Pelkhu Tso Lake on the way. On the third day, you will travel from Saga to Darchen covering a distance of about 550km. It is a 3-day journey that is tiring and long but it gives you the opportunity to enjoy panoramic views on the way. Also, tourists always adapt to the high altitude gradually and seldom get high altitude sickness.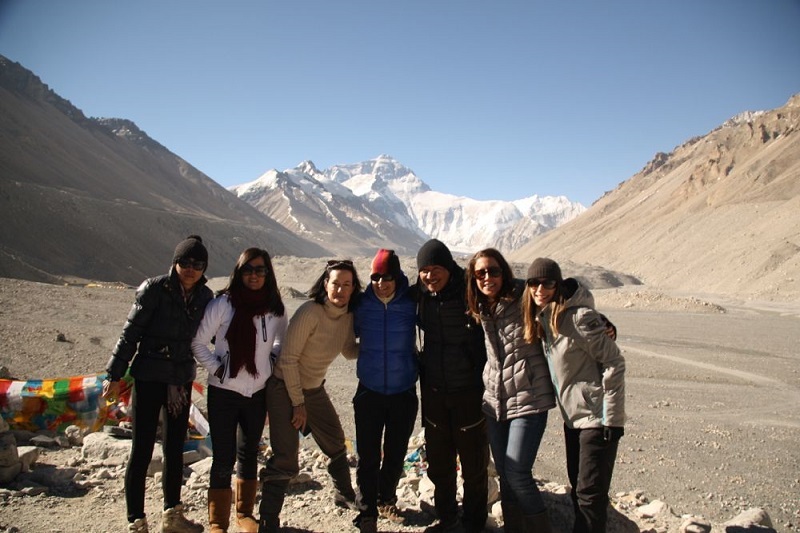 In fact, many tourists love to visit Everest Base Camp and Mount Kailash during their tours. They always drive about 9 hours from Shigatse to Mount Everest and drive about 8 hours from Mount Everest to Saga on the next day. In this way, you need to take one more day to reach Ngari.
√ 14 Days Mt Kailash Kora with Mt Everest Tour
Popular Driving Route: Kathmandu - Gyirong - Zhongba - Darchen
It also takes 3 days to travel from Kathmandu to Ngari by following the National Highway G219 from Gyirong. Start your journey on the first day and drive to Gyirong, which is 168 kilometers and takes 9 hours. There are many mountains and valleys along the way, the terrain on both sides is dangerous, and the road conditions are not very good. On the second day, you will travel through towering mountains, dense forests, waterfalls, barren, and finally get to Zhongba County via Saga. On the third day,  you can enjoy the sunrise of Zhongba Sand Dunes, Gemma Yangzong Snow Mountain, Maquan River scenery, etc., and then to Darchen.
During the three days, the altitude rises rapidly, starting from Kathmandu(1,400) to Gyirong (2,600), to Zhongba (4,700) and to Darchen(4,560). If possible, we suggest you stay in Gyirong for one night to adapt to the altitude better. You can visit Gyirng Valley, a collection of snow-capped mountains and forests, reputed as the backyard garden of the Himalayas.
√  9 Days Kathmandu to Kailash Kathmandu Overland Tour
How to Get around Ngari?
Road transportation is the best way of moving around Ngari. But usually, there's a long driving distance from one spot to another.
Travel to Manasarovar
If you're traveling from Lhasa to Ngari, you will see Lake Manasarovar first. It's about 40km away from Darchen and takes about 50 minutes. You can visit this lake before/after your pilgrimage to Mount Kailash.
Travel to Kailash
Mount Kailash is a top attraction destination for tourists visiting Ngari. First, drive to Darchen, the starting point of doing Kora. Darchen also offers food and accommodation. If you are taking a Kora or trekking around Mount Kailash, vehicles will not be available to help you save your energy on the way, but yaks can help you carry your luggage. The road contains a lot of gravel and you need to wear comfortable shoes.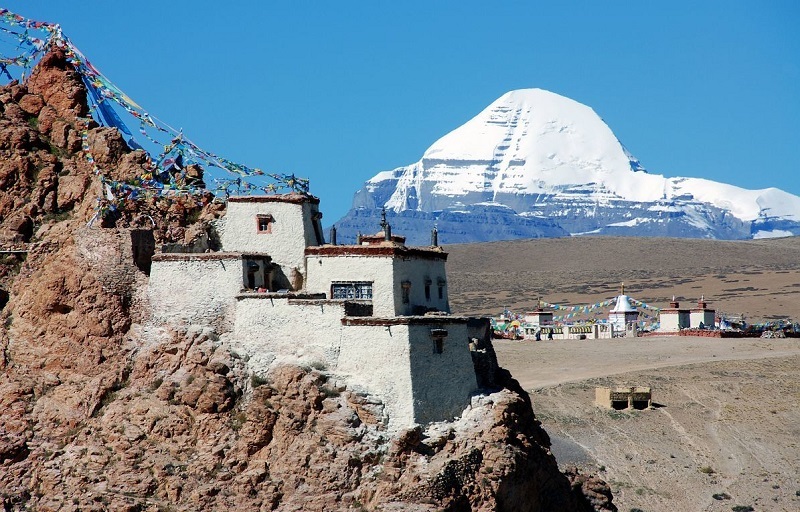 Darchen to Guge Kingdom
After driving for about 230km on the G219 National Express for 5 hours, you will arrive in Zanda County. Continue driving for another 20km, you will reach Guge Kingdom. The journey takes about 30 minutes. This section of the road is in bad condition.
Some Tips for Getting to and around Ngari
Road condition
The majority of the roads to and around Ngari are bituminous national highways. These roads are in good condition and bumps are rarely seen, but some sections might be frozen during winter because of low temperatures.
Permits
In addition to the compulsory Tibet Travel Permit, you also need a Border pass, Alien's travel permit and Military permit. As a tourist, only your travel agency can apply for all these permits on your behalf. There are many checkpoints along these roads where security personnel will check all your traveling documents.
Food and Accommodation
Cars always have stopovers at restaurants along these roads so that travelers can have their lunch. These restaurants offer Sichuan cuisine and some Chinese food which you may not like, but they will definitely replenish your energy. It is a good idea to go with some snacks and food. The hotel accommodation in Ngari is very basic.
Related Articles
Ask a Quick Question Below?
Email response within 0.5~24 hours.