9 Days Kathmandu to Kailash Kathmandu Overland Tour
Kathmandu to Kailash Kathmandu Overland Tour
Duration:

9 Days

Route:

Kathmandu - Gyirong - Saga- Kailash Kora - Kathmandu

Season:

Spring
Summer
Autumn
Winter

Tour Type:

Private Tour
Add

to Favorites
Overview
This adventurous pilgrimage from Kathmandu is customized for pilgrims looking forward to a spiritual journey. Starting from Kathmandu then drive to Rasuwagadi, you will enjoy the stunning natural scenery of the Himalayans in Nepal along the way. Then go cross the border of Gyirong and get into Saga, Tibet, where you will enjoy the panoramic view of Peikutso Lake and the majestic view of the Yarlung Tsangpo River. Continue to move on, and finally arrive at Mount Kailash and Lake Manasarovar, which is the destination of the world's spiritual center. You can not only enjoy the scenic view of snowcapped mountains and alpine lakes but also clean your mind and purify your spirit.
| Day | Route | Attractions & Activities |
| --- | --- | --- |
| 1 | Kathmandu to Gyirong, 210km | Pick up from hotel and drive |
| 2 | Gyirong Valley(100km) | Gyirong Valley |
| 3 | Gyirong Town - Zhongba, 344km, Approx. 7hrs | Drive from Gyirong Town to Zhongba |
| 4 | Zhongba - Darchen, 340km, Approx. 6hrs | Drive from Zhongba to Darchen |
| 5 | Mt Kailash Kora①: Darchen - Dirapuk (4700m), Drive 5km, Trek 15km, Approx. 7~11hrs | Mt.Kailash kora |
| 6 | Mt Kailash Kora②: Dirapuk - Zutulpuk (4790m), Trek 22km, Approx. 11~14hrs | Mt.Kailash kora |
| 7 | Mt Kailash Kora③: Zutulpuk- Darchen, Trek 9km, Approx. 2~5hrs; Drive from Darchen -Manasarovar (4560m)-Zhongba, 340km, Approx. 5.5hrs | Manasarovar Lake |
| 8 | Zhongba - Gyirong Town, 344km, Approx. 7hrs | Drive from Zhongba to Gyirong Town |
| 9 | Gyirong to Nepal border | Send off to Gyirong border |
Our local operator will pick up from your hotel in Kathmandu and get together around 6:00am, and then we will drive from Kathmandu to Rashuwaghadi (the border between China-Nepal), en-route, you'll enjoy the marvelous scenery along the way, the rush green mountains, valleys, rivers, etc. After immigration formalities at Gyirong port, you will meet our Tibetan tour guide and driver, then continue drive to Gyirong town.
Stay overnight in Gyirong
Starting from Gyirong Town, head north along the G219 National Highway, the altitude gradually rises, passing through Saga finally arriving at Zhongba County. The road took us along the Yarlung Zangbo River, small villages and snow-capped mountains.
Today you will drive through the sandy and rocky land of Tibet, far view of the natural scenery such as Pekutso Lake and Mt. Shishapangma(8020m), and see herds of yaks and sheep. In the afternoon, you will cross the Bhramha Purtra River to the typical Tibetan town of Zhongba.
Overnight at Zhongba.
Today's journey may be long, but the stunning scenery along the way makes it worth every minute. As we drive across the vast plains, you will be treated to breathtaking views of the Himalayas to the south and Trans-Himalaya to the north. This region is home to nomads, and you will have the chance to witness the wild grasslands and local villages. Don't forget to take in the magnificent sight of Mount Naimonanyi (7694 m) while crossing the Mayomla Pass(5112 m).
After the scenic drive, we will arrive at a small nomadic village, which is also the starting and ending point of the Mount Kailash kora. Here, you will be comfortably accommodated in a guesthouse. Upon arrival, you can take a stroll around the town and explore its unique charm. If you require porters and yaks for the kora, your tour guide will arrange them for you in advance for an additional fee.
In the morning, you will take an eco-bus (included in the cost) to Sarshung valley and start the trekking from there. Then you will meet your porters and yaks at Sarshung Valley(the cost of hiring yaks, horses, and porters are not included in the package). You'll trek about 15 km from Sarshung Valley to Drirapuk Monastery along the Lachu River Valleys. During your trekking today, you can see both west and north face of Mt.Kailash. Finally, you will visit Drirapuk Monastery and stay overnight here.
Stay overnight in Guesthouse, Dorm Bed
Today is the most challenging day of the trekking, you'll climb over the highest pass of the Kora, the Dromala pass(5630m). After a short rest at the top, we will climb down into the long valley and stop for lunch at the Shabjay Dakpo nomadic tent. On the way, you can have a rest in a teahouse. Then you will continue to the Zultulpuk , built by two important religious figures, Milarepa and Naro Bonchung. At last, you will visit Zutulpuk Monastery. You will find the footprint and handprint of Milarepa inside the cave.
Stay overnight in Guesthouse, Dorm Bed
It's an easy day of the trek. You'll trek 9km to complete the Kora then take the eco bus back to Darchen. According to Buddhism theory, doing a kora around a holy mountain for one circle can get rid of sins and miseries for the whole life. Only after going through lots of hardships, you can feel the happiness and gratification brought by Kora. Then you take the shuttle bus back to Darchen, about 3km. We will drive you from Darchen to Mansarovar, the top holy lake in Tibet. It's 40km to the southwest of Darchen. If the weather is good, you can see the splendid scenery of the lake Manasarovar. If you feel good, you can do a trek along the shore of the lake for a while. And then you'll head to Zhongba.
Stay overnight in Zhongba
Today we will drive to Gyirong town from Zhongba. In the afternoon, you will visit Gyirong Valley, which is regarded as the backyard garden of the Himalayas. You will see lust forest and breath fresh air. You will be amazed by the creator's masterpiece that 4 seasons exist in such a narrow valley. Gyirong, in Tibetan language, it means comfort or happyness. It's said Gyirong was named by Padma sambhava Buddha, when he entered Tibet from here.
Stay overnight in Gyirong
Your tour guide will assist you to exit China and see you off at the Gyirong border. We can organize a jeep for transfer from Gyirong to Kathmandu but it's not included in the Package. Or you can take a bus to Kathmandu, about 40 US$ depending on your negotiation with the driver. The road condition is not good, and it takes about 10 hours from the border to Kathmandu city. Thus, taking a bus is not recommended.
What Our Customers Say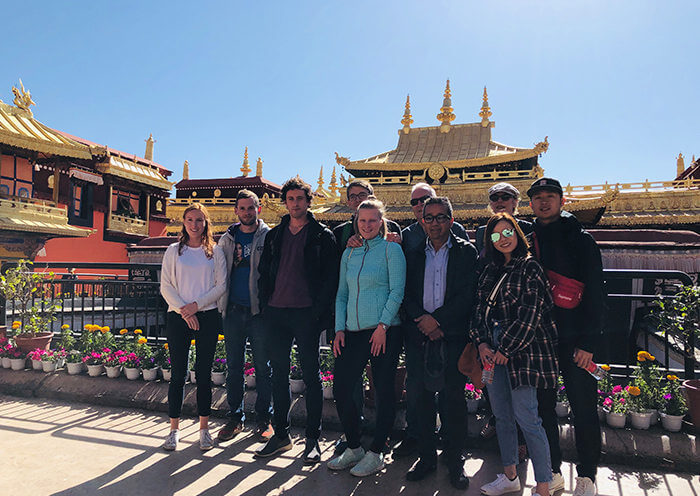 The initial itinerary that was sent to me called for Drepung/Sera on first full day, then Potala/Jokhang the next day. We ended up doing Potala first day and were grouped with 3 other tourists. Not a huge problem and we are used to having to be flexible when we travel, but would have been nice to ha ....
Read more testimonials...
INQUIRY ABOUT THE TRIP
Email response within 0.5~24 hours.