How to Visit Lhoka?
by Eric
Last Updated: 2023-10-26
Traveling to Tibet, Lhoka(Shannan) is a very important part. According to Tibetan legends and related documents, Lhoka is the cradle and cultural birthplace of the Tibetan nation. Many outstanding figures in Tibetan history were born here. There are many historical attractions in Lhoka, such as the first temple in Tibet - the Samye Monastery, the first palace in Tibet - Yongbulakang, the first Buddhist college in Tibet - Minzhulin Monastery... Lhoka is also a border area with a strong border exotic atmosphere. Therefore, to travel to Tibet, Shannan is a must.
Content Preview
Things to Do
Samye Monastery
Built-in 779, Samye Monastery was chosen by the Indian monk Guru Padmasambhava, designed by master Jihu, and presided over the construction by Trisong Detsen, the fifth generation heir of Songtsan Gampo. Samye Monastery not only occupies an important position in Tibetan Buddhism but also plays an important role in the history of Tibetan architecture for its architectural art. Samye means "unimaginable" in Tibetan. The entire temple has a large scale, with many temples and towers, with the "Wuzi" hall as the main body, forming a huge and complete building complex.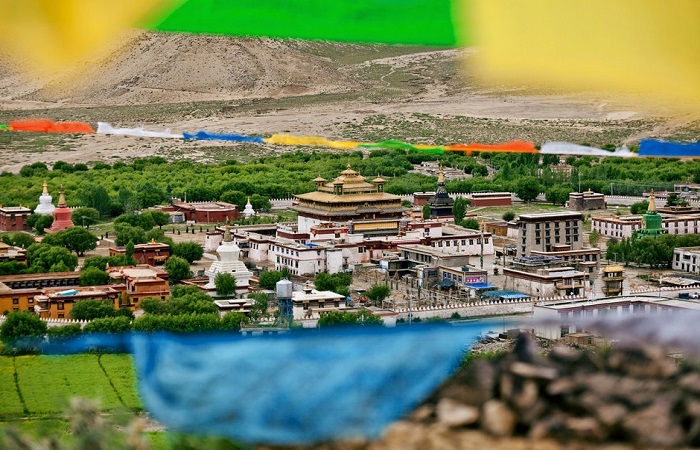 Trandruk means "Dragon and Snake" in Tibetan. According to legend, it used to be a lake with poisonous and vicious dragons inside. The dragon resembled a snake with five crowns. So Songtsan Gambo asked two masters to defeat the dragon. Then the foundation was laid and the temple was built, and hence the name. Trandruk Monastery is located on the east bank of Yarlung River and at the southern foot of Mount Kamburi, about two kilometers away from Naidong County, belonging to the Gelugpa Sect. It is said that Princess Wencheng once practiced in the temple. A pearl thangka is the most precious treasure in this monastery.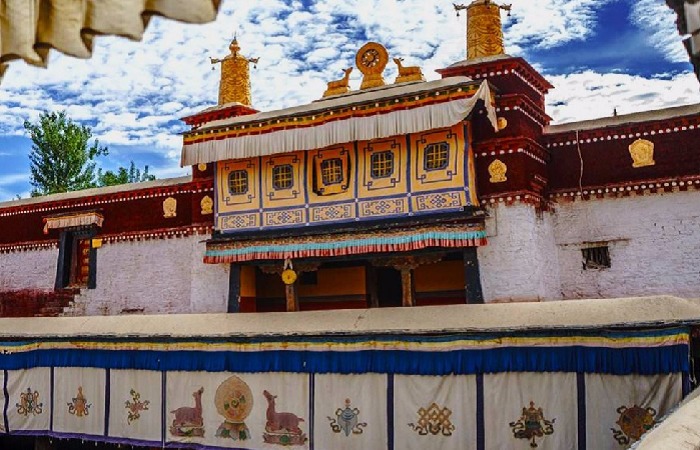 Yumbu means roe deer and lagang means shrine in Tibetan. Located in the southeast of Tsedang in Shannan Prefecture, towering over the top of Zhaxi Ciri Mountain on the east bank of Yarlung River, Yumbulagang is one of the earliest buildings in Tibet. According to legend, it was built in the 2nd century BC for the Tibetan king, Nie Chi-zangpu, and later became the Summer residence of Songtsan Gambo and Princess Wencheng in Shannan. It was changed to the monastery of the Yellow Sect during the 5th Dalai Lama. Yumbulakang Palace is divided into two parts. The front is a multi-story building. The rear part is a square high-rise watchtower, connected with the front.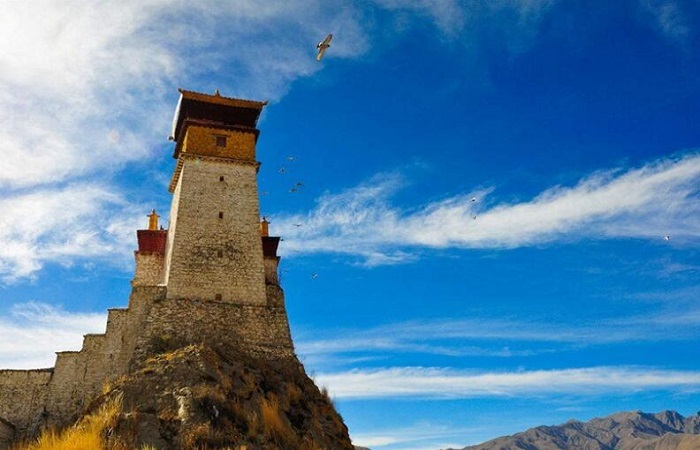 Mindroling Monastery
Mindroling Monastery is a main monastery of the Nyingma Sect (Red Sect) in the former Tibet. This monastery sits west and heads east, surrounded by mountains on all sides. The scenery and environment are fabulous. Mindroling Monastery was first created by Lumei Chuchen Xiluo at the end of the 10th century. In 1676, terma master Dedalingpa, the teacher of the Fifth Dalai Lama, rebuilt and expanded the monastery on the original basis. In addition to studying Buddhist scriptures, Mindroling Monastery also teaches culture, medicine, astronomical calendars and so on, and is famous for its beautiful calligraphy and exquisite Tibetan incense production. The Tibetan calendar is still compiled and revised by Mindroling Monastery every year, and it is a well-known Buddhist Academy in Tibet.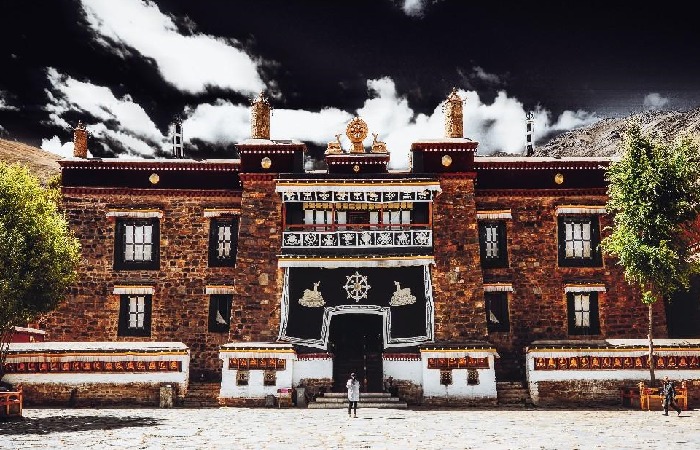 Best Time to Visit Lhoka
Due to its high elevation up to 3,600m(11,811ft), Tsedang, the tourist gathering city of Lhoka, enjoys a year-round temperate climate and dry air. The annual average temperature of the region ranges from a minimum of 7°C to a maximum of 10°C. In winter, the average temperature is 0℃ and it is quite challenging to visit the city for those who are accustomed to a warmer climate. In summer, the city is relatively more humid and mild compared to other parts of Tibet. The temperature will extend to the highest point of 20℃, while at night it can easily drop by 10℃-20℃, which means warm clothes are needed. Thus, May to October is considered the best time for tourists to visit Tsedang when you can enjoy the scenic beauty with the most pleasant weather conditions.
Transportation in Lhoka
Note that Lhoka owns the only international airport in Tibet, so taking a plane has become the most popular choice for tourists from other major cities like Beijing, Chengdu, Chongqing, and Kathmandu.
Tsedang City is situated in the Yarlung Valley, about 170 km southeast away from Lhasa. Tourists can easily get to Tsedang from Lhasa with less than a 2.5h bus ride. The tremendously ameliorated road network also offers the convenience for people from Tsedang to visit more than 12 counties and numerous villages.
Within the city of Tsedang, a great variety of transportation rental services is provided, such as bicycles, tricycles, taxis, and jeeps. Hiking and cycling are highly recommended for local sightseeing.
Dining in Tsedang
Tsedang is a good place for you to connect with the locals through food, where you can have a taste of all kinds of traditional Tibetan dishes- butter tea, Yamdrok air-dried meat, steamed stuffed bun, blood sausages, different kinds of cakes, sweet tea, milk tea, sour milk and cold yak tongue, and all that. However, unlike other places in Tibet, Tsedang cuisine shares a backbone with Sichuan, the province of gastronomy, Which explains the vast variety of food and its relatively intense flavor. Here follows some reputed restaurants for a recommendation.
Yiwanmian
A well-decorated place that offers tasty snacks such as Shaguo (Earthen pot) dumplings. Located in front of PSB office.
Tashi Restaurant
Tashi Restaurant enjoys a high reputation for its Nepalese food like curries where you can also be served with nourishing breakfast and delicious pizza. English service is available.
Monastery Restaurant
The restaurant of Samye Monastery serves traditional Tibetan food, and it is frequented by the locals because of its simplicity and original Tibetan flavor.
Friendship Snowland Restaurant
Located at the Eastern gate of the monastery, the restaurant is famous for its Chinese and Tibetan delicacies.
Entertainment / Nightlife
Among all the entertainment and nightlife in Tsedang, Tibetan Opera and Choshio Dance distinguish themselves by their visual enjoyment and entertainment value.
Tibetan opera, simple but passionate, is highly regarded as "the living fossil of traditional Tibetan culture". It is hard to believe that the Tibetan Opera dates back more than a century, even some 400 years longer than the Beijing Opera. Well-trained performers present the ancient art form by distinctive masks, dancing, chants, and narration. And the majority of the repertoires are based on Tibetan history, through which tourists will get a deeper understanding of its culture.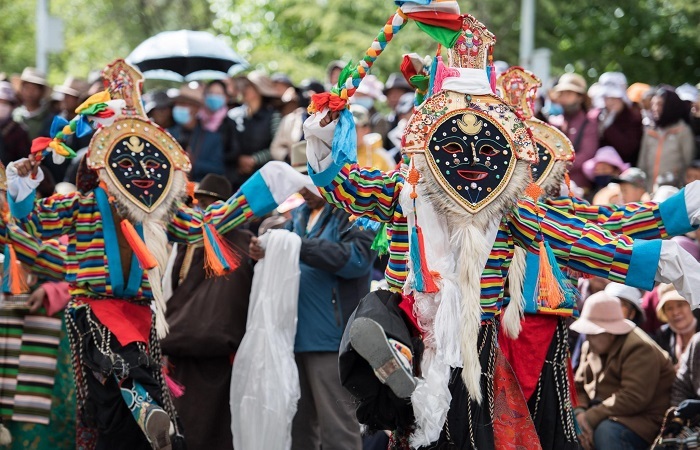 Choshino Dance has more than 1,000 years of history and was first created to show the superior power of deities and dispel devils. This splendid form of dance was honored to be performed at the wedding ceremony of Songtsen Gampo and Princess Wencheng and the inauguration ceremony of the Samye Monastery.
Internet Access
Internet access is only available at selected hotels in Tsedang, such as Tsedang Hotel. Internet access is mostly stable and is at least clocked at 1-3 Mbps. WiFi is available wherever there is an accessible Internet. Foreign visitors are advised to download a VPN application/software on their phones/laptops for both safety and wider access to foreign websites and apps like Google, Facebook, Instagram, Youtube, etc. as those sites/apps are blocked by the law. For a more detailed Internet access info guide for hotels, please refer to the hotel or ask your travel advisor.
Money and Currency Exchange
In Tsedang, foreign currency can be exchanged through cash or traveler's checks in the Bank of China Shannan Branch, which is located at No. 21, Naidong Lu, Tsedang Town. Certain hotels in Tsedang also offer money and currency exchange services.
Besides, credit cards such as Master Card, Federal Card, Visa, American Express, JCB and Diners Card are also available for certain ATMs, hotels, and department stores. >>See more about Tibet currency and money
Tsedang Shopping Tips
Tsedang is everything that you can dream of when it comes to culture seekers and history buffs, but not as good if you're a boom shopper. One reason for this is that there is no shopping mall in this area, instead, you will see various "shopping centers" in most of the hotels. A common problem with all tourists is "Where can we buy souvenirs?", well, the answer to that is to explore the streets of Tsedang itself! A variety of stalls and shops are scattered throughout the city. The most famous specialties are Tibetan incense and Jiacha walnuts.
Tibetan incense is indispensable to Tibetan people's lives. People use it to worship Buddha and drive away evil spirits. There are many varieties of Tibetan incense, which are developed by Tibetan physicians according to the methods recorded in Tibetan medicine books. Tibetan incense from Minzhulin Monastery is very famous in Tibet.
Jiacha walnuts are known throughout the Tibetan plateau for their thin skin, large size, tender walnut meat, full flesh, and mellow and sweet walnut meat. They are tributes of the Dalai Lama and dignitaries in the past.
Yandrok, an air-dried meat made from beef or mutton is a classic souvenir. It is dried near the Yandrok Lake area, a perfect spot to absorb all those natural salt and minerals into the meat itself while it dries, giving it a unique taste.
Next on our list is jade, it is one of the most valuable stones in China throughout history. Qiongjie jade jewelry and accessories are a crowd favorite, known for their gorgeous design and eye-catching shimmer. No wonder it can be sold in large numbers!
Handicraft is what Tibetan people are proud of for their colorful and elegant knits, such as Zhanang's knotting and textiles, and the Jiedexiu apron, which is a showcase of style and vivid colors.
Related Articles
Lhoka Map
Check the detailed Lhoka travel maps and find tourist attractions, travel routes, nearby counties, etc. before starting your trip to Lhoka.

Best Time to Visit Shannan
Tourists can visit Shannan at any time of the year. The best time is from May to November. The rainy season of Shannan is from June to August.

How to Travel to Shannan?
There are three ways to travel to Shannan, by flight, by road, or by train. It's recommended to get to Lhasa first then to Tsedang.
Ask a Quick Question Below?
Email response within 0.5~24 hours.