Travel to Tibet from United Kingdom
Travel to Tibet from United Kingdom
by Jack
Last Updated: 2020-11-23
We are often asked by clients from the United Kingdom a question, "How to travel to Tibet from my hometown ?" As a professional Tibet-based tour operator, we are fully competent to help you get to Tibet. Meanwhile, we could provide you with detailed information about the way to Tibet from London as well as the necessary documents you need, which could make it easier to enter this autonomous region with no worries.
Itineraries about How to Travel from U.K. to Tibet
In general, there are two options for tourists from the U.K. to take a trip to Tibet, flying to Kathmandu(the capital city of Nepal) or mainland China first. Currently, the only international flights to Tibet is from Kathmandu, or else, you can fly to a major city of China first, such as Beijing, Shanghai, Chengdu, etc. then take domestic flights to Tibet. There's one point you may need to know beforehand, flying to Kathmandu then to Lhasa(the capital city of Tibet Autonomous Region) may take extra 3 working days for applying for your China Group Visa. So if you don't have any plan to stay in Kathmandu, Nepal, you may consider flying to mainland China first. We will talk about the China Group Visa later in this article.
Arrive in Tibet through Nepal from U.K.
There is a great choice for British tourists to get to Tibet which is the flight from London to Kathmandu. This route deserves your consideration because it is really fast and convenient, only taking as little as 12 hours to reach Kathmandu, which takes around  £370. And then you could select 2 ways to arrive in Tibet, by flight or road.
From Kathmandu to Lhasa by Flight
After you land on the first exotic area, two direct flights from Kathmandu to Lhasa are available for your choices, operated by Air China and Sichuan Airline respectively. Only 1hour and 25 minutes are taken for this trip. Besides, the best part of it is, you could take a look at the magnificent MT. Everest, appreciating the charm of the world's highest peak. However, the flight is a little bit expensive which is around £530. If you desire fast arrival in Lhasa, it will be beneficial for you to take this flight tour. Moreover, if you choose the right seat by the window, you will view the magnificent Mt. Everest on the plane!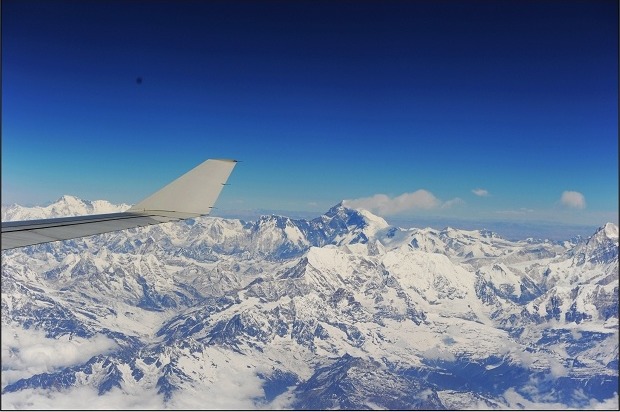 From Kathmandu to Lhasa by Overland Tour
Besides the flight tour, you could enjoy the great overland tour from Kathmandu to Lhasa as well. This overland tour is highly recommended by our tour guides as well as tourists. I am sure you could have a fascinating experience along the friendship highway, which shows both sides of the Himalayas. At the Nepal side, you will feel the warm moist air and view the lush plants; while at the Tibet side, You will feel the opposite and view Mt. Everest, Karola Glacier, and Yamdrok Tso Lake, Tashilumpo Monastery, Potala Palace, Jokhang Temple, and Barkhor Street along the way.
Arrive in Tibet through China from U.K.
Tourists are available to come to Tibet through China by flying or by railroad. Firstly, you need to take a flight from U.K. to the gateway cities of China such as Beijing, Shanghai, Guangzhou, Chengdu and so on. This is a good way for tourists who have a desire to travel to some of the Chinese major cities at first. You could have fun in these cities by visiting various attractions before you fly to Lhasa, or take a Tibet train journey. Whatever you plan to do, we can provide a one-stop service by arranging all your tours in China.
From U.K. to China by Flights
Some flights from London to Chinese gateway cities are listed below. Prices here are only for your references and could vary a lot due to the different days and airlines you select.
| | | |
| --- | --- | --- |
| Flights | Duration | Costs |
| London to Beijing | Around 10h | Around £1000 |
| London to Shanghai | At least 11h 15m | Around £1220 |
| London to Guangzhou | At least 11h10m | Around £802 |
| London to HongKong | At least 11h 35m | Around £800 |
| London to Chengdu | At least 10h 40m | Around £800 |
From Chinese Cities to Tibet by Flights
There are some flights that start from Chinese major cities to Lhasa including Beijing, Shanghai, Guangzhou, Hongkong, and Chengdu. Please note that duration and prices are listed here for your reference only.
| | | |
| --- | --- | --- |
| Flights | Duration | Costs |
| Beijing to Lhasa | At least 4h 25m | Around £420 |
| Shanghai to Lhasa | At least 7h | Around £500 |
| Guangzhou to Lhasa | At least 6h | Around £400 |
| HK to Lhasa | At least 7h 50m | Around £445 |
| Chengdu to Lhasa | Around 2h 20m | Around £250 |
From Chinese Cities to Tibet by Trains
A railway is also an option for visitors, and actually, it could be more fun to take a train tour than taking flights. About your Tibet Train Tour, there are three classes of tickets for your choice, namely, soft sleeper, hard sleeper, hard seat. From the top to the end, the cost of the train tickets decreases a lot. And, of course, the standard is quite different, you may check inside Tibet Train to know more details.  However, you could be more comfortable and cozy in a cubicle to fall asleep instead of sitting in a hard-seat carriage with a bunch of passengers around you if you purchase a soft-sleeper ticket.
So if you are not on a tight budget, or you are with the elderly or children with you, the soft-sleeper ticket is your first choice. Here I would like to show you a chart that contains the duration and approximate costs of Tibet train tour from some Chinese major cities. You are expected to check it out and find one that fits your plan most.
| | | | |
| --- | --- | --- | --- |
| Number of Train | Trains | Duration | Costs(soft-sleeper ticket) |
| Z21 | Beijing to Lhasa | Around 40h 40m | Around £135 |
| Z164 | Shanghai to Lhasa | Around 47h 20m | Around £150 |
| Z264 | Guangzhou to Lhasa | Around 52h 34m | Around £175 |
| *K2616+Z223 | Chengdu to Lhasa | Around 37h 30m | Around £135 |
(*Please note that there are many combinations of trains that go to Lhasa from Chengdu, only one listed in the chart.)
Tibet Travel Permits Required for British Tourists
As we all know, Tibet is an autonomous region with special regulations for tourists who intend to enter it. Here are some necessary documents you need to know beforehand.
Tibet Travel Permit is required for every foreign passport holder. Generally, this permit is applied by the local travel agency in Tibet. As the top Tibet-based tour operator, we have arranged thousands of applications for this permit. We are experienced and qualified enough to help you get it, and make you have a great trip. For applying for Tibet Travel Permit, we need the scan of your valid Chinese Visa page and passport page after booking with us. Please send us these documents at least 20 days in advance before you start a journey.
China Group Tourist Visa is required for tourists who have plans to enter Tibet from Nepal. As the local tour agency, we can also help you get this document by sending invitation letters from Tibet. With the invitation letter, your passport and 2 photos(same size as the photo in your passport but with white background), you can apply it from the China Embassy from Kathmandu. It often takes 3 working days for applications. After you arrive in Kathmandu, our staff would assist you to accomplish this application as soon as possible before you start a magical journey on this ancient land.
As above, we have introduced the specific flights and trains from Britain to Nepal or China, and some permits you require. Now it is your time to make a plan related to the itinerary, budget, and transportation. We are sincerely looking forward to your arrival, and joining in our great Tibet Tour!
Related Articles
Recommended Tour Packages
Ask a Quick Question Below? Or Call 0086-891-6679450
Email response within 0.5~24 hours.