Is It Okay for the Elderly to Travel to Tibet?
Is It Okay for the Elderly to Travel to Tibet?
Whether elderly people should travel to the highlands of Tibet? The answer is definitely a big "YES" as Tibet is a fantastic place to visit, despite its high altitude. The cliché that old people should not visit Tibet because of the physical location is not true for there are plenty of people above 70 years of age who have been to Tibet. Yet, we have to say Tibet is not suitable for all seniors, especially those with high blood pressure, respiratory, cardiovascular or cerebrovascular diseases, heart disease, pulmonary edema, etc.  There are caveats and preparations that you should take heed of. As an elderly person desirous of seeing Tibet, you need to undergo the following preparations:
You need to be physically fit for the Tibet adventure and follow your doctor's advice before you even decide to visit Tibet.
You should also condition your mind, emotion, and body for the challenges concomitant with traveling to Tibet.
You should likewise bring with you your medical kit in case your body would be reacting to the unusual weather of Tibet.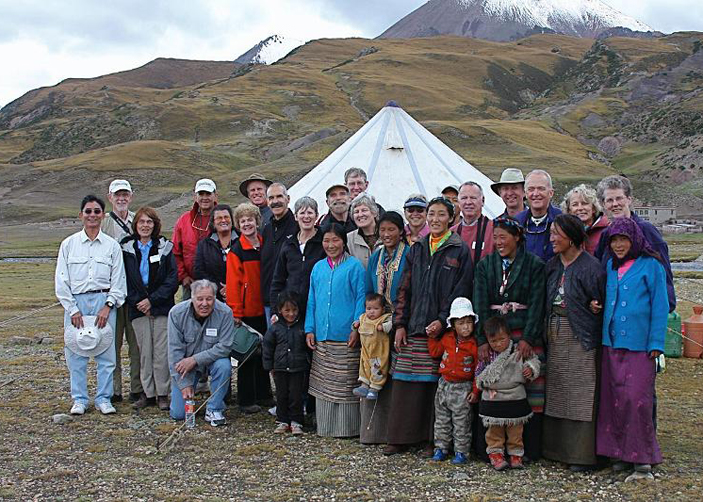 Advice for the Elderly Traveling to Tibetble
Due to the gradual degeneration of body functions, the elderly's immunity and ability to cope with special environments have declined. They are more prone to colds and acute altitude sickness. The onset of the symptoms of altitude sickness is doubly apparent for elderly travelers, and for this reason, many elderly people usually think twice about traveling to Tibet.
What's the High Altitude Environment
Compared with the plain environment, the plateau environment has low air pressure, cold, dry air, strong ultraviolet rays, and low oxygen content. These factors together trigger altitude sickness. The major causes of altitude sickness are low air pressure and lack of oxygen. The main way to overcome altitude sickness is to rise slowly and adapt gradually. Over time, the pressure inside and outside the human body will be balanced, and everything will be fine. Most people can adapt to the weather of Tibet within two days.
The Symptoms of Altitude Sickness
Altitude sickness is a series of uncomfortable symptoms caused by people reaching a certain altitude (usually after more than 3000 meters), due to the different altitude environment. Symptoms of this altitude sickness include fatigue, shortness of breath, headache, nausea, hypoventilation, easy to get tired, etc. 
>> See more about altitude Sickness
Nyingchi is Recommended as the First Stop
It is recommended that Nyingchi is the first stop for the elderly to travel to Tibet. Nyingchi is the place with the lowest average altitude in Tibet. There are many trees and enough oxygen, so the possibility of high-altitude sickness is tiny. After that, you can gradually ascend your altitude to Lhasa and Shigatse. This is also in line with the principle of adaptation from low altitude to high altitude.
Pace Yourself When Traveling to High-altitude Places around Tibet
The usual technique when traveling along high-altitude places is for you to slow down or pace your movement according to the capacity of your body. Maintain an optimistic mood and let yourself relax. If you experience high altitude sickness, don't panic, just calm down. The more you move, the worse it will be.
Carry On Preparations
The road in the plateau is rugged, try to wear some shoes that are better for walking. The temperature difference between morning and evening is large, so you can bring a warm coat and put it on in the morning and evening. Also the sunshine is strong, you can take sunglasses and a hat.
The air here is dry and you might need to bring some moisturizer and lip balm.
Related Articles
Recommended Tour Packages
Ask a Quick Question Below?
Email response within 0.5~24 hours.