Is It Okay for the Elderly to Travel to Tibet?
Is It Okay for the Elderly to Travel to Tibet?
Albert Camus once said that "the struggle itself towards heights is enough to fill a man's heart," and he was surely right, for there is always a craving in each person to reach new heights, whether this person is old or young. And with regards to the question of whether elderly people should travel to the highlands of Tibet, the answer is definitely a big "YES" for Tibet is an awesome place to visit, despite its high altitude. The cliché that old people should not visit Tibet because of the physical location is not true for there are plenty of people above 70 years of age who have been to Tibet. Yet, in every adventure—especially that of Tibet adventure—there are caveats and preparations that you should take heed of. As an elderly person desirous of seeing Tibet, for example, you need to undergo the following preparations:
You need to be physically fit for the Tibet adventure and follow your doctor's advice before you even decide to visit Tibet.
You should also condition your mind, emotion, and body for the challenges concomitant with traveling to Tibet.
You should likewise bring with you your medical kit in case your body would be reacting to the unusual weather of Tibet.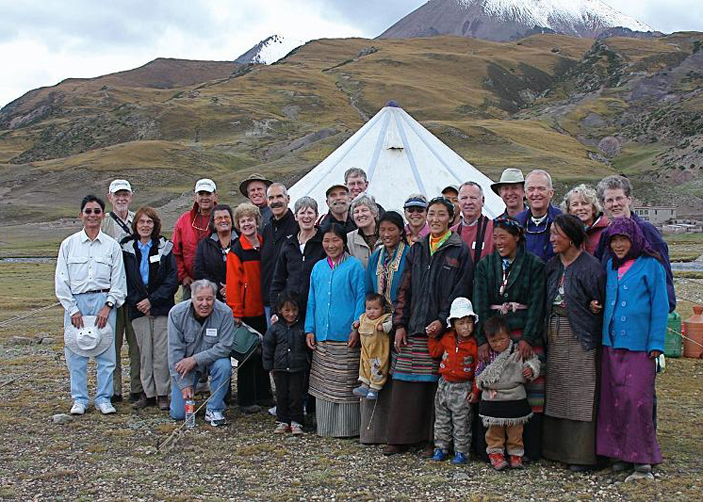 Caveats When Traveling to Tibet
A. The Problem of Acclimatization
Anyone who travels to high-altitude places like that of Tibet will surely feel some eerie discomfort akin to altitude sickness. This is because the average elevation of Tibet is around 4,000 meters (13,123 ft). Symptoms of this altitude sickness include fatigue, shortness of breath, headache, nausea, and hypoventilation. Hence, you need to brace yourself against this altitude sickness by readily adapting yourself to the changing atmospheric pressure of Tibet, and by doing the necessary precautions mentioned above.
The onset of the symptoms of altitude sickness is doubly apparent for elderly travelers, and for this reason, many elderly people usually think twice about traveling to Tibet. But if you are an elderly traveler, this problem of altitude sickness should not deter you from traveling to Tibet, for Tibet is surely a "once in a lifetime" travel experience.
Well, if you are physically fit, even if you are elderly, you can readily adapt to the weather of Tibet within two days. In case, however, you find it hard to breathe because of the rarefied atmosphere of Tibet, you can always wear an oxygen mask to replenish your need for oxygen during your stay in Tibet. Moreover, if you are going to stay most of the time in Lhasa—the capital of Tibet—you will surely have less difficulty with altitude sickness, for the weather at Lhasa is fairly salubrious, for Lhasa has lower elevation as compared to the other parts of Tibet.
B. Pace Yourself When Traveling to High-altitude Places around Tibet
The usual technique when traveling along high-altitude places is for you to slow down or pace your movement according to the capacity of your body. You should not forget to rest when your body indicators signal you to rest. Moreover, you should keep yourself hydrated when trekking in Tibet for the general climate at the plateau of Tibet is arid and dry.
C. Make yourself impervious to the constant changes of Weather in Tibet
The weather in Tibet may radically change from day to day due to its high altitude. One day it may be very windy and cold; the next day, it may be windy and dry. Hence, you should protect and insulate yourself from this varying day-to-day weather and keep yourself warm with thick clothes when it is cold and cool yourself with light clothes and keep yourself hydrated when it is warm and dry.
Related Articles
Recommended Tour Packages
Ask a Quick Question Below? Or Call 0086-891-6679450
Email response within 0.5~24 hours.