Can Americans Travel to Tibet?
Can Americans Travel to Tibet?
by Ghita
Last Updated: 2022-08-05
As the most mysterious land in the world, Tibet has attracted thousands of international travelers every year to explore this land. Recently, more and more American travelers intend to travel to this mysterious land. At this time, you may wonder is it possible for traveling to Tibet as an American? The answer is definitely YES. As modern traffic develops at such a high level, traveling from the U.S. to Tibet becomes easier than it once was.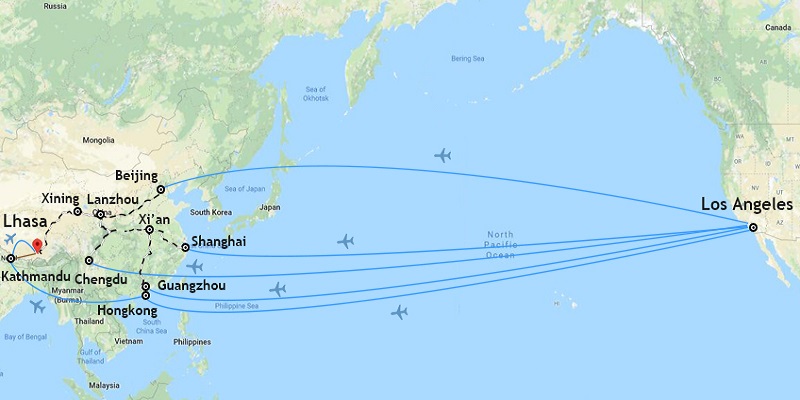 How to Get to Tibet from The U.S.?
Currently, there are multiple ways to get to Tibet from the U.S. The best way from the U.S. to Tibet is to take an airplane through the major cities in China such as Beijing, Shanghai, Guangzhou, Hongkong and Chengdu because only those cities have direct flights from the U.S. After that, you can transfer from those cities to Tibet. There are multiple itineraries you can choose from. For example, you can set out from the JFK International Airport in New York to the PEK International Airport in Beijing, the non-stop flight takes only 13.5 hours and costs about USD730, then you can take the direct/connecting flights from Beijing to Lhasa.
By the way, traveling to Tibet from the U.S via Kathmandu, Nepal is also popular among American travelers. The prices of flights from the USA to Kathmandu various from US$1,200 to US$1,400 depending on departure location and connections. Once you arrived in Kathmandu, you can take a flight to Tibet or travel to Tibet by road. There is a daily flight to Tibet during the peak & ordinary tourist season and only takes about 1.5 hours to Lhasa.
Required Travel Documents
As for the travel documents you need to prepare for your Tibet tour, it depends on where you choose to enter Tibet - mainland China or Kathmandu in Nepal?
If you get to Tibet from mainland China, you must obtain a Chinese Visa and a Tibet Travel Permit(aka. Tibet visa). First of all, you need to apply for your China Visa through the Chinese Embassy in the U.S. As for the Tibet Travel Permit, you can only obtain it with the help of the local travel agency in Tibet by booking their tours. With the scanned copy of your passport and Chinese Visa, your Tibet travel agency will guarantee you the permit. In general, it takes about 6~30 days to apply for the Tibet Travel Permit according to your destinations in Tibet.
If you decided to enter Tibet from Kathmandu, Nepal, the document you need is a China Group Visa(instead of a Chinese Visa!) and a Tibet Travel Permit. As a U.S. citizen, your China Group Visa fee is higher than citizens of any other counties, about USD175 per person. According to the current policy, 5-traveler is the minimum number to apply for their China Group Visa. And you still need to work with an organized travel agency based in Tibet such as The Great Tibet Tour.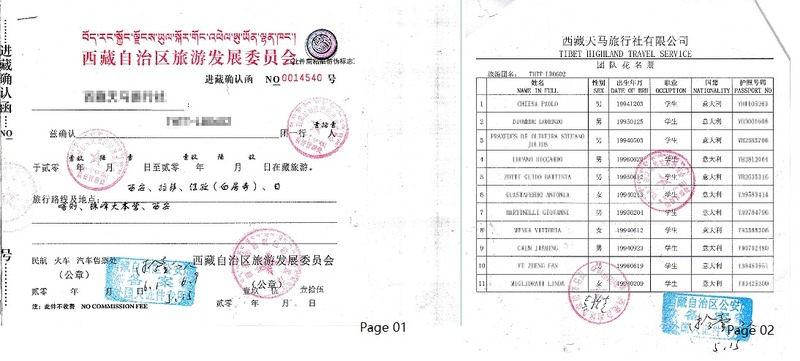 Best Travel Time
In general, the best time to visit Tibet is from March to November every year. And the peak tourist season is from July to September because the climate is pleasant and oxygen content is comparatively high. In fact, Tibet has its special charm all year round.
Spring (March-April)
During the spring, the rural scenery in Nyingchi is the highlight in Tibet due to the peach blossom festival. Not too many people go to Tibet so the price is good at this moment. But there're huge temperature differences between day and night, even in the daytime, it's slightly cold so please keep warm.
Summer (May-August)
There's blue sky, white clouds, and intensive sunshine during summer. You can't miss Lake Namtos, Mt.Kailash, and Lake Manasarovar during this period. It's also the peak tourist season so the tour cost would be more than usual. Please pay attention to the sunscreen.
Autumn (September-October)
In autumn, you can see the blue and boundless sky in Tibet, also the visibility is excellent. If you visit Nyingchi, you will have a better chance to view the mysterious face of Namcha Barwa Moutain. During this period, Tibet has distinct golden colors and beautiful scenery, and travel costs are moderate. But it's a little bit drier so you should take some skincare products.
Winter (November-next February)
You can appreciate the true snowy plateau if you travel in winter. Winter is a good time to view Mt.Everest but you can't go to Mt.Kailash due to the low temperature and heavy snow, however, you can bask in the sunshine at Jokhang Temple square.
Popular Tour Itineraries Among American Travelers
To American tourists, the trip from the United States to Tibet is only the first half of a long journey. The second half of the tour begins with an epic land journey from Lhasa to Kathmandu via Everest Base Camp, or an adventure from Lhasa to Kailash. Here're the top-recommended Tibet tour packages for you.
Mt.Kailash tour
There are thousands of pilgrims who come to Mt.Kailash for Kora. Mt.Kailash is regarded as a sacred mountain by four religions: Bön, Buddhism, Hinduism, and Jainism. And the pilgrims believe it can bring good luck to circumambulate around mount Kailash on foot. Traveling to Mt.Kailash is a popular choice for Americans as they love trekking so much. Generally, May and late June is a good time for a kora tour. The monsoon season starts from July to August. Mt.Kailash Kora is 52km long, usually, it takes three days to complete. The start point is Darchen at an altitude of 4675m, then ascend your altitude to the highest point to 5630m at Drolma-la Pass. You also will pass by Lake Manasarovar, which is one of the top three holy lakes in Tibet. It's said the sacred water of the lake can clean one's sins or annoyances when one is rinsed by the water. Mt.Kalaish tour is an adventure full of challenges. You can not only witness the beautiful scenery but also get inner peace.
√ 15 Days Mt.Everest & Mt.Kailash Kora Pilgrimage Group Tour
Everest Base Camp tour
If you have been to Everest Base Camp and worship the highest mountain in the world - Everest, you might feel somewhat different. So it's a good choice for many American travelers to have an Everest Base Camp Tour. It's also a highlight of Tibet travel. The best time for the Everest tour is from late April to early June, and early September to late October, as the weather is ideal to enjoy Mt. Everest clearly and oxygen content is competitively sufficient to acclimatize the high altitude. This tour starts from Lhasa, traveling overland for more than 800 kilometers to Shigatse Prefecture till Rongbuk Monastery (The highest temple in the world at an altitude of 5154 meters). During this tour, you will also visit Yamdrok Lake - one of the top 3 sacred lakes, Karola Glacier- one of Tibet's 3 major continental glaciers, Pelkor Chode Monastery - a well-preserved architecture treasure, and Tashilhunpo Monastery - the seat of Panchen Lama.
√ 8 Days Lhasa to Everest Base Camp Group Tour
Lhasa to Kathmandu Overland Tour
Many American tourists would visit Tibet and Nepal together. The best route is to tour Tibet first then to Nepal as you can adapt to the altitude gradually. From Lhasa, at the altitude of 3650, you will stay at least two days for sightseeing such as the world heritage Potala Palace, sacred Jokhang temple, most beautiful Tibetan Monastery - Sera, etc. Then you will move forward to higher altitude areas like Shigatse, till Everest Base Camp, at an altitude of 5200 meters. You will drive along the friendship highway to enjoy the stunning landscape along the way. After visiting Everest Base Camp, you will drive to Gyirong port and see the breathtaking vista of Mt. Shishapangma and the Pekutso Lake. The best time to have Lhasa to Kathmandu tour is from November to next spring.
√ 7 Days Lhasa Mt. Everest Kathmandu Overland Group Tour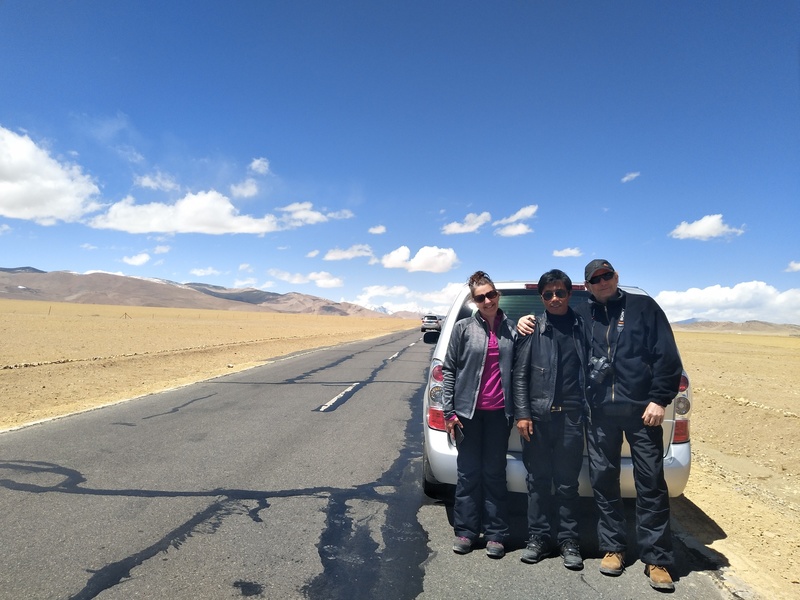 Before your Tibet Tour, you should seek a reliable Tibet travel agency. Tibet travel agencies situated in Lhasa are good choices for you cos they can offer you the first-hand document directly instead of transmitting from the middleman. In case you meet any problems with getting your document or have some issues in Tibet, the Tibet local travel agency can handle it for you easier. Great Tibet Tour is a local travel agency in Lhasa and recommended by Lonely Planet Tibet. Contact us to start this once-in-a-life journey!
Related Articles
Ask a Quick Question Below? Or Call 0086-891-6679450
Email response within 0.5~24 hours.