Travel to Tibet
by Darren
Last Updated: 2022-08-06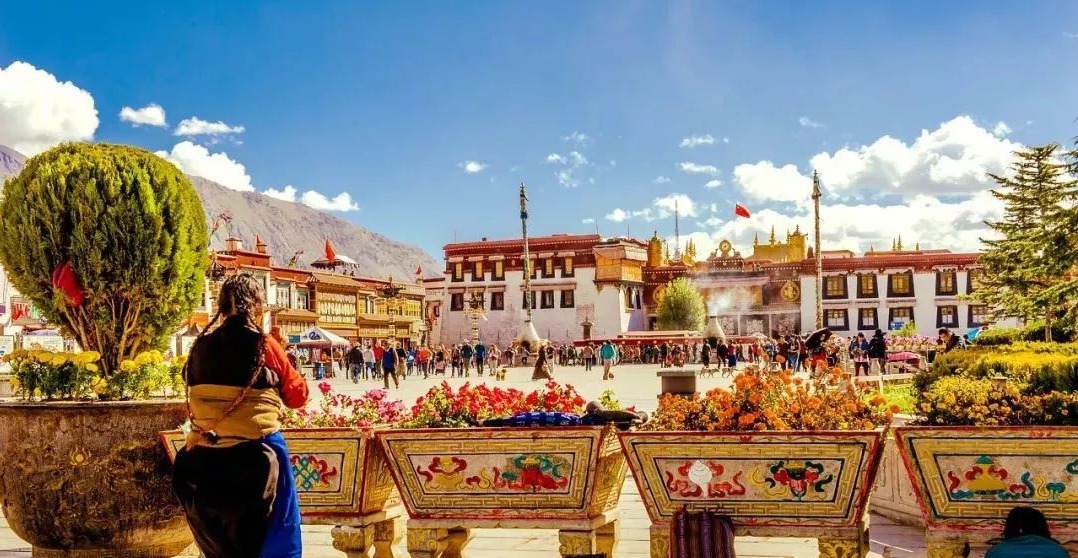 Located in the west of China, Tibet is a land of lofty heights and religious significance. Also known as "the roof of the world", the Tibet Autonomous Region provides a unique perspective of China to all the tourists. Being attracted by its natural wonders and historic culture, numerous tourists at home and abroad travel to Tibet every year.
How to Travel to Tibet?
According to relevant regulations on foreigners traveling to Tibet, tourists are not allowed to travel on their own during their stay in Tibet. Regardless of the number of tourists, they must be organized in a pre-arranged tour. Of course, you can stroll around during the gaps of the travel itinerary. Also, you can hang out by yourself in Lhasa but not go to any tourist attractions.
Unlike traveling to other places of China, Tourists who're going to Tibet need extra documents such as Tibet Travel Permit that only can be applied by a local travel agency in Tibet. If you're traveling from China to Tibet, A China Visa is necessary for foreign tourists. However, if you're traveling from Kathmandu to Tibet, you need to apply for a group visa rather than a China visa.
How to Get to Tibet?
Though Tibet seems to be unreachable and mysterious, it is not difficult for tourists to get to Tibet. Tourists can get to Tibet from mainland China or Nepal. Traveling by air and by train are the two major ways to reach Tibet.
Traveling to Tibet by air is considered the most convenient way. You can take direct flights from Kathmandu, Nepal to Lhasa, Tibet or fly to Beijing, Shanghai or Chengdu of China and take flights to Lhasa or other cities of Tibet.
Traveling to Tibet by train is also a popular way for tourists who want to see the beautiful landscape of the Tibetan Plateau. Presently, there are five direct Tibet trains carrying tourists over Qinghai-Tibet Railway.
In addition, tourists can have an overland tour from Kathmandu or mainland China to Tibet. Kathmandu to Lhasa overland trip is recommended as you will cross the Himalayas and visit the essence of Kathmandu and Tibet. From mainland China to Tibet, although there're four Tibet highways leading to Lhasa, only two highways are available now. Due to the extremely high cost, fewer tourists choose to explore Tibet by road from mainland China. >>Check more about How to Get To Tibet
Things to Do in Tibet
When traveling to Tibet, you not only see the breathtaking mountains and valleys but also visit the ancient Buddhist Temples and Monasteries which are the masterpieces of arts and culture. In Tibet, you have lots of things to do including climbing the world's highest peak, pilgrimaging to Mount Kailash, visiting the Potala Palace, and enjoying the beautiful scenery of unique valleys. Tibet's highlights are its mountains, temples, and lakes.
Potala Palace: A holy place in Tibet. It was built by Songtsen Gampo for his marriage with Princess Wencheng.
Jokhang Temple: As the "eyes of Tibet", it has become the center of Lhasa and a holy place for worshippers.
Yamdrok Lake: The water changes its color with the light, reflecting various blue.
Sera Monastery: The most beautiful Buddhist Monastery in Lhasa. Under the rendering of the Buddha statues and the debating ceremony, you can feel their inner devotion.
Barkhor Street: Traditional streets and Tibetan houses here make it the most classic neighborhood in Lhasa.
Norbulingka: Renowned as "Treasure Park", it was Dalai Lama's summer residence, filled with lush trees.
Namtso: It's the second-largest lake on the Tibetan Plateau, the highest lake in the world, and the most beautiful lake in Tibet.
Everest Base Camp: The best locations to shot Mount Everest. You have a chance to watch the golden sunrise in the morning and the starry sky at night.
Kailash Mountain: World's famous sacred mountain, and it is also recognized as the center of the world by Yongzhong Bon, Hinduism, Tibetan Buddhism, and ancient Jainism. >>Check more about Top Things to Do in Tibet
Best Time to Travel
And the best time to travel to Tibet is from April to October when the weather is appropriate and the natural beauty of Tibet is at the climax.
If you explore Tibet during a festival, it will be an unforgettable experience for your Tibet travel. There are many unique festivals with strongly Buddhist culture in the region. In Lhasa, the capital city of Tibet, there are annual festivals including the Tibetan New Year, Saga Dawa Festival and Shoton Festival. There are also many minor festivals associating with the monasteries and the local traditions. >>Check more about Best Time to Visit Tibet
What to Eat in Tibet
If you wanna explore the deep cultural beauty of Tibet, you shouldn't miss the fantastic cultural cuisine. Due to the arid climate and high elevation, the diet of Tibetan is quite different from that in other parts of China. Yak plays a significant role in the Tibetan diet. Meanwhile, the food items like yogurt and butter are the common dishes on the Tibetan dining table. If you wanna taste the traditional Tibetan cuisine, don't miss the tsampa, yak butter, yak yogurt and raw yak meat.
Beijing Road is the main dining district of Lhasa city, where western restaurants and tourists are mostly gathering. Besides, almost every hotel restaurant serves western food. From the north Barkhor Street to middle Beijing Road, some stylish Tibetan restaurants are worth a try, such as Lhasa Kitchen, Tibetan Family Kitchen, Makye Ame, etc. >>Check more Lhasa Restaurants
Where to Stay in Tibet
The hotels in Tibet, decorated with mural and thangka, can be the embodiment of thousand-year-old Tibetan history and culture and are perfect places to stay. Hotels around Potala Palace:
St. Regis Lhasa, its eye-catching feature is the hotel complex's style, surrounded by light gray brick walls, in perfect accordance with Tibetan culture, which looks like a mysterious Tibetan palace. The Qomolangma suites with a balcony provide magnificent views of the Potala Palace.
Lincang Boutique Hotel, just 1.2 miles southeast of Potala Palace, is dedicated to spreading Tibetan culture, which was once the residence of the 13th Dalai Lama's teacher Lin Rinpoche, with a history of more than 300 years. Its layout is a bit like Beijing's Siheyuan. You may have a sit in the rooftop bar and enjoy a cup of sweet tea while taking in views of the golden roof of Jokhang Temple. The most expensive suite in this hotel is renovated from Lin Rinpoche's scripture hall.
Yak Hotel, the most cost-effective 3-star hotel in Lhasa. It is located in the downtown center, from where you can walk to the Jokhang Temple, Potala Palace in 10 minutes.  The hotel room is in Tibetan style, quite large, clean and tidy. The bathroom is very clean, with a hot water supply. It provides many kinds of beer, which attracts foreigners to live in. >>Check more Tibet Hotels
Related Articles
Ask a Quick Question Below? Or Call 0086-891-6679450
Email response within 0.5~24 hours.