Travel to Tibet from United States
Travel to Tibet from United States
Every year, more than 50,000 Americans travel to Tibet. The tourist season in Tibet is mostly in spring and autumn when the weather is suitable for hiking and sightseeing. The most popular destinations for American tourists are Lhasa and the trip to Everest Base Camp. Here, we explain how easy it is to travel to Tibet from US, and the best way to travel.
How to Travel to Tibet from US
When traveling from the United States, there are two ways to go to Tibet. One is to fly into China and take a flight or train to Lhasa; the other is to fly into Nepal and fly from Kathmandu to Lhasa, alternatively you can take an overland tour from Kathmandu to Lhasa, along the China-Nepal highway.
Option I - Flights from US to Tibet via Mainland China
When traveling from US to mainland China, Americans can choose from multiple departure and destination cities in the two countries. Due to a large number of flights from the United States to China, many of which are direct to China without stopovers, tourists can visit Tibet relatively easily.
In the Pacific time zone, flights depart from Seattle, Los Angeles and San Francisco. While in the mountain time zone, flights depart from Phoenix, Denver, and Salt Lake City. Flights from the central time zone of the US depart from Dallas, Michigan, Chicago and Mississippi. From the eastern coast, you may depart from New York, New Jersey, Miami, Tampa, Washington, DC, and Philadelphia.
You can fly to Chinese cities such as Beijing, Shanghai, Guangzhou, Chengdu, Chongqing, and Xi'an. These cities are the gateway cities for trains or flights to Tibet. You can even fly directly to Hong Kong and transfer to Lhasa from there. The journey to China takes 14-18 hours, depending on the departure and arrival airport, and costs 350-1500 USD per person.
Fly from Mainland China to Tibet
If you plan to fly to Lhasa from mainland China, then you have many choices. There are regular direct flights to Lhasa Gonggar International Airport from Beijing, Chengdu, Xi'an, Chongqing, Xining, Shangri-La and other places. Chengdu is the most popular departure city for Lhasa, with the largest number of flights to Lhasa every day. It takes about 2h 30m to travel more than 1200 kilometers. Beijing is also a popular starting point for Lhasa, with regular direct flights or cheaper connecting flights passing through Chengdu, Xi'an and Xining every day. The flight is the fastest and most convenient way to get to Tibet, and it takes up to 7 hours but it's expensive.
Take a Train from Mainland China to Tibet
There are seven gateway cities that provide trains from mainland China to Tibet, including Guangzhou, Beijing, Shanghai, Chengdu, Chongqing, Lanzhou and Xining. You can also choose to take the train from Xi'an, but this can only be done in the off-season because the trains in Xi'an actually depart from Guangzhou and Shanghai. The fastest option is to depart from Xining, and it is usually the best choice for peak months because there are more trains from Xining to Tibet than any other city, and the train has more seats and more berths than any other city. So your chances of buying tickets from Xining are greater than any other city. Although taking a train is slower, it is much cheaper than taking a plane, not to mention the beautiful scenery along the Qinghai-Tibet Railway.
Although the flight is faster, it is more expensive than the train, and the average train fare is less than half of the average ticket fare from the same city. However, the train speed is very slow and it takes 21 to 53 hours to reach Tibet.
Option II - Travel to Tibet from US via Nepal
If you plan to visit Tibet from Nepal, you need to take a flight to Kathmandu. Because there is no direct flight from the US to the capital of Nepal, you can choose the connecting flights, which take about 18 to 20 hours including stopover time. This is still a viable option for passengers who wish to visit Tibet from Nepal.
Once you arrive in Kathmandu, there are 2 ways to go to Tibet. The first choice is by plane. Direct flights from Kathmandu to Lhasa is available every day, you will land in Tibet after 1.5 hours. However, you can also choose to drive along the Friendship Highway, the famous highway that connects Kathmandu with Lhasa, and you'll have a view of the plateau landscape such as Himalayan peaks, magnificent Buddhist temples and sacred mountain lakes.
Compared with flying, land travel from Kathmandu to Lhasa is more popular among American travelers. Our Nepali driver will send you to the Nepal-Tibet border. After you pass through customs at Gyirong Port, our Tibet guide will pick you up at the Tibet side. Due to the altitude increase, you will stay overnight at County Town to acclimatize the altitude then gradually go east to visit Tingri, EBC, and Shigatse, and finally, arrive at Lhasa.
>> See more about Kathmandu to Lhasa overland tour
Required Documents for Americans Visiting Tibet
As an international traveler, US citizens must have a China Visa and Tibet visa to enter Tibet.
Visiting Tibet from Mainland China
Firstly, you should apply for your China Visa through the nearest Chinese Embassy in the USA and then sign up with a Tibet Travel Agency. Only the licensed local travel agency can help you apply for the Tibet Visa with the scanned copy of your China Visa and passport through the Tibet Tourism Bureau. If you choose Great Tibet Tour, we guarantee you the Tibet visa for us citizens. According to the rule, international travelers in Tibet must in an organized group and accompanied by a guide. We'll prepare English-speaking Tibetan guides for you, they are hand-picked and experts in guiding.
Visiting Tibet from Nepal
Another choice to visit Tibet is from Nepal. If you choose this way to start your journey, you should have a China Group Visa instead of a China Visa. The Group Visa issued by the Chinese Embassy in Kathmandu, and you can only get it with the invitation letter of the Tibet Tourism Bureau. As a professional local travel agency, we will help you obtain the invitation letter, as well as your Tibet visa.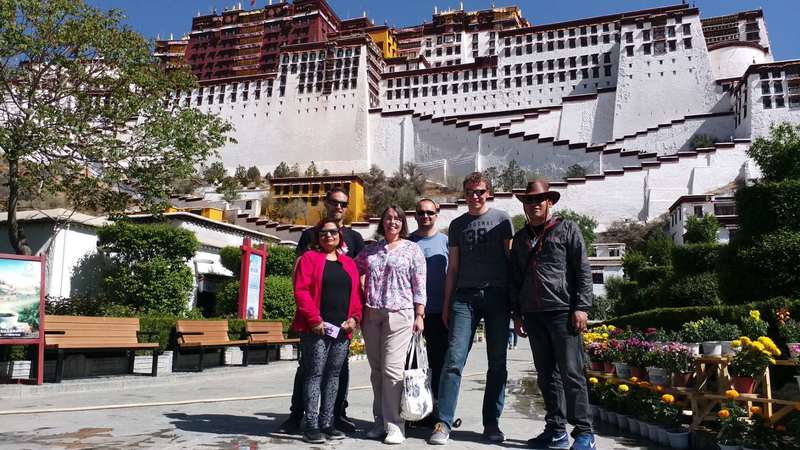 Related Articles
Ask a Quick Question Below?
Email response within 0.5~24 hours.