How to Plan a Tibet Tour on a Budget?
How to Plan a Tibet Tour on a Budget?
by Rita
Last Updated: 2023-01-26
Tibet is the highest plateau in the world. There are too many myths and legends about this magical land, which attract tourists to explore it every year. Whether you are looking for a short Lhasa trip, an Everest Base Camp tour, a longer pilgrimage tour to Mt.Kailash, or an overland tour to Kathmandu, how to plan a cheap Tibet tour is very important for tourists on a tight budget. Besides, Tibet travel costs are generally higher than in other places in China due to its remoteness. There are eight ways to save costs for your Tibet trip.
Have a Join-in Small Group Tour
International tourists can't travel independently in Tibet. So you have to hire a tour guide to accompany you all the way and the tour guide cost can't be cut. In addition, Tibet is very vast, and most of the famous tourist attractions in different destinations are far away from each other. Outside of Lhasa, you can't take public transportation but hire a private vehicle to go to the place, thus, there's another big expense. In view of this situation, many Tibet travel agencies have opened Tibet small group tours for budget travelers, especially solo travelers. Compared with a private travel price, joining a Tibet travel group can save at least 25% because you can share the tour guide fees, car and driver fees, single room supplement, and the cost of food with other travelers in the group. For example, if you're a single traveler, from Lhasa to Mount Everest base camp, the standard Tibet travel cost for solo travelers is usually between 2000 USD and 3000 USD (excluding airfare or train tickets). But if you join in a group tour, you can reduce about 1000 USD/person including the entrance fee, tour guides fee, transportation fee in Tibet, and hotel single supplement fee.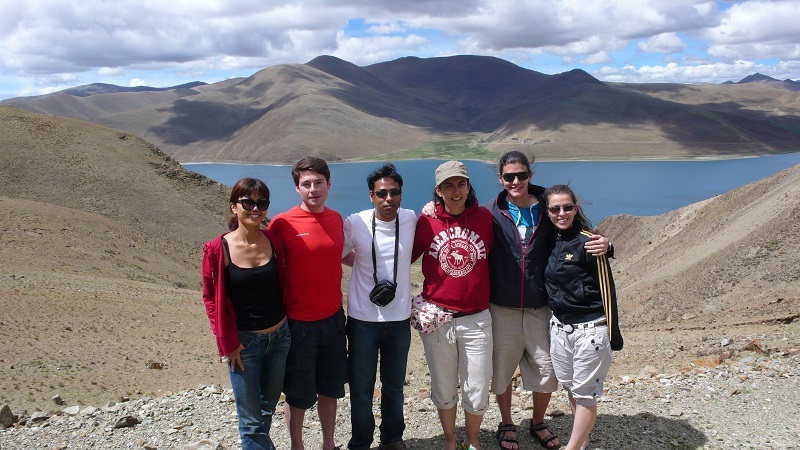 Unlike other large groups with rigid programs and too many people, Tibet small group tours collect 12 people at most in a group. At Great Tibet Tour, we usually recruit 3 to 5 people in a group to ensure smooth communication between tourists and guides. Therefore, you can save money and there're many more flexibilities. Furthermore, the advantages of a small group are to meet new friends from all over the world and share your emotional moments.
>>See more about Tibet small group tours for budget travelers
Book Your Tibet Tour in Advance
Book your tour in advance and enjoy early bird deals to save. Most travel agencies will launch various preferential tour packages and booking discounts from 3% to 15% from time to time.
In addition, if you book in advance or book as a group (3 people or more), you can get a further discount.
Take a Train to Tibet Instead of Flying to Tibet
Taking a plane is a quick way to Tibet if you have a very short time schedule to Tibet. But if you have enough time, it's a cheap way to take a Tibet train from big cities in China such as Guangzhou, Shanghai, Chengdu, Xining, and Xi'an. Besides, taking a train from Xining to Tibet is the shortest and the cheapest. By the way, the Qinghai-Tibet railway is worth experiencing once as it's the highest railway in the world and you will see amazing plateau scenery along the way, which you can't see anywhere else. The Tibet train tickets can save 1/3 or half of the airline fare according to the train berth class. If you choose a hard sleeper instead of a soft sleeper, you can further reduce the cost. The hard sleepers are not as bad as you imagine. The biggest difference is that there're 6 berths without a door in a hard-sleeper cabin but 4 berths with a door in a hard-sleeper cabin.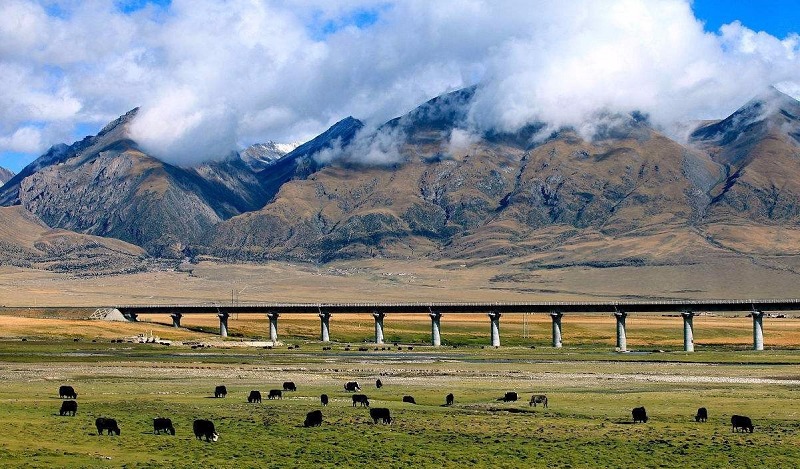 What's more, the Tibet train provides travelers with better opportunities to adapt to high altitude. The train is equipped with 2 sets of oxygen supply systems, one is a diffuse supply by mixing the oxygen in the air conditioning to maintain oxygen content in each compartment at an appropriate level. The other set is an independent interface for oxygen inhalation. If a passenger feels unwell and needs more oxygen, he can use the private oxygen supply at any time. In soft sleeper cars, hard sleeper cars, and hard seat cars, there is one for each bed or seat. Oxygen inhalers for passengers are located on the wall at the head of the bed or within reach under the seat. Also there's a doctor on every train.
>> See more about Tibet train tour
Travel in The Off-season
Traveling to Tibet in winter can save a lot of expenses because air tickets and hotel expenses will be much cheaper in the low season. In addition, every winter in Tibet, there is a free admission policy for scenic spots, such as Potala Palace, Norbulingka Park, Everest National Nature Reserve, Lulang Forest, etc.
The winter in Lhasa is far less cold than imagined, because it's the Sunshine City, with more than 3,000 hours of sunshine throughout the year. The temperature in the warm sun can be as high as 15 degrees in winter. Not only Lhasa, but a large part of Tibet is actually very warm in winter, such as Shigatse, Lhoka, and Nyingchi. The sky of Tibet is much blue in winter, and the snow-capped mountains are clearer and whiter.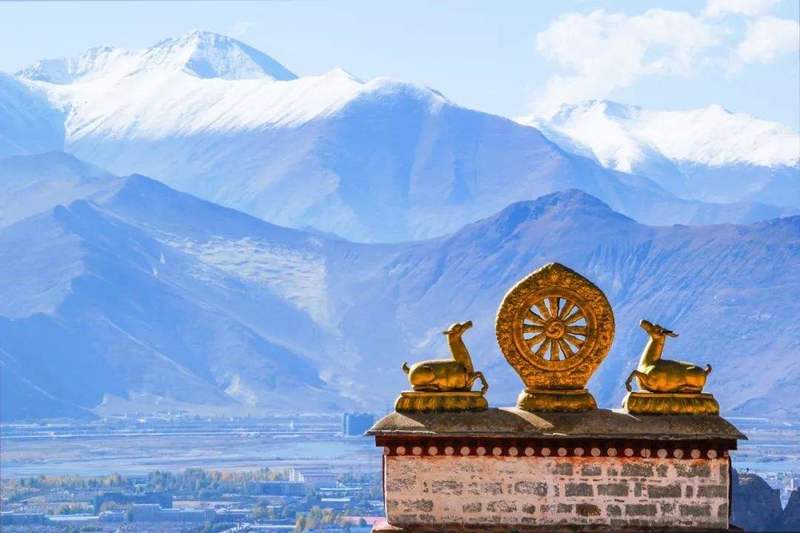 Think about it, in the warm sunshine of Lhasa in winter, strolling around the temples, looking at the snow-capped mountains, having a cup of butter tea and a bowl of tsampa, what a pleasant thing!
>> See more about winter Tibet tour
Save Expenses on Accommodation
Staying away from the busy streets can lower accommodation cost because the fee of both luxury hotels and economy hotels located in the city center is definitely more expensive. Lhasa city is not big, and it will not have a big impact on hanging out.
Choosing a youth hostel or a family inn is also a pretty good choice. The price is even cheaper, about USD10 for a bed. In addition, you can make more friends. Ask your travel agency to recommend some cost-effective guesthouses.
Arrange Your Own Food in Tibet
You can arrange your own food in Tibet. In general, Tibet's food price is higher than in mainland China. Most food and stuff are transported by land or by air from the mainland, so the prices are more expensive, and the cost of living here is higher. The daily cost of lunch and dinner is about 20 USD/per person. But if you can accept very simple food, which may only cost about 10 USD/ person/day.
Take Public Transport in Lhasa
Taking public transport in Lhasa city can save your budget on transportation. According to regulations, international tourists can travel by bus or taxi in Lhasa city under the escort of a tour guide. The bus is all one yuan, and it is suggested to ask about the bus route and prepare for change first. A taxi is 10 yuan for 3kms, which is enough for most tourist attractions. The general charge is 5-10 yuan for rickshaws, and it is usually determined by your travel distance. There would be bicycles in the inns where you stay, and you can also ride bicycles around Lhasa. You'd better familiarize yourself with the roads before the ride.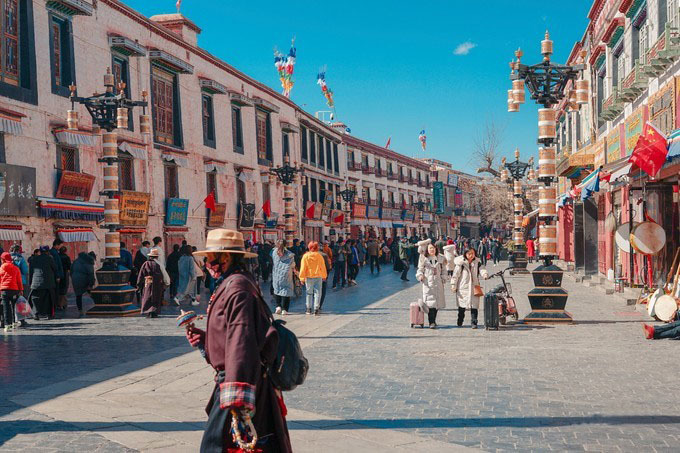 Be Smart with Shopping
It will make sense to shop around and bargain for saving expenses. Barkhor Street is a very popular place for tourists to choose souvenirs. When you encounter something you like, it is not recommended to buy it right away. There are many things of the same kind. Shopping around to get an ideal price can help lower your cost.
Related Articles
Recommended Tour Packages
Ask a Quick Question Below?
Email response within 0.5~24 hours.