Backpacking in Tibet
Many international backpackers dream to discover Tibet in their ways but Tibet is not where you can travel without restrictions. According to the regulations of the Tibet Tourism Administration, backpacking in Tibet has not been feasible ever since 2008 as independent travel is not allowed. That's to say, international travelers must obtain a Tibet Travel Permit through a Tibet Travel Agency first before entering Tibet. Then, organized and planned tours are required.
In fact, a trip to Tibet is much more expensive than going to many places in China. Even so, there are some ways to make your travel as cheaper as possible. Here are some tips about how to make your dreamy backpacking in Tibet come true.
To Contact a Tibet Local Tour Operator
Only Tibet's local travel agencies are qualified to apply for Tibet Travel Permit and receive international travelers. Some travel agencies in Beijing, Shanghai, and Chengdu say that they can apply for the Tibet entry permit, but they actually transfer the tourists to the Tibet travel agencies to handle it. In this case, you'd better contact a travel agency in Tibet directly to save the intermediate cost.
Tour Tibet in a Suitable Way
Join-in small group tour
There are two types of escorted trips in Tibet. One is to participate in group tours, which offer an opportunity for solo travelers to join other travelers. Generally speaking, it is cheaper to choose a group tour than a self-organized tour, especially for solo travelers. The cost will mainly be saved on car charting and fuel fare. The cheapest chartered car in Tibet is also charged at 4 yuan/km. For example, a Lhasa-Namtso round-trip covers 500 kilometers and costs 2,000 yuan, Lhasa Gonggar Airport-Lhasa city back and forth covers 150 kilometers costs 600 yuan, Lhasa-Mount Everest (3-4 days) round trip covers 1500 kilometers and costs 6000 yuan. If you can share the cost with at least another two travelers instead of taking it alone, isn't it a good way to save costs?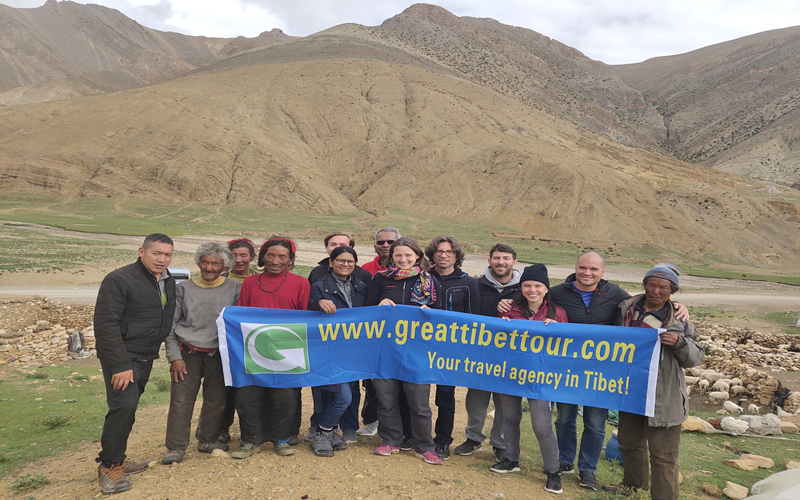 Our join-in group tour routes cover the classic tourist routes of Tibet, including short-line Lhasa city tours and Lhasa Shigatse tours; mid-line Lhasa Namtso tours, Lhasa Mount Everest tours, and Nyingchi-Lhasa tours; and long-term Lhasa- Kailash and Manasarovar Lake tour, Lhasa Ali tour, Lhasa-Everest-Nepal overland tour. They can basically meet the regular Tibet tourism needs of tourists.
Travel with us with no worries! There are no shopping and no hidden charges. All the tour packages we designed for our guests are quality-oriented.
Self-organized private tour
The other is a self-organized private tour. As the name suggests, travelers can freely find a travel partner, make their own travel itinerary plan, and then hand it over to the travel agency to handle the car, driver, tour guide, ticketing, etc. The benefit is to maximize the freedom of backpackers in Tibet. If there are a number of people on a self-organized group tour, the cost of travel can also be reduced. Only with the use of cars and tour guides, the cost to everyone will be much less. If the number of your self-organized tour partners reaches 5-10 people, or even more, it will be much cheaper than a group tour. In short, on a self-organized tour, the more people, the lower price you will take.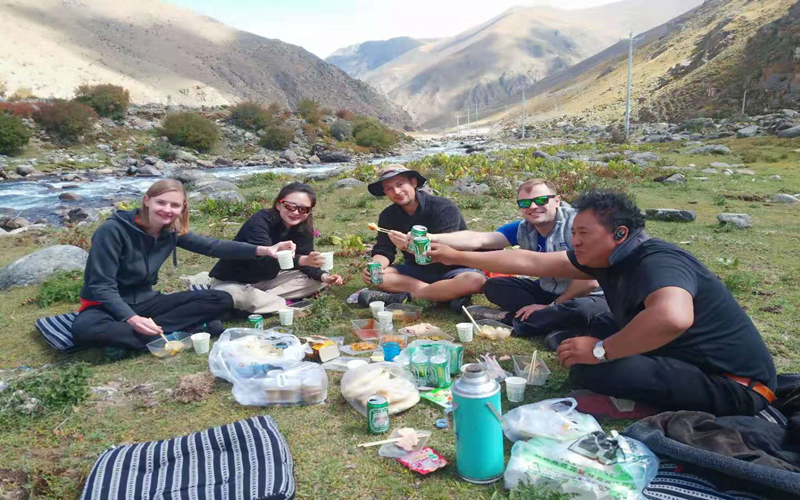 To Book Transportation in Advance
It would be better to keep an eye on the cheap flights which are popular with backpacking travelers. Generally speaking, the earlier you book your air ticket, the cheaper the price should be, especially for discounts on air tickets from March to May. By the way, it is cost-effective to go to Tibet during this period. The tourist attractions in Tibet are basically open and the weather is not very cold.
During the peak tourist season, there are almost no discounts on air tickets to Tibet. The cheap flight from Chongqing to Lhasa requires at least 1,000 CNY one way, and more than 2,000 CNY round trips. If you are departing from cities like Beijing, Shanghai, and Guangzhou, the airfare is even higher, and at least 5,000 CNY round trips. In this case, you are suggested to choose train travel to Tibet, which is more cost-effective.
Train tickets are issued 30 days in advance and can be purchased on the official website APP of China Railway - 12306. However, it is difficult to buy train tickets to Tibet online during the semester holiday in summer. You can ask travel agencies to purchase. The cost of the round-trip train is between 890-2936 CNY depending on your place of departure.
To Break Down the Quotation
Ask for a list of the expenses when quoting, and you can pay for the services you need only. According to the regulations, travelers are free to wander around, take public transportation, eat, and watch movies in Lhasa. Only when you go to worship temples and other attractions, it is required to be accompanied by a tour guide. That's to say, backpacking in Lhasa is still possible, and you will be saving on the charted car fee and the tour guide service fee.
When touring out of Lhasa city, it is a must to have a charted car and a tour guide. The inspections along the way are very strict now. If a foreigner does not have a tour guide or a tourist route presented by the travel agency, it is impossible for him to pass any one of the checkpoints.
To Save on Accommodation
Sharing a room with other solo travelers in the group can save half of the room cost. The cost of one night in Tibet is 300 CNY for a three-star hotel in an ordinary season.
Ask your travel agency to recommend some good guest houses in Lhasa. You can ask them to book rooms for you or you can book the room on your own online. One thing to be aware of is that Tibet accommodation is at full price and has no discount during the peak season, and it may not be able to reserve a nice hotel with both a reasonable price and a good location. It's better to make a booking as earlier as possible.
Related Articles
Ask a Quick Question Below?
Email response within 0.5~24 hours.