How to Travel to Everest from Tibet
How to Travel to Everest from Tibet
Located at the border between Nepal and Tibet, China, Mt. Everest is a kind of existence of gods for human beings as it's the highest mountain in the world. With snow covering on the top all year round, it had been standing steadily on the ground and watching the time brings a great change in the world. It was not possible to climb Everest dated back to the old days. Don't even think about it. This situation had lasted for a long time until 1921, a British climbing team which was led by Charles Howard Bury started to climb Mt. Everest from Tibet Autonomous Region, China. It was the first time that human beings tried to conquer the nearest place to heaven. Although it failed in the end, it encouraged other people to keep going on this way. And finally, there were people who succeed in reaching the top of Everest on 29th. May 1953. The New Zealander Edmund Hillary and Nepali Sherpa guide Tenzing Norgay are meant to be the heroes who will be honored by the later generations forever.
Afterward, more and more adventurers followed their footprints on Everest. Up to today, it's easy to travel to Everest, not only for professional mountaineers but also for non-skilled laypeople. It's known that there are two routes to climb Everest. One is from the south side, Nepal. The other is from the north side, Tibet. For the Tibet part, an 8-day Lhasa Gyantse Shigatse Mt. Everest Group Tour is a classical tour package sold by nearly all the Tibet travel agencies. So, how to travel to Everest from Tibet exactly?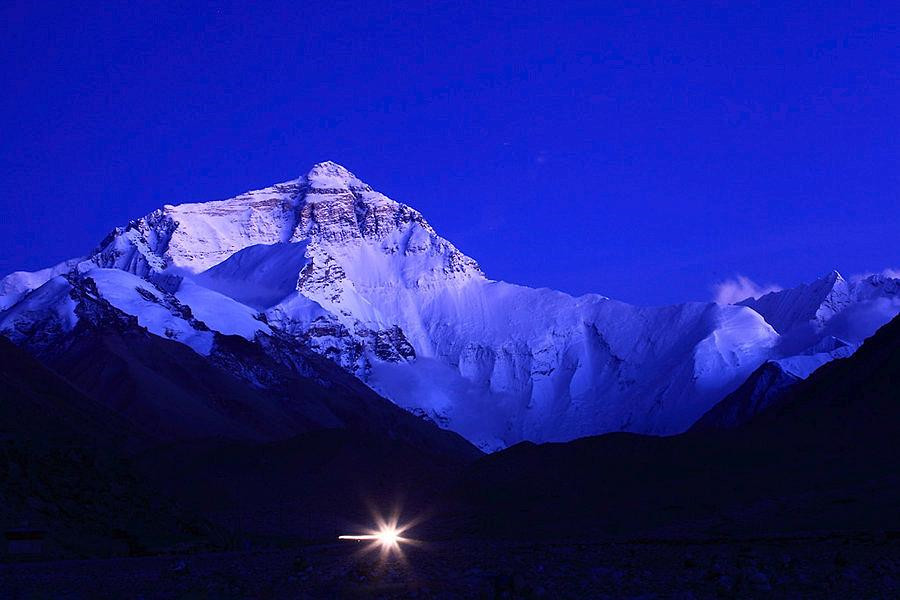 Grand Mt. Everest
Besides the first arrival day in Lhasa, usually, there will be another two days of Lhasa sightseeing tour before heading to Mt. Everest, or at least one day. Because your body needs time to adapt to the sudden altitude change. In addition to that, the tourist attractions in Lhasa are worth visiting as well, such as Potala Palace, Jokhang Temple, Drepung Monastery, Sera Monastery, and so on. You will have an outline of Tibet Buddhist culture during these two days.
After three nights in Lhasa, you can get sufficient rest and normally acclimatize to the high altitude already. Therefore, it's time to launch an Mt. Everest trip.
Usually, Tibet tour companies will arrange a car to Everest from Lhasa, which takes two days. The route is Lhasa – Gyantse – Shigatse (first day), Shigatse – Tingri – Everest Base Camp (second day). Due to the strict speed limited regulation, the driving duration is about 7 hours per day. But, the scenery along the way is amazing enough to let you ignore the exhaustion of the journey. You can appreciate the turquoise Yamdroktso Lake (Swan Lake), famous Karola Glacier, Pelkor Monastery, Rongbuk Monastery (the highest monastery on earth) and the general view of holy Mt. Everest.
There is another way to get to Shigatse. On Day One, you may take the train to Shigatse from Lhasa if there only a few travelers. It takes around three hours by train, but of course, you will miss the wonderful view along the road.
When you finally arrive at Everest Base Camp, you will have close contact with Mt. Everest. You can take photos or do a little trekking around it, to admire the highest mountain in the world.
What Should You Pack for an Everest Tour?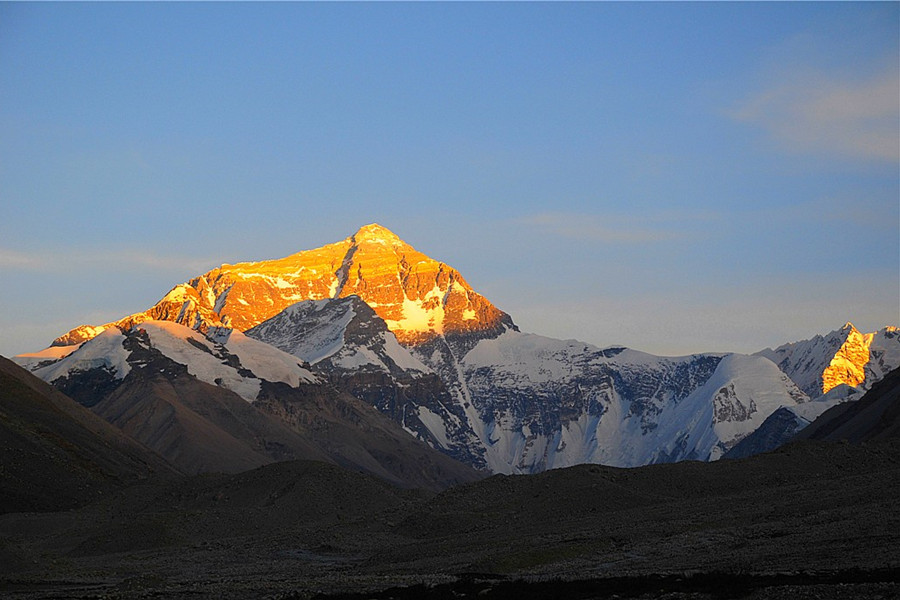 Amazing Sunrise of Mt. Everest
Warm clothes:
It's very cold in the Everest area, so, winter clothes are very important. The down jacket can keep you warm and easy to move compared with other thick garments. Woolen sweaters and socks are also necessary.
Shoes:
An old pair of hiking shoes could not be better for trekking to Everest.
Anti-sunburn articles:
The ultraviolet ray of Tibet is very strong that you can easily get burnt if you don't protect yourself well. Thus, the ant-sunburn articles are quite necessary, such as sun cream, sunglasses, lip balm, hats, gloves, etc.
Spare batteries:
It's not easy to charge the battery in the Everest area. To support your phone or camera always, you'd better bring spare batteries or a power bank in case of an unexpected situation.
Sleeping bag:
The condition of tents or guesthouses on Everest is very simple. You can bring an arctic-rated sleeping bag If you could not put up with it.
Food:
You can also bring some instant food or snacks along the way, as well as drinking water.
Medicines:
Except for some ordinary medicines, we suggest you take some medicines for preventing and curing altitude sickness.
Related Articles
Ask a Quick Question Below? Or Call 0086-891-6679450
Email response within 0.5~24 hours.