Kula Kangri Snow Mountain is located in Luozha County, Shannan Prefecture, Tibet, and is known as one of the "Four Holy Mountains" in central Tibet. At an altitude of 7,538 meters, it was one of the "Nine Gods of World Formation" during the Tubo period in Tibet. Standing on the main ridge in the middle of the Himalayas, Kula Kangri consists of three peaks. There are 6 peaks over 7,000 meters standing side by side with Kula Kangri. Looking from a distance, all the peaks stand in one line, like a barrier of ice. Behind the mountain is the Kingdom of Bhutan.
Topography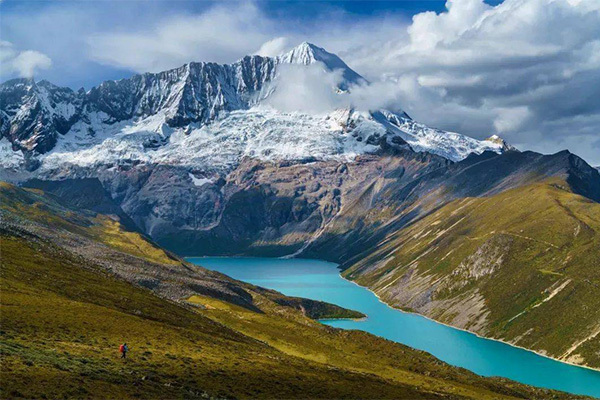 On the north and south sides of the ridge are steep cliffs. There are four glaciers lying in the canyon, and the two glaciers on the north side are 10 kilometers long. There are magnificent forests of seracs, ice cliffs, ice walls, and ice steep slopes on the glacier. Frequent ice avalanches often occur continuously, which is thrilling. To the north of the valley, Yamdroktso Lake and Pumo Yumco lake lie quietly on the vast southern Tibetan plateau, reflecting the majestic Kula Kangri. 
Excellent Viewing Point
Pumo Yumco Lake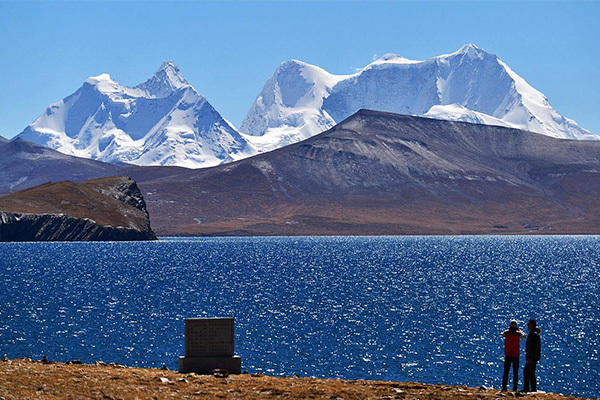 Pumu Yumcuo Lake is located 58.4 kilometers southeast of Langkazi County in the Shannan Prefecture, embracing Yamdroktso Lake. Pumu means "girl" in Tibetan, so it is also called "Girl Lake", with an altitude of 5,010 meters. In winter, there is extremely beautiful blue ice. In summer, after the ice recedes, you can see the reflection of snow mountains here.
Kula Kangri seen in Pumo Yumcuo stretches for thousands of miles, surrounding and protecting this lake like arms. Blue lakes and majestic snow-capped mountains form a  beautiful scene.
Baima Lincuo Lake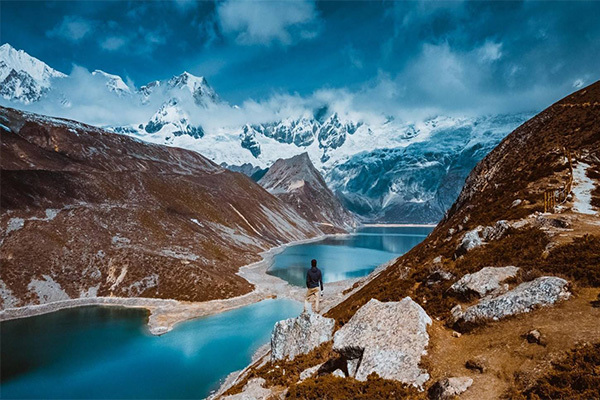 Baima Lincuo has beautiful scenery. The lake presents three colors of blue, green and white. Legend has it that Baima Lincuo is one of the three soul lakes of Guru Rinpoche. Around the lake, there scattered the handprints and footprints of Guru Rinpoche, as well as the caves and termas where he practiced. It is said that believers can still see their own life and the afterlife from the bottom of the lake. 
Every season of Pema Lincuo gives people a different feeling, no matter its winter with a snowy and frozen lake, or summer full of flowers or autumn with various colors. The ridge on the left is the best base for shooting Kula Kangri, and here you can have a panoramic view of the magnificent scenery of the southern slope of the snow mountain. Hiking here is a visual enjoyment and a great experience.  If you are lucky enough, you can also see the golden summit and the bright starry sky besides snow mountain under the blue sky!
Montara Pass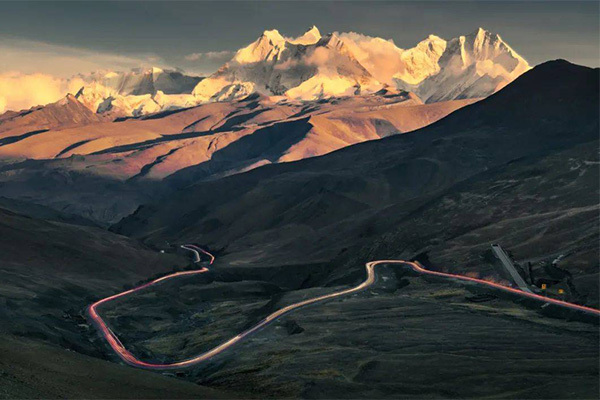 Montara Pass is about 5,400 meters above sea level. It is the highest pass on National Highway 219, the longest Highway in China. On the way from Nagarzê County to Luozha County, you will pass through this super snow mountain viewing platform - Montara Pass.  After crossing the pass, you can see the magnificent Kula Kangri and the winding mountain road below. In regard to the scenery, it's not second to Gaula Pass, which is a great place to admire Mt.Everest. 
Jiejiucuo Lake
Jiejiucuo Lake is like a green emerald belt inlaid in the mountains, showing deep blue from a distance. Standing on the hillside next to Jiejiucuo, you can take pictures of the reflection of Kula Kangri Snow Mountain.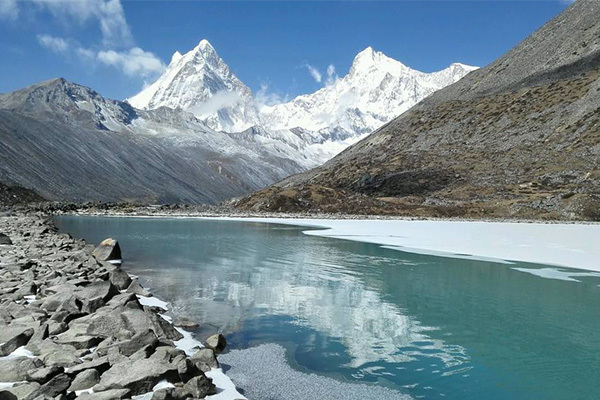 The surface of the lake presents a unique layer of milky white, blue, green and white colors, clean and pure. At the turn of Spring and Autumn, alpine rhododendrons bloom by the lake, which is very enchanting and beautiful. At this time, Jiejiucuo is also the best shooting spot for Kula Kangri. However, going to Jiejiucuo to see Kula Gangri in winter is another kind of unique dreamy beauty.
Best Time to Visit
The best time for Kula Kangri trek is generally in early May, early June, September and October. July and August are the rainy season, and the mountain peaks are often covered by clouds and mist, but the landscape sea of ​​clouds can only be seen in this period. At the end of May and early June, it is the season to watch the alpine rhododendrons bloom. The rainy season is over at the end of September, which is the best time to shoot snow-capped mountains as the sky becomes clearer and bluer.
Top Recommended Itinerary
In this route, you will see super-high-altitude beauty at one time. Between the peaks of Kura Kangri, there are many lakes such as Baima Lincuo, Jiejiucuo, Zhegongcuo, etc. Generally, we will use 6-7 days to start from Lhasa, head east, go to the Lhoka area, and spend three days hiking around Kula Kangri and holy lakes, and vice versa.
D1: Lhasa
D2: Lhasa → Samye Monastery → Yumbulagang Palace → Shannan/Cuomei
D3: Shannan/Cuomei → Far View Yarla Shampo → Zhegucuo → Kajiu Temple → Sexiang
D4: Sexiang → Baima Lincuo Lake → Cuoyu Village(Sexiang)
D5: Cuoyu Village → Zhegongcuo Lake → Cuoyu Village(Sexiang)
D6: Cuoyu Village → Jiejiucuo → Sexiang → Luozha County
D7: Luozha → Pumo Yumco Lake → Tui Village → Yamdroktso → Lhasa
It's comparable to EBC in Nepal for appreciating Snow-capped mountains, glaciers, lakes, and alpine rhododendrons in June.
Ask a Quick Question Below?
Email response within 0.5~24 hours.