Feedback from Customers
Ever since 2005, Great Tibet Tour designed and operated various and unique tours in Tibet with a team of Tibet travel experts. We are devoted to handpick the best things to do in Tibet tour so that you have a once-in-a-life experience. In the real customers' reviews and testimonials, you will know the diverse routes experienced by our customers and what they have said about our service, hotels, tour guides, sights, food, travel plans, etc. If you still have some question, you can directly contact us for detailed information.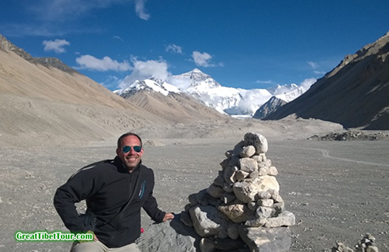 Tour: Lhasa to Everest Base Camp Group Tour - 8 Days
Traveler Info: Germany, 1Pax  
I had had a safe trip back to Germany. The trip was great. I really enjoyed. Awesome in culture and landscape.
Our guide did an awesome job. Please let him know that I really appreciated his knowledge and attitude.
The group was very nice. But 8 persons is the very max. I honestly expected a Smaller group fix with 4 to max 6 persons. Furthermore I wasn't very happy with the airport shuttle service. On Friday only 3 person left Lhasa to the airport. Because our flights left early we couldn't take the 9 am shuttle For some reason It wasn't possible to reschedule the shuttle and we had to go with a taxi.
Martin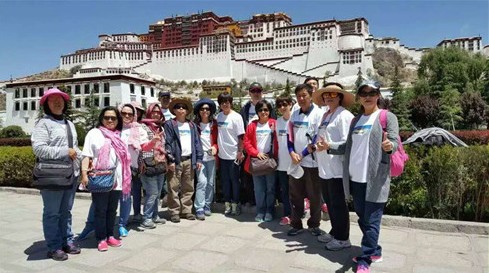 Tour: Lhasa Gyantse Shigatse Mt.Everest Tour - 8 Days
Traveller Info: Malaysia, 16Pax
你好, 邱
我是Miss Chong来自马来西亚。刚刚参加贵公司主办的成都西宁西藏11日团。30/5/16 -10/6/16. 在此要感谢贵公司细心提供的旅途, 让我们玩得尽兴, 平安归国。
我要谢谢您, Helen 及 Jayman的带队。Helen在短短的一天带我们游玩青海及日月峰, 她的讲解及照顾令我们非常满意; 还有另一位藏友导游, Jayman 令我们非常满意, 在此必须表扬他的服务。
1 非常守时
2 讲解专业,清晰。
3 在短期内能让顾客了解西藏的历史, 人文,宗教, 风俗习惯。他深入浅出的讲解, 让我们获益匪浅。幽默的风格让我们不会觉得沉闷, 的确令大家很开心。
4 对于身体不适的顾客, 常常给予关注与帮助, 令人感激。
5 非常有耐心, 从不对顾客有丝毫怠慢。
6 对工作抱着热忱的态度。
7 正能量强, 常常鼓励顾客不要畏惧高山反应, 因此大家没有什么身体不适。
8 常常关注顾客对饮食的喜好。
我们全部都非常满意Jayman的服务。在此感激您给我们一位非常棒的导游, 让我们西藏之旅留下非常美好的回忆。下次我们一定会向亲朋戚友推荐贵公司的服务。
Regards,
Chong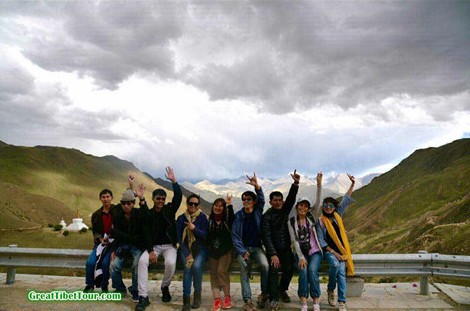 Arrived home safely. The last day out of Lhasa, there was in total 2 hours and 25 minutes flight delayed !! Luckily we still had some hours to catch the flight back to Bangkok.
The trip was great, Kyime and the driver were very flexible with us and they always smile, never show bad temper. That was really impressed. However I have a few comments.
*Pelkor monastery -- we already had entrace tickets but a monk did not allow us to get inside because we diid not pay for camera fee. We bought only one camera and the others kept their cameras in their backpacks but the monk still not allowed. That meant that only the one with paid camera could get inside the monastery and the other friends waited outside. I could get inside because I forgot to bring my backpack and no camera with me. The other friends were with backpacks and they all kept their cameras in their backpacks but the monk did not allow any way. They were not sure to leave cameras with the monk because their cameras were very expensive. Then we came here for what??? This was a big mistake. If Kyime told us in advance that the monk will not allow with backpacks and cameras, we would all leave cameras in the van and bought only one. Kyime would take tourists to this monastery very often and she should know the monk very well, But she failed to inform us in advance about the situation. We just missed the opportunity to see this beautiful monastery and the city view on top.
*On the way to EBC, we all already decided to stay at the Everest base camp when making a contract with you. But in a while, Kyime tried to persuade me to stay at a guest house instead. Telling us a worse situation with one group who stayed at the EBC and urged her to take them down fast in the early morning because of the cold weather. and she said the views at the guest house is much better than the EBC. and asked me to ask my friends to vote. We included the day at EBC because we want to feel the EBC but she asked me to vote. If I told my friends what she said, then my friends would be worried to stay at EBC. Fortunately I did not tell my friends and no vote because we already prepared for EBC. and the situation was all good and we had good experience at EBC.
Over all, we do like Kyime and the driver because they were very nice and patient, never show moody on their faces. We gave them a lot of tips. This is my feedback.
One day I may go to Kailash with my boyfriend. Will contact you again. Thank you for all your arrangements.
Best regards,
Ivy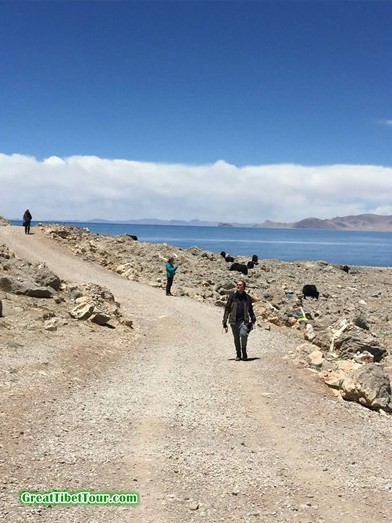 Tour: Lhasa Gyantse Shigatse Namtso Tour - 7 Days
Traveller Info: Austria, 2Pax
Yes, home safely, thank you, but not for long as I have to fly to Australia tomorrow. Anyway, we had a wonderful time and Lakdon was a great and cheerful guide, the driver very good and careful even going through the big mudslides 
I would definitely recommend you as a travel agent to my friends. You were very helpful and accommodating when we wanted to change things a bit, thank you very much!!
Kind regards
Dominique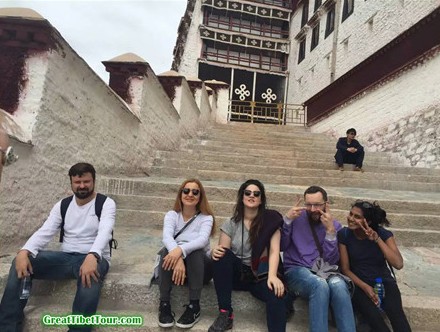 Tour: Lhasa & Ganden Monastery Tour - 5 Days
Traveller Info: Denmark & Sweden, 5Pax
The Tibet tour was great and the impression is indescribable. The guide was excellent, especially with his knowledge about the Buddhism. He was very kind and show us the best of Tibitan hospitality
However, our trips with the visits of the monasteries was solely based on the school of the " yellow " hats. it could be a idea during the planning phase to be advocated by you to see the different buddhistic school with the variety of the different buddhistic ideology.
George Michagin
Tour: Lhasa Gyantse Shigatse Everest Namtso Group Tour - 9 Days
Traveller Info: UK, 2Pax
Dear Great Tibet Tour
Thanks for a great trip.
I would particularly like to thank Apple for her first class customer service. She was there every step of the way and worked day and night to answer my questions.
Apple is amazing make her CEO
Marty
Tour: Lhasa Shigatse Mt.Everest Namtso Tour - 10 Days
Traveller Info: Austria, 3Pax
Thank you for organizing such a marvelous tour through Tibet for us. Please make sure to pass our regards to our excellent guide, who gave us a true insight into Tibetan culture.
I assure you that should the opportunity arise I will without hesitation recommend your travel agency.
All the best,
Philipp Buschmann
Tour: Lhasa to Everest Base Camp Group Tour - 8 Days
Traveller Info: Germany, 1Pax
Hallo Great Tibet Tour,
Schneller Service, alles perfekt organisiert und die einzige Agentur, die mir auch kurzfristig noch Tickets für den Peking-Lhasa Zug besorgen konnte. Keinerlei unerwartete Zusatzkosten und auch die Hotels haben meine Erwartungen übertroffen.
Ms Apple Wong, sie ist die Beste
Felix K.
Tour: Lhasa Namtso Tsetang Tour - 9 Days
Traveler Info: Singapore, 2Pax
Our feedback is provided below, thanks.
1. Booking and communication for the tour was very professionally executed (by Amy). Communication was efficient and clear, and we appreciate that we were kept well informed at every possible stage of the trip (i.e. even in Chengdu and Tibet)
2. Tour in Chengdu from 7 to 10 September
a. Both the driver and tour guide (Winnie) are pleasant and very helpful. Services provided have been excellent.
b. Winnie is very knowledgeable and pleasant. She went that extra mile to get us tickets for Chinese Opera show and took us back to the hotel after the show.
c. Hotel room is clean and location is conveniently located.
3. Tour in Tibet from 12 to 20 September
a. Our tour guide was given an itinerary that was a little bit different from our contract. There was also a change in the order of places to visit. This caused some confusion; our guide's name is Choedak, different from one that was told to us. We think there should be a better coordination between the agency in Lhasa and Chengdu.
b. The driver was good and he kept his vehicle clean. He is a safe driver.
c. Our tour guide has reasonably good knowledge of Tibet culture and traditions, generally helpful and showed concerns about our mild attack of altitude sickness which we appreciate.
Thank you!
Peng Sim and Yeoh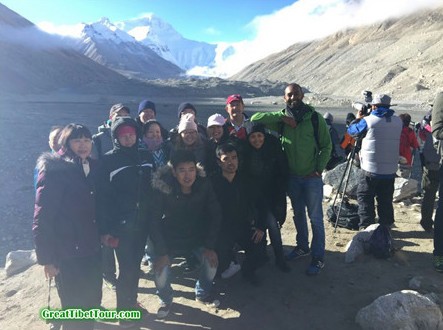 Tour: Lhasa to Everest Base Camp Group Tour - 8 Days
Traveller Info: France, 1Pax
It was a really interesting experience. Felt I gained insight of Tibetan culture. Really appreciated both tour guide and bus driver's attention to my needs. Thoroughly enjoyed the week.
And thanks so much for your help over the cancellation and delay of the Kathmandu flight, and being on the other side of the phone to guide me through the whole time at odd hours. Really appreciate this.
I ll definitely recommend you to my friends if they ever plan to come to Tibet.
Perpigna
Tour: Lhasa Gyantse Shigatse Everest Namtso Group Tour - 9 Days
Traveler Info: USA & Germany, 2Pax
Hello Amy,
I am sorry that it took me so long to give you a feedback. I was pretty busy the recent days /weeks and hope you can understand that. Let´s come to the feedback.
Tour guide: The tour guide (Ms. Qimei) was excellent! Her English speaking ability was very good. Additionally, she was welcoming, friendly and could score with profound knowledge about culture, history and environment.
Driver: The driver was all the time friendly and drove according to the rules. We all felt very safe during the trip.
Hotels: The hotels were also well chosen. The breakfast matched the western standard.
Vehicle: The vehicle was overall very comfortable.
Additional comment: Overall, I was very happy with the tour. The only thing, I would have wished for is to have had a detailed itinerary beforehand. Sometimes I was not sure, how exactly the next day was planned. I thought that the rough itinerary I received in the beginning could have been described more in detail.
Best regards,
Niveth Sureshkumar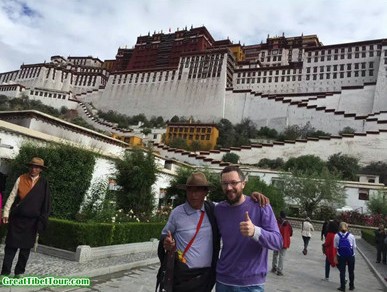 Tour: Lhasa to Everest Base Camp Group Tour - 8 Days
Traveler Info: USA, 1Pax
This trip was physically exhaustive, but worth it! Thank you for arranging it for me. The scenery is beautiful. The people charming. The Guide, Dhargye, the perfect balance between informative and reflective, who always smiled at children. His kind spirit was influential. and he was funny too.
I like the hotel in Lhasa very much, also the nomad tent at Mt Everest. But the one at Shigatse was poor. and I would certainly like more time in every attraction.
I may come back again next year with my wife. I ll contact you again.
BERNHART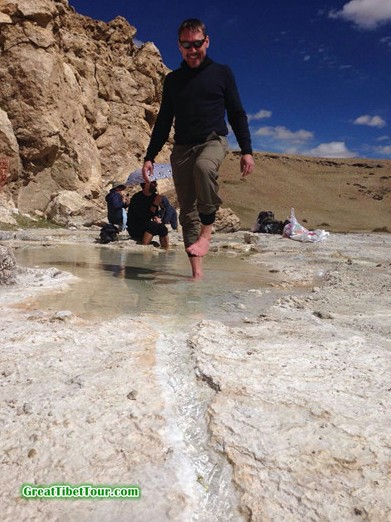 Tour: Mt. Everest & Ngari Off-The-Beaten-Path Tour - 19 Days
Traveler Info: China/USA/France/FRA/Germany/Russia, 5Pax
To future travellers,
We had a great experience with Great Tibet Tour this September! We are a group of friends from 5 different countries, and it was not so easy sometimes for non-Chinese to get the permits to see places outside Lhasa. Just imagine that you have to register yourself at the local PSB all the time... but Apple made this a carefree experience for us! She has been very spot on responsive from my very first touch point with her and she arranged everything for us.
Our Tibetan guide Jayman is very pleasant to travel with. He is knowledgeable, flexible and an honest person. We had a wonderful time with him.
An absolute Highlight is when we arrived at Qionglong Silver City, we found a place with ponds of hot spring. .. at the altitude of 4500 meters! It was magical to jump into the Mother River of India first and then to the hot spring. .. so many uplifting moments in this trip! And you must go to Ali... Once you have been there, you would understand what true Tibet is.
I highly recommend Apple, Jayman and Great Tibet Tour! They're not the cheapest one in the market, but the best one.
Best Regards,
Bing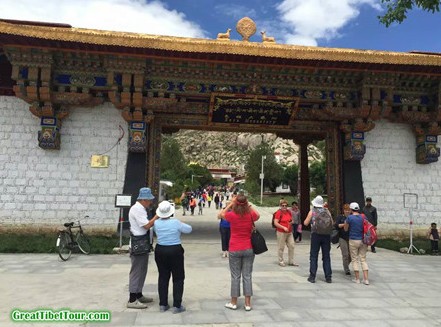 Tour: Lhasa Urban & Suburb Tour - 4 Days
Traveler Info: Denmark, 4Pax
We have been very satisfied with our driver Gummno, and our guide Lakdon.
He is a very good driver and we feel very safe all the time.
Lhkdon is a well prepared guide. She knows a lot about the places we have visited, and she is extremely good storyteller.
She knows everything about the religion, we think she has a very good humour too.
Next time we visit Lhasa, we want her again.
Thank you Apple, for well-organized four days.
Poul