Feedback from Customers
Ever since 2005, Great Tibet Tour designed and operated various and unique tours in Tibet with a team of Tibet travel experts. We are devoted to handpick the best things to do in Tibet tour so that you have a once-in-a-life experience. In the real customers' reviews and testimonials, you will know the diverse routes experienced by our customers and what they have said about our service, hotels, tour guides, sights, food, travel plans, etc. If you still have some question, you can directly contact us for detailed information.
Tour: Lhasa to Everest Base Camp Group Tour - 8 Days
Dear,
Our tour is finished and I will be leaving for the airport tomorrow. I first want to thank for recommending the Everest base camp tour. Since I had so little time and booked so late I was completely trusting your recommendation. It was fantastic and I just wanted to take a moment to thank you personally.
I don't think our tour would have been the same without the personal care and attention to our needs that Lobsun provided for us.
I think I can speak for the group in saying we are very grateful to have got him for a guide. He was extremely knowledgeable, he communicated well with us and seemed to have answers to all our questions. He always had a smile and a laugh and made sure we were comfortable and on schedule. I really rate his overall performance as excellent, 10+. Thank you and everyone for making this a very memorable experience.
Sincerely,
Henry Golobic
Tour: Lhasa Mt. Everest Kathmandu Overland Group Tour - 7 Days
Dear Caroline,
We got back on July 28 after the trip to Tibet and Bhutan. The journey through Tibet was absolutely fabulous. We enjoyed every minute of it.
It was meticulously organized and everything went to perfection. The guides and drivers we had (especially the guide and driver on the last four days) were excellent. The guide was very knowledgeable and the driver drove very carefully.

Thanks very much to you for organizing this trip so well. It was your efficiency and attention to detail that made it so enjoyable.

Thanks again for making it possible.
Bobby
Tour: Senior's Everest Base Camp Tour - 11 Days
Our trip was excellent!

It was a unique experience.

The driver was very polite and accommodating. He was always on time. He drove in a very safe manner and made us feel comfortable at all times during the trip. Very nice man. The vehicle was roomy and comfortable.
Our tour guide was excellent. He had a vast knowledge about the areas that we visited and also had extensive knowledge about the culture and country of Tibet. At all times, he made sure that we were comfortable with all aspects of the day. He even help to insure that we were able to get meals that were not too spicy! The pace that he set for each day was appropriate for our abilities. He was always ready to let us stop and take a rest break, especially during the first couple of days when we were adjusting to the altitude. Great person!
Tour and Agenda. The private tour for "older" people is the perfect way to see Tibet. We are both 70 and in "average" physical condition. The tour schedule allows for a slower start and initial days in Lhasa to adjust to the altitude. Also, the schedule does not put too much into one day. Once we departed from Lhasa and went to the higher altitudes, we did not have any problems with the heights because we were acclimated.

Best regards,

Harold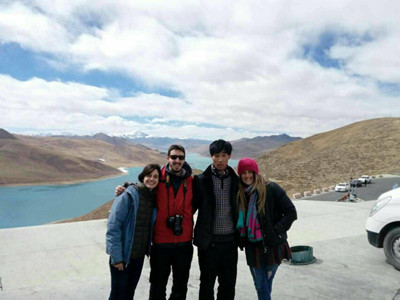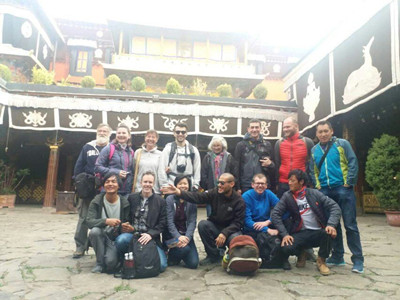 Tour: Lhasa to Everest Base Camp Group Tour - 8 Days
Traveler info: Canada, 4Pax
Mjanes home safely. Ross' now in India. All parts of tour where very good to excellent!!
Guides: Pendon in Tibet was outstanding; Mark was very good in Beijing....helped make the trip great. Their knowledge and answering questions really made it interesting for us.
Sights: accomodation, food...all interesting and good. Base camp, Namtso, Yamdrok...wow! Lhasa tour and city itself...very good. Beijing...great.
Drivers and vehicles: very good.
Train: lots of fun!!
Overall, would highly recommend tour and Great Tibet Tours!
I would also highly recommend dealing with you.....efficient, quick response, answer questions, everything turned out as you said. Excellent to deal with. Thank you very much for everything!
Kind regards...
Greg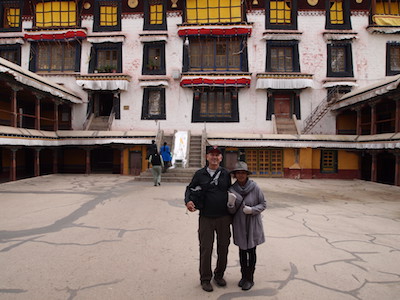 Tour: Lhasa Gyantse Shigatse Group Tour - 6 Days
Traveler info: USA, 1Pax
I have no complaints, the arrangements you made worked out well. From the round trip reservations from Chengdu to the permit to travel to Tibet, all of the details were addressed. Our guide, for the first four days, Chime met us at the airport, was knowledgeable, accessible and helpful. On the fifth day she departed with three of our tour members for Mt. Everest. Anna took over and led us through the Tashilhunpo Monastery and the train ride back to Lhasa. Our driver was good and stayed behind the scene. The tour group got along well with one another. I will treasure my memories of this trip.
Thanks for making this possible.
Walter W. Walthall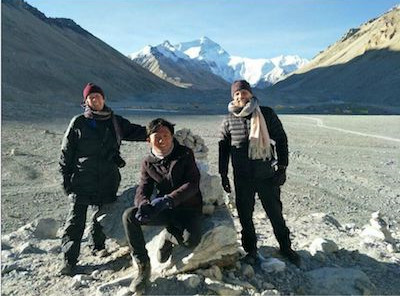 Tour: Lhasa to Everest Base Camp Group Tour - 8 Days
Traveler info: USA, 2Pax
We had a great experience on out tour in Tibet. The itinerary was great and well planned, all things were smooth as planned and we are very grateful.
We really appreciate your help and follow through during the whole process. Mengbo our tour guide was also very nice and kind and was very helpful all the time.
We only have one suggestion:
The staff members of the hotel in Shigatse spoke very little english but we got lucky Mengbo always helped us :)
Thank you again for everything.
Paola
Tour: Lhasa Gyantse Shigatse Everest Namtso Group Tour - 9 Days
Traveler info: USA, 1Pax
I am leaving Lhasa for Xi'an today. Lopsung gave me the official train schedule.
I had a wonderful trip, thanks to you. Also, our guide Lopsung is an excellent guide. He is passionate and knowledgeable about Tibetan culture and religion. He taught us a lot. Thank you again for your patience and all the follow-ups when I had questions. It was great to have you as my tour operator. I feel very lucky to have accomplished my goal to the Mr. Everest.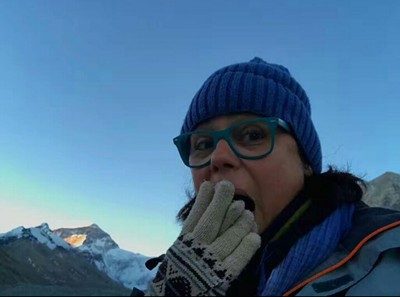 Tour: Lhasa to Everest Base Camp Group Tour - 8 Days
Traveler info: Brazil, 1Pax
The Tibet's tour was AWESOME ... Everything was perfect.
The guide was very smart, very good english, take care with everyone, the best guide on Tibet (he is Small Tenzin).
Enviado do meu iPhone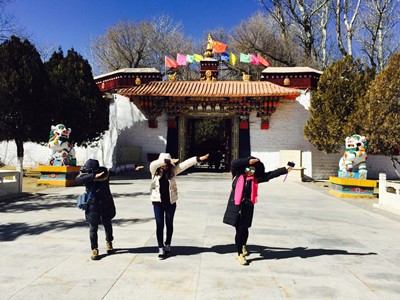 Tour: Lhasa & Ganden Monastery Tour - 5 Days
Traveler info: Vietnam, 3Pax
We came back home after long trip. I think to thanks for you, my tour guide & driver helped us have great time in Tibet. Tour guide speak English very well, work professional, reasonably good knowledge of Tibet culture, the driver is carefully. They was always willing to stop for us take photo and helped us had good picture.
The trip is really comfortable with the space, culture and people in Tibet.
Thanks all!
Nguyen Thu Huyen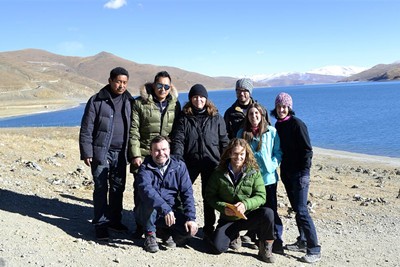 Tour: Lhasa to Everest Base Camp Group Tour - 8 Days
Traveler info:Canada, 1Pax
I really enjoy the Great Tibet tour. First when i started looking for a travel agency in Tibet it was hard because i did not know which one to choose. I started emailing you and asking my thousand questions and you were very nice and answer to all my questions.
I would definitely recommend your company. The guy at the hotel in Lhasa was very nice with us. He helped me a lot when my bank block my debit card and i was not able the withdraw money. He went with me to find a place where i can do international phone call to my bank in Canada. Our guide Djajie was a very good guide, very helpful, he said to us a lot of information but because english is not my first language i did not remember all the information he told us about Tibet.
The driver was very nice, always happy and singing. Too bad he was not speaking english so we were not able to communicate with him without the guide. I would appreciate sometime they eat with us at same table. they always eat at a separate table.
Tibetain were nice with us. For us they looked us because we were tourists but they were always, smiling at us and saying Hello. They wanted to take pictures with us, especially with the Australian light brown long hair !!
All hotel are well located in the city.
For pictures i sent you more then you asked because i like to take pictures. I am the only one in the tour who have a picture of the group.
Thanks :)
Tour: Lhasa Gyantse Shigatse Tour - 6 Days
Traveler Info: Netherlands, 2Pax
We have booked a trip with Greattibettours in November 2016. We have made a completely individual roundtrip and combined Tibet and a part of China. It took us half a year to prepare this trip and had great help of Cora. She was very patient and had a lot of energy to help us prepare the trip the way we wanted. It was perfectly arranged up to every detail: the several visa's and permits for tibet, the hotel accommodation in Beijing, return tickets from and to China and of course the trip within Tibet. It was arranged perfectly.
On arrival in Lhasa we were welcomed friendly by Jayman and his driver. Jayman informed us really well during our trip about the culture and history of Tibet. His knowledge about tempels and other sights is enormous and he knows how to tell about this with passion and integrity. We have listened to his stories with a lot of pleasure and interest. Jayman was very friendly and kind but he also know very well when to let us be. We have a lot of respect for the way he treated us during our trip.The driver also deserves some respect. He drove us around in a very competent and calm way. There was never any hurry and he was always willing to stop at our wish. They both deserve a big compliment!
The hotels on our way were perfectly fine. The food was good too and Jayman also guided us on this matter.
To conclude, I would definitely recommend Greattibettours for your trip to Tibet. Make sure you ask for Jayman as your personal guide!!!
Sake, Janneke en Tineke
the Netherlands
Nationality: America
Tour: 8-Day Lhasa Shigatse Everest Tour(PRIVATE)
Everything went perfectly well. The driver drove us carefully and it was a convenient jeep.
Our guide was well educated, he spoke English fluently and was able to give us all the background- information about Tibet, the monasteries, etc. we were interested in.
Many thanks for organising all the permits, train-tickets, etc. We received everything  on time.
Thanks once again,
all the best,
Nicole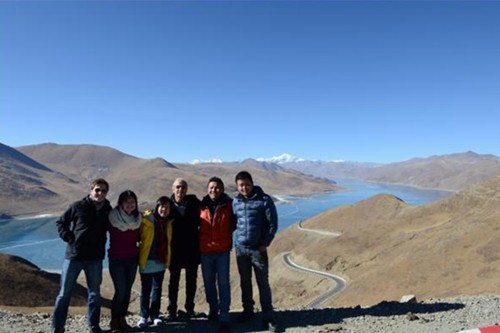 Nationality: Italy
Tour: 7-Day Lhasa Gyangtse Shigatse Tour(PRIVATE)
I'm just leaving Tibet and I want to thank you for the very good organization.
Up to now everything was OK, thanks to the experienced and very nice guide (Songpa) and driver (Bhasa). Sorry if I'm wrong in writing their names…..
Thanks to all of you and many wishes for the future of this wonderful country.
Camilla M.
Nationality: Germany
Tour: 5-Day Tsedang Shigatse Lhasa Tour(PRIVATE)
Just now we are back in Beijing - everything was well.
Thank also for the last action in Lhasa.
Do you got the flight confirmation Sanya -> Beijing on 2012-10-09 yet?
Joerg
Nationality: New Zealand
Tour: 4-Day Lhasa City Tour(PRIVATE)
My tour was amazing and my guide Tseang (shaun), was amazing… his knowledge is incredible. Please use him again as your customers will be very happy…      
Anthony C.