7 Days Lhasa Gyantse Shigatse Namtso Tour
Lhasa Gyantse Shigatse Namtso Tour
Duration:

7 Days

Price:

From

USD1580

Route:

Lhasa-Shigatse-Namtso-Lhasa

Season:

Spring
Summer
Autumn
Winter

Tour Type:

Private Tour
Add

to Favorites
Overview
This golden route covers the two largest cities - Lhasa and Shigatse and two of three holy lakes - Yamdrok Lake and Namtso Lake, showing you the real highlights of Tibet including its plateau landscapes, snow-capped mountains , lakes, monasteries and ancient buildings. You will visit the Potala Palace, Jokhang Temple, Barkhor Street, etc. in Lhasa to learn about the unique local culture and customs; then you will go to Shigatse through Yamdroktso Lake. Along the way, you will appreciate the Karola Glacier - one of the three major continental glaciers in Tibet, the exquisite Gyantse Kumbum, and the Tashilunpo Monastery, the most representative monastery in the Ü‑Tsang region of Tibet. Finally, you will head to Namtso, the heavenly lake in Tibetan. If the weather permits, you can also do a short hike on the Tashi Peninsula.
| Day | Route | Attractions & Activities |
| --- | --- | --- |
| 1 | Arrival in Lhasa (3650m) | Pick up and transfer to the hotel |
| 2 | Lhasa Sightseeing | The Potala Palace, Jokhang Temple, Barkhor Street |
| 3 | Lhasa Sightseeing | Drak Yerpa, Sera Monastery |
| 4 | Lhasa- Gyantse(4040m)- Shigatse(3840m), 360km, Approx. 6hrs | Yamdroktso Lake, Karola Glacier, Pelkor Chöde Monastery |
| 5 | Shigatse-Namtso lake (4600m), 380km, Approx 7.5hrs | Namtso Lake, Tashilunpo Monastery |
| 6 | Namtso – Yampachen(4300m) – Tsurphu(4300m) – Lhasa(3650m), 250km, Approx 5hrs | Tsurphu Monastery |
| 7 | Lhasa departure | Send off to the airport/railway station |
This is the first day in Tibet. Your guide will greet you at Lhasa Gonggar Airport/Railway Station and transfer you to your hotel. It usually takes around 1.5 hours to drive from Lhasa Airport to downtown Lhasa and takes about 20mins from Lhasa Railway Station. Tourists could have a look at the Yarlung Tsangpo River, the largest and longest river in Tibet on their way to the hotel. After check-in, you can have a good rest first. And if you feel like going out, you can wander around the city. But just remember that don't take too much stuff, try to go with a light pack. Meanwhile, drink some more water, do not move strenuously. It's really useful to get acclimatized to the high altitude.
Stay overnight in Lhasa
After resting one night, today you will recover sufficiently to launch your Lhasa city tour, with close contact with Lhasa, which is the political, economic, cultural, communication and tourism center of Tibet with a history of over 1300 years.
At first, you will go to the Potala Palace, which is the symbolic place of Lhasa and also the winter palace of the Dalai Lama. It was built by the 33rd great king of Tibet - Songtsen Gangpo in the 7th century. The gilded burial stupas of former Dalai Lamas and the meditation Cave of the 33rd great king are the most worth seeing in Potala Palace.
After lunch, you are going to Jokhang Temple, which was founded at the same time and by the same king as Potala Palace. From the outside, you can see many pilgrims prostrating in front of the temple. The most precious treasure of this temple is the statue of Buddha Sakyamuni at the age of 12.
Barkhor street is the next destination that women love a lot. Because it's a famous busy walking street where they can go shopping. There are many distinctive shops and stalls that sell different Tibetan stuff, like handicrafts, Thangka, and so on. Except for shopping, tourists can also join the Kora with pilgrims and locals, to explore Tibetan religious culture more deeply.
Optional:
You can go to visit the Tibetan handicraft art or Tibetan Traditional Medicine center if time is enough. You can also watch the Tibetan Culture Show in the evening for USD60 per person at your own expense.
Stay overnight in Lhasa
In the morning, you are heading to Drak Yerpa, the most famous meditation retreat near Lhasa. It's a monastery embedded in the cliff wall. Drak Yerpa is described as the "life tree" or spiritual axis of Lhasa. The site had strong spiritual power, having been visited by almost all great Tibetan masters. You can feel the power of the meditation caves here.
In the afternoon, you will pay a visit to Sera Monastery, which is one of the "great three" Gelug monasteries of Tibet. Monks debate from 3 pm to 5 pm. If the debate is not your type, you can also enjoy the three sand Mandalas and colorful Rock paintings of Buddha. The sight here is splendid because you can see wild roses around. That's why people also call it "the court of wild rose."
Stay overnight in Lhasa
You will go to Shigatse from Lhasa via Gyantse today. Firstly, you can have a glimpse of Yamdroktso Lake at Gampala pass(4790m), from there you will be amazed by the breathtaking view of the holy Yamdrok Lake with its turquoise color and snow-capped mount Nyenchen Khangsar in the distance.
Then you will see the Korala Glacier when we pass it on the roadside. After that, we will arrive in Gyantse. Here we'll visit Palkhor Chode monastery. This magnificent multi-door structure is the largest stupa in Tibet, not only well known for its architecture but also for its old sculptures and paintings all around its inner walls.
Stay overnight in Shigatse
In the morning, tourists will visit the famous Tashilunpo Monastery, the home of Panchen Lama. It's a typical Gelugpa Temple.
After that, you are going to see Namtso lake, one of the three most holy lakes in Tibet. It's also the third largest salt lake in China and the highest lake in the world. The name of Namtso means "lake from heaven" in the Tibetan language. And the gorgeous landscape is really like from heaven. You can enjoy one night here, and please get up early to feel the special sunrise the next day.
Stay overnight in guestroom at the lakeside
Today may be the most relax day during this journey because tourists are going to Yampachen. Located 92km from Lhasa city, Yampachen is rich in geothermal energy and is known for hot spring bath. People enjoy the blue sky and white cloud when taking a bath in therapeutic hot spring. How romantic the feeling is!
After the bath, you will go to visit Tsurphu Monastery, the last attraction in your tour. It's the main monastery of Karma Kargyu. And the remarkable system of Tibetan Buddhism reincarnation was originated from there.
Then after driving about 2 hours, you will get back to Lhasa.
Stay overnight in Lhasa
Your tour ends today. Our guide and driver will collect you from your hotel and transfer you to Lhasa Airport/Railway Station for your next destination.
Tour Price and Service
From US$1580 p/p
Based on 3-star hotels for 2 people in low seasons. Price varies according to travel season, number of people and level of accommodation.
INCLUSIONS
Tibet Tourism Bureau Permit (TTB) and all other necessary permits to Tibet;
All entrance tickets fee for tourist attractions listed in the itinerary;
Experienced local English-speaking tour guide;
Travel-licensed vehicle according to group size & season as itinerary needed including gas and parking fee;
All lodging listed in the itinerary; it's your decision about the accommodation class: luxury 5-star international hotel, comfortable 4-star hotel, economic 3-star hotel, or guesthouse. Please tell us your preference;
All meals listed in the above itinerary;
Pick-up & Drop-off service from Airport/railway station;
Travel Agency Liability insurance;
Government tax;
Express delivery fee of Permit (eg. SF. Express);
Food & lodgings for guide & driver;
Oxygen tank for emergency use;
Sleeping bags;
Two bottles of mineral water per person per day.
---
EXCLUSIONS
International flight to and out of China;
Chinese Visa/China Group Visa; (Note: we could help you by providing the hotel or domestic flight reservation copies for your Chinese Visa or the invitation letter for your China Group Visa)
Domestic flight/train to and out of Lhasa; (We can help you book the domestic flight/train ticket at the BEST price. Please contact us for details.)
Meals are not included but we will recommend some good ones for you according to your requirements. Usually, it takes 3-10 USD per person for each meal.
While the gratuity for guide and driver is NOT mandatory, it is expected. Based on their service, you can tip them on the last day of the tour. Each of you is suggested to tip them 5-10 USD/day in total;
All the commission and tax charged by PayPal, Bank, and government when making payment. (e.g. PayPal --- 4.2%. Wire transfer --- 2%);
Personal expenses, like laundry, phone call, snacks, soft drinks, optional tour activities, etc.
Anything not mentioned in the Inclusions.
What Our Customers Say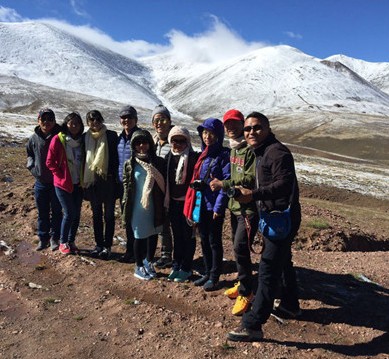 The day before yesterday, when we went to Lhasa airport to fly back to Chongquing, my friend also could not breathe at the airport and the officers, doctors there had to call the Ambulance. However, lucky us that after 1 hour, she could go to the plane by the help of a wheelchair after signing an en ....
Read more testimonials...
INQUIRY ABOUT THE TRIP
Email response within 0.5~24 hours.