Tibet Travel Agency
Due to the sensitive geographical location, foreigners are allowed to enter Tibet only by holding a Tibet Travel Permit and accompanying by a Tibetan travel guide. And all Tibet tours must be organized by a local Tibet travel agency, which is the premise of applying for your Tibet Travel Permit. That means you can not go there randomly. So choosing a reliable Tibetan travel agency is the first important thing for your Tibet Trip.
Great Tibet Tour is a local travel agency and tour operator located in Lhasa since 2005. It's recommended by Lonely Planet Tibet, in the 8th edition, 2011. During the past 16 years, we keep running tours in Tibet successfully including tailor-made private tour packages and join-in group tour packages. Thousands of travelers from all over the world became our guests and realized their Tibet dreams.
We serve every traveler wholeheartedly, you're our guest rather than a client. To welcome travelers all around the world, our travel experts designed various tour packages to meet different travelers' needs, interests and budgets. Here you will find everything you need for planning and realizing your Tibet holiday.
Besides, choosing a local operator means choosing a reasonable tour price. If you sign up with intermediate agencies, you will be forwarded to the local Tibet tour operators to arrange your trip, as they are not authorized to get the permit or run tour business in Tibet. And, we have to say, the unexpected instance occurs to every travel agency, even the best one. We hope all travelers could find the right Tibet travel agency that can offer both competitive prices and experienced customer services to deal with all emergencies.
Choosing a good travel agency is the most important thing before you depart for Tibet. We are reputable, trusty, and passionate. Please contact us and be our guest, we will show you the beauty of Tibet and offer you a once-in-a-lifetime journey.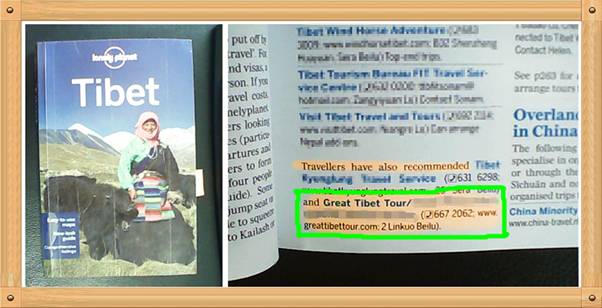 Great Tibet Tour is recommended by Lonely Planet Tibet, in the 8th edition, 2011
Email response within 0.5~24 hours.