Great Tibet Tour is a local travel agency located in Lhasa. During the past 15 years, we keep running tours in Tibet successfully including tailor-made private tour packages and join-in group tour packages. Thousands of travelers from all over the world became our guests and realized their Tibet dreams.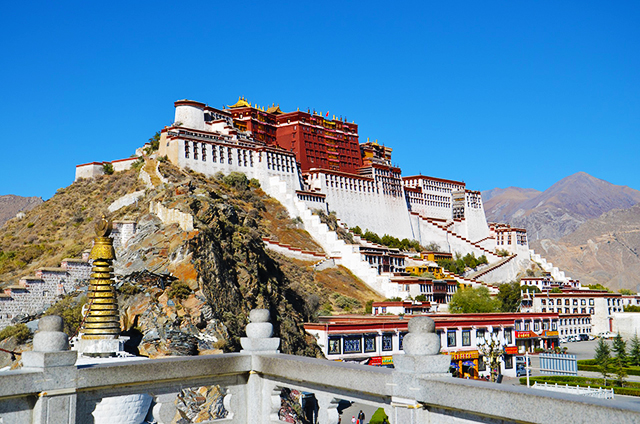 Grand Potala Palace, the landmark of Lhasa city.
Nowadays, more and more travelers want to explore Tibet with the company of a Tibetan travel guide. If you search on the Internet, you'll find that all of the travel agencies claim that they offer Tibetan guides. However, it's not always real. But we are trusty. We guarantee you Tibetan born and bred travel guides and drivers. Nobody knows the land better than them, and they are always looking forward to showing the beauty of their hometown to you. We offer hand-picked hotels and restaurants to give you good rests and meals after a colorful day. If you haven't enjoyed the same service as we promised, you can have your money back.
We serve every traveler wholeheartedly, you're our guest rather than a client. To welcome travelers all around the world, our travel experts designed various tour packages to meet different travelers' needs, interests and budgets. We offer group tours and private tours, and you can choose your favorite itinerary freely. It's an ideal choice to realize your Tibet dream with us.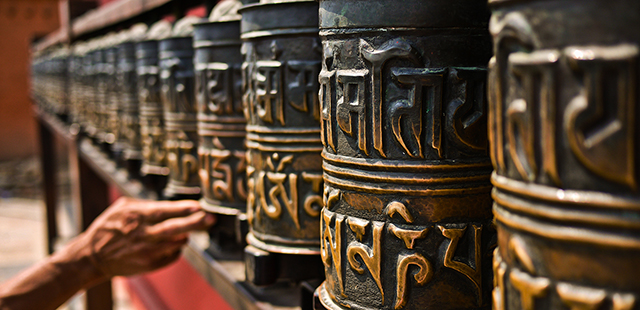 Prayer wheels - every circle means one time to recite the Buddhist sutra.
In our group tours, we offer planned itineraries with cheap price. It is known to all the travelers that travel in Tibet is expensive, since the costs of hotels and transports are higher than those in mainland cities of China. To explore Tibet with less money, it's a good idea to choose group tours. We believe that everyone deserves the opportunity to travel in Tibet, therefore our group tours are affordable. You can share the charge of guides, drivers, and vehicles with our travelers in the group, and make friends with those interesting spirits during your Tibet tour. Each group holds a maximum of 12 members, usually, there're 3 to 5. With good safety records, we offer comfortable vehicles and oxygen cans, so please don't worry about the altitude sickness too much.
We offer Lhasa group tours, which will take you about 4 days to explore this ancient city. You can stroll in the streets, enjoy the sunlight and pay a visit to must-see sights. Stepping into the splendid Potala Palace, admire pilgrims in front of Jokhang Temple, and shop Tibetan traditional handicrafts in Barkhor Street will be the highlights in your Tibet tour. If you plan to spend more days in this mysterious land, we offer other tour packages that will take you to remote areas in Tibet. Joining the Everest Base Camp tour, you'll stand at the foot of the highest peak in the world. Stunning sunset and sunrise of golden Everest Peak will be an unforgettable memory in your whole life. You also have the opportunity to kora around the holiest mountain in the world - Mount Kailash, which is also been regarded as the center of the world. By going this route, you will see almost all of the major attractions in Tibet along the way.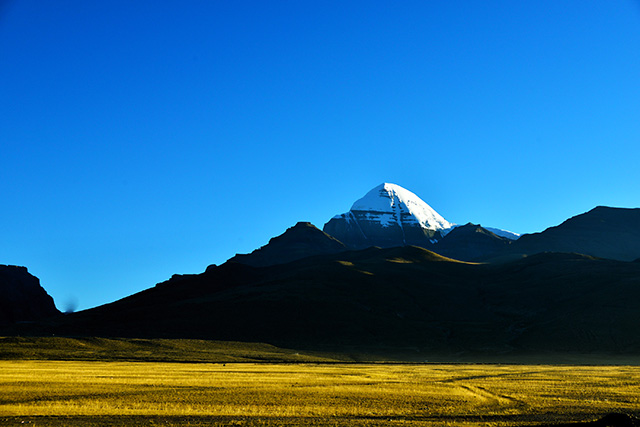 Mt. Kailash - thousands of pilgrims come here every year.
We also offer a customizable private tour. If you are a unique traveler who wants to explore this holy land freely, you can make your own itinerary with the help of our travel consultants.
Choosing a good travel agency is the most important thing before you depart for Tibet. We are reputable, trusty and passionate. Please contact us and be our guest, we will show you the beauty of Tibet and offer you a once-in-a-lifetime journey.
Ask a Quick Question Below? Or Call 0086-891-6679450
Email response within 0.5~24 hours.