Feedback from Customers
Ever since 2005, Great Tibet Tour designed and operated various and unique tours in Tibet with a team of Tibet travel experts. We are devoted to handpick the best things to do in Tibet tour so that you have a once-in-a-life experience. In the real customers' reviews and testimonials, you will know the diverse routes experienced by our customers and what they have said about our service, hotels, tour guides, sights, food, travel plans, etc. If you still have some question, you can directly contact us for detailed information.
Nationality: Thailand
Tour: 6-Day Lhasa Gyangtse Shigatse Tour(PRIVATE)
We all have arrived home safety. We would like to thank you for your arrangement of our Tibet trip. We had a great time and really enjoyed our holiday in Tibet.
Also, we would like to thank our local guide Jamyang, he was really nice and very deep knowledge about Tibet. He was very friendly and helpful to us. We are really appreciate in his service.
Please send our regards to him.
I'll recommend your company to the others and hope to visit Tibet again. Thank you for your help and everything.
Oracha and friends
Nationality: Canada
Tour: 9-Day Lhasa Tsetang Shigatse Tour(PRIVATE)
We enjoyed the trip a lot. The tour guide Lobsang and the driver Basang were happy to deal with. Highly recommend them to your future clients.
And thank you for your service.
Carol
Tour: Lhasa Gyantse Shigatse Group Tour - 6 Days
Nationality: Germany
I just want that you know, that I am back home.The body needs a little recreation.
Let me say "Thank you for your awesome arrangement". You have done many more things than a customer can expect from a travel agency.
Your personal service is great! When I travel again to Tibet, I will book only with your agency. Of course, I will also tell my friends of "Great Tibet Tours" and recommend you. I was pleasantly surprised that I was possible to correspond with you in a perfect English!
Again Thank you very much for everything and
Georg
Tour: Lhasa Gyantse Shigatse Group Tour - 6 Days
Nationality: Canada
We arrived safely back home again. We had a great trip. Guilin and Tibet were my favorite places.
The tour with Lhakdon and the driver Passang around Tibet was excellent. I do not think they could have done more.
The only little problem was with the delivery of the permit. We had a nice little walk from the hotel in Shangri-La to the airport and back.(about 45 min each way). We found the right office with no problem.(I do not know why we had to pay extra for the delivery.)
I will recommend you to my friends when they want to visit Tibet
Cheers
Ed
Tour: Lhasa Gyantse Shigatse Group Tour - 6 Days
Nationality: Italy
We are just arrived  back home from Tokyo. I would like to be again in Lhasa, enjoying that beautiful weather and place!
Here i am to write you all my feedbacks at the end of our trip in Tibet.
To start, I have to tell you that everything was wonderful, amazing.
Your agency, and you in particular, have been very professional, always ready to write back to me from China to Italy while we were organizing our trip at the beginning of this experience.
I have contacted many agencies but i have decided to use Great TIbet Tour because you were so smart, ready, quick in your answers by email. You were able to understand averything very quickly, all our necessities, doubts, enquiries. The tour that you have done for us was exactely what I was looking for. You were able to meet our budget ensuring to us a great experience. That's what I can say about our planning period from China to Italy. Congratulations.
Regarding our tour in Tibet, as soon as we arrived in Lhasa, the tour guide and the driver were ready and were waiting for us. From the beginning I have immediately realized that they both were very good persons, they heve always been focused on our well-being.
When we arrived in the hotel, Dekang hotel, unfortunately we saw a very dirty hotel. The room was absolutely dirty, not comfortable, terribly smelly and extrimely cold. The bathroom was absolutely dirty. It was absolutely impossible for us to stay there and for this reason I have immediately contacted you Amy as my travel consultant. I have really to congratulate with you and with your agency. As soon as I told you that the situation with the htel was very difficult to accept for us, you have done your best to help us. In less than 20minutes our tour guide was back to Dekang hotel and He has taken us to another hotel. We really did not have any inconveniences because everything was made so quickly and with professionality.
30 minutes later we were in the Yak hotel. This hotel was amazing, absolutely comfortable, very very clean. The room was fantastic, clean, the bathroom had all the facilities required from a 3 stars hotel. Really, i want to congratulate with you because that's make the difference!!! being able to face a difficulty like this and solve the problem in a souch perfect manner makes you a real professional agency. I do not know how to thank you again for your support and help. From that moment I have understood that you are a very serious agency, able to take care of your guests even during the trip.
To continue with my feedback, I can say that the trip has been organized very very well. Times for visits were perfect, the places that we have seen were absolutely fantastic. We enjoyed Lhasa very much, thanks to the position of the Yak hotel that was very very close to Bakhos street. Our visits to Drepung and Sera monasteries were unforgettable. Our trip to Shigatse were comfortable, the car or better minivan that we had was absolutely perfect.
The hotel in Shigatse was amazing, very clean, the staff was absolutely kind, the room was perfectly equipped, clean, we enjoyed this hotel very very much. The landscape that we have seen on our way to Gyantse and Lhasa was something unforgettable. WE had a very very great tour with you. Everything was perfect.
I have to say that everything was perfect because we had a very very special tour guide. His name is Lobsang. I have no words to explain how he was with us. He was the best tour guide we could ever have in Tibet. Lobsang was kind, friendly,always focused on our necessities. His knowledge about Tibet is really incredible and He was able to impress us very much. All my best feedbacks for Lobsang are not enough to say what He was for us. Reallu I want to congratulate with him because he hase made the difference in our Tibet tour.
I will tell to all my friends that want to visiti TIbet to use your agency, to contact Amy and to have LObsang like tour guide. IN this way the success is ensured!
Really thank you very much for everything to Amy for her help, to Lobsang that was like an angel for us. Really thanks to TIbet, the most beautiful place that I have never seen in all my life.
I will promise , I will come again...with great tibet tour obviously!!
Alberto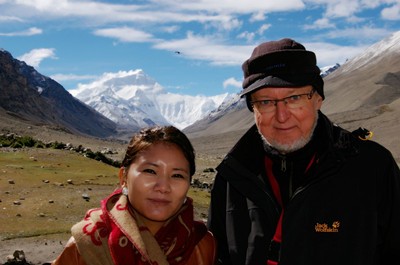 Nationality: Belgium
Tour: 16-Day Lhasa Tsetang Shigatse Everest Tour(PRIVATE)
I was also sorry to fly back home earlier but our experience in Tibet has been fantastic.
The guide and the driver were very kind. The organisation was perfect. People are very nice in Tibet.
I appreciated the help we received from your agency to adapt a new program.
I will warmly recommend your travel agency to friends
Thank you for all
Best regards
Michel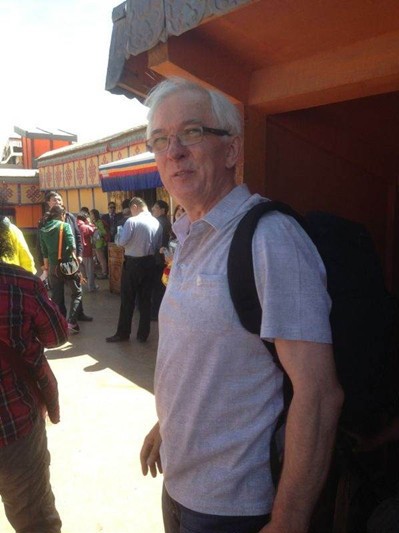 Nationality: Germany
Tour: 4-Day Lhasa & Yamdrotso Lake Tour(PRIVATE)
It was a very nice trip and we enjoy. The weather was perfect and we have had a lot of fun.
The air is very thin and the sun extreme. We all got burned lips and sore muscles from hiking. J
Some information for you:
Train:
Soft sleeper must be, I saw the other one and it is not expectable for foreigners
Meal good and low price. 20 dishes on the dining map but only 4 available
For the toilet you need rubber boots. The floor was very wet, like a swimming pool. No toilet paper available.
Pick up from the railway station: perfect
Hotel
Room very good
restaurant / drinks very expensive / not all meal available
Tours
Perfect
Museum not interesting
Guide
Ms. Lhakdon perfect / reliably. Greetings to the lady.
Driver, no support (no open doors, no baggage help, car dirty windows), to fast in the mountains.
Evening
We found some good chip restaurants (Tibet Steak House, Mandela roof top).
Steak 40RMB / Beer 10RMB. Hotel for the same 300/44
On this point you must work and give the travelers more information.
Additional
Not on all points its allowed to make picture. Lot of policeman in the city.
If you have any question, please feel free to let me know.
诚挚问侯 / Mit freundlichen Grüßen / Best regards
Klaus G.
克劳斯
Nationality: Germany
Tour: 5-Day Lhasa Namtso Tour(PRIVATE)
I had a wonderful time and enjoyed it very much!!!
Especially the guide was great! I can recommend it him very much: his English was very good, he was friendly and polite and very knowledgable!! Just great!
All in all i am quite happy and all went very well and smooth, which is the most important thing!
thanks for all you help and maybe I will see you in Chnegdu one day :-)
Cheers
Gerrit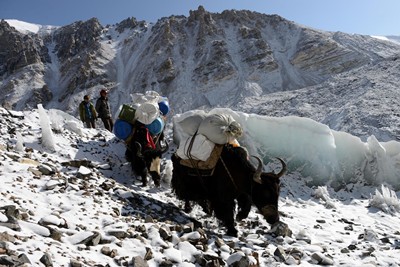 Nationality: Thailand
Tour: 15-Day Tingri to Everest Base Camp Trekking Tour(PRIVATE)
We are now sit back and relax at our home in Bkk enjoy Thai food after 14 days away.
Pasang and the driver did a very good job,We were satisfy with services they provided during our trip in Tibet.
We also impress in the service mind of Ms Eno she made our short stay in Chengdu a good one both arrival and departure.
Last but not least you are the key to make our trip to China in last two weeks the memorable one for us.
This is a fantastic trip in 2013 for us. Once again We would like to express our sincere thank you to you and yr team.
FYI:We are interesting to visit China again in 2014 for Silk road tour via Xian timing not yet fix however duration of stay may be the same as this trip, please let us know in case you also involve in planning the trip else where in China beside Tibet.
Thanks
Vanchai/Unchalee
Nationality: Germany
Tour: 5-Day Lhasa Ganden Tour(PRIVATE)
sorry about my late re-answer. Now, I saw some pictures about your Monlam Prayer Festival. It looks very great, and I am so happy, to understand so much.
Please, could you give the two pictures to Wangchuk and please tell him, that I don´t have his email-address (Wangchuk1987@gmail isn´t correct, I mean).
I wish you the best,
Yours
Peter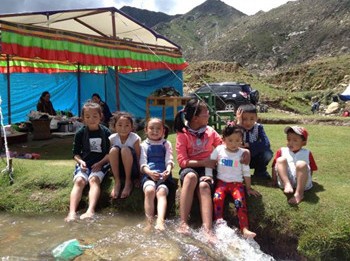 Nationality: Netherland
Tour: 15-Day Ganden to Samye Trek + Everest Kathmandu Overland Tour(PRIVATE+ GROUP)
After I spoke to you for the last time, a lot happened. I had a wonderful journey I must say. I enjoyed it very much. Good balanced program and good service. Very friendly and goodhearted people I met as guides and driver.
Especially the Ganden trekking was great, even had snow! Very enjoyable regardless of the fact that we could not walk the entire route due to high waters in river. In agreement we changed plan and found alternative. Local organisation understood and agreed upon this change. Finally I met two other very nice travel companions for the group part. Great time at Everest with splendid weather.
I filled in the feedback forms I received from the guides. Some points of attention:
- pronounciation of english language of Pasang should be improved. Due to strong local accent it is by times very difficult to understand.
- the breakfast of Tibet House Hotel is not appropriate for western people. Good coffee with bread and an omelette is the minimum. Not tastless porridge and some coal leaves. It was so much better in Hotel Dekang. There it was very good. Tibet House also has warm water problems in some rooms.
- Safety in the car needs to be improved. Buckling up not possible because cover blocks buckle locks.
- Guide Tashi of the second (group) part of the trip was very helpful and very well communicating.
See the negative points as an improvement opportunity. They were not crucial for me.
Also I owe you a great thank you for organising so well and helping me out to make this unique trip! Good work. Well done! I will definitely recommend you for people who want to visit Tibet  
All well and thanks.
Joop
Nationality: Canada
Tour: 7-Day Lhasa Gyantse Tour(PRIVATE)
Tahshi deleh!
I had a great time in Tibet. Guide and driver and yourself did a very professional job.
I would recommend your service anytime.
Fred
Nationality: America
Tour: 4-Days Lhasa City Tour(PRIVATE)
Thank you for making our Tibetan tour possible. Tashi Dawa was outstanding in every way.  He met us at the airport, presented us with white sashes and welcomed us to Tibet.
He was very knowledgeable about Tibetan culture and gave us a very thorough history of Tibet as well as Buddhism.  We were treated like royalty.  He insisted on helping  me up the steep steps in the Palace and monasterys 's well as on any of the uneven pavement.  He also offered to help my husband carry items. I cannot think of any one I would recommend more than Tashi Dawa for his kindness, patience, extensive knowledge of Tibetan culture and history as well as Buddhism.  He offered to escort us in the evening as well but we were adjusting to the altitude and needed to stay in for the evening.  Each day he reminded us to take it slowly, breathe, and rest.  We were never rushed. My husband has a masters degree in World History and was really impressed with Tashi;s extensive knowledge of the culture and history.  We asked numerous questions and Tashi answered them thoughtfully and patiently.  He knew I was a photographer and let me know the places I could and could not take photographs and also arranged for me to take photos when appropriate and when it was posted that photos could be taken with a required amount of money.  He handled everything and never rushed me when I was taking photographs.  Tashi also took us to very good places to eat and helped  us with  menu choices.  I found Tashi very kind and attentive to both my husband and I.  I would highly recommend him to your customers he is the best guide we have ever had or hope to have. When we return to Tibet we will be requesting Tashi Dawa.  Although we were only in  Tibet for four days, he made our trip out of this world.  The pace and timing were ideal for us, never rushed and always filled with interesting information about the culture and history.  Tashi is a real gem.  he is worth his weight in gold.  I have worked with many, many people in my career and none has impressed me more as a genuine and sincere human being interested in others and sharing his culture.
The driver was very quiet but drove very cautiously and professionally.  Smooth never jerky movements.  Always right there when we were finished touring or within a few minutes.  He had a very professional manner.  We liked him very much.  He and Tashi work very well together.  The vehicle was very clean and smelled fresh and was very comfortable. The hotel was cold the first night no heat but we were moved the next morning and had very comfortable and clean bedding.   Very nice staff very friendly and personable.  The breakfast was also very good but there was no dinner in the evening.  We tried on three occasions to find out when dinner was served but none seemed available.  We ate out within walking distance.
I also filled out a form that I turned into Tashi Dawa the day we were leaving. Please let me know if you have any other questions.  Again, our sincere thanks for all you did to help us see Tibet.  What a beautiful experience and people.  We will be returning next year hopefully for 10 days  and requesting Tashi Dawa and your company.
Christine and Mark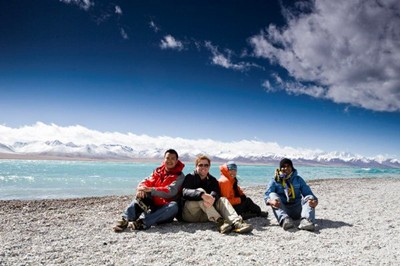 Nationality: Czech
Tour: 8-Day Lhasa Shigatse Mt. Everest Tour(PRIVATE)
We have safely returned to our country. Me and my dad enjoyed traveling in Tibet very much. What a beautiful country! Everything went very smoothly in accordance to our contract. We would especially like to praise our guide Cheng who was very experienced and well prepared. The only thing (and I have already told you that) is about the guy who gave us the train ticket who supposed to speak English but he did not. For the next customers it might a significant problem. Overall, the experience was fantastic and we have nothing to complain about.
Anyway, my dad´s friend is planning to go to Tibet as well and is asking me for some travel agency. Therefore, I gave him your contact so he should contact you any time soon. His name is Tomas Slimacek so please take as good care of him as you did with us :)
Eva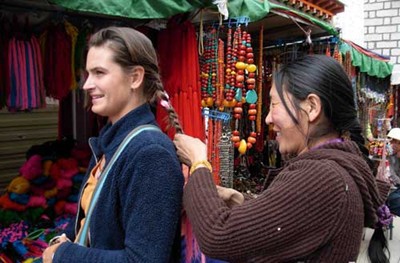 Nationality: Germany
Tour: 4-Day Lhasa City Tour(PRIVATE)
I arrived back in Germany yesterday and was really very happy that it was possible that I went.
I am also really pleased and appreciate your services and way of communication highly.
I was very content with your services. There was a a bit of a communication problem I think between your office and the people in Lhasa, I had to wait more than one hour till someone picked me up. I think they still thought I am arriving later the day.
In your original mail it seemed that a meal a day was included, which was not the case also, but it is ok, no problem for both cases.
I almost missed my plane at one am, because we had so much delay. But I made it, so all was good.
Otherwise also all was good.
The guide was excellent,
Thank you again,
I hope I can come back in the future and do the tour to the Mount Kailash.
Warmes greetings
Inge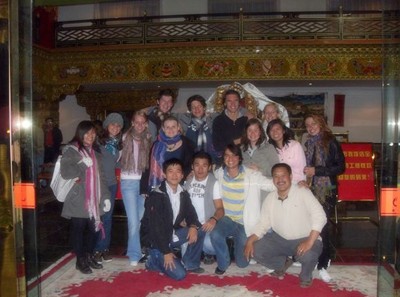 Tour: Lhasa to Everest Base Camp Group Tour - 8 Days
Nationality: Germany  
we are already back in Shanghai and enjoyed the trip sooo much!
Here is my Feedback:
Nice Guide! LopSang was very pleasent and treat us soo nice and warm.
Weather :P We were lucky at the highlight of the trip at the base Camp so the Everest wasn't cloudy at all
Organisation: Everything was well communicated and well done. Thanks a lot for this. It was very helpful
Food and Culture: Tibet is an amazing country with strong believe and nice people there. Also the Hotel in Lhasa was very positive
Mt. Everest Base Camp: The tent was amazing and we enjoyed it there
Almost everything was positive at your trip. I can write 2 pages :-)
But apart from the stay in Shigatse the trip was really good. What was a bit surprisingly for us which was not at the contract, that the car rides were so long. we spend almost 3 Days at the car....not so nice....Maybe the tours can start earlier in the morning so that we have more time at the lake or the pass during the car ride...10-30 min were quite short.
Overall, we all were very happy to choose your agency and I will recommend it for sure!
Take care and a warm and nice Goodbye. Thanks a lot !
Tom