Climbing Mount Everest—the highest mountain in the world—is definitely a daunting task that requires meticulous planning and preparations. Even if the various routes towards Mount Everest's summit have already been clearly delineated and campsites are already straddling these routes, the ascent to its summit still remains treacherous and arduous, and for this reason, awesome preparations have to be made.
The trek to Mount Everest's summit involves a grueling 28-km route across awesome valleys, gorges, and slopes. There are basically two primary base camps as starting points for this journey, namely, those of the Tibet Trekking Everest Base Camp and the Nepal Trekking Base Camp. Tibet's Everest Base Camp, situated at an altitude of 17,056 ft (5,200m) is the northern jumping board, while Nepal's Everest Base Camp, situated at an altitude of 17,597ft (5364m) is the southern springboard.
These two base camps serve as the material supply centers for trekkers and climbers. Moreover, these base camps also serve as the primary headquarters for teams of climbers wherein all starting activities are primarily planned and coordinated. Along this 28-km trek, however, are Advanced Base Camps (ABC) and campsites for both mountaineering teams and researchers.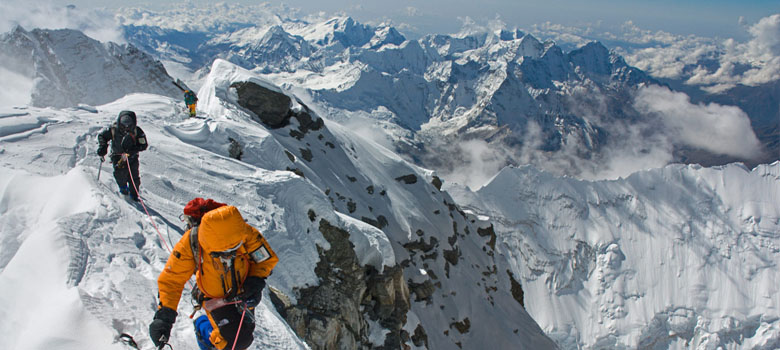 Conquering Mount Everest via Northern Ridge Route
Although many climbers prefer the southern base camp and route in Nepal as their jump-off point, the northern route of Tibet, however, is not less exciting and not bereft of awesome views and challenges. In fact, the ascent along the northern ridge is made more exciting by its unique and impressive geographical features that provide greater and more exhilarating challenges to climbers. Hence, if you are desirous of greater challenges, you better choose the northern ridge route.
The north ridge route starts at the base camp in Tibet. Climbers must trek up to the Rongbuk Glacier wherein, at its foot, they can set up their Base Camp at an altitude of 16,990 ft (5180 m). From this base camp, climbers then must slowly ascend to the base of Changtse which is situated at around 20,000 ft (6,100 m). From thereon, they could reach the Advanced Base Camp located at North Col at around 21,300 ft (6,100 m). From North Col, there are intermediate camps at altitudes 7028 m, 7500 m, and 7900 m. Moreover, there is the frontline camp which is aptly called "Commando Camp" at 8,300 m. From the Commando Camp, the summit of Mount Everest (at around 8844.4 m) is almost nearly accessible.
Highlights and Challenges When Scaling via the Northern Route
The Tibet Trekking Everest Base Camp can surely accommodate thousands of tourists and trekkers at the same time, and you can access it by bus and vehicles from the Rongbuk Monastery. Teahouses and accommodations posts line the fringes of the campsite. Moreover, mobile signals and transmissions are made available by the Chinese government at this site to provide coverage for almost this entire base camp, and for this reason, you need not worry about not being able to use your mobile phones while still at this base camp.
The Acclimatization Challenge
The changing altitude along the ascent to Mount Everest sometimes poses acclimatization problems to many trekkers and climbers. The good thing, however, is that the intermediate camps that straddle the route generally serve as "acclimatization zones" for adapting the climber's body to the changing altitude and air pressure along the ascent. The distance, for example, from the base camp to the advanced base camp would also allow you better and quick adaptation to the changing altitude and air pressure along the ascent. The Advanced Base Camp is located right below the eastern side of North Col. This camp could still be reached by yak caravans, although this is the farthest that these caravans can go. The ABC is surely invaluable as logistic supply center for organized climbing.
Necessary Training before Attempting to Scale Mount Everest
Climbing Mount Everest requires hefty preparations on your part. These preparations necessitate beforehand training and conditioning your mind, emotion, and body. Prior to climbing the great Everest, you should engage in training programs that include swimming, cycling, running, and other conditioning exercises that are geared towards building greater stamina for high elevation trekking.
You would also need a thorough orientation on the intricacies of the climbing process of Mount Everest. Weather, for example, plays a critical role in the success and failure of your adventurous expedition. Hence, you should be properly oriented about the ideal days to start your trek. Generally, April to May and September to October would be one of the finest times to begin your trek.
The Oxygen Problem and Trekking Gears
As the altitude rises, oxygen supply becomes scarce likewise. It is essential therefore that you have a steady supply of the much-needed oxygen when scaling the lofty mountain of Everest. Moreover, frost can readily form on your oxygen mask and may hinder you from clearly seeing your path. Hence, you should be oriented on how to properly position your oxygen mask to get a good glimpse of your path.
You should also carefully prepare all the necessary trekking gears, and these trekking gears usually include trekking jackets, trekking boots, hiking poles, sunglasses, gloves, headgears, headlight and battery, sleeping bags, thermal flask, medicine, and moisture pad.
Securing the Necessary Trekking Permits
Before you can jumpstart your trekking adventure via the northern route to Everest, you would surely need permits issued by both the Chinese government and Tibet. More often, organized travel agencies are the ones that secure the permits for trekking below 6500 m. However, if you intend to go beyond 6,500 m of Everest, you would surely need to apply for s Trekking Permit that will be issued by the Chinese government.
There are only a few organized travel agencies for trekking to Mount Everest because these travel agencies are usually required to have Professional Mountaineering Qualifications and Services. The services provided by these organized travel agencies usually include the capability of providing mountain guides, trekking gears and facilities,  a clear-cut itinerary and other related services, and how to launch rescue operations at high altitude. Lastly, if you really intend to trek and scale Mount Everest via the northern ridge route and Tibet Trekking Everest Base Camp, you would basically need to choose the right travel agency that could provide you with the abovementioned necessary services. If you just want to trek to Everest Base Camp, you may simply join our Tingri to Everest Base Camp Trekking Tour.
Related Articles & Posts
Best Time for Trekking in Tibet

The Spring and Autumn time are regarded as the best time for Tibet Trekking. Throughout these period there's no railfall that quits your walking scenic tour in Tibet and also it's not too hot to stroll in the wildness of Tibet. ...

How to complete Mt. Kailash Trekking Tour?

Mt.Kailash trekking is a holy kora to know the profound religious culture of Tibet. The trek also includes a visit to Lake Manasarovar. Check the trekking route details, preparations, the ways to get there, as well as the tour packages from Lhasa or Kathmandu. ...

Tibet Trekking Map

Tibet Trekkin Map shows you the most popular hiking routes in Tibet, including Ganden to Samye trek, Tsurphu to Yangpachen trek, Old Tingri to EBC, Mt. Kailash, etc. to meet your adventure in Tibet. ...
Ask a Quick Question Below? Or Call 0086-891-6679450