How to complete Mt. Kailash Trekking Tour?
How to complete Mt. Kailash Trekking Tour?
by Lynn
Last Updated: 2020-09-11
If you want an exciting yet very demanding tour, then the Mt. Kailash trekking tour is for you. Trekking to Mt Kailash is the best way to know the profound religious culture of Tibet because it is the most important pilgrimage route and the holy place for numerous religions including Buddhism. This tour includes trekking around this sacred Mountain which towers at around 6,638 meters above sea level. Why we say
Mt. Kailash
is a sacred mountain? Well, because it is sacred to four religions. The majority of the people—who trek around this mountain—are pilgrims who are doing the "Kora" around this holy mountain. This trek also includes a visit to the renowned Manasarovar Lake. Due to the high altitude, the trek around Mt. Kailash is not only a great physical and mental challenge; it is also a great spiritual experience.
How to Pilgrimage Around Mt.Kailash
When comes to pilgrimage around Mt.Kailash, tourists may confuse about the orientation of pilgrimage. Generally speaking, for Buddhist and Hindu, they pilgrimage clockwise. For the believers of Bon, which spread to Tibet earlier than Buddhism and flourishing in the remote districts of Tibet, they do pilgrimage anticlockwise.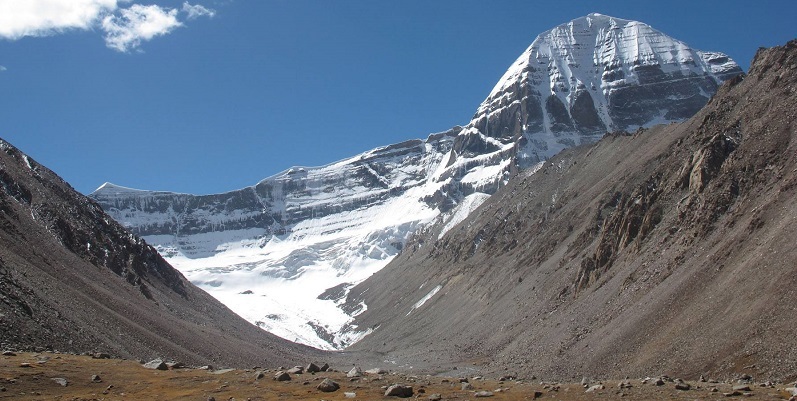 This Trekking Tour Requires Great Stamina!
The trek to Mt. Kailash is not for the weak of hearts and minds considering that this trail route generally has an average altitude of 5,000 meters. As such, you will need to contend with a very thin atmosphere, lack of oxygen, and extreme weather when you make this trek. You also need tons of perseverance on your part to complete this trek. In a way, it is a true test of your whole being physically, mentally, and spiritually.
It also Requires Great Preparations!
A successful tour is usually achieved after great preparations. Similarly, if you want a successful trek around Mt. Kailash, you will need thorough preparations for the trip. You will also need the support of a professional team. You will need a team like us who can sort out the nitty-gritty of the tour. So, with our help, you will simply need to prepare yourself physically and mentally.
The trek around Mt. Kailash usually takes several days. On average, it takes around three days for foreign tourists to complete the Kora. Some locals, however, can complete the kora in a single day. You don't have to contend, however, with the sturdy locals. Instead, you simply need to enjoy the trek and ensure that you got a professional team to back you up and ease the way for you.
How many times will you pilgrimage around Mt.Kailash
There is a rule that one cycle around Mt. Kailash can clean the whole sin of someone with little guilty.
Pilgrimaging around Mt. Kailash for 13 times is the basic demand for Tibetan because they believe that only by 13 times, can they allowed to enter a better level of spiritual practice.
How Long will You Pilgrimage Around Mt.Kailash
Some pilgrims believe that the entire walk around Mt.Kailash should be complete in a single day. You need to set out at dawn and come back Darchen late at night. For Hindus, it will take about 3 days to finish this journey because they have to withstand worship of the cold water in Lake Manasarovar - one of the holy lakes in Tibet. Besides, there are some tents next to Drirapuk and Zutrulpuk available for Hindus. It will take about 3 days for general tourists as well. If you have enough time, you can pay a visit to the north slope of Mt.Kailash.
The Three-day Kora around Mt. Kailash
Not all of us are accustomed to walking long distances under a very thin atmosphere. But such is the case when you make the three-day Mt. Kailash Kora. Remember that the route around Mt. Kailash is 52 kilometers long. This is no mean feat to complete. Moreover, you will be moving along a route that has an average altitude of 5,000 meters. If your body is not in good condition, therefore, you may end up not finishing it. But if you know how to pace yourself, you will definitely succeed in completing the trek.
Aside from seeing Mt. Kailash, you will also visit Lake Manasarovar situated in the western part of Tibet. It is a sacred lake to many religions. Thus, a holy bath in Manasarovar is a "must" for most pilgrims. The Kora around Mt. Kailash is usually subdivided into three trekking days.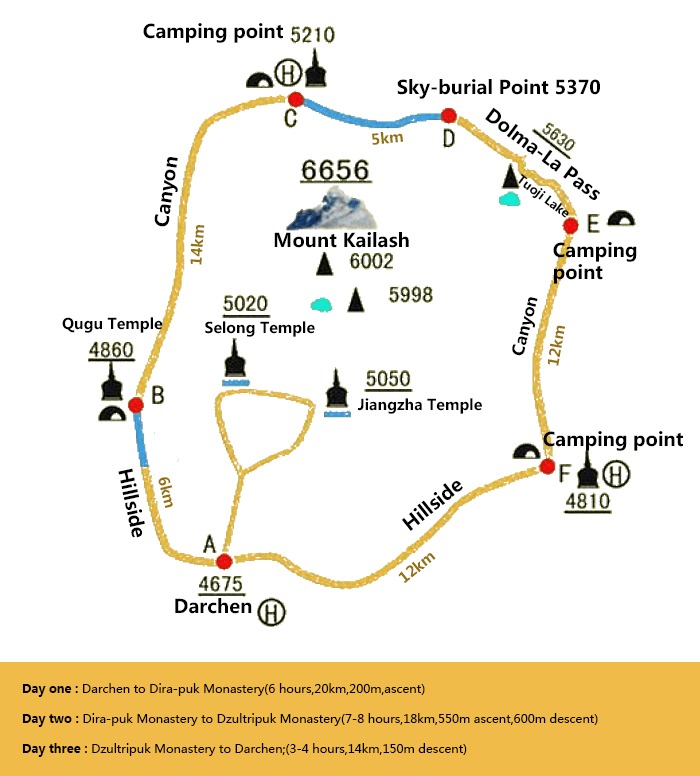 Mt. Kailash Kora Map shows you the trekking route around Mt. Kailash.
Day one: Darchen to Dirapuk Monastery
The starting point of the Kora around Mt. Kailash is Darchen. Darchen is a village in Purang county. Previously, this village was known as Lhara and is an important outpost for nomads and sheep. Situated right in front of Mt. Kailash, it is 4,575 meters above sea level. The goal on the first day is to trek from Darchen to Dirapuk Monastery. This trail stretches 20 kilometers and takes six hours to complete.
The ideal time to start this trek is early the morning. From the square in Darchen, you will begin the long trek to Dirapuk Monastery. At Darchen, you can hire a porter and yak to transport your day packs. Hiring a porter will costs you around $31 or more. The service of Yaks and yaks' herdsman, however, is around $43.
Insider's Tip:
Porters and herdsman would usually charge you a three-day service fee even if you only hire them for a day. This will amount to around $91. This price may even go higher depending on your luggage total weight and the time you have traveled. Thus, you should prepare yourself for this situation.
The trek to Dirapuk can be subdivided into two segments: Darchen to Qugu Temple and Qugu Temple to Dirapuk Monastery. The first segment is around 6 kilometers long and may take two to three hours to complete. It is characterized by a slow ascent with little ups and downs trails. I'm sure you can easily manage this segment. After trekking for four kilometers from west Darchen, you will notice that the trek will begin to ascend. Then, you will reach a memorial (The Two-legged Pagoda) at 4,740 meters. This memorial is filled with varied-colored flags. Here, you can view Mt. Kailash's southern face. This is also the first prostration point of the Kora.
Along the way, you'll pass by some ruined chörtens. You'll also pass along prayer walls. Soon after, you will be crossing the Lha-Chu river via a small bridge. At this point, you have already walked around three hours. From the bridge, you will see the Qugu Temple high above the valley on the west.
From the Qugu Temple, it will take three to four hours to reach Dirapuk. This segment is replete with awesome views, and you will surely enjoy these views along the way.
The Qugu to Dirapuk Monastery trail segment stretches 14 kilometers. You can complete this segment within three to four hours. It contains a mild to moderate segment. Afterward, the trail moves along the Lha-Chu Valley up to the Dirapuk Monastery. You will stay overnight at the Dirapuk Monastery for a good night's rest.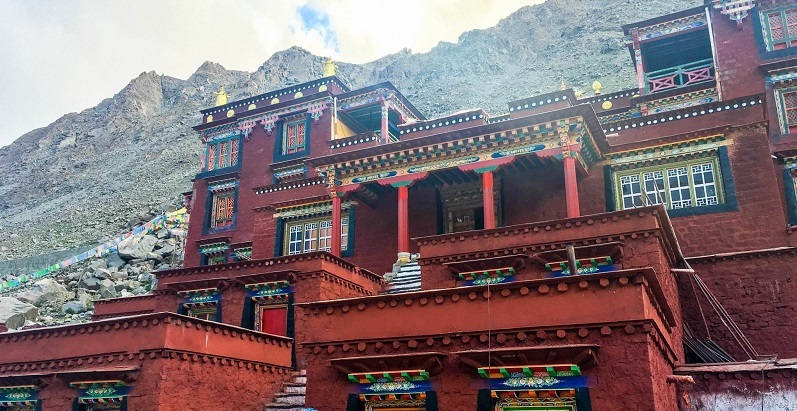 Day Two: Dirapuk Monastery to Dzultripuk Monastery
The first day is not that challenging. The most exhilarating part of the trek is on the second day. The second-day route moves from Dirapuk Monastery to Dzultripuk Monastery and covers a distance of 18 kilometers. This trek usually takes around 7 to 8 hours to complete. It also involved drastic ascent and descent of almost 600 meters. Thus, this trek is a bit treacherous.
The highlights of this trek are the Sky Burial Point (4km away) and the Dolma La Pass around 5,648 meters high. You'll reach the Dolma La Pass after three hours and a half of trekking.
After waking up in the morning, you can then start your second-day trek. The usual course is to head off towards the east. You will once again cross the Lha-Chu River. Afterward, you will climb up to a moraine where you will meet the trail on the other side of the river. The trail then starts to ascend toward Dolma-La.
About two hours from the Dirapuk Monastery, you will reach the Shiva-Tsai (5,330m). Here, pilgrims are said to enter the realm of the dead by undergoing a symbolic death. This point is also called the "Sky Burial Point." After 30 minutes of walking, you will then turn eastward towards Dolma La Pass. Dolma-La Pass is perched high at 5,630 meters. Here, most pilgrims pause and rest. You should not stay long at Dolma-La for the thin cold air may get you sick. Then after, you will take a long and steep descent down to the grassy bank of Lam-chu River.
You got trail options here. You can choose trails either on the eastern or western side of the river. The eastern trail, however, affords you more tantalizing sceneries. It also provides clearer trails, yet it also requires you to hop from one boulder to another. Then, you will proceed for three hours until you reach some grassy fields. Here, you can set up your tent and camp for a while. From here, Dzultripuk Monastery is just an hour trek. At Dzultripuk Monastery, there is also a simple guesthouse where you can spend the night for a fee.
Day Three: Dzultripuk Monastery to Darchen
The trek from Dzultripuk Monastery to Darchen usually takes three to four hours. It stretches for 14 kilometers and involves a 150-meter descent. Hence, this is not as difficult as the second-day trek. Early in the morning, you can start moving away from the Dzultripuk Monastery. The route at the onset closely follows the slithering river. After an hour of trekking, the trail reaches a narrow canyon. You will notice some holes carved along the cliff walls of the canyon. These holes were made by some pilgrims who were searching for sacred stones.
From the distance, you'll see the turquoise waters of Lake Raksas Tal. Across the river, you'll also see flags that are set by the pilgrims. After continuing with the trail, you'll then emerge into the Barkha plain. From there, the trail becomes easy and bearable. Thereafter, you can take the dirt road that leads back to Darchen. Once you've reached Darchen, you have now completed the Kora around Mt. Kailash which is a very important pilgrimage for four religions.
How to Reach Darchen?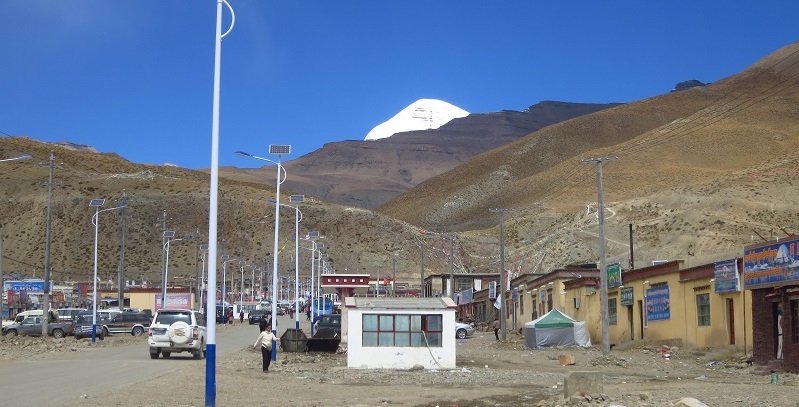 There are two popular ways to reach Darchen and start your pilgrimage around Mt. Kailash. You can reach Darchen either via Tibet or via Nepal. If you start your Kailash tour from Lhasa, Tibet, then the whole tour usually takes 15 days. However, if you choose the route Katmandu-Mt. Kailash-Lhasa Tour, it takes 14 days.
A. Lhasa to Mt. Kailash Tour 15-days Tour
The Lhasa To Mt. Kailash Tour usually takes 15 days to complete. It starts at Lhasa, then moves to Gyantse, Shigatse, Tingri, Everest Base Camp (EBC), Saga, Lake Manasarovar, Darchen, and Mt. Kailash. Then back to Lhasa.
Statistics tell us that most travelers often take this route. If you are traveling from China or from any Pacific Countries, your best option is via Lhasa. This is because there are many flights to Tibet from the different major cities of mainland China like Beijing, Chengdu, Shanghai, Xining, Guangzhou, and Xi'an. Moreover, there is the Qinghai-Tibet Railway that connects mainland China to Tibet. Hence, for those coming from mainland China, this one is surely the most appealing route.
Furthermore, this route allows you to visit many cities of Tibet. This route also allows you to gradually adjust to high-altitude weather before reaching Mt. Kailash. Moreover, you'll get to visit EBC where you can view Mt. Everest. The downside, however, of this tour is that it is longer than that of the Kathmandu option.
Tour Summary:
Day 1 Arrival in Lhasa
Day 2 Lhasa sightseeing (A)
Day 3 Lhasa sightseeing (B)
Day 4 Lhasa- Gyantse(4040m)- Shigatse(3840m), 360km, approx 6hrs
Day 5 Shigatse -Tingri -Rongpuk –EBC(5100m), 350km, approx. 7hrs
Day 6 EBC-Saga (4600m), 450km, approx. 9hrs
Day 7 Saga – Darchen (4560m), 490km, approx 9hrs
Day 8 Darchen-Dirakpuk (4700m),(driving 8km, Trek 18km)
Day 9 Trek from Dirakpuk-Zuktulpuk (4790m), 24km, approx 6hrs
Day 10 Trek from Zuktulpuk- Darchen, 14km, approx. 2hrs; Drive from Darchen -Manasarovar (4560m)-Payang, 240km, approx. 5hrs
Day 11 Payang-Saga, 290km, approx. 5hrs
Day 12 Saga-Lhatse(4000m)-Shigatse, 520km, approx. 8hrs
Day 13 Shigatse – Lhasa, 280km, approx 5hrs
Day 14 Lhasa sightseeing
Day 15 Lhasa departure
B. Nepal-Mt. Kailash-Lhasa 14-day Tour
Your other route option to Mt. Kailash is via Nepal. There are tour packages to Mt. Kailash that start from Kathmandu, Nepal. These tours generally take only 14 days. The tour route starts at Kathmandu, then moves to Syabrubesi, Gyirong Border, Gyirong Town, Saga, Lake Manasarovar, Darchen, and Mt. Kailash.
This route via Kathmandu, of course, is shorter than that of Tibet. Via this route, you can tour Kathmandu at the same time. If you are coming from India and South Asia, you will find this route more convenient. Moreover, it takes a shorter time to reach Mt. Kailash. Along the way, you will see stunning views of the Himalayas and other marvelous attractions along the Nepal-Tibet border. On the downside, you will miss seeing Lhasa and the other ancient cities of Tibet. Plus, you'll get to pass by the treacherous Kathmandu-Gyirong border roads.
Tour Summary:
Day 1 Kathmandu - Gyirong / 185km, About 7hrs' Driving
Day 2 Gyirong Town - Saga / 170km, About 4.5hrs' Driving
Day 3 Saga - Darchen / 490km, About 9hrs' Driving ( B )
Day 4 Darchen - Dirapuk ( B )
Day 5 Trek from Dirapuk to Zutulpuk
Day 6 Zutulpuk - Darchen - Lake Manasarovar
Day 7 Manasarovar - Payang - Saga
Day 8 Saga - Mount Everest / 450km, About 9hrs' Driving ( B )
Day 9 Mount Everest - Shigatse / 350km, About 7hrs' Driving
Day 10 Shigatse - Gyantse / 95km, About 2.5hrs' Driving ( B )
Day 11 Gyantse - Lhasa / 260km, About 6hrs' Driving ( B )
Day 12 Lhasa ( B )
Day 13 Lhasa ( B )
Day 14 Lhasa Departure ( B )
What is the Best time for Trekking in Mt. Kailash
The best time to trek in Mt. Kailash is from mid-May to mid-October. No matter when you trek to Mt. Kailash, you are supposed to prepare for the changeable weather in Tibet because you may suffer the snowy day at any time in the whole year. Due to the low temperature at night, you are suggested to bring some warm clothes.
You can either join a small group tour or a private tour of Mt. Kailash. However, if you wish to save on your tour, you should join the small group tour for private tours are more expensive. The cost of the small group tour is usually subdivided among the tour participants. You can also have a chance to get acquainted with other tour participants if you opt for the small group tour package. You will also get the service and expertise of an experienced tour guide if you choose the small group tour.
We usually offer a small group tour and a private tour for our clients. So, if you are planning to make this once-in-a-lifetime tour of Mt. Kailash, you can readily contact us, and we are more than willing to facilitate this tour for you.
Notification
Before setting out to Mt. Kailash, you should apply for the Tibet Travel Permit, Alien's Travel Permit and Military Permit, without which you are not allowed to trek to Mt.Kailash. You'd better ask a local Tibet travel agency for help by booking a Kailash tour from them. Then send them the scan of your passport and China Visa. They will do the rest for you. As a reputable Tibet Travel Agency, Great Tibet Tour can obtain all the permits for you.
Related Articles
Ask a Quick Question Below? Or Call 0086-891-6679450
Email response within 0.5~24 hours.