Many foreigners have questions about travel Tibet alone. Is it possible for a foreigner to travel Tibet alone? Is it necessary to join a group tour? What documents needed to apply for China visa and Tibet travel permits? Is it safe when traveling in Tibet alone? And so on. There are so many questions, and I will give you guys some useful advice on how to travel Tibet alone.

Is it safe to Travel to Tibet Alone?
Tibet is one of the most famous tourist destinations in the world. Its location of 4000 meters above the sea level, has earned the Chinese state the name 'Roof of the World.' Many people have Tibet in their must-go lists because they want to experience the exotic culture, grand mountains, and skin soothing climate. The question most of the travelers ask themselves is, is it safe for someone to travel alone to Tibet? Well, let's have a look at the safety in Tibet and then you will be the judge;

Firstly, you should find a reputable travel agency early.
Here are the reasons:
It's, of course, necessary to join a tour for a foreigner who travels Tibet alone. But since Tibet is a politically sensitive area, and all foreign travelers need a Tibet permit for entering Tibet. And foreigners are not allowed to apply for Tibet permits on your own. Besides, it would cost a lot if you don't join a tour, and you have to consider all the details such as hotel supplement, car renting, tour guide, it may make you exhausted. So if you decide to travel Tibet alone, please find a reputable travel agency in advance.
It is advisable that you book your travel permit early enough. Great Tibet Tour offers different travel packages to our clients. You can choose any depending on your budget, preferences, and schedule.
Your trip advisor will guide you on what to carry depending on the time of the year. The easiest and cheapest way to get to Tibet is by flying. There are several flights in and out of Tibet of which you will be advised on by us.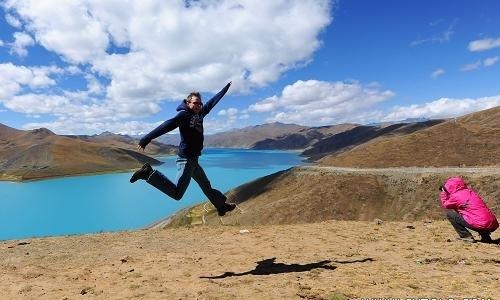 What should you prepare to apply for the Tibet Permit?
In order to travel to Tibet, you have to get a China visa. It is easy to get a China visa, you should bring your passport, international flight tickets to Chinese embassy visa section, and they will give you a visa application form, please remember not to mention your trip to Tibet on your visa application form, otherwise, your visa application may get rejected.
After you booked a tour with registered Chinese tour operators, they will apply the Tibet permit for you. You just need to email them the copy of your passport and China Visa.
 
Is it safe to Travel Alone in Tibet?
To answer the above question, yes, you can travel alone in Tibet. Below are reasons enough to ascertain that no harm or misfortune will come to you if you take a solo trip to Tibet.
Firstly, if you are planning to travel alone in Tibet, it will be wise to do so if you have experience of doing this. Travel agencies usually make it simpler for solo tourists by putting them together into groups, providing a good chance to know people.
Secondly, China is a gender equality tolerant country. Therefore, women can safely travel alone without fear of mistreatment or harassment. It is, however, advisable to use a train whenever you are commuting using public transport. Tax transportation is another safe option. Tourists are warned against taking cheap buses or cars as they are not traveler friendly. Therefore, take a taxi or a train.
Furthermore, if you are traveling with valuable possession, then you are advised to take the first class train. The trains are generally safe as there are police officers in each train. A first-class ticket gives you comfort and extra security for your belongings.
Tibet tour offers the best experience to travelers. They provide tour guides to look after you on arrival. The guide will stick with you until the end of your travel. A local guide will also come in handy in exploring the people's culture. The guides will show you easier routes to use, the best places to visit and how to easily get there and not to mention you might need a translator in a Mandarin-speaking country.
Exploring the Barkhor Street safely for lone travelers
Barkhor Street is one of the must-visit places for travelers in Tibet. The street, which is located in Lhasa, hosts thousands of pilgrims every day who pay homage to the temple of Jokhang. The temple was built in 647 A.D and is a major tourist attraction.
An important thing to remember is that you should always walk in a clockwise direction like all other pilgrims. In this place, you will get a chance to check out the Tibetan culture, art, religious articles as well as many other things. You can shop for souvenirs in Barkhor Street, but be sure to compare the price with other vendors.
It is easy to get lost at night, therefore, return to your hotel early enough.
How safe are the Tibetan Restaurants?
As a state which depends mainly on tourism as a driver of its economy, Tibetan restaurants are very safe and hygienic for travelers. The restaurants serve numerous types of traditional dishes and grabbing a dinner in one of them would not be a bad idea. 
Travelers should, however, remember that most of the Tibetan dishes consist of barley and Yak. In case you have any dietary restrictions, it will be prudent to ask your tour guide or any other restaurant staff.
Some famous Tibetan Dishes include Tsampa, roasted barley taken with tea, a mixture of noodle and beef stew known as Thugpa and a rare mixture of Yak fat and dough. Yak yogurt is also a must try meal for any traveler.
Apart from Tibetan restaurants, you can also dine in the Nepalese or Indian restaurants which serve different dishes. You can dine in any of these restaurants alone. A golden piece of advice; always drink bottled water and avoid tap water.
Can one travel outside Lhasa alone?
After spending a day or two in Lhasa, you might start feeling that you are familiar enough with the place and you want to venture out. Well, it is very unadvisable for tourists to get out of Lhasa alone. Why?
Foreigners are not allowed to travel out of Lhasa without a guide. This is the political reason.
On the other hand, if you venture out of Lhasa without a guide, chances are that you might be pickpocketed by robbers and get badly assaulted. Tibetan mountains are also famous for its numerous wild animals which can attack lone travelers. The mobile signal in the mountains is also very poor and in case you get lost, it will be hard to contact anyone.
In conclusion, Tibet is one of the safest places to visit on earth. If the above precautions are observed, be sure to have a wonderful and unforgettable experience.
Some useful tips for a solo traveler to Tibet:
1. The best seasons to travel in Tibet is from May to June, and September and October.
In this period, the climate is good for you to go for trekking or hiking, and get the clear view of the tourist attractions. However, it's also the peak season. Therefore, the cost is relatively higher than the offseason. 
2. 6-15 days travel is enough for traveling to Tibet alone.
For many solo travelers, 6-15 days group tour is enough for you to explore Tibet. Because the itineraries in 6-15 days tours can cover the major sites like Mt. Everest, Mt. Kailash, Namtso Lake, etc. Just as most tourists choose. And all the itineraries include the top scenic spots in Lhasa city, you will not miss anything during the tours designed by us. If you like a natural landscape, you may enjoy Namtso lakeside sightseeing; if you want an extraordinary experience and feel the peak of the world, you may go to Mt. Everest; if you like a spiritual journey to the center of the world, you may go Mt. Kailash for trekking.
3. Be responsible for your own safety.
Many foreign travelers worried about their safety while they travel Tibet alone as travelers are usually targeted by pickpockets, to avoid this, please keep your money, phone and anything valuable inside the bag in front of you, instead of your coat pocket. Of course, the public security of Tibet is good. Tibet has a low crime rate as the locals have faith, but you also need to pay attention to your safety after dark especially when you are alone. The real danger is coming from the external natural environment of the Tibet. If your body is in poor physical condition, it's difficult for you to acclimate the high attitude and the complex temperature. As a rule of thumb, especially when traveling alone, a good body state and caution is the key to have a safe travel in Tibet. So don't worry a lot, traveling alone in Tibet is safe for you.
Related Articles & Posts
Ask a Quick Question? Ask below or call 0086-891-6873166