by Rita
Last Updated: 2018-06-13
Many foreigners have questions about travel Tibet alone. Is it possible for a foreigner to travel Tibet alone? Is it necessary to join a group tour? What documents needed to apply for China visa and Tibet permit? Is it safe when traveling in Tibet alone? And so on. There are so many questions, and I will give you guys some useful advice on how to travel Tibet alone.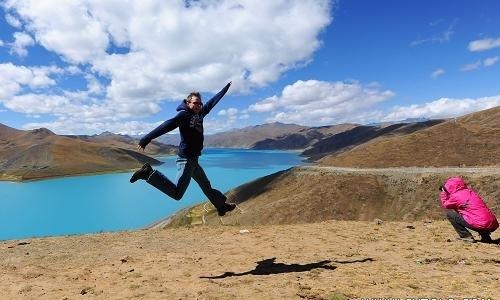 First, finding a reputable travel agency early.
It's necessary to join a tour for a foreigner who travels Tibet alone. Because Tibet is a politically sensitive area, and all foreign travelers need a Tibet permit for entering Tibet. And foreigners are not allowed to apply for Tibet permits on your own. Besides, it would cost a lot if you don't join a tour, and you have to consider all the details such as hotel supplement, car renting, tour guide, it may make you exhausted. So if you decide to travel Tibet alone, please find a reputable travel agency earlier.
Second, prepare all the documents for applying for your China visa and Tibet permit.
In order to travel to Tibet, you have to get a China visa. It is easy to get a China visa, you should bring your ID card, international flight tickets to Chinese embassy visa section, and they will give you a visa application form, please remember not to mention your trip to Tibet on your visa application form, otherwise, your visa application may get rejected.
After you booked a tour with registered Chinese tour operators, they will apply the Tibet permit for you.
Third, the best seasons to travel in Tibet is between September and October.
In this period, the climate is good for you to go for trekking or hiking, and the peak season is over, therefore, you can enjoy your Tibet travel in less crowed circumstance.
Forth, 6-15 days travel is enough.
For many solo travelers, 6-15 days group tour is enough for you to explore Tibet. Because the itineraries in 6-15 days tours can cover the major sites like Mt. Everest, Mt. Kailash, Namtso Lake, etc. Just as most tourists choose. And all the itineraries include the top scenic spots in Lhasa city, you will not miss anything during the tours designed by us. If you like natural landscape, you may enjoy Namtso lakeside sightseeing; if you want an extraordinary experience and feel the peak of the world, you may go to Mt. Everest; if you like a spiritual journey to the center of the world, you may go Mt. Kailash for trekking.
Fifth, be responsible for your own safety.
Many foreign travelers worried about their safety while they travel Tibet alone as travelers are usually targeted by pickpockets, to avoid this, please keep your money, phone and anything valuable inside the bag in front of you, instead of your coat pocket. Of course, the public security of Tibet is good. Tibet has low crime rate as the locals have faith, but you also need to pay attention to your safety after dark especially when you are alone. The real danger is coming from the external natural environment of the Tibet, if your body is in poor physical condition, it's difficult for you to acclimate the high attitude and the complex temperature. As a rule of thumb, especially when traveling alone, a good body state and caution is the key to have a safe travel in Tibet. So don't worry a lot, traveling alone in Tibet is safe for you.
Related Articles & Posts
Ask a Quick Question? Ask below or call 0086-891-6873166