Top 10 Greatest Treks in Tibet
Top 10 Greatest Treks in Tibet
Tibet trekking is another way to visit Tibet as it provides a unique and closer encounter with the culture and spirituality of Tibet. On Tibetan Plateau, you will feel the charm of Tibetan Buddhism, explore its natural beauty, and get acquainted with the nomadic herders of Tibet as well as their traditional way of life. If you want, you can also extend your tour to the Himalayan mountain ranges for trekking and hiking, or do kora around the sacred mountains/lakes in Tibet to get spiritually inspired. Here we're listing the top 10 greatest trekking routes, hopefully, the treks below will assist you further with selecting your favorite trekking destination.
1. Mount Kailash Trek
The most sacred mountain in Tibet is Mt. Kailash, and this traditional trail would be made available for pilgrims who want to do kora around this sacred mountain in Tibet. Mt. Kailash towers at around 6,714 meters, dwarfing the adjacent mountains in the region. Tibetan Buddhism and Hindu believers consider this mountain as the embodiment of the sacred mountain of Meru, and for this reason, you'll see plenty of Buddhist and Hindu pilgrims along the way. You'll also get a first-hand encounter with Tibetan nomads clad in sheep-lined coats, and different types of adventurers along the way.
Pilgrims are prohibited by authorities to ascend the mountain; hence, the Mt. Kailash trek usually only includes a trail around the sacred mountain. This trail is regarded as the most sacred trail of Tibet. Along the way, you will encounter fellow trekkers and pilgrims who do the Kora around the mountain. Pilgrims of Hindu, Buddhist, Jain and Bon believe one circle around Mt. Kailash can vanish your life-time sin, 10 circles around Mt. Kailash can exempt you from suffering the reincarnation, 100 circles can make you go to heaven and become immortal.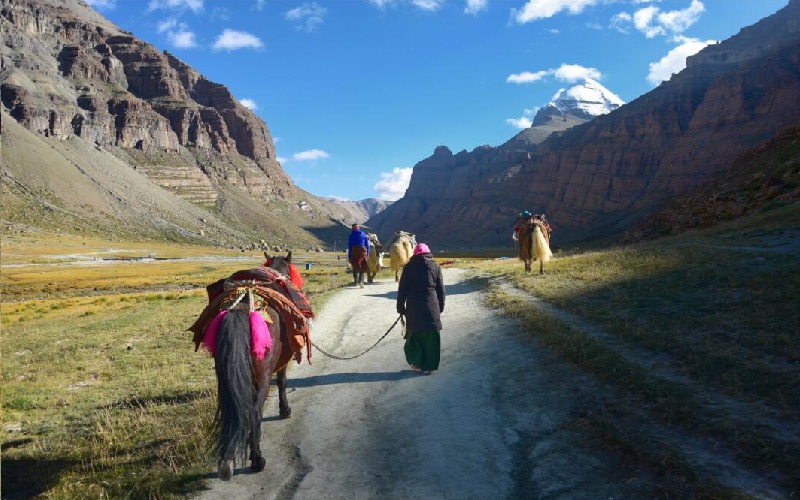 The trek itself takes around three days to complete and its length is about 52 kilometers of mostly trails above 5,000 meters in altitude. The journey starts at the small town called "Darchen" and then moves on through the wild plains and fantastic valleys along the looming snow-capped mountains on both sides. The highest point is Drolma-la at 5,630 meters, which is also the most difficult part of the kora. Only after going through lots of hardships, you can feel the happiness and gratification brought by kora.
The best time to travel is in May, June, early September, and early October of each year. And there is not much snow. July and August is the rainy season, so it will be very cold.
2. Ganden-Chimpuk-Samye Trek
This trek fittingly connects two of the holiest Buddhist monasteries, and from a spiritual viewpoint, this trek is valuable as a spiritual journey. Starting from Wangbur Mountain by the Lhasa River, you will cross the mountain and river valley, walk through plateau wetlands, visit villages and pastures, explore the primitive Yarlung Zangbo River, and finally reach Shannan Samye Monastery, the birthplace of Tibetan civilization. This previously unknown pilgrimage route has become the main trekking route in Lhasa due to its changeable mountain scenery and beautiful mountain lakes.
Ganden Monastery is one of the six major temples of the Gelug Sect - one of four major sects of Tibetan Buddhism. It is also known as the ancestral temple of the Gelug Sect.
Chim-puk is a holy meditation retreat for Tibetan Buddhist believers. According to legend, Guru Rinpoche also practiced here.
Samye Monastery is the first monastery in Tibetan history.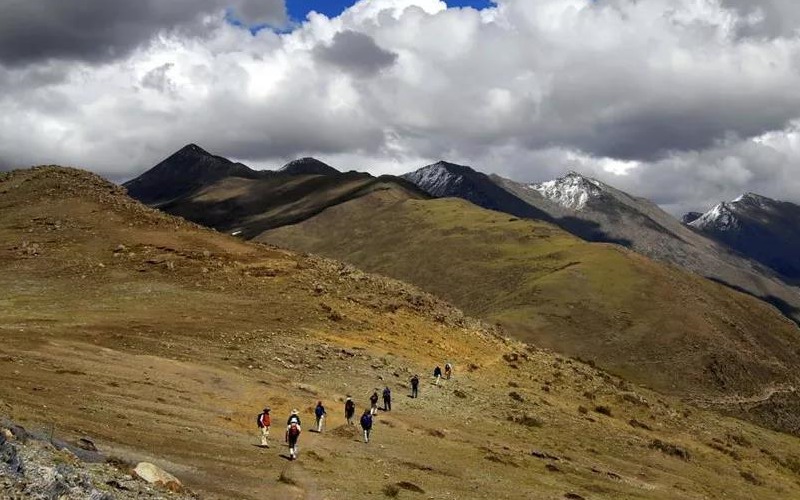 The length of this trek is around 80 kilometers or 50 miles. It would usually take around 4 to 5 days of trekking to completely finish this trail. You'll also get to pass two mountain passes beyond 5,000 meters in altitude. Furthermore, if you want to see firsthand some nomadic camps, you should undertake this trail during the summer month. In this way, you'll get a close encounter with the nomadic Tibetan culture.
One caveat, however, that you should take heed of is this: that there are no restaurants or tea houses along the way; hence, you should be fully equipped with everything you need to last this long journey. Your tour agency will definitely supply you with provisions for this once-in-a-lifetime journey.
The best time to travel in this area is from the end of April to the end of October. The rainy season is from mid-June to early September, but the rainy season means wildflowers bloom. Snow will come unexpectedly at any time of the year.
√  Ganden to Samye Trekking Tour
3. Tsurphu-to-Yangpachen Trek
One of the shortest treks in Tibet is that of Tsurphu to Yangpachen Trek. This hiking trail is definitely very scenic which also lets you get acquainted with the indigenous Tibetan culture.
Starting from Tsurphu Monastery, where the living Buddha reincarnation system of Tibetan Buddhism began, you will encounter encamped nomads grazing their livestock, cross the 5,300-meter Lasar-la Pass, admire the majestic Nyenchen Tanglha Mountains, set foot on the Qiangtang grassland, visit Yangpachen Temple, and bathe in Yangbajing Hot Springs to wash away the dust.
The journey basically takes three days to complete and covers around 45 kilometers.  And the Tsurphu to Yangpachen Trek is also more manageable. The maximum altitude of this trek reaches up to 5,400 meters (at Lasar La Pass).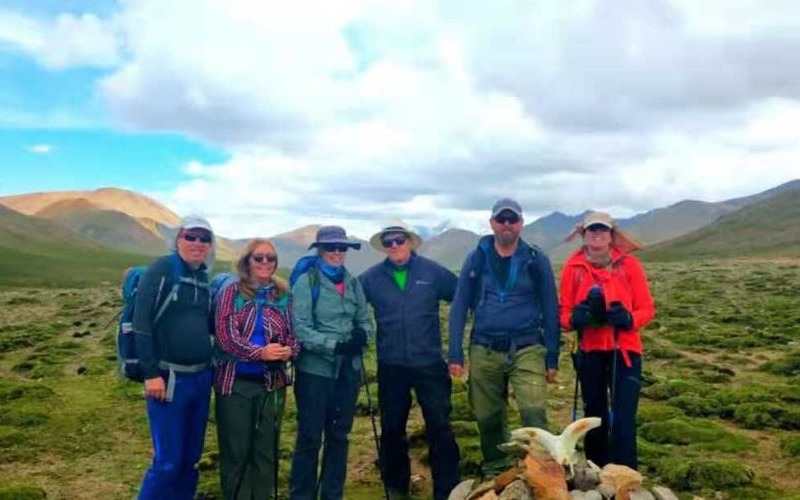 One of the best times to visit the place is in May when a traditional Tibetan festival called Saga Dawa is held to commemorate the birth, death, and enlightenment of Buddha. If you just want to trek, the best travel time is from April to October each year.
√ Tsurphu to Yangpachen Trekking Tour
4. Shalu to Nartang Trek
Shalu to Nartang trek is the shortest one in these trek routes, which will take travelers 2 to 3 days to finish the trek(15 hours of walking). In the ancient period, this is a route for trade between two great Buddhist monasteries. Trekking on this route can make you feel like tracing back to the past as you will hike past villages and dry canyons.
Shalu Monastery was built in 1087 AD, and its architectural style is a combination of Han and Tibetans. In 1320, the monastery was handed over to the management of Buton Rinchen Drup. It is said that about 3,800 monks were attracted by the teaching of Buton Rinchen Drup. Therefore, Shalu Monastery became a holy place for many believers to study Dharma.
The Narthang Monastery was established in 1153 by a disciple of Atisa. It is famous for its teaching and discipline.
The best travel time for this route is from April to October each year.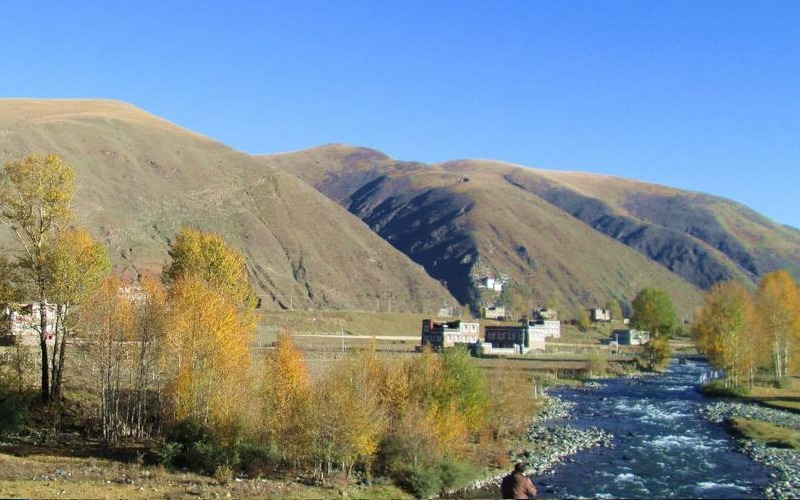 √ Shalu to Nartang Trekking Tour
5. Tingri to Everest Base Camp Trek
The Tibet's Everest Base Camp Trek is a trail that is most trodden by avid hikers. This trek allows you to get an unparalleled view of the North Face of Mt. Everest. It provides a clear and unobstructed view of the highest mountain in the world. The trek starts at the small town of Tingri that is located around 600 kilometers west of Lhasa City.
If you are lucky enough and the weather is clear, you'll get a clear glimpse of Mt. Everest along with other surrounding high peaks. Before undertaking this trek, you should first begin to adapt and acclimate yourself to the high-altitude sickness while in Lhasa. From Lhasa, you will need to travel for 2 days to reach Tingri. You'll pass Gyantse and Shigatse along the way before reaching Old Tingri. You are suggested to spend a night at Old Tingri before setting out for the Everest Base Camp.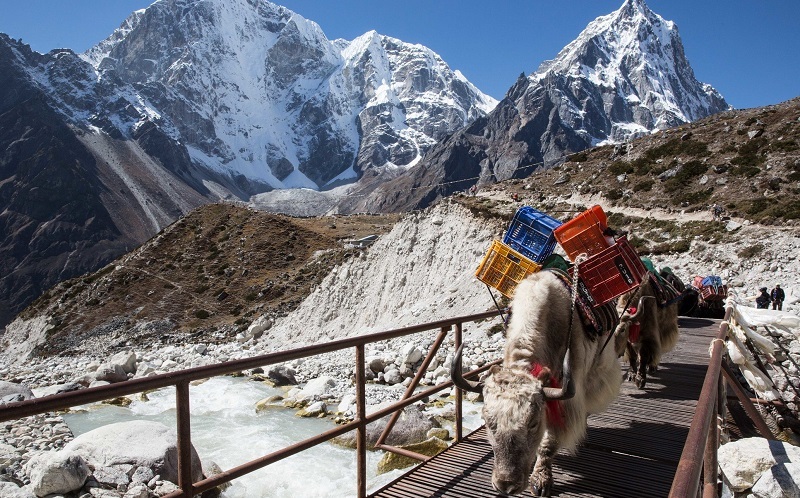 The trail from Old Tingri then leads southward to the Himalayan Mountains. You'll encounter some intermittent indigenous villages along the way. The trek covers a distance of 70 kilometers and usually takes 4 to 5 days to complete. Along the way, you'll get a glimpse of majestic Himalayan mountains and great valleys while trekking. Once you reach Rongphu Monastery, you'll get the chance to behold the most impressive view of Mt. Everest's North Face.
The best time to travel from Tingri to Everest Base Camp is from September to January because the climate is dry and there is basically no rain at that time. The occasional showers actually make the weather warmer. In addition, the climate of Mount Everest at this time is calmer than that of other Himalayan peaks.
√ Tingri to Everest Base Camp Trekking Tour
6. Kharta Valley Trek
As one of the 5 beautiful scenic valleys in the Himalayas(the other 4 are Yadong valley, Gama Valley, Zhangmu Valley, Gyirong Valley, and Rongxi Valley), Kharta Valley is adjacent to the border between China and Nepal. Kharta village is about 50 kilometers away from Mount Everest and centered on the Kharta valley and Kama valley. Located in the virgin forest belt on the southeast side of Mount Everest, with an altitude of about 2040 meters and a subtropical monsoon climate, Kharta Valley is a natural scenic area. It's the hometown of Sherpas.
Considered to be one of the most immersive treks in Tibet, the Kharta Valley Trek leads trekkers along glacial lakes, steep-sided valleys with awesome sceneries. Only very few people dare to experience this trail because it's located deep within the Himalayas. This trek is also considered as an "off the beaten track" because it is not much trodden by trekkers and not known to many. However, this is the most awesome and adventurous trek you can take in Tibet and the most scenic likewise. Moreover, this trek is costlier compared to the previously discussed trails because you will need to pack yaks, hire a trekking guide and a cook along the way.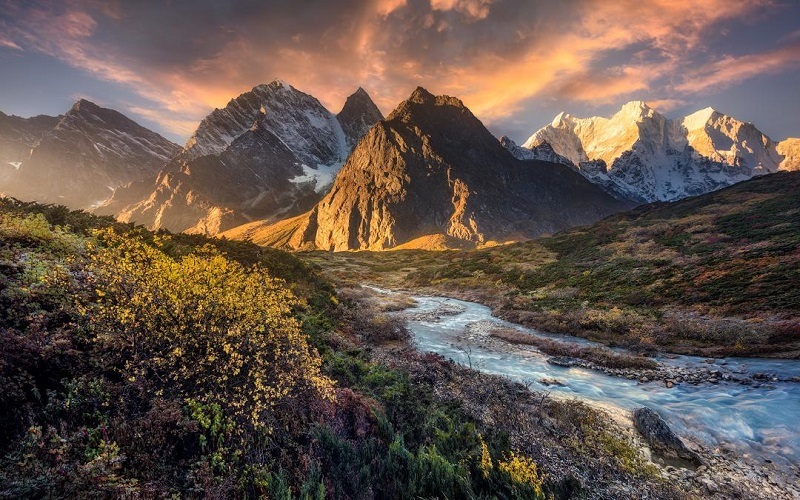 There are distinct routes that you can take to complete the Kharta Valley Trek. The journey usually lasts from 6 to 8 days depending on which route you would take. From Lingam La (the highest point of the trail), you'll get a glimpse of Mt. Everest. You'll also get to see other prominent peaks like those of the Lhotse Shar, Lhotse and Makalu. If you move forward to Gama Valley, you can view magical Kangshung Valley, replete with wildflowers. You'll also get a clear view of the famous and gigantic Kangshung Glacier along with the majestic peaks that strewn this Himalayan region.
One of the best times to undertake this trail is during the period from late April to early June. July and August are the rainy seasons. The snow-capped mountains are most time surrounded by clouds and fog and are not easy to see. However, the spectacular scenery of the sea of clouds and the scenery of the sunrise of golden peaks probably take place in these two months.
7. Gama Valley Trek
Gama Valley stretches from Kangshung Glacier, which starts from the east slope of Mount Everest in the west to Kharta Valley in the east. It runs east-west with a total length of 55 kilometers. The altitude fluctuates from 2,100 to 5,000 meters.
The entire trekking route is within the Tibetan Everest Nature Reserve and the scenery is charming. You can see the majestic Himalayan family:Everest (8844 meters, No.1 in the world), Lhotse (8516 meters, No.4 in the world), Maklu (8485 meters, No.5 in the world), Chomo Lonzo (7804 meters), primeval forests, alpine azaleas, rare wildlife, and encounter Sherpas from different cultures. So it's called "the world's most beautiful valley" and "one of the world's top ten classic hiking routes".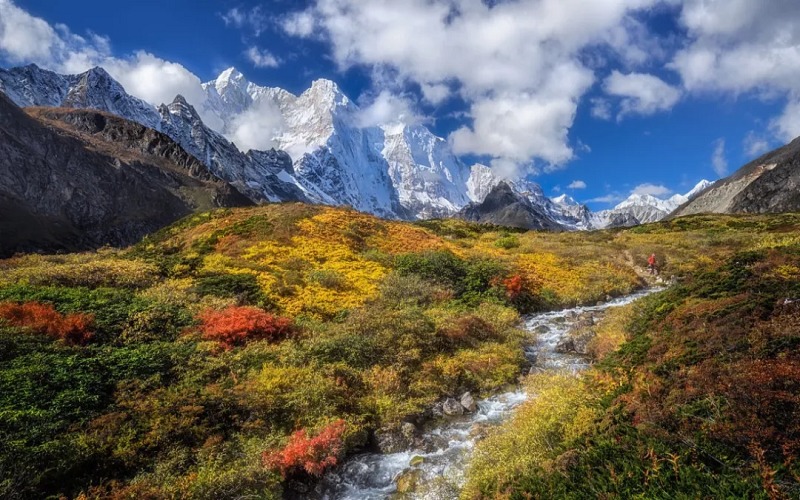 Gama Valley is rich in precipitation and less sunny. It is recommended to visit in mid-to-late May and mid-to-early October. From November to April of each year, there is usually snow that is not suitable to pass. Not only the climate is changeable, the altitude is high, sparsely populated, and it is almost inaccessible, but its charm lies in this, giving people a sense of conquest. Only experienced outdoor trekkers select it. Please choose a reliable Tibet travel agency to travel safely. It is also very important to have an experienced guide who is familiar with the area. Due to the immature and dangerous nature of the route and the harsh environment, it takes about 10-15 days to complete the journey.
8. Nyenchen Tanglha Traverse Trek
If you hope to witness the ecological diversity of northern Tibet, you'd better have a Nyenchen Tanglha Traverse trek. Passing by Damxung Valley, then through a rocky alley, you will see a lot of stream murmuring by you. After crossing valleys and slopes, you will enjoy the beautiful views of Namtso lake and Tashi Doje hermitage.
In the spring, the mountain pass is likely to be too snowy to climb. You should particularly avoid the rainy season of July and August. Autumn is the best season to cross this route, especially around November, when the autumn scenery is the best.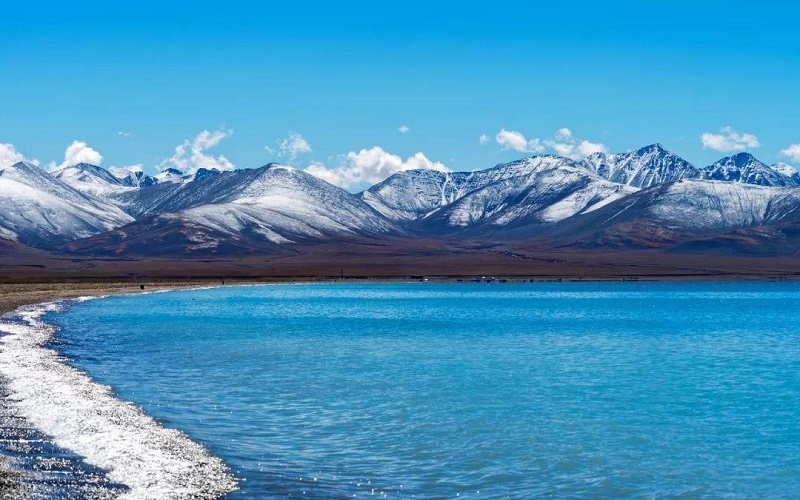 9. Tidrum Hot Spring to Drigung Til Monastery Trek
Tidrum Hot Spring is the most popular hot spring for local Tibetans. It is located in Maizhokunggar County, Lhasa City. In addition to its magical effect, the primitive nature of Tidrum Hot Springs is also very attractive. It's an open-air hot spring, divided into men's and women's pools, but separated by a stone wall.
Drigung Til Monastery is the main temple of Drigung Til Kagyu (a branch of the Kagyu Sect). The temple is magnificent and has a long history. The most famous spot in Drigung Til is a sky burial platform.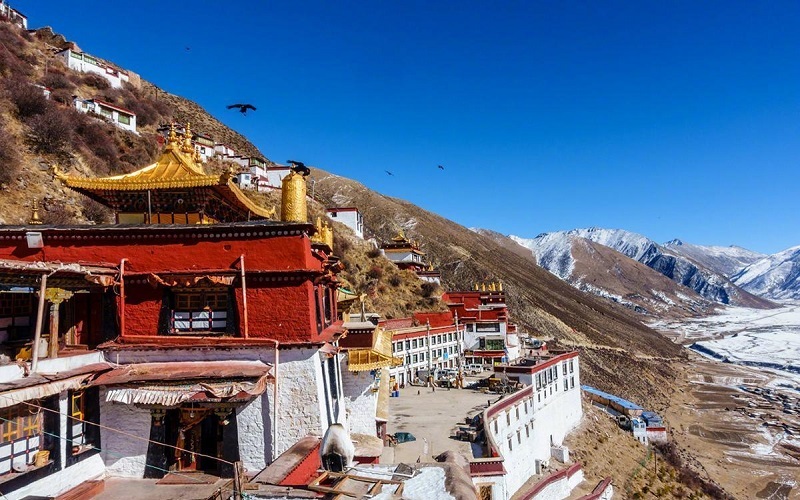 There are only tens of kilometers between Tidrum Hot Spring and Drigung Til Monastery. If you are tired of hiking, it is good to take a bath in the hot springs in Tidrum.
This hike can be done in all seasons, and spring, summer, and autumn are the best.
10. Tsari Mountain Kora & Cuga Lake Trek
Tsari is one of the most famous sacred mountains in Tibet, as Kailash Mountain. Tsari is located in Luntse County of Lhoka Prefecture. Every zodiac Monkey year, many believers come there for pilgrimage. Lake Cuga is the Flying Goddess' home. Hiking along the way is a feast for your eyes as you can enjoy the scenery of the sacred mountain and holy lake. The journey is not far, as long as about four or five days.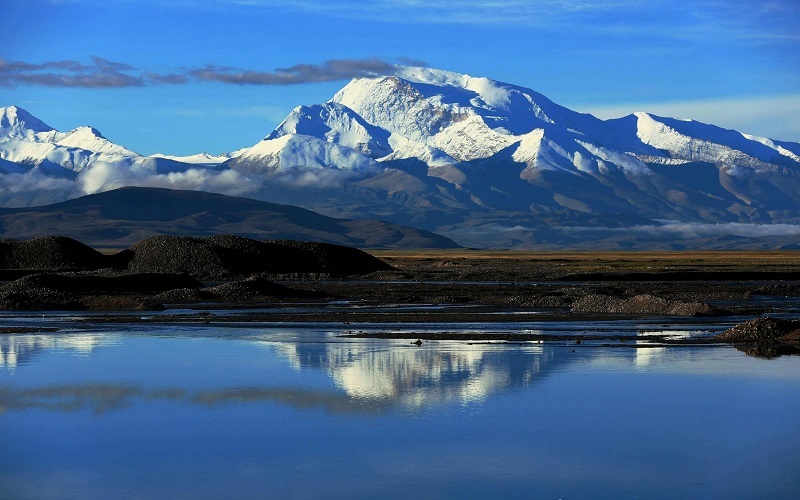 From the opening of Tsari Mountain in mid-May to the closing of the mountain in mid-October, you can go to Tsari to kora. However, it is advisable to start from mid-May to early July and early September to early October. You should avoid the summer because the weather in Tsari is humid and there is a lot of rain.
Important Documents to be Taken
Before you can trek in Tibet, you need to process several travel permits including those of the Tibet Entry Permit(also being called Tibet Visa), Alien Travel Permit, and Military Permit. Travelers are also required to hire a private vehicle, a driver, a guide and present an official itinerary. No one is exempted from these regulations. It is advisable that you avail of the service of a travel agency as your travel agency can arrange and take care of the basic requirements for your treks of Tibet. It is also advisable to get acquainted with your travel agency at least eight weeks prior to your date of travel to Tibet.
Related Articles
Ask a Quick Question Below? Or Call 0086-891-6679450
Email response within 0.5~24 hours.