Sacred Lakes of Tibet
In Tibetan, "tso" means Lake. There are so many lakes in Tibet, dotted like blue diamonds on the ground. So Tibet is not only a place of gigantic mountains, but it is also a land of beautiful lakes. Despite its high elevation, it is surprisingly littered with 1500 lakes, among which 787 scenic lakes are as big or larger than a square kilometer, occupying two-fifths of the Chinese lake areas. And all of the lakes are breathtaking due to the plateau background. 
Lakes are sacred to Tibetans. Tibetan people believe that lakes have spirits just like the holy mountains of Tibet. So, it is not unusual to find many ardent devotees who make their "kora" around these sacred lakes. Kora is a meditative practice, done by devotees, by circumambulating around a sacred site like a lake, mountain, or temple. So, now let's get to know some of these famous sacred lakes:
1. Namtso (Lake Nam) or the Heavenly Lake
Namtso or Lake Nam is the largest saltwater lake in Tibet. Perched at an elevation of 4,718 meters (15,479 ft), it holds the distinction of being the world's highest saltwater lake. To the Tibetans, Namtso is one of the three sacred lakes of their land, the other two being Lake Manasarovar and Lake Yamdroktso.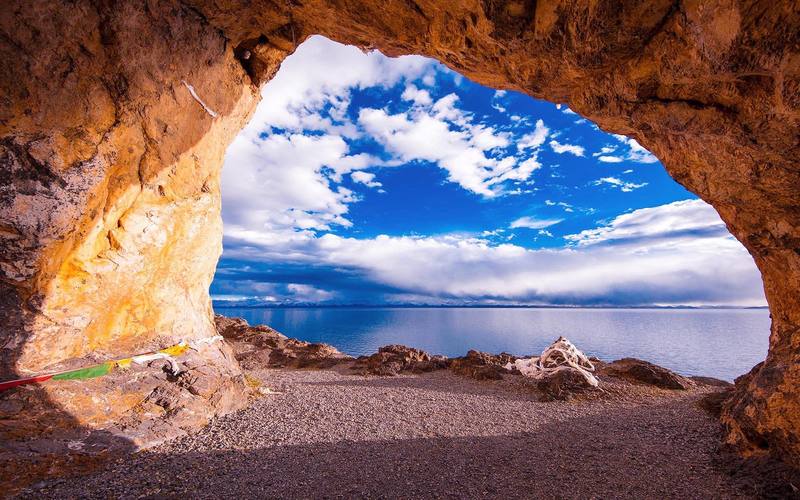 The Tibetans refer to Namtso as the "Heavenly Lake." Tradition has it that this lake descended from the sky. Those who live near the lake, however, believe that this lake is so high that it often appears as if it is being suspended in the air.
Namtso is around 70 kilometers long (from east to west) and is around 30 kilometers wide (from north to south). It covers an area of around 1.940 square kilometers, about a third of the size of Brunei. Its area, at present, is continuously receding and its water table is around 80 meters lower than its original level.
You'll find five uninhabited islands in Namtso as well as some rocky outcrops. These islands were once used by some pilgrims for their spiritual retreat during summer. They usually walked to the islands over the frozen lake water during winter carrying along necessary provisions. Then, they stayed there during summer and waited for the water to freeze again during winter so that they could walk back ashore.
Surrounded by vast grassland, Namtso faces Nyenchen Tanglha Mountain with snow all year round on the south, and plateau hills and broad lakeshores on the north and west sides. Namtso has been renowned as one of the most beautiful places on earth. There are cave hermitages along its shores that have been, for centuries, visited by Tibetan pilgrims. This lake is now easily accessible from Lhasa via the Laken Pass.  
2. Lake Manasarovar—The Mother of the Holy Lakes
Lake Manasarovar is considered one of the world's most sacred lakes and the "Mother of the Holy Lakes." It is situated in western Ngari Prefecture, 1500km away from the Tibetan capital—Lhasa. It is near Mount Kailash, considered the most sacred mountain in the world.  Lake Manasarovar is 4,590 meters (15,060 feet) above sea level and is slightly lower in elevation than that of Namtso.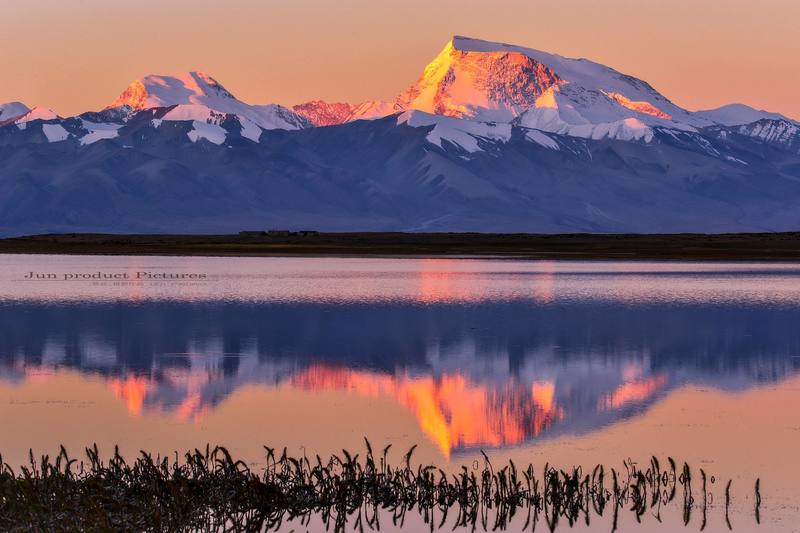 Lake Manasarovar is held in high regard both by Hindus and Buddhists. In some sacred books of Hinduism and Buddhism, there had been some references to this sacred lake. In the holy Tibetan book, Tripitaka, for example, it is said that after 9 mountains north of India, a large sacred snow mountain (Mt. Kailash) exists. Near that sacred mountain is a sacred lake that is the origin of the four great rivers of Asia. They are Maquan River, Peacock River,  Xiangquan River, and Shiquan River, which are important sources of water for the Indus, Brahmaputra, Ganges Rivers.
Buddhist pilgrims consider this lake to be a gift from God and the holiest lake in the world. They believe that its water is capable of cleansing sins. Hindus and Bon pilgrims likewise consider this lake as the "True Lake of the Spirit."
Aside from its sacred stature, Lake Manasarovar is extraordinarily beautiful. Consequently, a lot of tourists are drawn to it. Moreover, several monasteries were also established around this lake, the most famous of which is the Chiu Monastery.
3. Lake Yamdroktso— The Most Beautiful Lake in the World
Lake Yamdroktso is considered the most beautiful water in Tibet. Its name literally means "Green Jade Lake on Pasture." According to tradition, this lake was formed from the turquoise jewels of a goddess' earring. This goddess hurled the jewels toward earth for the Tibetans.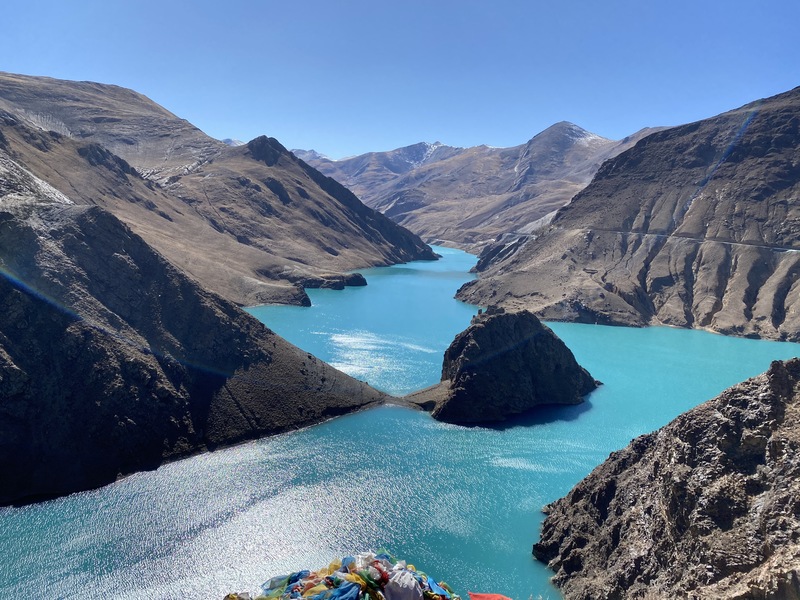 You will never get a glimpse of the whole span of the lake in a single glance for the waters of the lake are widely spread across a large tract of land. Three smaller lakes named Chencuo, Kongmucuo, and Banjiucuo form the other sister lakes of Lake Yamdroktso. These three other lakes are either connected by a narrow strip of a waterway to the Yamdroktso lake, forming a group of lakes clustered together like strings of turquoise jewels. As a glacial lake, you will not find any obvious outflow from Yamdroktso Lake. Despite this, the water level of Yamdroktso Lake has remained fairly constant for several centuries.
Yamdroktso Lake is also frequented by tourists. Several snow-capped mountains sit around the lake, rendering a picturesque backdraft to this enchanting lake. You should pass by this holy lake when you visit Shigatse. It is just around a hundred kilometers from Lhasa, and 90 kilometers from Gyantse.
4. Lake Rakshastal—The Blue Devil Lake
Lake Rakshastal is the twin lake of Lake Manasarovar. Shaped like a crescent moon, it is radically different from Lake Manasarovar. Lake Rakshastal's water is saline while that of Lake Manasarovar is freshwater. For Tibetan Buddhism, this apparent polarity between these two lakes represents the ever-present balancing act in the universe as seen in the Yin and Yang and the good and evil.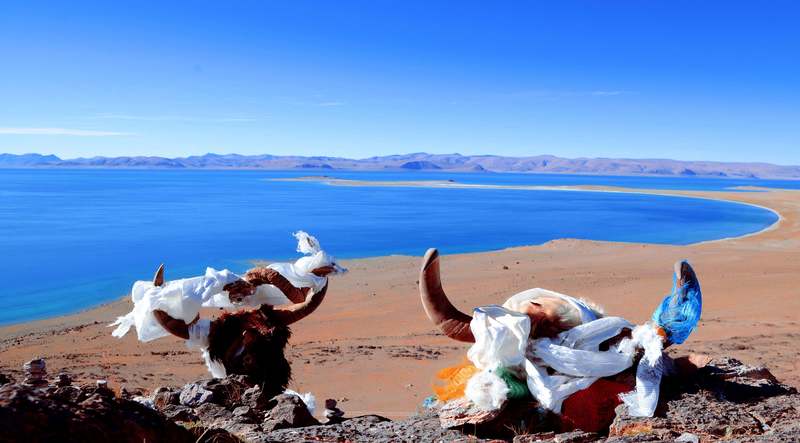 The name of Lake Rakshastal literally means "Demon's Lake" for it is believed to be the place where Ravan—the egotistical Langka king—did his severe penance according to Hindu theology. In Buddhism, Lake Rakshastal, as a crescent-shaped lake, represents the moon, while Lake Manasarovar, as a round-shaped lake, represents the sun. Despite its negative image in tradition, Lake Rakshastal is astonishingly beautiful. It has a distinctive deep blue color that attracts many visitors.
5. Tangra Yumco
Tangra Yumco is Tibet's third-largest lake! To Bon religion, Lake Tangra Yumco is the largest and most sacred lake covering an area of 835.8 square kilometers. It is situated in Nyima County's southwest region with an elevation of 4,528 meters. Its water is salty, making it a hot topic for legends.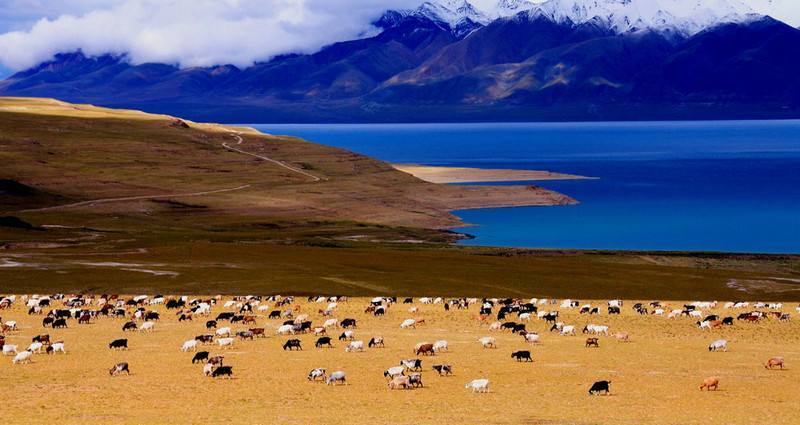 This lake sits in an area that is sparsely inhabited by humans with a density of 1 person per 6 square kilometers. Legend has it that the area around the lake bears the sweetest food in the whole region.
6. Basumtso Lake
Basumtso Lake is a lovely crescent-shaped lake, surrounded by high mountain ranges replete with verdant trees. It is like a lovely jewel in a crown. Just like the other lakes of Tibet, Basumtso Lake is also sacred to the Red Sect. Moreover, pilgrims flock to the shore of this lake to worship. It is also a holy lake for Tibetan Buddhism's Nyingmapa order which is the oldest Tibetan School of Buddhism.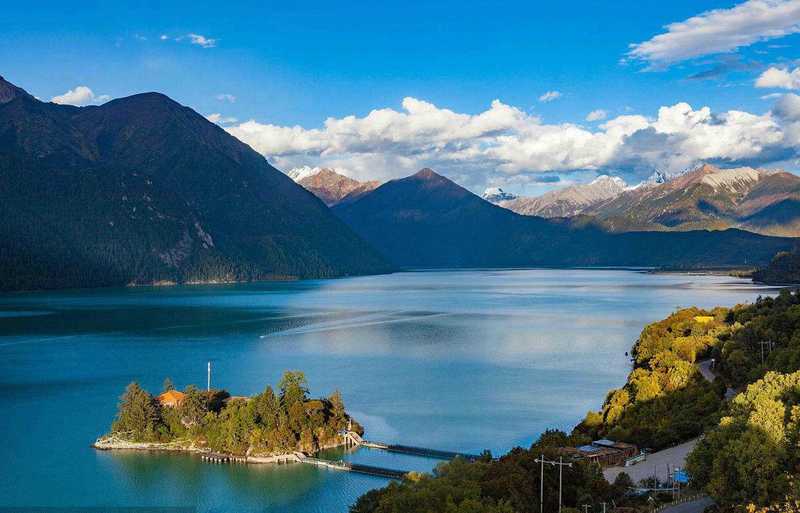 Basumtso Lake is situated 90 kilometers west of Kongpo Gymdo County. Glaciers feed this lake with a continuous supply of water. Moreover, the views surrounding the lake are really breathtaking and could rival that of the Swiss Alps.
You can get to Basumtso Lake from Lhasa, which takes about 4 hours for 360km. First, you need to cross Myra Pass, and drive to Gongbo'gyamda County which is some 211 kilometers away. Basumtso Lake is between Lhasa and Nyingchi, and only 120km away from Nyingchi.
7. Lhamo La-tso— The Spiritual Lake of the Goddess
Lhamo La-tso is known as the Spiritual Lake of the Goddess. This goddess is Pelden Lhamo, one of the guardians of Buddha in Tibetan Buddhism. According to legend, the lake is a metamorphosis of the goddess and it is believed to be the abode of the goddess' soul and spirit.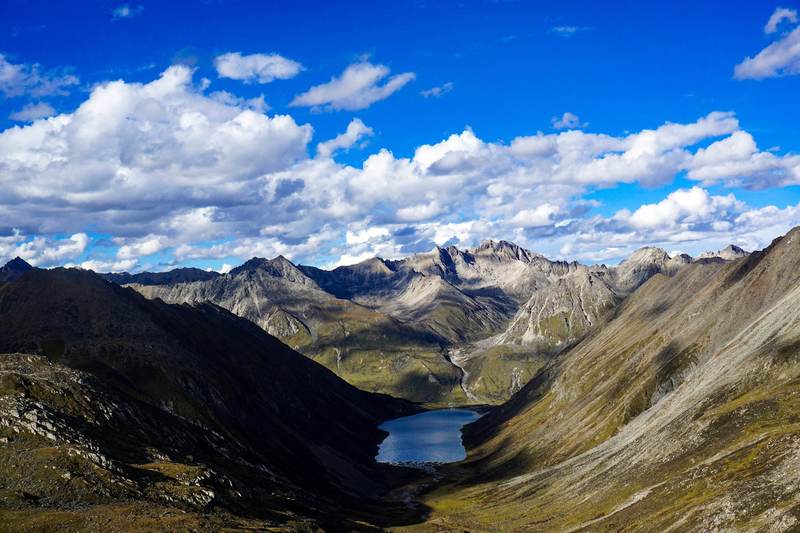 Lhamo La-tso is located in Gyaca County in Lhokha Province. You can reach the lake after a 4-hour hike from the monastery of Gelugpa Chokorgyel. Although it's not big, it has a special status in the Tibetan Buddhist reincarnation system as it can indicate the reincarnation of the Living Buddha.  Every time, the envoys will visit this lake to watch the illusion of the reincarnation of the Dalai Lama, Panchen Lama, and other living Buddhas, so it's highly admired by pilgrims. It's said that you can see your past and future from the reflection of the lake. Another interesting thing is that you can't speak loudly to disturb god here, otherwise the weather will change dramatically.
8. Siling Lake
Siling Lake is another saltwater lake in the Tibetan Autonomous Region. It is the second-largest saltwater lake in Tibet. Located in the Nagqu Prefecture, Siling Lake is near Doijiang and belongs to Zinza County and Baingoin County. It has an altitude of 4,530 meters and is fed by Boques Tsangpo and Tsagya Tsangpo. It is around 1,865 square kilometers in area.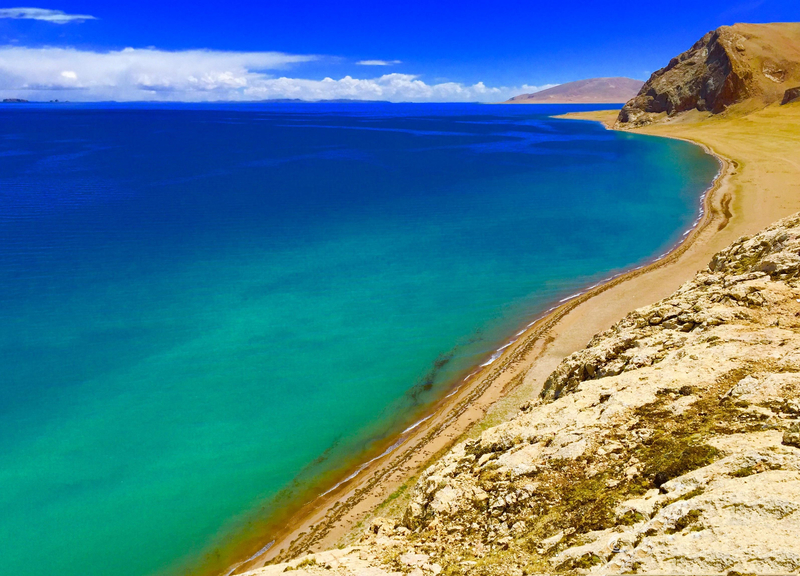 Legend has it that Siling is a big devil who once lived west of Lhasa. This big devil used to devour many humans and animals. So, this bid devil was really a menace to living creatures. One day, the demon slayer, Padmasambhava, encountered Siling. Incapable of repelling the Padmasambhava, Siling, the big devil, fled to a muddy lake south of Gangni Qiangtang. Siling was later commanded by Padmasambhava to remain in the lake. Soon after, the lake was referred to as "Siling Lake." 
Siling Lake is a part of the Siling Co National Nature Reserve which is a 400,000-hectare reserve. It is home to 120 bird species. There is, however, one single species of fish endemic to Siling, called Gymnocypris Selincuoensis. You'll see, however, yaks and sheep along the prairie on the banks of the lake.  
9. Pangong Tso—The High Grassland Lake
Pangong Tso is another lovely lake that is worth visiting. This lake is situated 4,350 meters (14,270 ft) above sea level. It is 134 km long and 5 km at its widest point and covers an area of 604 square kilometers. The name "Pangong" literally means a "Swan with a Long Neck" and because of its length, Pangong Tso extends from Kashmir, India to Ngari Prefecture, Tibet.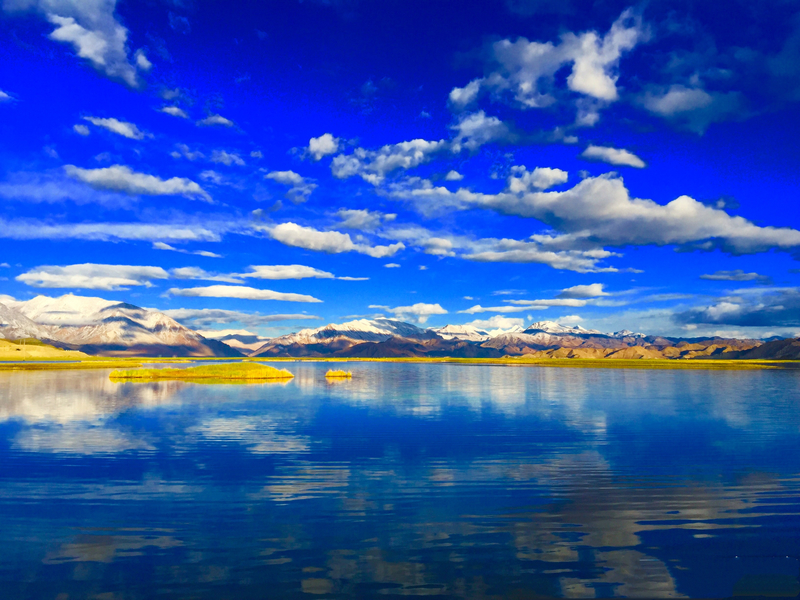 Pangong Lake is noted for its amazingly clear water that turns into a kaleidoscope of colors when hit by sunlight. Snow-capped mountains serve as an idyllic backdraft to this lovely lake. Interestingly, this lake is known for having fresh water on its eastern side in China and saline water on its western part in India. Lastly, very few species of fish seem to inhabit this lake, though a great number of gulls and ducks enjoy frolicking in its brackish water.
10. Rawok lake
Rawok Lake is located in the eastern part of Tibet, just beside the foot of Lhegu Glacier. This lake is truly a scenic spot that offers one of the most idyllic views in Tibet. Hemmed by towering snow-capped mountains like the Gangrigabu Snow Mountain in its southwest and the Bosula Peak in the northeast, this lake is surely a big draw to tourists and travelers. Besides, north of Rawok Lake lies the popular ancient Lhegu Glacier whose melted water percolates into the lake, continuously supplying it with a fresh dose of water.
Rawok Lake is located in Baxoi County, under the administrative jurisdiction of Chamdo City. It is the largest lake in southeastern Tibet and is located near the village of Ran which is about 90 km away from Baiba Town. You should not miss this lake during your tour of Tibet.
Conclusion
During your travel to Tibet, you may inadvertently pass by different amazing lakes without knowing their names. Tibetan lakes like Yamdrok, Manasarovar, and Namtso are the top three holy lakes, and itineraries with either of the three lakes are popular among travelers. Other above-mentioned lakes are still very famous, not only because they are astonishingly beautiful, but because they are also sacred lakes. Those who visit these sacred lakes are not only tourists but pilgrims who devotedly renew their faith.
Related Articles
Ask a Quick Question Below?
Email response within 0.5~24 hours.