Lhasa to Kathmandu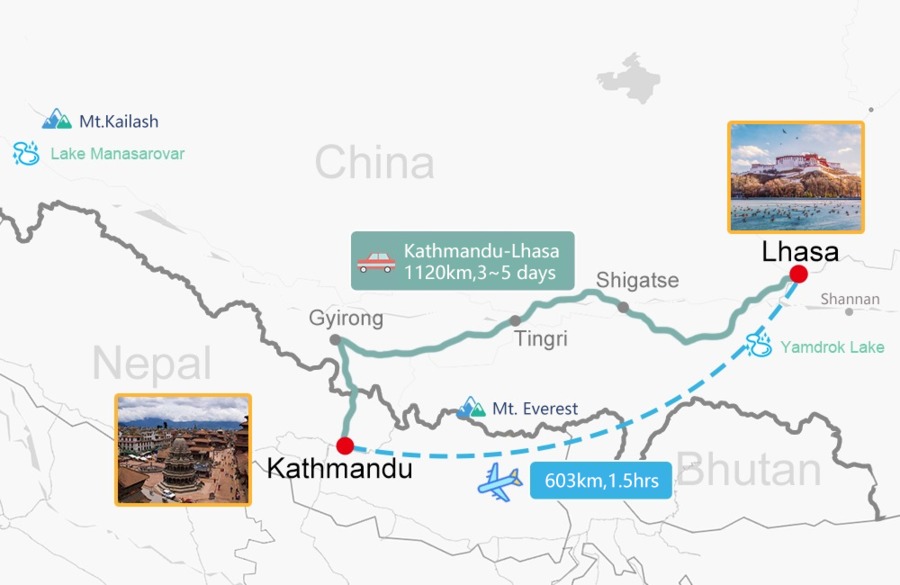 Separated by the grand Himalayan Ranges, Tibet and Nepal stay close to each other in many aspects, such as mysterious religions, complex geography, and grand high mountains. The best way to explore Buddhism and the Tibetan Plateau is to visit its capital, Lhasa, also known as the "Land of the Gods". On the other hand, the best way to explore Nepal's Hinduism and exoticism is to visit its capital Kathmandu, the "city of temples". To combine two fantastic experiences, you can take a trans-Himalayan tour from Lhasa to Kathmandu.

At present, there are two main ways for travelers, by air or by land. Taking flights to Kathmandu from Lhasa can see the summit of Mt.Everest if the weather permits. Taking an overland tour via Gyirong port can enjoy the stunning landscape and natural views along Tibet-Nepal Friendship Highway. The former way is always taken by tight-schedule travelers, while the latter way is taken by more travelers for lower costs.

As a trustworthy travel agency, Great Tibet Tour has designed numerous Lhasa to Kathmandu tour packages. They are all flexible and ready to be customized to meet your interests, schedule and budget.
Best Lhasa to Kathmandu Tours