Lhasa to Kathmandu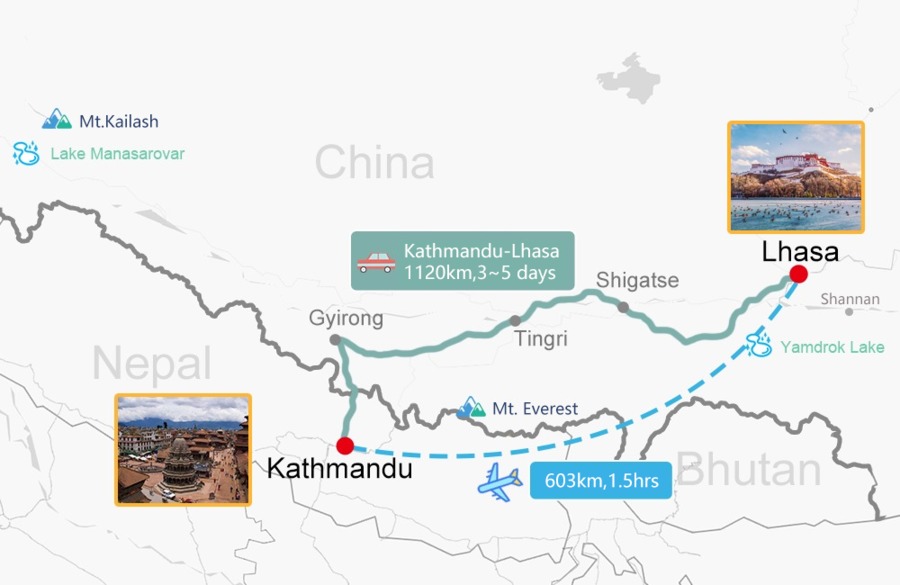 Surrounded by the grand Himalaya Ranges, Tibet and Nepal stay close to each other in many aspects, such as mysterious Buddhism, complex geography, and grand high mountains. While the traditions and customs in the two countries have their own characteristics, and the best way to explore those unique elements is to travel from Lhasa to Kathmandu. Where to go and what to see have become two main questions raised by travelers. Lhasa and Kathmandu are both the capital city of the two countries with many must-see attractions for tourists. There are lots of famous scenic spots which are worthy of being recommended to you along the way: Potala Palace, Jokhang Temple, Drepung Monastery, Barkhor Street, Sera Monastery, Ganden Monastery, Boudhanath Stupa, Pashupati Nath, Swayambhunath Temple, Kopan Monastery, Pashupatinath Temple, etc.

At present, there are two main ways for travelers to get to Kathmandu from Lhasa, by air or by an overland tour. Taking flights to Kathmandu from Lhasa can see the summit of Mt Everest if the weather permits. Taking an overland tour via Gyirong port is the best way to enjoy the stunning landscape and natural views along Tibet-Nepal Friendship Hwy. The former way is always taken by the tight-schedule travelers, while the latter way takes more time on the road.

As a trustworthy travel agency, Great Tibet Tour has designed numerous Lhasa to Kathmandu tour packages by flight or overland. No matter which way you prefer, you could find a desirable itinerary planned by us. Or we can tailor-make your Lhasa to Kathmandu tour itinerary. By booking both Tibet & Nepal tours together with one agency, you will be getting a much better rate than booking them separately. Great Tibet Tour is waiting for you at any time.
Best Lhasa to Kathmandu Tours