Kathmandu to Lhasa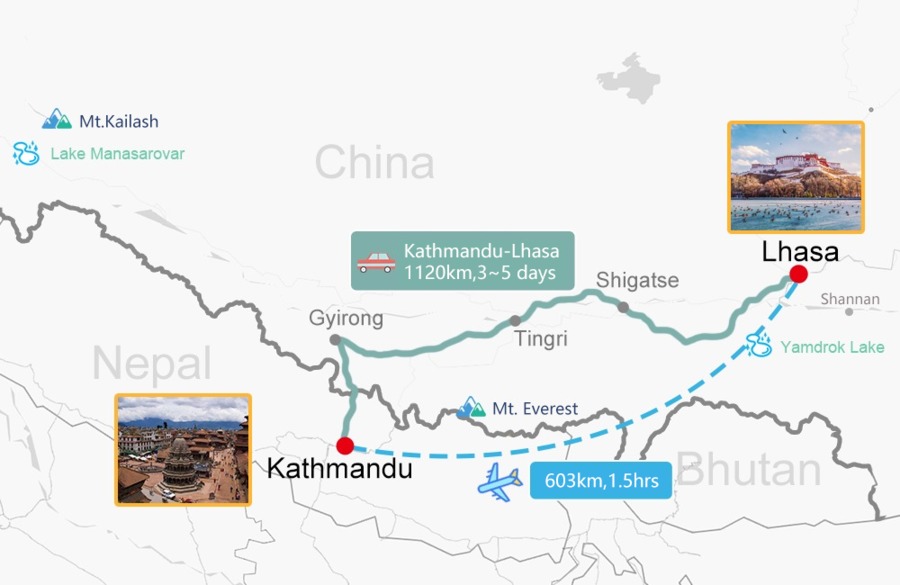 Currently there're two ways to get to Lhasa from Kathmandu.
Taking a flight to Lhasa from Kathmandu. There is at least 1 direct flight from Kathmandu to Lhasa every day (during peak tourist season, there're 2 flights). It takes around two hours to arrive in Lhasa, which is the quickest way to reach Tibet from Nepal. However, the flight is always delayed due to the unstable weather condition. Sometimes, it will be even canceled and put off to the next day, which could disrupt your original tour plan indeed. So, travelers should have known this possibility in advance.
Or, you can take the second option - Kathmandu → Gyirong Border → Tibet, by car. Since the Gyirong border reopened on 29th. August 2017, foreigners could enjoy the amazing scenery along with the famous Friendship Highway, i.e. Sino-Nepalese Highway. We offer both group and private tours from Kathmandu to Lhasa for travelers with different needs. The basic route is Kathmandu – Gyirong Border (Nepal) → Gyirong Town (Tibet) → Tingri → Shigatse → Gyantse → Lhasa. Considering the altitude sickness, we will have a far view of Everest instead of visiting Everest Base Camp. If you want to visit EBC as well, please contact our travel consultant for a customized Kathmandu Gyirong EBC Lhasa overland tour.
Best Kathmandu to Lhasa Tours