Nyingchi Travel Tips
by Nance
Last Updated: 2019-05-23
Nyingchi, located in the southeast of Tibet autonomous region, which is well-known as "the Switzerland of Tibet" and "the Jiangnan of Tibet". Nyingchi is a gathering place for ethnic minorities such as the Moinba, Lhoba, and other ethnic groups. Their living habits and religious beliefs retain a lot of traditional and unique ethnic custom. Nyingchi is also a well-known tourists destination in Tibet with many picturesque and idyllic attractions include Niyang River, Lulang Forest Sea, Shuba Ancient Fort, etc. You will immerse yourself in this charming place and have a relaxing time.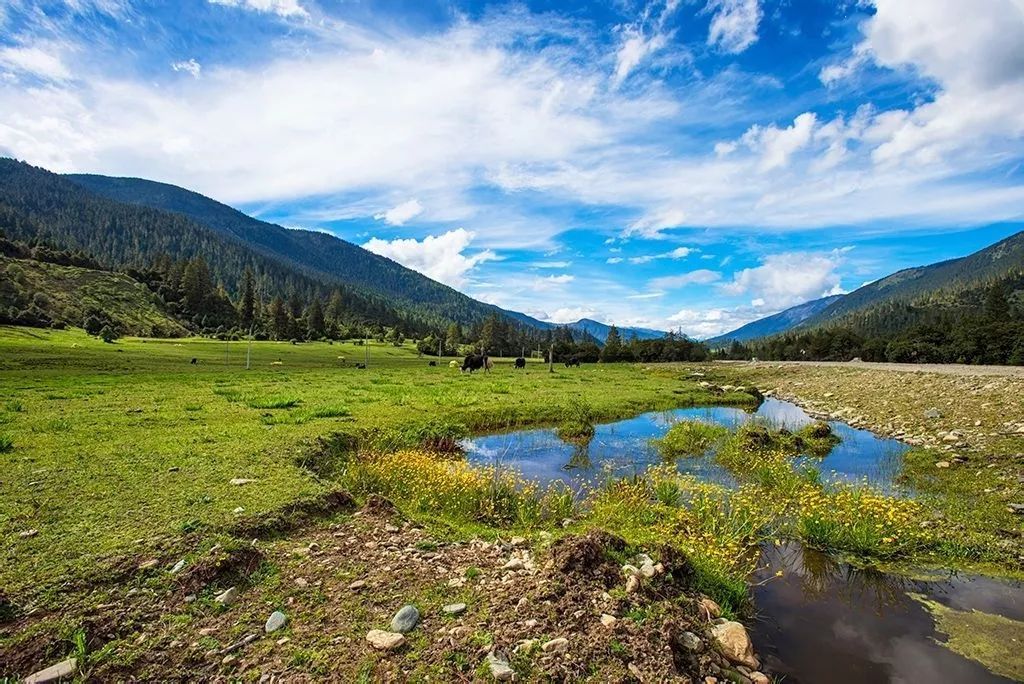 If you visit Nyingchi in Summer, you will see lush forests, as well as the sea of wildflowers.
1 History of Nyingchi city
Nyingchi was one of the important birthplaces of ancient Tibetan civilization. In the 1970s, the Niyang River found a number of the human remains and Neolithic tombs. Archaeological materials show as early as four or five thousand years ago, and human beings had engaged in agricultural cultivation in Nyingchi area and a relatively settled life.
During the Sakya period and Phachu period (13-16 century), Nyingchi region became the Karma Kagyu sect's sphere of influence. Since its liberation in 1951, it has broken away from the long history as a feudal society.
2 Transportation in Nyingchi
At present, driving is the main ways to enter Nyingchi because there are the best road condition and beautiful scenery along the highway. For driving to Nyingchi, you will start from Lhasa, go across the Mila Pass (5013m), and continue driving to Nyingchi City(Bayi town) on China National Highway G318. On the way, you can visit charming Basumtso Lake.
Travelers also can fly to Nyingchi from those cities in China such as Chengdu, Guangzhou, Xi'an, and Lhasa. Nyingchi Miling airport is about 72 kilometers (45 miles) away from Nyingchi County. Chengdu is currently operating five flights every week. It takes about 2hrs 25mins to fly from Chengdu to Nyingchi, so it's a nice choice if you don't want to ride back to Lhasa for 7~8 hrs in the original way.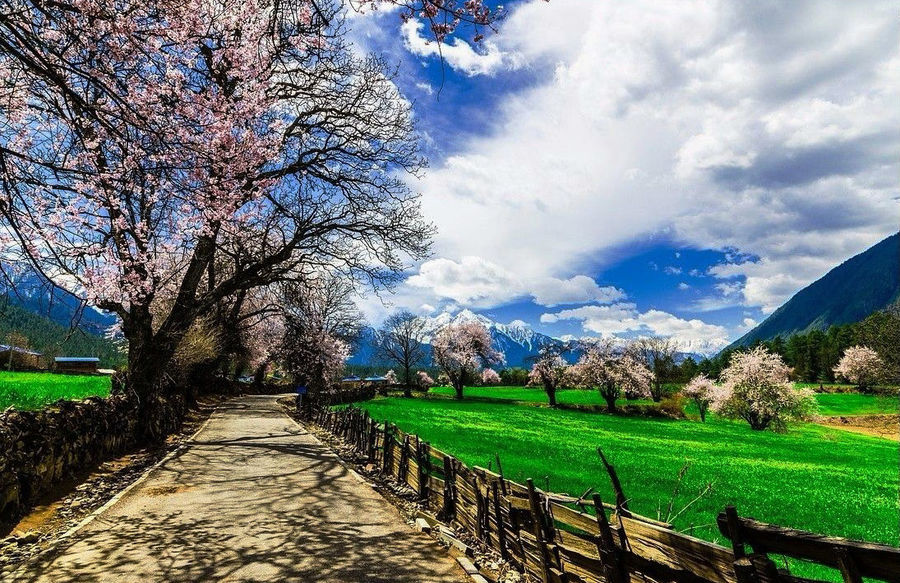 Enjoy the beauty of Nyingchi on the country road.
3 Weather in Nyingchi
Due to the Indian Ocean winds,  the weather in Nyingchi County is the temperate and semi-humid which has promoted the growth of lush and green forests. Most time in the year,  the weather is moderate. In winter,  the region is cold with average temperature of  0℃ (32 οF).
1)   The best time to travel to Nyingchi:
The best time to visit Nyingchi is from April to October. Especially in April, when the peach is in full bloom. At that time, you can enjoy not only the splendid flower sea but also the beautiful and charming rural scenery. In Summer and Autumn, you can also enjoy the vast grassland, forest, wildflowers, countryside scenery, and so on.
2) Try to avoid the domestic tourist season:
Chinese travelers like traveling to Nyingchi very much. During the domestic tourist season such as International Labor Day (May 1~3), National Day(Oct 1~7), and Spring Festival (according to Chinese lunar calendar, it's usually in February), Nyingchi County will become very crowded. During those periods, the air tickets, accommodation, transportation, tour guide fee all would get doubled or even tripled. What more, your traveling experience will not be good cos you will see crowds everywhere.
Related Articles
Ask a Quick Question Below? Or Call 0086-891-6679450
Email response within 0.5~24 hours.