Nagchu Travel Advice
by Eric
Last Updated: 2021-09-06

Best Travel Time to Nagchu
Due to the elevation rising up to 4,500 meters (14,800 ft), Nagchu has a harsh alpine climate with freezing winters and cool summers. The annual mean temperature drops below 0°C but in summer, it can frequently rise up to 16°C. From May to September, the climate is relatively warm and more pleasant compared to the rest of the year, with lush grassland, Nagchu in this period is considered as the best time to visit Nagchu.
Transportation in Nagchu
Nagchu is just down a highway called Qinghai-Lhasa, and traveling it from Lhasa to Nagchu would take about 4-6 hours, depending on the road and weather conditions. With the paved and well-maintained highways and road networks in Nagchu, you can travel from there to Lhasa, Damxung, Golmud and other various locations. Buses are the main means of transport for the Tibetan locals, but to avoid getting lost and losing precious time, it is advised to just rent a car for nearby sightseeing.
Shopping in Nagchu
With a lot of Tibetan locals gathering and setting up shops around Gaoyuan Road, Nagqu Town and some major markets, it is more likely to see great items for purchase there. Besides a wide variety of handicrafts characterized by ethnic design, there're also lots of kind of Tibetan delicacies. The assortment of special products includes traditional Tibetan snacks jak, north Tibet sheep, ghee, dried meet, trachoma, aweto, caladium, snow lotus flower, and all that.
Entertainment in Nagchu
In Nagchu, aside from all the traditional Tibetan activities that you can find, such as opera, dance and archery contest and so on, you will surely be amazed by the fantastic and grandest Horse Racing Festival held every summer, which attracts thousands of ambitious nomads and they are eager to show off horsemanship skills, trade for a various kind of tools and supplies. The Horse Racing Festival is not the only thing to be anticipated with this trip, as before the formal event starts, there is already a feast of culture and tradition all around. As the day of the race comes, people front around these vast grasslands wrapping in their traditional colorful garments gather and form a temporary city in mere days! The scenery of getting there and the preparation before the event and even the event itself is just so vivid and full of life that you'd better take photos to immortalize them in your memory. The even is usually a spot for shutterbugs or those people who love photography.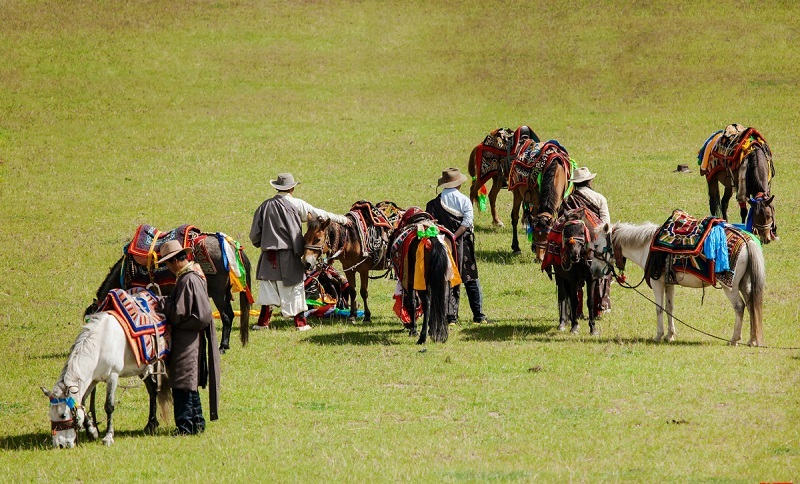 Lodging in Nagchu
After a long day exploring the city, you would want to relax and go take a good rest at night. You can worry-free as there lies a number of clean and cozy hotels for your choice in the main roads. But please note that some of the hotels have no licenses to accommodate foreign tourists, it might not be that convenient. If you make a detailed search by asking for the proper permits, you could find a good hotel to stay in.
Dining in Nagchu
A trip can never be complete without gastronomy! Food in Nagchu is mostly based on traditional Tibetan and Sichuan cuisine and it ranges from traditional Tibetan snacks all the way to a full dinner. Note that food there doesn't cater to the western taste and can be somewhat basic but hearty, which provides a sufficient amount of caloric intake for you to survive a whole day of exploring. The food you can find in Nagchu like jak, Tibetan momo, yak butter milk, steamed stuff buns and Tibetan momo, etc, all which is a part of genuine Tibetan cuisine and even some of them can stand alone as one of Tibet's celebrated delicacies.
Related Articles
Nagqu Map
Nagqu is located in the hinterland of Tibet Plateau and northern Tibet,  at the northern foot of Tanggula Mountain and Nianqing Tanggula Mountain. Check the detailed Nagqu travel maps and find tourist attractions, travel routes, nearby counties, etc.
Ask a Quick Question Below? Or Call 0086-891-6679450
Email response within 0.5~24 hours.