Tsedang(also Lhoka/Shannan) Travel Advice
Tsedang(also Lhoka/Shannan) Travel Advice
by Eric
Last Updated: 2017-12-05
Dining in Tsedang
Tsedang is a good place for you to connect with the locals through food, where you can have a taste of all kinds of traditional Tibetan dishes- Qingke (highland barley) buttered tea, Yamdrok air-dried meat, steamed stuffed bun, blood sausages, different kinds of cakes, sweet tea, milk tea, sour milk and cold yak tongue, and all that. However, unlike other places in Tibet, Tsedang cuisine shares a backbone with Sichuan, the province of gastronomy at both domestic and international level; Which explains the vast variety of food and its relatively intense flavor. Here follows some reputed restaurants for recommendation.
Yiwanmian
A well-decorated place which offers tasty snacks such as Shaguo (Earthen pot) dumplings. Located in front of PSB office.
Tashi Restaurant
Tashi Restaurant enjoys a high reputation for its Nepalese food like curries where you can also be served with nourishing breakfast and delicious pizza. English service is available.
Monastery Restaurant
The restaurant of Samye Monastery serves traditional Tibetan food, and it is frequented by the locals because of its simplicity and original Tibetan flavor.
Friendship Snowland Restaurant
Located at the Eastern gate of the monastery, the restaurant is famous for its Chinese and Tibetan delicacies.
Best Visiting Time
Due to its high elevation up to 3600m(11811ft), Tsedang enjoys a year-round temperate climate and dry air. The annual average temperature of the region ranges from the minimum of 7°C to a maximum of 10°C. In winter, the average temperature is 0℃ and it is quite challenging to visit the city for those who are accustomed to warmer climate. In summer, the city is relatively more humid and mild compared to other parts in Tibet. The temperature will extend to the highest point of 20℃, while at night it can easily drop by 10℃-20℃, which means warm clothes are needed. Thus, May to October is considered as the best time for tourists to visit Tsedang, when you can enjoy the scenic beauty with the most pleasant weather conditions.
Transportation in Tsedang Travel
Note that Tsedang owns the only international airport in Tibet, taking a plane becomes the most populous choice for tourists from other major cities like Beijing, Chengdu, Chongqing, and Kathmandu.
Situated in the Yarlung Valley, about 170 km southeast away from Lhasa. Tourists can easily get Tsedang from Lhasa with less than 2.5h bus ride, which provides shuttle daily service. The tremendously ameliorated road network also offers the convenience for people from Tsedang to visit more than 12 counties and numerous villages.
Within the city of Tsedang, a great variety of transportation rental services is provided, such as bicycles, tricycles, taxis, and jeeps. Hiking and cycling are highly recommended for local sightseeing.
Lhokha's Pilgrim Circuits
Pilgrimage is not simply known as a religious activity, but a type of meditative practice for Tibetan Buddhist which offers a lot of enlightenment.
Among all the pilgrim circuits in Tibet, Lhokha's Pilgrim Circuits stands out because of its breathtaking natural beauty on the road and a large number of pilgrims. With the belief that everybody has a afterlife, the pious Pilgrims travel thousands of miles to visit the monasteries, holy lakes and sacred mountains hoping to get their voice heard by the Buddha. Around those sacred sites, you can see a lot of Tibetan Buddhists with prey wheels, prayer beads and incense who are walking clockwise.
After this trip, tourists will not only be deeply impressed by the scenic beauty but also be amazed by the mysteries and the strength of religion of the sacred land.

Avoid High Altitude Sickness
While longing to visit the mysterious land, most tourists are also worried about the high altitude sickness because of its relatively thin air. To prevent the occurrence, they are suggested to have a proper rest in Lhasa the day before their visit to Tsedang, which helps them adapt to the high altitude. You are also highly recommended to bring with you some high-calorie food and an adequate amount of water in order to avoid high altitude sickness. In addition, Nifedipinum, Nuodikang Capsule and Suoluomabao Capsule (or Hongjingtian Capsule) will also reduce the chance to get sick. Last but not least, always be optimistic and enjoy the most of your trip.
Entertainment/nightlife
Among all the entertainment and nightlife in Tsedang, Tibetan Opera and Choshio Dance distinguish themselves by its visual enjoyment and entertainment value.
Tibetan opera, simple but passionate, is highly regarded as "the living fossil of traditional Tibetan culture". It is hard to believe that Tibetan Opera dates back to more than a century ago, even some 400 years longer than Beijing Opera. Well-trained performers present the ancient art form by the distinctive masks, dancing, chants, and narration. And the majority of the repertoires is based on Tibetan history, through which tourists will get a deeper understanding of its culture.
Choshino Dance has more than 1,000 years of history and is first created to show the superior power of deities and dispel devils. This splendid form of dance was honored to be performed at the wedding ceremony of Songtsen Gampo and Princess Wencheng and the inauguration ceremony of the Samye Monastery.
Internet Access
Internet access is only available at selected hotels in Tsedang, such as Tsedang Hotel. Internet access is mostly stable and is at least clocked at 1-3 Mbps. WiFi is available wherever there is an accessible Internet. Foreign visitors are advised to download a VPN application/software on their phones/laptops for both safety and a wider access to foreign websites and apps like google, facebook, instagram, youtube etc. as those sites/apps are blocked by the law. For more detailed Internet access info guide for hotels, please refer to the hotel or ask your travel advisor.
Laundry
Most of the time, hotels in Tsedang provide laundry and dry cleaning services, some hotels provide both services, travelers are advised to list down or take note of what they have sent to the laundry service for it may help in situations if an article is missing or damaged.
Money and Currency Exchange
In Tsedang, foreign currency can be exchanged through cash or traveler's checks in Bank of China Shannan Branch, which is located at No. 21, Naidong Lu, Tsedang Town. Certain hotels in Tsedang also offer money and currency exchange service.
Besides, credit card such as Master Card, Federal Card, Visa, American Espress, JCB and Diners Card are also available for certain ATMS, hotels, and department stores.
Tsedang Shopping Tips
Tsedang is everything that you can dream of when it comes to culture seekers and history buffs, but not as good if you're a boom shopper. One reason for this is that there is no shopping mall in this area, instead, you will see various "shopping centers" in most of the hotels. A common problem with all tourists is "where can we buy souvenirs?", well, the answer to that is to explore the streets of Tsedang itself! A variety of stalls and shops are scattered throughout the city, some hidden and come out in the open. There can be signs to point them out but most of the times there isn't, so the best way to do it is to have a local guide with you to maximize your time (and you have to since all your itineraries in Tibet will be listed in your Tibet Permit). Yandrok, an air-dried meat made from beef or mutton is a classic souvenir. It is dried near the Yandrok lake area, a perfect spot to absorb all those natural salt and minerals into the meat itself while it dries, giving it a unique taste.
Next on our list is jade, it is one of the most valuable stones in China throughout history. Qiongjie jade jewelry and accessories are a crowd favorite, known for their gorgeous design and eye-catching shimmer, it is no wonder that it can be sold in large numbers. Tired of your same old everyday cutlery? Then why not grab one of Jiacha's stone articles? It is one of a kind and is carved out of pure graphite found in the area. It's a sleek and unique addition to your home. Handicraft is what Tibetan people are proud of for is their colorful and elegant knits, such examples are the Zhanang's knotting and textiles, and the Jiedexiu apron which is a showcase of style and vivid colors. Minzhulin Monastery is a home of worship and praise, but its also home to Tibetan incenses, a famous take home from Tibet being region known for Buddhism which is famous for using incense for their rituals.
Overall, there are a lot of memorable souvenirs and some of them can only be found and bought in this region, there might not be any shopping malls for your convenience, but Tsedang brings you back to the days of purchasing items by hand was a norm, but it's not all bad. Given that you personally buy the items means that you can always bargain for a cheaper deal.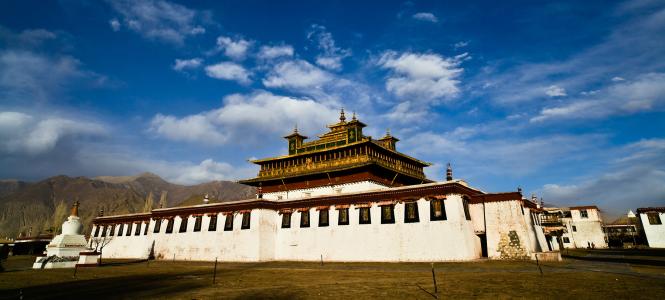 Related Articles
Ask a Quick Question Below? Or Call 0086-891-6679450
Email response within 0.5~24 hours.