Guangzhou and Tibet Tours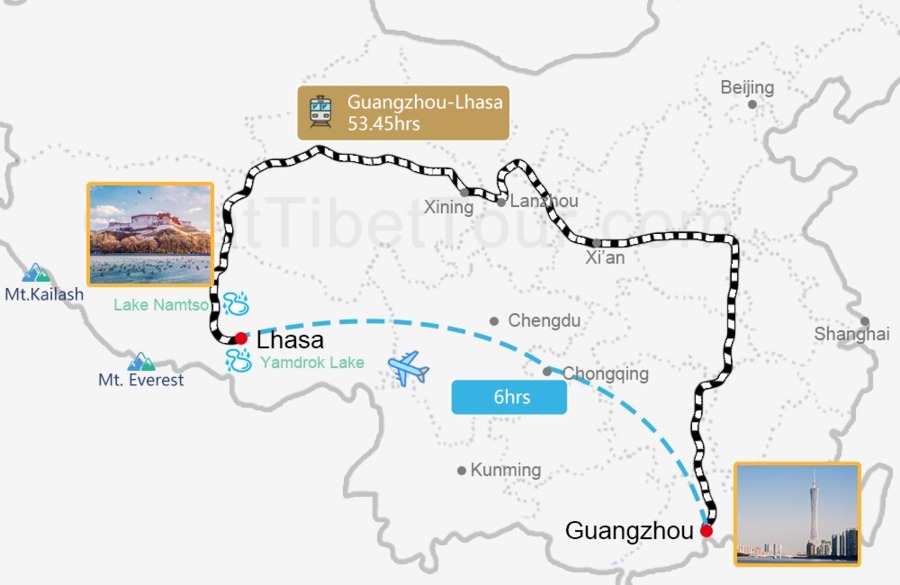 Guangzhou is located in Southern China, which is a major city of China as well as an ideal arrival hub for international travelers. Connected with overseas countries by international flights and mainland cities by domestic flights and trains, Guangzhou is the gateway to inland China. Guangzhou owns a unique colonial history and developed economy, which makes it a city with a lot of historical sites and modern landmarks. In Guangzhou, you can climb the second-highest tower, Canton Tower, and enjoy the full view of Guangzhou city. You can gain knowledge about Chinese traditional culture at Chen Clan Ancestral Hall, and touch the modern history of China at Sun Yat-sen Memorial Hall. As a modern city, Guangzhou offers exciting nightlife. Circus shows will feast your eye while yummy snacks at night markets will satisfy your appetite.
After your marvelous exploration in Guangzhou, you can transmit to Tibet by plane or by train. The Guangzhou-Lhasa Train(Z264) departs at 11:45 every other day. The whole train journey takes two days and covers a distance of 4980 kilometers. Domestic flights are always available at Guangzhou Airport, and the journey takes about 6 hours 15 minutes with a stopover.
In Tibet, you will never miss the must-see sites in Lhasa. The tour will take you to the great Potala Palace, the sacred Jokhang Temple, the busy Barkhor Street, and the beautiful Sera Monastery. To extend your trip to remote areas, you can also witness the highest peak in the world - Mount Everest, and have a kora around the holiest mountain of both Hinduism and Tibetan Buddhism - Mount Kailash.
Here We have designed some tours to incorporate Guangzhou and Tibet, as below. They are all flexible and ready to be customized to meet your interests, schedule and budget.