In most foreign travelers' opinion, Tibet is a plateau with barren land and snow-capped mountains. The view of Tibet is almost grand or spectacular and has nothing to with idyllic or pastoral style. But there is a romantic place in Tibet will shock you, where you may feel confused, "Am I arriving at Switzerland"? In fact, it is Nyingchi Prefecture, in the southeast of Tibet Autonomous Region.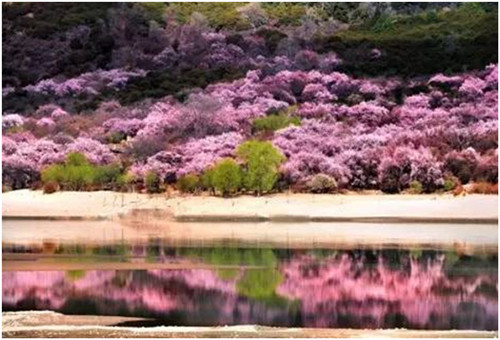 As "the Throne of Sun", Nyingchi is a familiar tour destination for domestic tourists. Chinese gave another name to Nyingchi - "the Jiangnan in Tibet". Jiangnan is the prosperous area at the south of the Yangtze River. As the name implies, you can imagine the scenery of it, totally different from the rest of Tibet. The deepest canyon in the world - the Yarlung Zangbo River Grand Canyon is located here. But the most attractive activity in Nyingchi is the "Peach Flower Festival" once in a year. Thousands of travelers come to join this festival and let the blooming peach flower witness their love.
The Himalayas and Nyainqentanglha Mountains are like two dragons protecting Nyingchi and join Hengduan Mountains in the east. There forms a gap where the warm air comes from the Indian Ocean could flow into Nyingchi. Thus, the climate of Nyingchi is mixed with the features of Tropic and Subtropics. The gentle weather and abundant precipitation provide the suitable environment for green plants. That's why you can see the gorgeous scenery in Nyingchi all year round, especially in spring, bunches of the wild peach flowers are blooming on the plain, accompany with the snow-capped mountains in the distance and the blue sky above the head. Just like a visitor said, anywhere in Nyingchi is an unparalleled beautiful picture no matter when you press your shutter of the camera. More and more travelers come to enjoy the peach flower, finally, the government held the first "Peach Flower Festival" in 2002 and made it an annual tradition afterward.
In March, there is an ocean of flowers in Nyingchi while the other places in Tibet are still covering with snow. Pink peach flowers seem to blossom all over the plain after one night. The best place to enjoy the flowers is Gala village, where there is a small river named Niyang. The peach flowers are growing along with the riverside, interspersing in the green wheat fields. You will get drunk into this colorful scene and achieve an inner peace.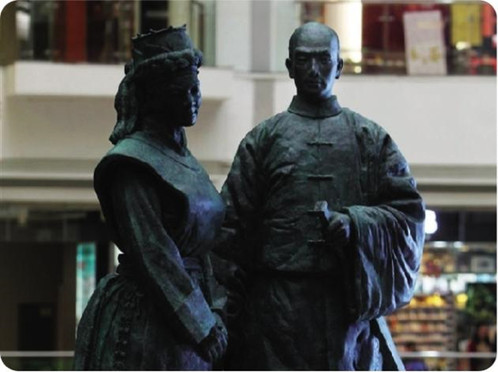 There is a wide-spread love story in Nyingchi, which is not a fairy tale but a true story. It was happened one hundred years ago, the late Qing Dynasty. Chen Quzhen, a Han nationality military officer went to Nyingchi for the mission. During that time, he met a rich Tibetan girl called Xiyuan and married her. The Revolution of 1911 happened later and Tibet was involved as well. His wife who was from a noble Tibetan family became a very strong woman and always stayed with him. Even she saved his life for a few couple times in the battle between the old power and the reformers. With the worse situation, he felt he could do nothing in Tibet, therefore, he decided to go back to his hometown – Phoenix County in Hunan Province, where he could start a new life and do something big for his country. He wanted to go alone as he had to cross the horrible Qiangtang Highland, which was at the elevation of 5,000 meters (16,405 feet) and might kill him on the way. But his wife and another 120 followers insisted on going with him together. He had no choice and agreed with them. When they were crossing the highland, the extremely bad natural conditions made their way full with troubles. Besides, their food was not enough since they already trekked for 2 months. More and more followers died due to the cold weather and starvation. At the beginning, his wife could hunt some animals to eat. But at last, the food finished and animals could not be found. Humanity became meaningless when facing death. The followers began to eat the weakest person. His wife could not stop this evil, what she could do was only to protect him from being eaten as he was becoming weaker. When she forced him to eat the last food, she cried and said, "I am here for you, I can die, but you cannot. It's pointless if you died but I am still alive". They made a promise when they were near to Reaper. If they could not make it, they would find each other in the afterlife and continue their love story. Finally, the two lovers survived with another 4-5 persons after 7 months of this hell journey.
Is this a happy ending? No, she died when they escaped from Hoh Xil. It turned out she exhausted and seriously ill. She couldn't die before was just because she wanted to protect her beloved husband. But once they were safe, she could not make it anymore. She told her lover, "sorry, I cannot accompany you any longer. You have to go ahead by yourself..."
This young officer went back to his hometown with sorrows and fought for his dream and eventually become the king of the west of Hunan. He wrote a book at his old age to memory her. He didn't write anything about his feat after his wife died but only the story happened between her and him. The last sentence of the book is, "I can only stop here, when my heart was broken, my world was torn apart."
In the "Nyingchi Peach Flower Festival" of 2013, the statue of this couple was returned to Nyingchi from Phoenix and placed on the viewing deck at the Niyang Riverside. Thousands of travelers come to enjoy the breath-taking scenery and pray for blessing from them. Many people chose here to hold the wedding ceremony. So, do you want to smile with your lover in this amazing wonderland? Come and let the blooming flowers witness your love!
Related Articles & Posts
Ask a Quick Question? Ask below or call 0086-891-6873166